The first step in creating a successful Gardening and Landscaping business in this era is, undoubtedly, having an appealing website to generate leads for your company. The more features and the more beautifully designed your website is, the more likely your customers are convinced to use your service and products. The above statement is strengthened by the fact that people nowadays have too much to think of, and when they want to mow the lawn, the easiest thing to do is to make a search on Google and go for the companies at the top results. So now, consider finding a great Landscaping WordPress Theme for your website and start rocking! \yay/
For that reason, the theme Landscaping WP was built in ways that are the most SEO friendly and the most user-friendly, so that people can both find your landscaping service on the Internet, and fall for your product. Read more on Theme Forest | Preview Demo Websites
The theme's layout is clean and inviting with dozens of features. It is easy to use with no coding experience required. All you need to do is just install the Landscaping WordPress theme and choose a pre-designed demo that fits your company.

What is Landscaping WordPress Theme?
Landscaping WordPress Theme – Landscaping WP is an ultimate solution dedicated for landscapers and gardeners, and companies the gardening and landscaping industry. If you are thinking of introducing gardening & lawn, exterior landscaping & ground care service or anything related to the job like paving, construction, turfs, lawns or bricklaying, etc. This theme is your perfect match.
Why you should use this landscaping template.
First off, everything is already decorated by some of the finest designers and experts in this field so that you would save a lot of time launching the web.
Since there's no single theme that could fit all demands from everybody, we created three pre-built demos (there will be more in the future) so that you can choose from the demo that suits you the most.
Even if you are a talented coder or a web design agency, Landscaping WP would still be a great theme for you. The theme is built with a wide range of tools and plugins that could speed up your development process, hence making you more productive when building websites for your company or your customers.
Besides, Landscaping WP would keep your costs low and still give you a high-quality website that helps you stand out from the crowd with a unique and creative look and feel.
How Landscaping WP will help you make a difference.
1. Modern and Seamless design with tons of options
When building a theme, we are obsessed with great design, great user interface, and great user experience. For that reason, Landscaping is built with the trendiest design, chosen from a catalog of hundred of great designs. Just go to the Live Preview of the theme and see it for yourself. While the smart sticky menu is impressive and convenient, the header slider is carefully designed to show off the site's message with some nicely coded Call to actions.
You may wonder why "tons of options." The fact is that even though we love to simplify everything, allowing you to do more with less and to sell more with less, we still offer you the full control on how the website will look, based on your unlimited imagination:
Unlimited colors for your brand
Pre-loading page with logo
Thousands of icons from Linearicons and Font-Awesome
700+ distinct fonts
2. Lightweight Drag & Drop page builder – No coding experience required
When it comes to building pages, we use the best rated and most popular Page Builder out there to guarantee page's quality – SiteOrigin Page Builder. This means you can do just about anything, make as many changes as you want, using not even a line of code to customize your gardening website. Everything includes only drag and drop. It is fast, clean and reliable.
3. Impressive effects for Gallery and Portfolio
Portfolio and Gallery is an essential WordPress plugin for your website since it is the only way for you to show off what you have done to your customers. We know about this and we invested a lot of our time and efforts to make this section as professional and beautiful as possible. Landscaping WP's gallery allows you to create unlimited amount of galleries, with the option to choose from many different styles and layouts.
4. Fully WooCommerce compatible – Sell your gardening tools and products has never been easier before.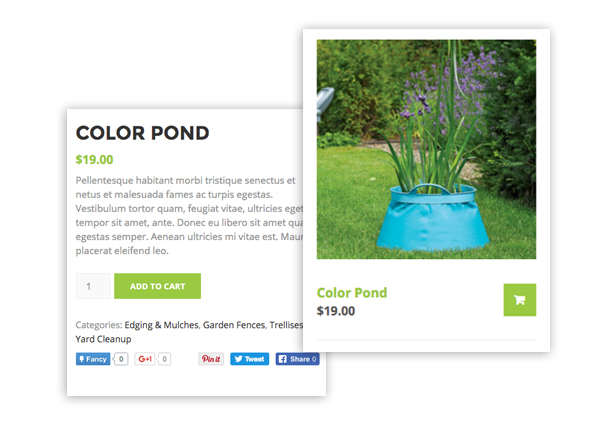 It is undeniable that WooCommerce plays a key role in every business's website, and it is even more correct with the case of gardening and landscaping business. We have included WooCommerce with this theme and added some special features, some special theming. You will be able to promote your gardening tools and products more efficient to your customers. We always bear in mind that your success is our success. And we will do our best to help you sell more with our themes.
5. Elegant Event Management System.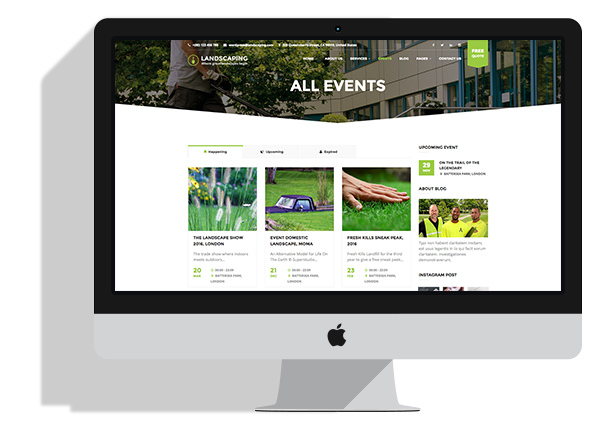 Event Management System is an underrated feature in themes like this. Most theme makers think it is irrelevant, but we believe that events help to make people stick with your organization, and events should be managed efficiently as well as should be showed off to your customers in a proper way so that they would never missed out on any of your events or campaigns.
6. SEO friendly is a must
As I already said, SEO is crucial. The more SEO friendly your website is, the more profit you are about to make. This theme applies Structure Data along with essential SEO elements like titles, headings, meta tags, products, images, alt text, … to make your site attractive in Google search results. Therefore, with good content, your site will have a higher ranking on Google than most other landscaping websites.
7. Authentic experience with Responsive, Retina-ready and Mobile friendly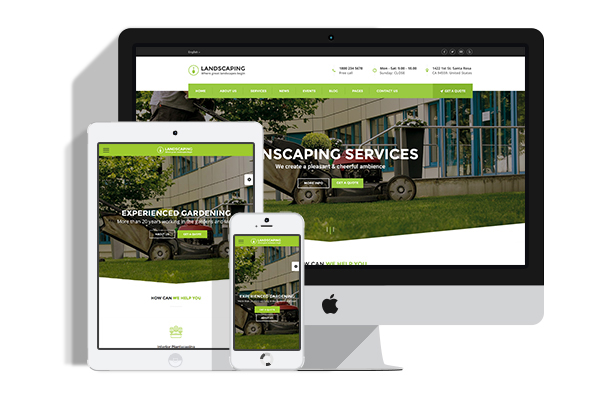 Nowadays, focusing only on Desktop and Laptop is a bad strategy. The significant rise of Mobile users means we need to change to adapt and to win. Besides Desktop and Laptop, we made the theme Retina-ready to be best on any device, and the theme is responsive and mobile friendly. For this, mobile users will also get to experience the best of the theme.
Get The Landscaping WordPress Theme Here
Full list of features
3+ Landscaping demos, a new demos to sell products coming soon.
One click demo importer: build your site in few minutes.
Professional and modern design with pixel perfection.
Slider header with Revolution Slider.
Video header.
Smart sticky menu.
Lightweight Drag & Drop page builder: create different layouts.
Live customizer.
Custom widgets and many columns layouts.
700+ fonts and 1600+ icons.
Logo on pre-loading page.
Smart events management.
Countdown feature for event.
Woocommerce support.
Multilingual ready and RTL support.
Mobile-friendly landscaping WordPress theme.
Optimize for SEO.
And much more features for a premium WordPress theme.
The fabulous team behind this gardening theme.
Landscaping WP is made by ThimPress, an Elite Author team on ThemeForest. With 11000+ Satisfied Customers who purchased our themes for hotels, restaurants, charities and schools, we believe we have a wealth of experience in building WordPress themes for businesses, and we can bring you the finest quality WordPress theme.
To guarantee the quality of the theme, we made a forum support for the theme here besides the detail documentation. Don't worry about any of the bugs or problems; we have your back!
Join Our Satisfied Customer Community Now
Final Thoughts on Landscaping WP
On the surface, Landscaping WP may look like just another Landscaping WordPress theme for Landscapers and gardeners. However, it is a robust and elegant theme, backed by a strong team. This combination of an A-team with a high-quality product for a niche such as Landscaping can seldom be seen elsewhere.
On a closer look, this is just the theme everyone needs. On the one hand, it is easy to use; you can have your website up and running in just a few seconds. On the other hand, it offers full control on the theme and it's flexible with many options to choose from.
The UI and UX of the theme are another plus points that you could consider using for your business. One customer of Landscaping WP reported that he used it for a company that is totally irrelevant to the gardening industry. The reason simply because of its great UX, UI and flexibility with a wide range of options.
For that reason, you really should consider this theme for your business whether you are landscapers or not.