Since its debut in 2008, Magento has been known as a top-tier eCommerce platform. From 2009 to 2017, Magento was the best in the eCommerce world. More people searched for "magento" than "ecommerce" on Google Trends.
However, the situation has changed in recent years.
Magento's popularity has waned, giving way to market share gains by competitors like Shopify and WooCommerce.
Additionally, Adobe's acquisition of Magento in 2018 and subsequent rebranding of Magento Commerce in 2021 have introduced uncertainty and confusion among Magento store owners and developers.
In light of these developments, the question arises: Does the future of Magento 2 secure its position as a viable choice for eCommerce businesses? What lies ahead for Magento 2, the platform's latest iteration? How can Magento store owners and developers effectively navigate the evolving trends and challenges of the eCommerce landscape?
If you seek a quick answer, here's our stance: Magento will continue to hold its place as the best eCommerce platform for companies globally.
Its adaptable architecture empowers Magento users to embrace emerging technologies such as Magento 2 headless commerce and Magento 2 artificial intelligence (AI).
This adaptability positions Magento as a robust choice for businesses looking to stay at the forefront of AI companies and cutting-edge e-commerce solutions.
For a more in-depth exploration, continue reading!
Exploring the History of Magento
Magento, an open-source eCommerce platform, has transformed online shopping since its inception in 2001 by co-founders Roy Rubin & Yoav Kutner under Varien Inc.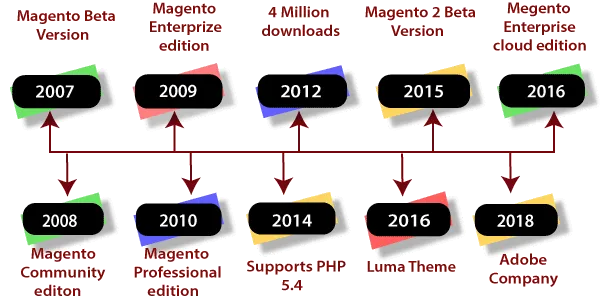 Magento 1, the initial version, was released in 2008, quickly gaining traction among businesses seeking a powerful and flexible eCommerce solution. Its feature-rich architecture and extensive customization capabilities enabled merchants to create personalized online stores that catered to their unique business needs.
In 2015, Magento 2 marked a significant leap forward, introducing a more modern and scalable platform that set the stage for the future of Magento 2. Addressing the limitations of its predecessor, Magento 2 brought forth enhanced performance, improved security, and a more user-friendly interface for both merchants and developers.
Key Differences between Magento 1 vs. Magento 2 to Know the Future of Magento 2:
Underlying Technologies: Magento 1 is built on the Zend Framework, while Magento 2 utilizes a more modern stack, providing a more robust and efficient foundation.
Scalability: Magento 1 faces limitations in scalability, while Magento 2 is designed to handle large catalogs and high-traffic volumes effectively.
Performance: Magento 1's performance can be sluggish, while Magento 2 offers significant performance improvements.
Security: Magento 1 has known security vulnerabilities, while Magento 2 prioritizes security with enhanced measures to protect sensitive data.
Customization: Magento 1's customization can be complex, while Magento 2's modular architecture simplifies customization and makes it easier to keep up with evolving eCommerce trends.
User Interface: Magento 1's user interface can be challenging to navigate, while Magento 2 provides a more user-friendly interface for both merchants and developers.
The latest version of Magento 2, released in 2022, brings forth a host of improvements, including enhanced performance, increased security, and a more intuitive user experience for both merchants and developers.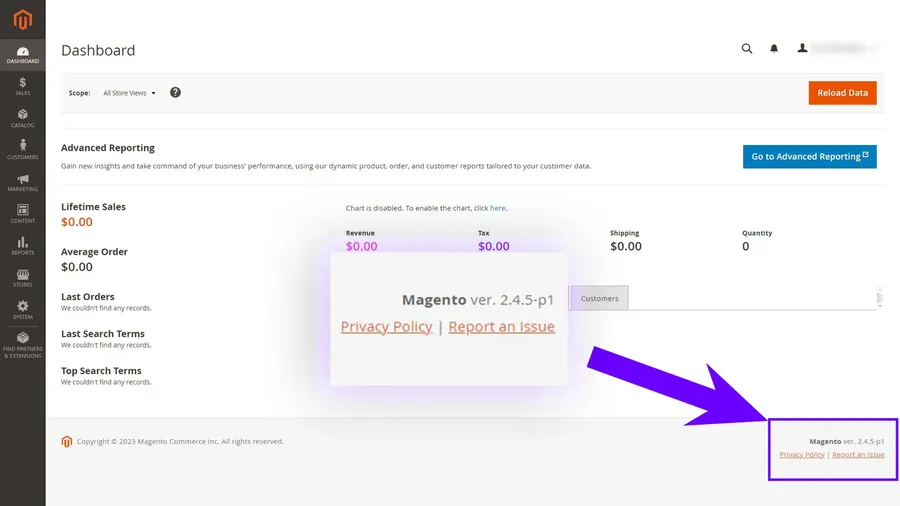 It also introduces new features such as Page Builder, a drag-and-drop tool for creating and editing store pages, and improved support for Magento 2 progressive web apps (PWAs), ensuring a seamless shopping experience across devices. These advancements aim to set the stage for current Magento development trends, fostering a seamless shopping experience across various devices.
Analyzing Magento's Present State: The Future of Magento 2
The future of Magento 2 has been questioned due to a reduced user base and Adobe's integration plans.
However, despite its declining user base, Magento remains a popular choice for large enterprises and brands, such as Coca-Cola, Ford, Nestle Nespresso, ASUS, and Tommy Hilfiger, due to its scalability, extensibility, and control.
Low-code and no-code platforms like Shopify, Wix, WooCommerce, and WordPress gained popularity due to their ease of use.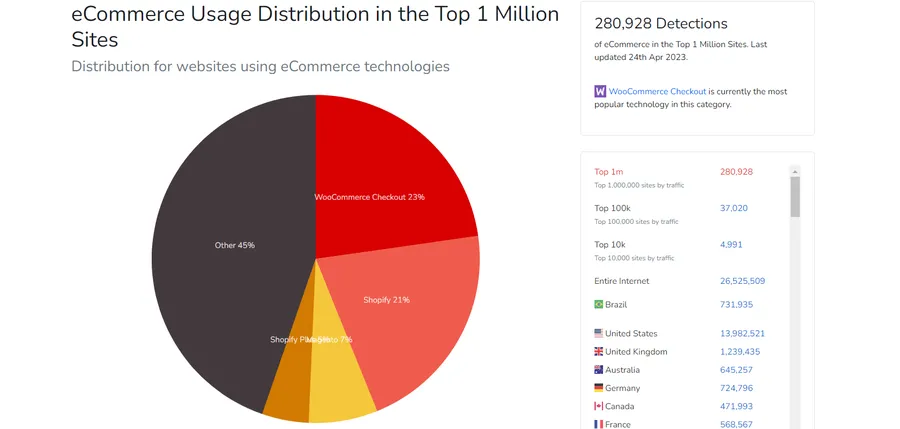 Because installing extensions and updating the application in Magento 2 requires technical expertise, the user base is declining.
Adobe's acquisition of Magento in 2018 raised concerns about Magento Open Source's future. However, Adobe has reassured the community that it's committed to Magento Open Source and plans to continue developing it.
Despite challenges, Magento remains a powerful eCommerce platform for businesses that need a lot of power over their online store.
Businesses should be aware of the challenges involved in using Magento and ensure they have the technical skills necessary to manage it.
Magento 2 cloud-based solutions allow hosting Magento on a cloud platform like Amazon Web Services (AWS) or Microsoft Azure. This provides benefits like improved performance, scalability, and security. Choose a cloud provider that is compatible with Magento and can provide the level of support you need.
Adobe Commerce & Magento Open Source's Future: The Future of Magento 2
The Magento platform is evolving with Adobe's shift towards a microservices architecture for Magento Commerce. Simultaneously, the Magento Association & the Mage-OS Association are actively shaping the Magento Open Source's future.
Adobe's Microservices Approach: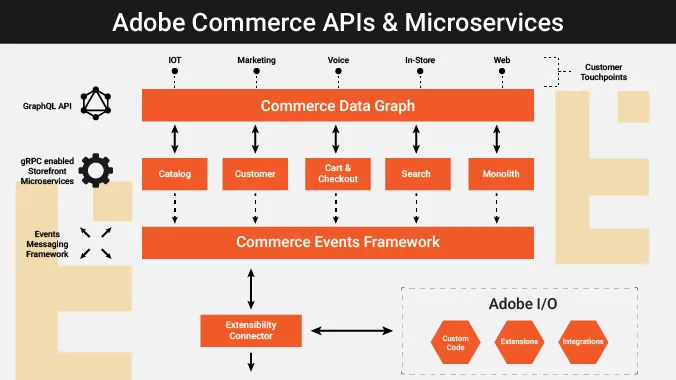 Adobe is developing and creating a new microservices-based framework for Magento to enhance its future-proofing capabilities.
The new framework leverages serverless functions on Adobe I/O, enabling customizations using PWAs for the front end, Adobe I/O for backend business logic, and GraphQL, REST APIs, and middleware for front-end and back-end integration.
Adobe's microservices approach aims to reduce core code conflicts and provide seamless upgrades free of conflicts in the code or extensibility problems.
Magento Association's Initiatives:
With a rich ten-year legacy of fostering the Magento community, the Magento Association has embraced the responsibility of maintaining and developing Magento Open Source.
The Magento Association's Magento Open Source Task Force, established in October 2021, works with Adobe to research, suggest, and prepare for Magento Open Source's future.
Mage-OS Association's Vision:
The Mage-OS Association is committed to preserving Magento's successful monolithic architecture while Adobe transitions to a microservices-based approach.
Their vision for Magento Open Source focuses on rallying the community to ensure its long-term prosperity.
When Adobe switches to microservices, merchants who are now utilizing the monolithic Magento codebase will still be able to use it thanks to Mage-OS's creation of a copy for community-maintained support.
To support merchants, agents, and technology partners, Mage-OS envisions a vibrant Magento Open Source ecosystem.
Their goal is to make a lightweight, easier-to-manage Magento package that is less expensive to host.
Final Thoughts: The Future of Magento 2
As Adobe continues to work on its Magento 2 headless commerce strategy, the Magento network is excited about what lies ahead for Magento 2. Whether you are a newcomer to Magento 2 or a seasoned user, you can be confident that the platform will be around for years to come.
Since its launch in 2008, Magento has served as the standard for online shopping, and with guidance from Adobe, the Magento Association, and the Mage-OS Association, it will only get better.
Don't forget to check out Claue from ArrowTheme! Claue is a beautiful and responsive Magento theme that will make your store look great on all devices, including smartphones and tablets.
Read More: 14+ Top Magento SEO Tips to Outrank the Competition
---
Contact us, ThimPress:
Website: https://thimpress.com/
Fanpage: https://www.facebook.com/ThimPress
Youtube: https://www.youtube.com/c/ThimPressDesign
Twitter: https://twitter.com/thimpress