With over 1.8 billion websites online, getting your first choice in a domain name isn't guaranteed. Finding a domain name that isn't already taken can be a challenging process.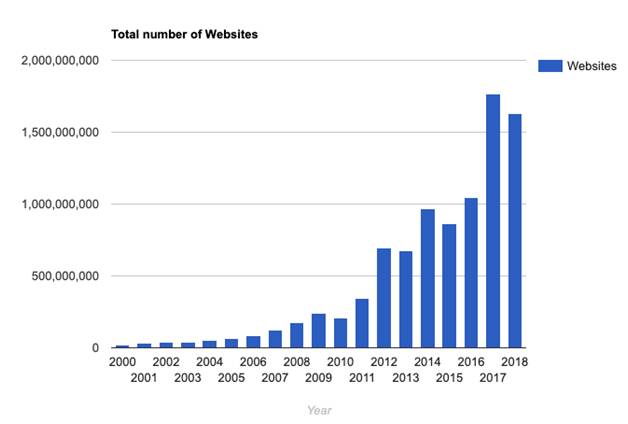 After all, your domain name can affect your SEO campaigns and if will also affect your website's performance.
There are several strategies you can use if your ideal name is already taken by someone else. So, what do you do if your domain name is already taken?
Try to Contact the Domain Owner
If your company is a startup, maybe you don't have thousands of dollars to buy out an existing domain name. But, not all domain names are active. In years past, thousands signed up and registered domain names. However, not all the domains haven't been used or are no longer in use.
Do a Google search on the domain name you want. If you see something like this, you may be in luck.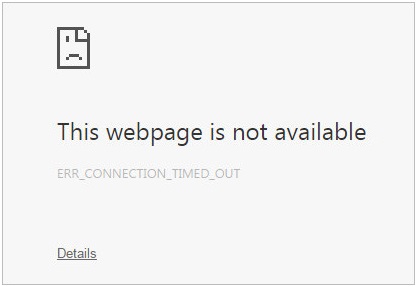 The best way to purchase a domain name is directly from the owner themselves. You can look up the current owner by using the WHOIS database lookup.
Unless the owner is using privacy protection, which replaces their contact information with generic, provided with that of the registrar, you'll be able to get an email address that will allow you to reach out and try to come to a deal.

Choose an Alternative Domain
Alternatively, you can try to get a domain name with some minor changes. There are a couple ways you can go about this:
Choose a Different Domain Extension
Utilizing a new domain extension, otherwise called a top-level domain, may be the answer to your dream name.
Not all websites end in .com or .org, which are the most common TLDs. There are now a host of options for domain endings.
You can use a tool like Hostinger's domain checker to check the domain. Next, see what alternative TLDs are available with your chosen domain label.
You can experiment with different extensions until you feel like you've got the best fit for your website.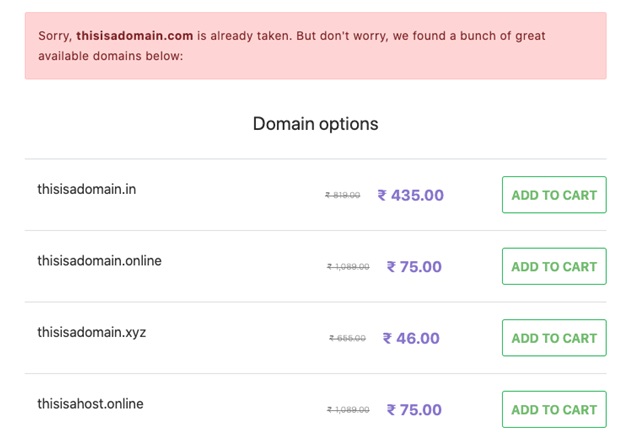 There are plenty of alternatives out there. If you were set on a .com, you can instead of for a .xyz, which is considered to be the spiritual successor to it.
Alternatively, it may be a great time to take a critical eye and consider if .com is the right domain for you. If you're starting a website for an organization, you might be better off using a .org domain. If you're starting an exclusive network .net is a great idea too.
There's an alternative worth your while almost always.
Add an Action Verb to Your Domain
There are two benefits to this method. First, you are still able to use your company's brand name in the URL.
Secondly, you don't have to mess around with alternative TLDs. This is a great way to get around a domain name that is already taken.
Try using verbs like "Get" or "Try" to the beginning of your name or think of your own action verb that will draw users to your website. An example of this method is getpocket.com.
This can additionally be a great way to incorporate a call-to-action straight into your domain name. CTAs are proven to encourage visitors to convert. So for example, if you're utilizing search engine marketing, you can have an ad on Google's first SERP with a CTA right in the domain name.
Make It Quick
Starting early in the development process is the best way to ensure the name you want to base your site on, is available.
Designing your site, coming up with marketing campaigns, and the entire creation process could all be a waste of time if your name ends up being unavailable.
Getting a head start will save you time and possibly money in the long term.
Use a Domain Broker
A domain broker can help you buy the domain name you dream about if you find that contacting the owner yourself isn't possible.
A domain broker can help you track down the registered owner of the domain name, present your offer of buy out to the owner at an assessed fair market value, and set up the technical transfer and money exchange. This can end up being a costly route to go.
Extend Your Brand
A great example of this is Tesla. Until 2016, Tesla didn't own the domain name Tesla.com.
The way they got around this is by adding the word "Motor", thus making their URL TeslaMotor.com. Using words that are a natural extension of the brand can be an excellent way to create your brand, while still utilizing your original domain name.
Monitor Domains
Perhaps none of the above techniques appeal to you and you still desire the domain name on your list.
If you don't have the money to buy the domain or the owner will not sell it to you, you can use a tool, such as Domain Monitor tool which allows you to track any changes in the registration status.
They will notify you when a change is made, so you can snap it up if it comes available.
Opt for a Fresh Start
Go on a brainstorming mission. Try to come up with other domain names that will work with your ideal website brand.
Often, you can come up with an even more original name that will allow you to use one of the more commonly used TLDs, like .com.
If you are having trouble coming up with unique names, ask your family and friends for some suggestions. They know your mission and your brand and can be a great source when coming up with a new domain name.
Conclusion
Alternative TLDs are becoming more commonly used now than in years past, and it is a way to get the name you want to base your website on.
While .com is still the more desirable domain name, having an open mind during the naming process may be your best bet. A unique and individual name is still the best way to go.
Read more: How to Choose the Best WordPress Hosting?