"A man without education is like a building without a foundation."
It is undeniably true that Education is the base of everything, and choosing the right place to learn and to work for your career is also of the same importance. This right choice will help you soon grow and prosper your dream faster.
This collection will give you a complete set of awesome and responsive Education WordPress Themes which will definitely help you to rule the competition and give the best of your services to the students, trainees, apprentices, probationers, recruits, novices, learners, mentees, and beginners. These themes will assist you best in providing clean, slick UI/UX of an online course and eLearning website. Bringing a completely different experience to the students of your center, school, or university.
I am so sure that you will be surprised to see such a great collection of Education themes!
Stunning Education WordPress Themes for Schools
Eduma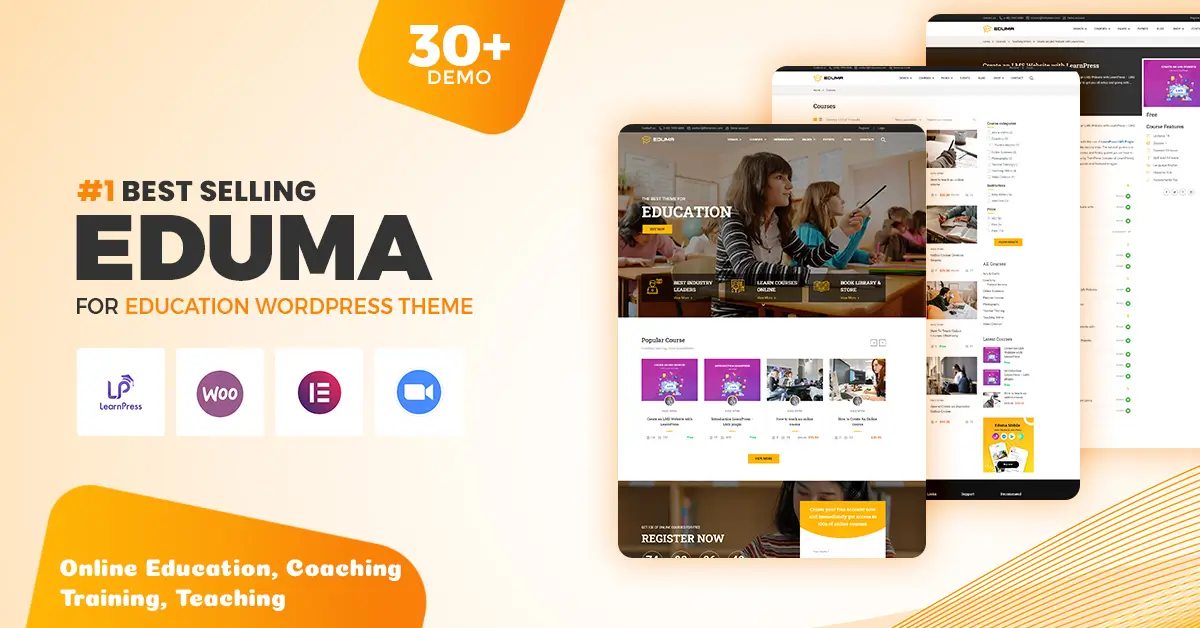 Being created by the LearnPress author and using LearnPress. The features and strengths of an educational WordPress theme are fully embraced by Eduma. Additionally, it helps teachers transmit knowledge throughout the globe. A free bonus of 69$ worth of premium education add-ons for LearnPress, featuring all the cutting-edge features of a top online school, is included with Eduma.
This education WordPress theme is fantastic for its cutting-edge design with 30+ pre-built styles for different types of educational institutions, in addition to being integrated with the WooCommerce plugin, which enables you to set up an online store and offer courses or other educational items. You get the flexibility you require from it.
These template designs are modern, clean, and fully responsive, so they will inspire both you and your learners to strive for better. If you find the theme isn't the right template for your project, you can enter a request for additional themes for a particular category: School, University, Course hub, Online course, Kindergarten, etc.
Given all that, Eduma is still an easy-to-use education WordPress theme with a one-click demo install. The instructions, documentation, and support team also work endlessly to help you in building your project. This theme is made for you to help you and help everybody else in achieving the education target.
EducationPro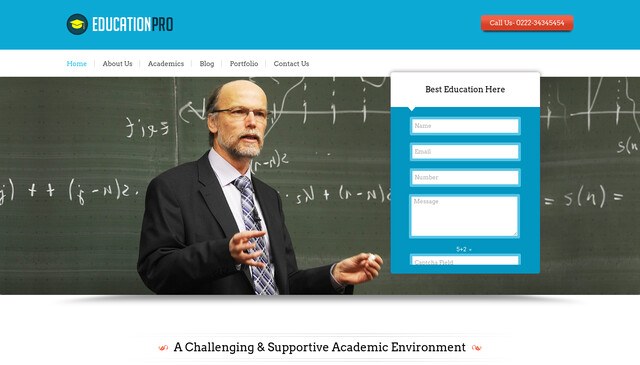 EducationPro is a remarkable Education WordPress Theme for Institute, Cultural Events, Training Programs, and Career Counseling centers. Users can browse over the theme about courses, academics, fee details, etc. A wide variety of information can be displayed on the website, and that will help students get a properly balanced idea to get admissions or apply for online courses.
The splendid feature of The theme is the Excellent Inbuilt Lead Capture Form on the front page gives you a handful of options where you don't lose the people that you reached and further you can email them about your new courses, admissions, exam timetable, etc.
Other amazing features like the full-width slider with animation effects, separate mobile header styling options, tap-to-call button, WPML compatibility, and responsive design that will look fab on any device.
Epsilon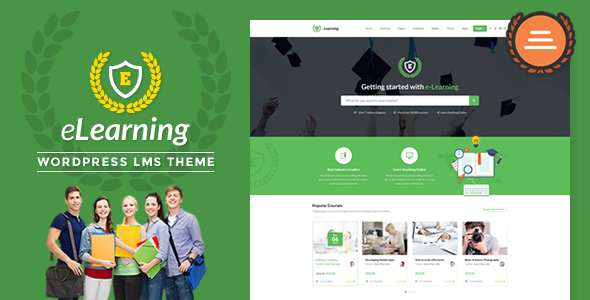 Unlike Eduma, which is flexible enough to be a school, university official website, or an Online Learning website, Epsilon is made especially for Online learning.
The first amazing thing about Epsilon is its 8 Homepage designs that could fit even the strictest web maker. Being built with LearnPress, this theme also provides you with a full pack of LearnPress's add-ons, including the payment and pricing option on all platforms like Paypal, 2Checkout, etc.
This is a lifesaver since it encourages your students to pay and learn. If there's not a proper payment method that is suitable for learners, they will not learn and will not pay. Additionally, this eLearning WordPress theme is easy to install and set up or even customize to your own demand. This can help you boost your development process and save you time to do other important things for your online school.
TutorPoint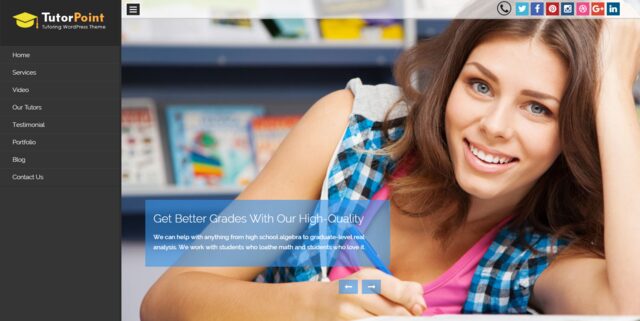 TutorPoint is a spectacular One Page template for educational instructors who provide private tuition, one-to-one, and group classes. It is fresh-faced with a clean design that will give your users complete gratification. A key component in the theme is Menu Panel – the theme has an out menu pop-up from the left. Full-width slider with menu hidden and a dynamic sidebar with single page scrolling.
This education WordPress theme also has features loaded like a dynamic sidebar with single-page scrolling, a video tutorial, a team section to display your expert tutors, testimonials to give reviews, and the experience of having a tour with you. It also gives a valid reason why new people or students should join you.
The service section of the theme lets visitors understand your criteria and join you accordingly for the courses.
DayCamp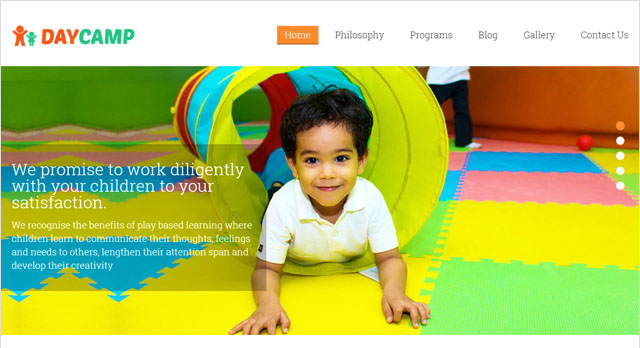 DayCamp education WordPress theme is an adorable theme for your preschool, summer camps, or daycare. This theme will help parents to encourage their kids because they have no idea what they are truly capable of. You can give a wide range of services designed for Play Group, Nursery, LKG, and UKG.
The key component in the theme is a 3-column layout – showcase the highlights of your preschool or daycare with a column layout. To set your features you can use images as well as the icon. More you can turn on or off the Homepage animation as per your requirement.
This LMS WordPress theme also has a style switcher that lets you choose from 8 vibrant colors to customize the style of your site quickly, SEO optimized, sliders with text description, galleries with carousel effect, contact page with Google map integration, and responsive design that fits any screen resolution.
Edme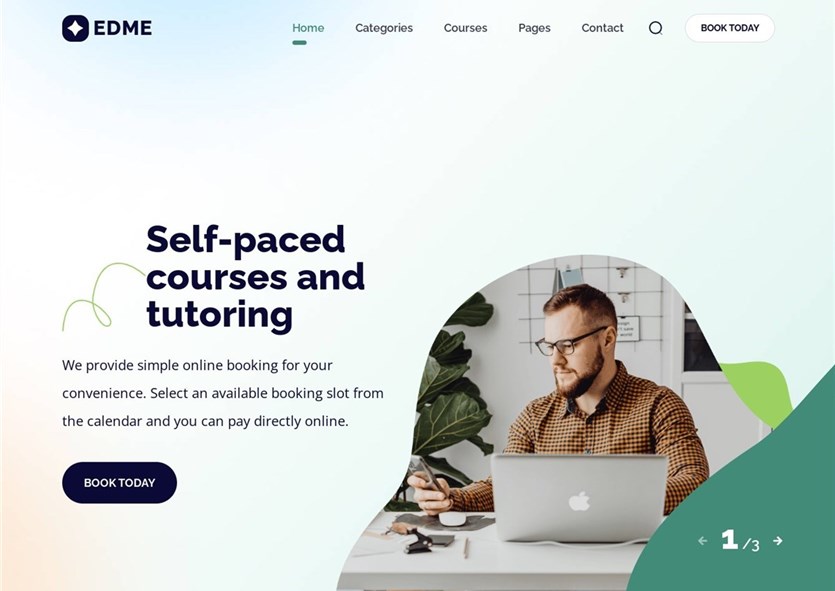 Edme is a modern education WordPress theme that suits education websites. Teachers may use ready-to-go pages to add a profile, curriculum, course overviews, prices, etc. They are built with Elementor while Stratum Elementor widgets enhance editing options.
The WordPress Appointment Booking plugin gives you access to a responsive booking wizard to arrange the online scheduling of lessons. You're allowed to assign flexible timetables, define working hours, and enable multiple appointment reservations. You can work with different payment gateways (PayPal, Stripe, a direct bank transfer, and payments after arrival).
RoseFlower
RoseFlower is an astonishing Education WordPress Theme. Colleges, universities, high schools, coaching centers, or even a complete learning management portal can make the best use of this theme.
Superfluous feature of this education WordPress theme: Powerful AJAX Based Admin Panel – which allows you to customize just about anything in the appearance of your site with just a few clicks. The slider has animation effects with a button text which may redirect you to a Landing Page.
Apart from that, there are two types of sliders – standard/layered, select accordingly the type of slider you want to use on the Homepage, four feature service sections with flip displays, and list your courses in the accordion section. The layout of the theme gives you enough space to portray your academic and extracurricular activities in an engaging way.
Final Thoughts
In conclusion, all the mentioned Education WordPress themes in this collection will be the best fit for your online school or your education WordPress website. However, It is our recommendation that you use the top 3 themes on the list, especially Eduma. It is made to work perfectly both in the short term and long term so that you won't have to worry about the technical details of the website anymore.
Read More: Plugins for WordPress – Most Used Plugins for Beginners
---
Contact us, ThimPress:
Website: https://thimpress.com/
Fanpage: https://www.facebook.com/ThimPress
Youtube: https://www.youtube.com/c/ThimPressDesign
Twitter: https://twitter.com/thimpress