By keeping your students in the loop with the latest news, deals, content, and offers, you can enhance their engagement and loyalty to your LMS website. With LearnPress Announcement Integration, you can do that easily and effectively.
This awesome add-on lets you create and manage announcements for your courses and display them on the Announcements tab of your course page. You can also send announcement emails to your students with flexible templates and options.
In this beginner's guide, let's walk you through the process of setting it up and how to customize your announcement emails.
LearnPress Announcement Integration: What is it?
LearnPress Announcement Integration is a robust add-on for the well-known LMS LearnPress plugin. It enables you to create course announcements and display them on the Announcements tab. After logging in, your students can go to the course, see the tab, and comment on the announcement.
When you make a new announcement, the add-on also enables you to email the announcement content to your students automatically. This is a great way to keep your students informed and engaged with your course material.
Benefits of Using LearnPress Announcement Integration
Using LearnPress Announcement integration has several benefits, such as:
Keeping Students Updated
Announcements keep your students up-to-date on new course content, special deals, and breaking news. You can keep your students informed of what is going on in your course by posting regular announcements.
Interacting with Students
Announcements also give you the opportunity to interact with your students and solicit feedback on the announcements you post. This can assist you in improving your course and engaging your students.
Email Notifications
When you publish a new announcement, the LearnPress Announcement add-on automatically sends email notifications to all enrolled students. This keeps your students informed of any new course content, deals, offers, or news.
Customizable Email Templates
You can also personalize your email templates with the LearnPress Announcement add-on. This means you can customize the email notifications sent to your students with your own logo, colors, and branding.
How to Use LearnPress Announcement Integration
To learn more about LearnPress Announcement Integration, you can either watch our tutorial video or continue reading our text guide.
Step 1: Download
First, you need to download this add-on to your computer.
Visit ThimPress and log in to your account.
Go to My Account and select Dashboard.
Find the LearnPress Announcement add-on and click on Download or Select Version to download it.

Step 2: Install & Activate
From your admin Dashboard -> find Plugins -> select Add New and Upload Plugin and find the downloaded file on your computer.
Choose the file and then hit Install Now.

After the plugin installs successfully, you need to click on the Activate Plugin button to activate it.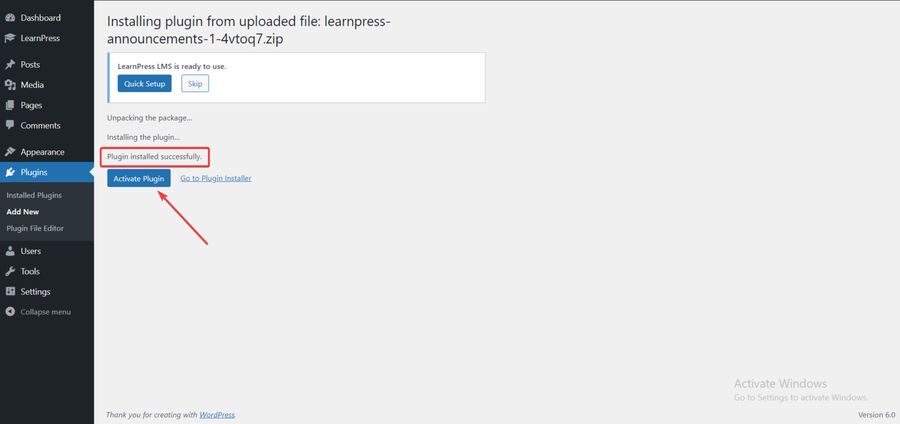 This is the final step in installing this add-on. You can check if the add-on is activated by going to Plugins, finding Installed Plugins, and selecting Active. All your active plugins are shown there.
Step 3: Create and Send Course Announcements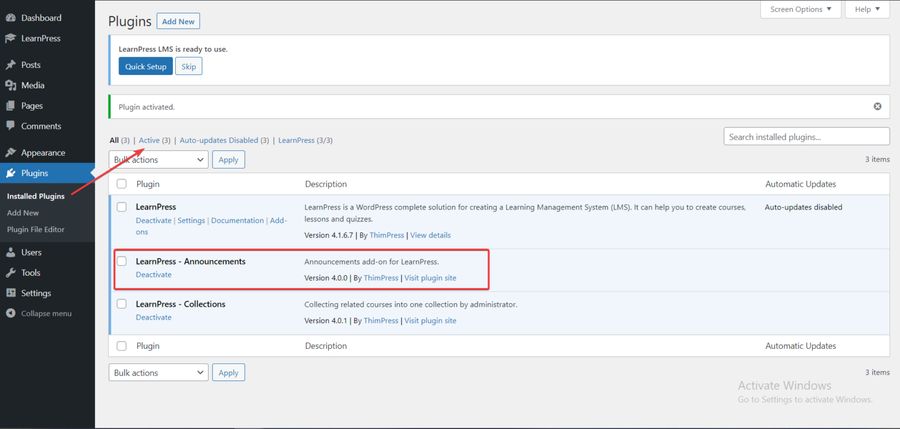 Once you activated the LearnPress Announcement Integration successfully, navigate to LearnPress -> Courses in your WordPress dashboard.
Choose the course for which you want to make an announcement for by clicking Edit and scroll down until you find the Announcements tab under settings.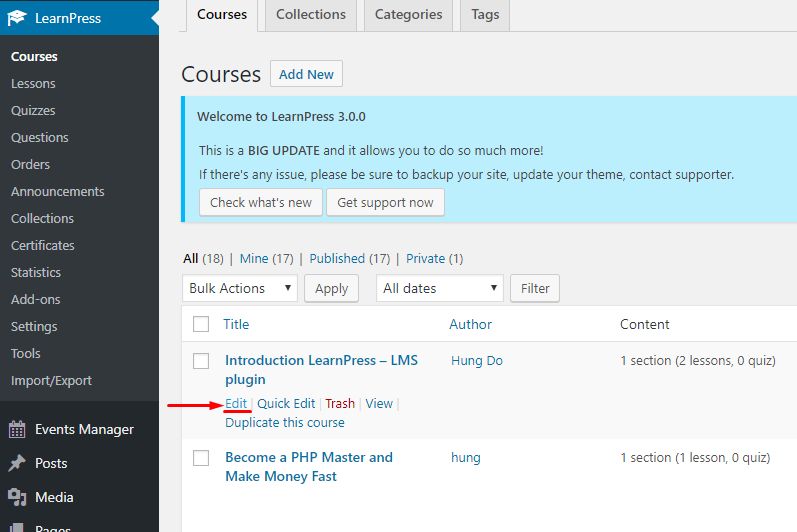 Enter your announcement title and content, tick the "send email to students who were enrolled when creating a new announcement" and "display the comments on the new announcement post" checkboxes, and then hit Post. It will be visible to your students via the Announcements tab.
Repeat these steps for each course you want to use LearnPress Announcement Integration with.

Note: You can create an announcement for multiple courses at the same time by clicking Multi-course.
Step 4: Setting up Announcement Emails
When you create a new announcement, it's important to make sure that your students are notified. LearnPress Announcement Integration makes this easy by allowing you to automatically email the announcement content to your students.
However, for this feature to work, you need to configure your email server correctly. If you're not sure how to do this, follow these steps:

Take an API key from your Sendgrid account and attach it to Settings -> Sendgrid.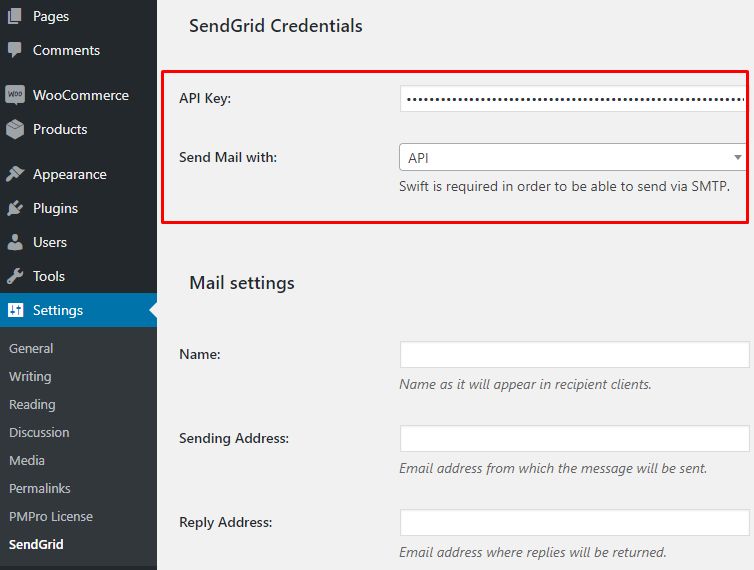 Customize your Announcement email template here: LearnPress -> Settings -> Emails -> Announcement. You can include images, links, and other formatting options.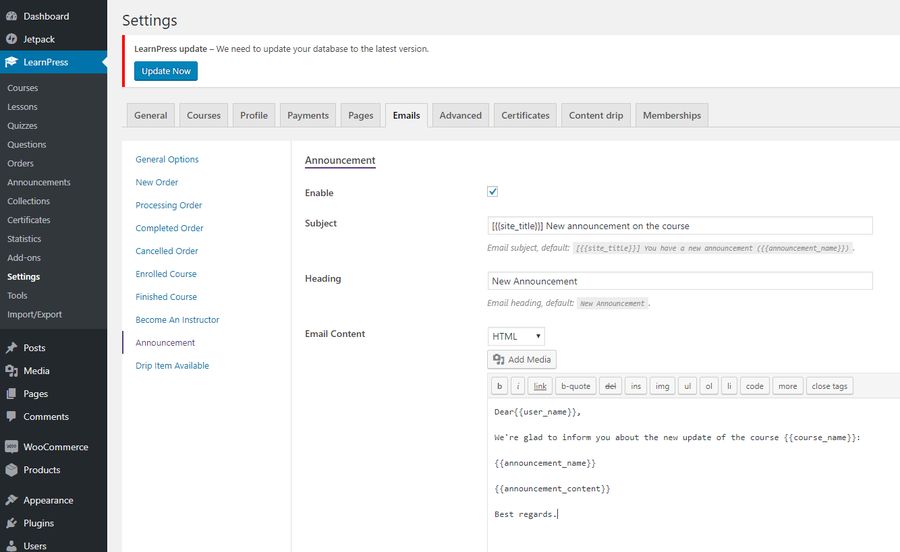 Save your changes, and you're done!
Now, whenever you create a new announcement, LearnPress will send an email with the content of the announcement to each enrolled student of the course via the email they used to register on the website.
Conclusion
LearnPress Announcement Integration is a powerful add-on that makes it simple to create announcements for your courses and keep your students informed. It's a must-have for anyone using LearnPress, thanks to its simple installation process, customizable email templates, and support for multiple courses.
Read More: How to Use LearnPress Sorting Choice Question Integration to Create Awesome Quizzes
---
Contact us, ThimPress:
Website: https://thimpress.com/
Fanpage: https://www.facebook.com/ThimPress
Youtube: https://www.youtube.com/c/ThimPressDesign
Twitter: https://twitter.com/thimpress