Are you looking for an effective way to test your student's comprehension of the lesson? The LearnPress Sorting Choice Question Integration is an additional question type for quizzes that allows students to re-arrange answers in the most correct order to receive the mark for the question.
So, what is this add-on? Are there many advantages of using it? how do you install and activate it?
Let's explore and learn how to do it in this detailed guide today!
What is LearnPress Sorting Choice Question Integration?
LearnPress Sorting Choice Question Integration is a powerful feature that allows you to create a sorting choice question type for your quizzes. Unlike traditional multiple-choice questions, sorting choice questions ask students to arrange the answer choices in the correct order.
This question type is especially useful for courses that require critical thinking and analysis. It challenges students to not only recall information but also evaluate and prioritize it.
You can watch our comprehensive video that guides you through the process of creating lesson, quizz, and question with LearnPress, including how to use the sorting choice question integration feature.
Benefits of LearnPress Sorting Choice Question Integration
Integrating LearnPress Sorting Choice Questions into your online courses has many benefits, including:
Encourages Critical Thinking
Sorting choice questions challenge students to think critically and analyze information. They must not only remember information but also understand it and prioritize it correctly.
Improves Learning Quality
Sorting choice questions adds variety to your quizzes and keeps students engaged. They offer an alternative to traditional multiple-choice questions and encourage students to think more deeply about the material.
Easy to Use
LearnPress Sorting Choice Question Integration is easy to use and can be added to your quizzes in just a few simple steps. It requires no special training or technical expertise to use.
Get the LearnPress Add-ons Bundle for Free
If you have purchased one of the education themes from ThimPress, you can get the LearnPress add-ons Bundle (worth $300) for free. This bundle includes several premium add-ons for LearnPress, including the Sorting Choice Add-on.
How to Create a LearnPress Sorting Choice Question
To get started with LearnPress Sorting Choice Question Integration, you will need to purchase the add-on on Thimpress.com. Once you have purchased it successfully, sign in and go to My Account -> Orders -> Download the version you want.

Then, you need to install and activate the add-on by opening your Dashboard -> hovering over Plugins -> selecting Add New -> clicking Upload Plugin, choosing the file you've downloaded, and then clicking Install Now.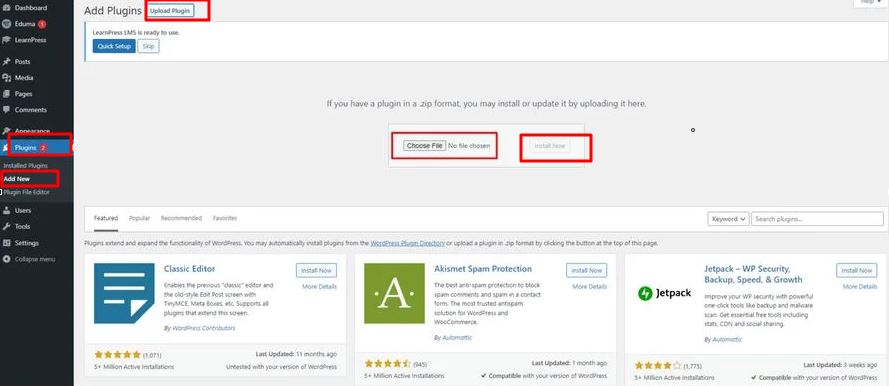 Wait for the installation to complete and Activate Plugin.

You will see the LearnPress – Sorting Choice Question is ready to use now.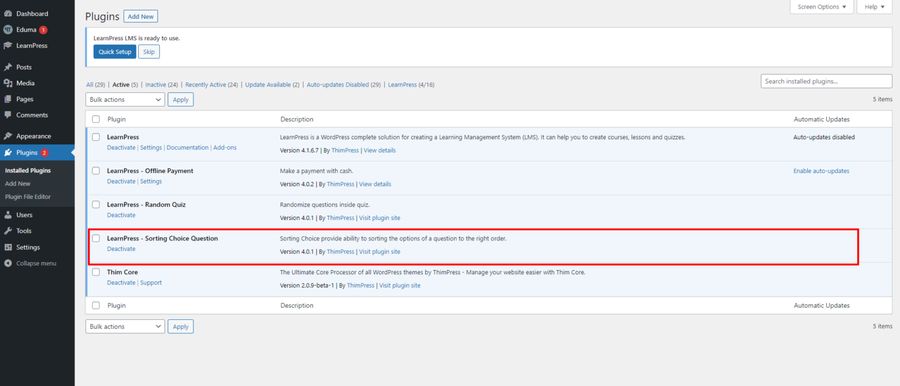 Next, navigate to LearnPress -> Quizzes -> click New Quiz to create a new quiz or select an existing quiz that you want to add a sorting choice question to.

Click Add New question and select Sorting Choice from the question type dropdown menu.
Add the question stem in the question field.
Add the answer choices in the choices field, making sure to put them in the correct order.
Click Save to save the question.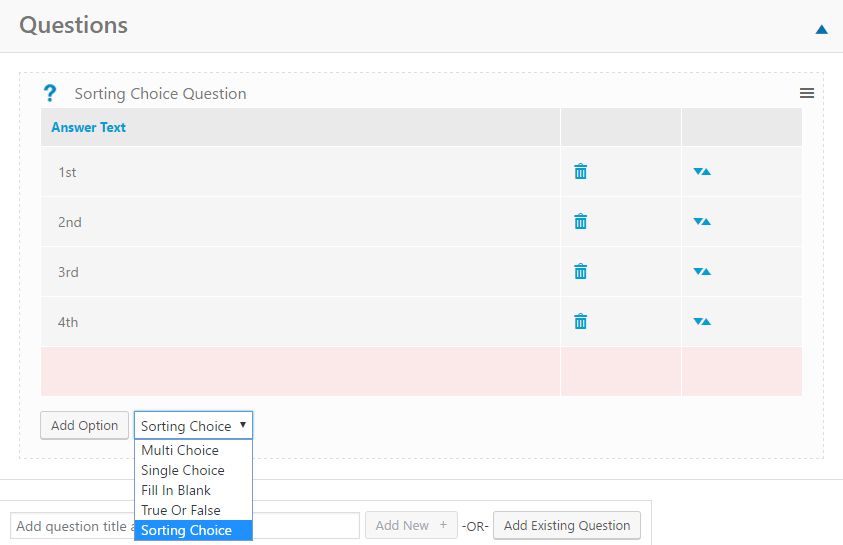 Students will see your sorting choice questions in random order and have to be rearranged.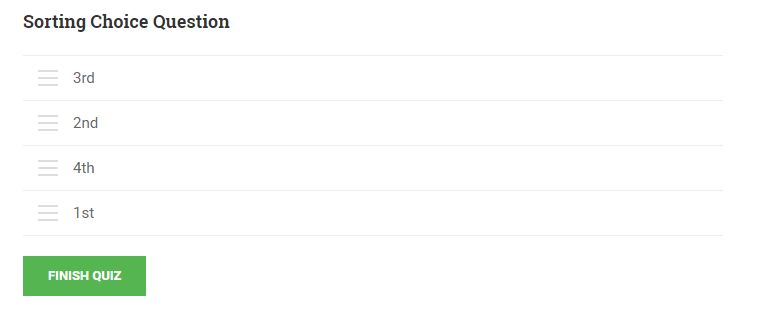 Conclusion
LearnPress Sorting Choice Question Integration is a powerful tool for online educators who want to challenge their students and enhance their learning experience. By incorporating sorting choice questions into your quizzes, you can encourage critical thinking, provide variety, and save time. 
Read More: Learnpress Collections Integration Guide: Everything You Need to Know
---
Contact us, ThimPress:
Website: https://thimpress.com/
Fanpage: https://www.facebook.com/ThimPress
Youtube: https://www.youtube.com/c/ThimPressDesign
Twitter: https://twitter.com/thimpress