Whether you're an independent business, MSME, startup, or DTC brand in India, you can monetize your online courses with the LearnPress Instamojo Integration. This strong add-on features a secure and user-friendly payment gateway, enabling you to reach a large market with your courses without any hassle. 
If you don't know how to set up the Instamojo payment for LearnPress and use this integration to increase your online course revenue, keep reading!
Instamojo: Everything You Need To Know
What is Instamojo?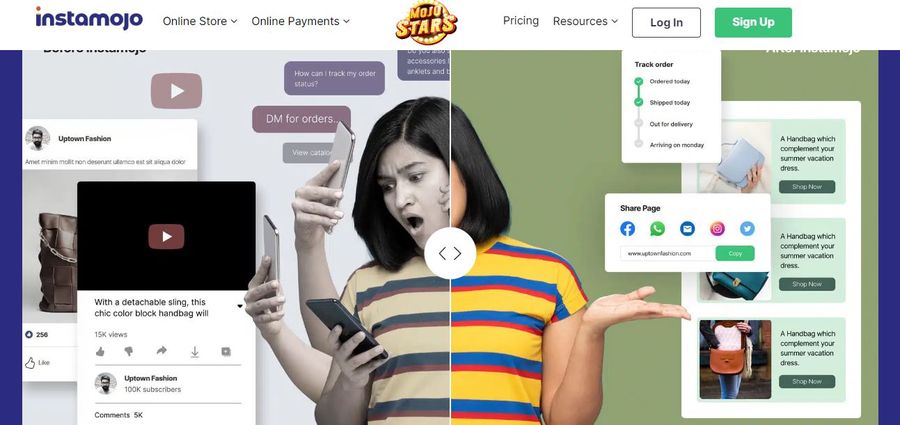 Instamojo is a well-known Indian digital payments service that allows individuals and companies to sell, manage, and grow online in a secure, simple, and cost-effective manner.
It claims to be the "simplest payment solution" that eliminates obstacles like technical skills and upfront costs.
Instamojo offers a variety of strong payment gateway functions that make it simple to manage payments online. It helps over 2 million Indian businesses to sell and collect payments, manage, and grow rapidly.
Key Features of Instamojo
You can benefit from many useful features when you use Instamojo, such as:
Online store builder: You can create your own eCommerce website with Instamojo and showcase your products and services to your customers. It's also possible to personalize your store's design, add domains, and promote your business with marketing tools.
Smart landing page builder: You can create a one-page website with a payment button in minutes with Instamojo. You can use smart landing pages to run ads, collect leads, offer workshops, sell tickets, and more.
Payment links: With Instamojo, you can securely collect payments online using over 100 payment methods through a single link. You can get paid anywhere, at any time, by sharing the link via WhatsApp, email, SMS, or social media.
Payment gateway: Instamojo allows you to accept payments from a variety of payment methods and currencies. You can also offer your customers subscription plans and payment plans. Your payments can be tracked and monitored using the Instamojo dashboard.
Business tools: Instamojo provides a variety of business tools and resources to help you grow your business. Instamojo partners offer discounts on shipping, accounting, marketing, legal, and other services. Instamojo also offers free eBooks, blogs, webinars, podcasts, and courses.
You can sign up for Instamojo for free and start selling online in minutes. You can also upgrade to premium plans for more features and benefits.
Why Choose LearnPress Instamojo Integration?
LearnPress is a popular WordPress learning management system (LMS) plugin with a variety of features for creating and managing online courses. To effectively monetize these courses, you will need a dependable and user-friendly payment gateway.
Instamojo comes in handy here. Instamojo is a popular Indian online selling platform that provides attractive landing pages, secure payment methods, and a variety of up-sell tools. You can provide your learners with a seamless payment experience while also ensuring the security of their transactions by integrating Instamojo with LearnPress.
How to Set Up The LearnPress Instamojo Integration
Downloading the LearnPress Instamojo Integration
To begin the process, you'll need to download the LearnPress Instamojo add-on from the official website. Follow these steps to access the add-on:
Sign in ThimPress -> "My Account" -> "Orders"
Click on the "Download" to get the available versions.

Installing and Activating the LearnPress Instamojo Add-On
Once you have successfully downloaded the LearnPress Instamojo add-on, it's time to install and activate it on your WordPress website.
Log in to your WordPress dashboard.
Look for "Plugins" -> select "Add New"
Select the "Upload Plugin" option and choose the downloaded LearnPress Instamojo add-on file.
Then press the "Install Now" button and wait until the installation is finished.
Once the installation is finished, click on "Activate Plugin" to enable the LearnPress Instamojo add-on.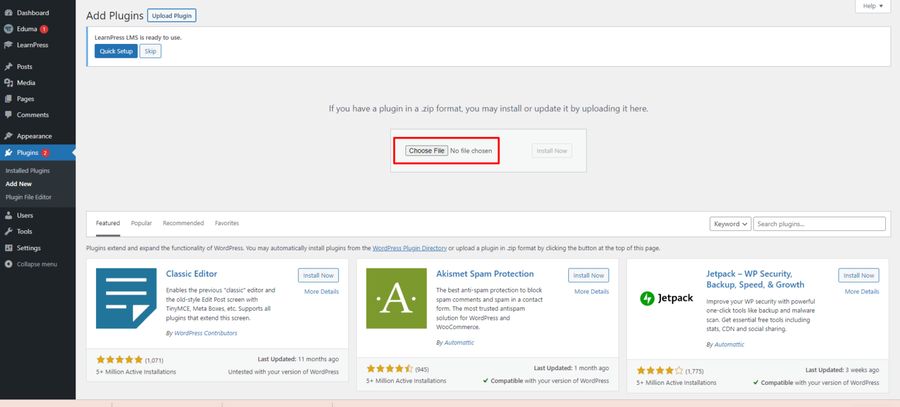 Configuring Instamojo Payment for LearnPress
With the LearnPress Instamojo integration successfully installed and activated, it's time to configure the payment settings to start accepting payments for your online courses.
From your WordPress dashboard, go to "LearnPress" and click on "Settings."
Under the "Payments" tab, you will find a list of available payment gateways. Choose "Instamojo" from the options.
Check the "Enable" box to activate Instamojo as your preferred payment method.
You need to create an Instamojo and get a client ID and secret ID as well.
Note: The Instamojo payment method is only compatible with the Indian Rupee currency.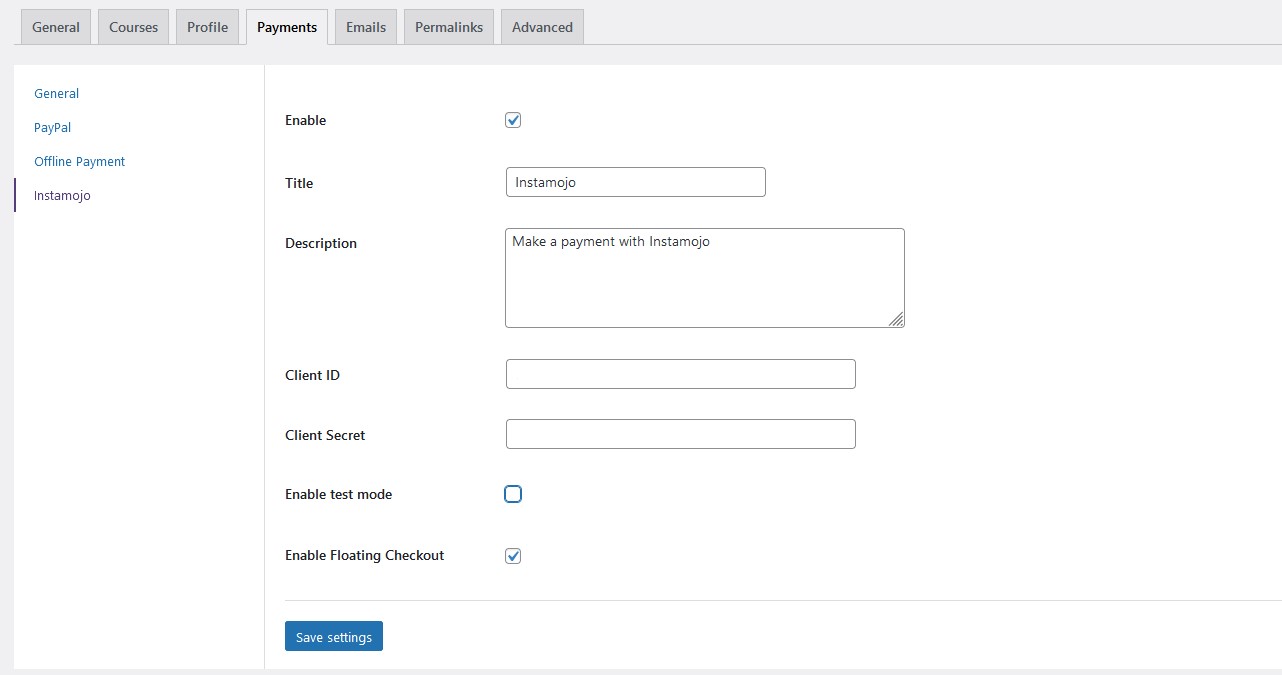 Conclusion
LearnPress Instamojo integration is a great collaboration for Indians, providing a seamless and secure payment gateway and enhancing your online course sales. Hopefully, you like our guide and use it successfully.
Read More: LearnPress Razorpay Integration: A Step-by-Step Guide
---
Contact us, ThimPress:
Website: https://thimpress.com/
Fanpage: https://www.facebook.com/ThimPress
Youtube: https://www.youtube.com/c/ThimPressDesign
Twitter: https://twitter.com/thimpress