The LearnPress WooCommerce integration is truly necessary and popular because it gives you a lot of chances and flexibility for selling your online courses. In addition, WooCommerce provides multiple payment options and it allows to immigrate your profile page between LearnPress and WooCommerce.
So that WooCommerce addon is the best solution if you want your website like having the ecommerce experience. Let's get started!
Why Should You Use LearnPress WooCommerce Integration
The reason we use WooCommerce Integration for LearnPress is to have different payment gateways like Visa, pay by check, Credit Card, offline payment, and more apart from Stripe, PayPal, or 2Checkout and to provide coupons & discounts for your course.
Thanks to these useful functions, customers would love your eCommerce store and you can sell your courses easily too.
If you don't need WooCommerce add-on for the LMS plugin, your clients can't have a lot of payment options and your website should have a few courses or audiences to manage manually. However, you can setup your store quickly without using WooCommerce.
How to Use Learnpress Woocommerce Integration?
We provide our tutorial on How to Use WooCommerce addon and our text guide. If you want to check our text guide, keep reading!
Install and activate
Open your WordPress Dashboard -> find Plugins -> select Add New
Click the Upload Plugin button
Navigate to Choose File button and search for the .zip file you have downloaded after purchasing WooCommerce addon
Then click Install Now button
After a few seconds, click Activate Plugin button
Finally, your WooCommerce addon is ready to use and it's time to setup it.
Settings
When you successfully activate WooCommerce Addon for LearnPress in LearnPress Pro Bundle, you need to make WooCommerce account to enable the WooCommerce payment gateways.
Hover to LearnPress -> choose Settings
Find Payments tab and click on it -> select WooCommerce Payment -> tick the box Enable the payment
Then click the Save settings button to save all changes you have made.

Next, you have to visit WooCommerce section on your sidebar to setup WooCommerce Checkout.
Navigate to WooCommerce -> select Settings -> then click Checkout tab
Find Checkout pages section-> select Cart for Cart page and Checkout for Checkout page.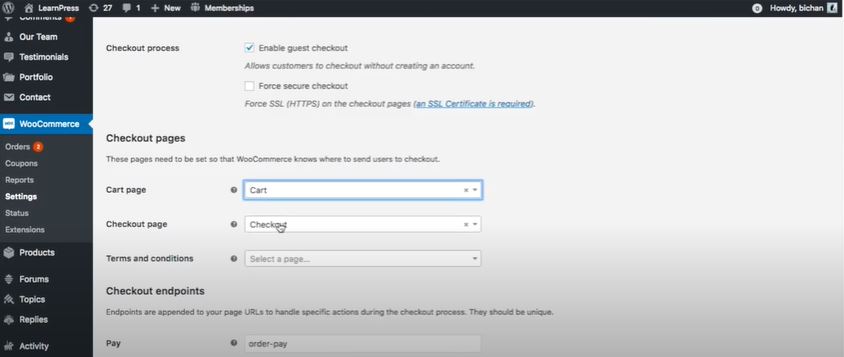 Scroll down to the Gateway display order to see all gateways available. However, they have not been enabled yet. So simply click each gateway name right there or go up to the Checkout options below Checkout tab.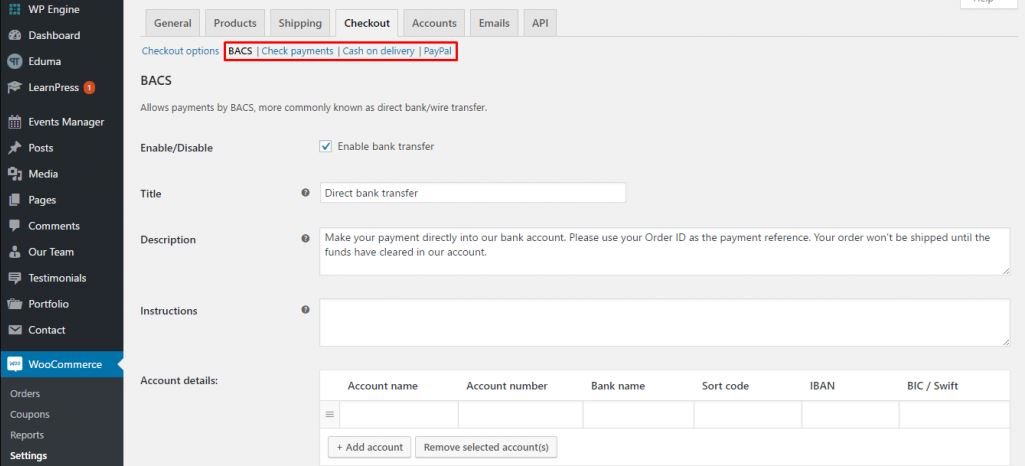 For example: I'll choose BACS for bank transfer method-> tick the Enable bank transfer box. If you want to edit the title, descriptiom, and instructions of bank transfer gateway, it's all possible. Please remember to add your Account details and click Save changes button.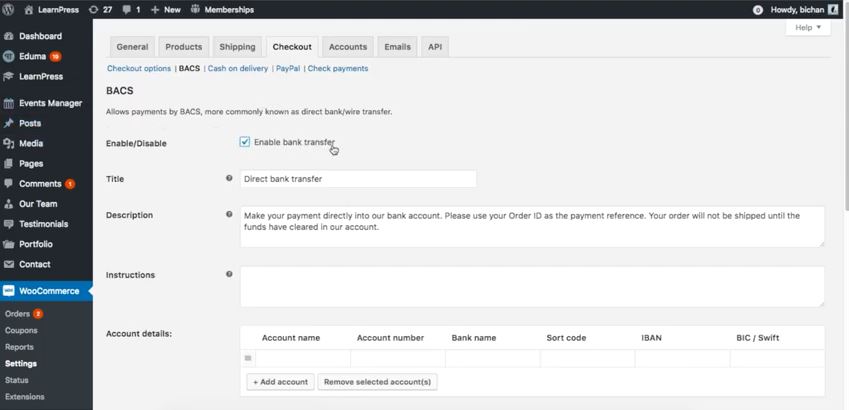 Similarly, you can follow the example to set up PayPal, Cash on delivery, and Check payments then back to the Gateway display order to see your gateway is enabled.
Set up WooCommerce LearnPress Payment the right way
Step 1: Setup Enable Register and Payment Page – Learnpress Woocommerce
Before setting up LearnPress WooCommerce payment gateway, you need to take care some of things below in a correct ways after installing successfully a theme like Eduma.
– LearnPress login and registration error
– LearnPress checkout page error
– Setup PayPal gateway
You can find these setups in The Correct Way to Set Up Payment for LearnPress After Installing a Theme.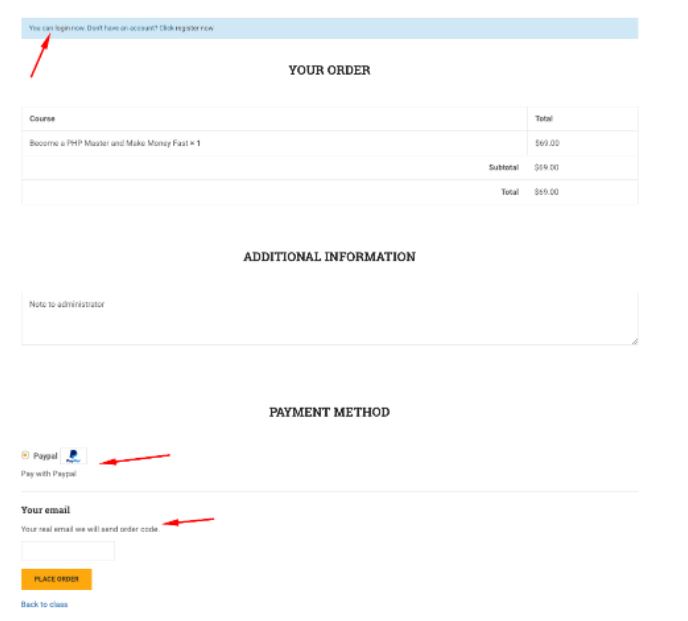 Step 2: Install & Update each payment setting – Learnpress Woocommerce Integration
At the step 1, you'll definitely know that PayPal is a default payment gateway of LearnPress and it's possible to add other payment gateways using WooCommerce Integration. So that your students have multiple choices to choose the payment gateway with different currencies.
Please note that if you use Eduma or other Education WordPress Themes from ThimPress, you can find the LearnPress – WooCommerce Payments on your admin dashboard.
Simple open your WordPress Dashboard -> go to your theme like Eduma, IvyPrep, etc -> select Plugins -> find Plugins tab and type WooCommerce to search for the plugin-> click the Install Now button and Activate it.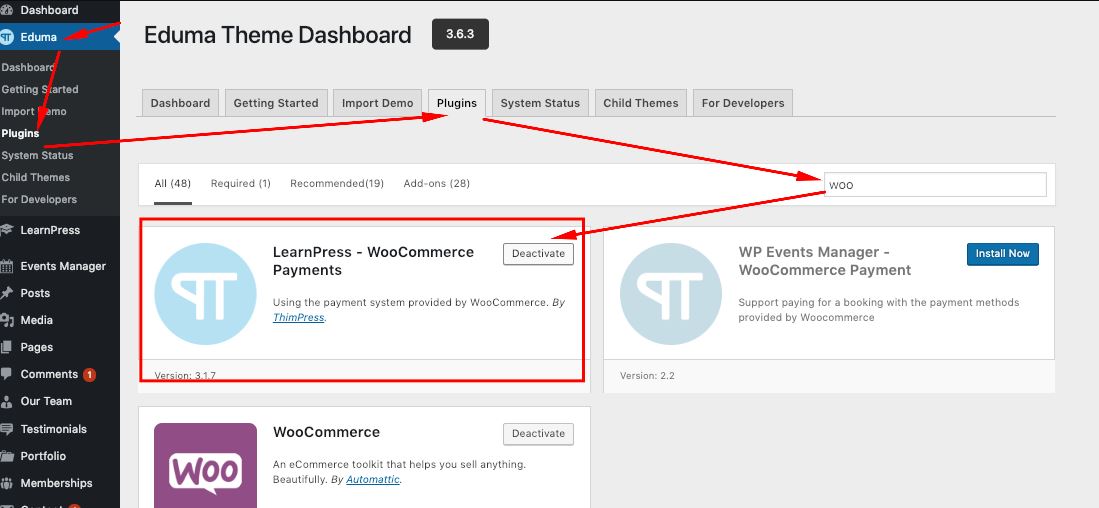 Is it easy if you are using our education theme, right? But if you're not using our theme, you can still install and activate the WooCommerce addon for LearnPress by purchasing it here.
After having WooCommerce addon, go to LearnPress -> Settings -> Payments -> WooCommerce Payment. Similarly, you can follow How to Use LearnPress WooCommerce Integration guide above to set up the payment like the way you want.

Step 3: Enable Guest Checkout with WooCommerce – Learnpress Woocommerce
Do you know that you can let your students to place orders even they don't have an account or login an existing account while checkout? All are available with WooCommerce in the Guest checkout section. If you feel this LearnPress WooCommerce functionality is not necessary, you can skip this step.
To turn guest checkout function, navigate to the WooCommerce -> select Settings -> tick on both boxes available there:
Allow customers to place orders without an account
Allow customers to log into an existing account during checkout
Below is the Account Creation, please ticking 3 in 4 options there:
Allow customers to create an account during checkout
When creating an account, automatically generate a username from the customers' email address
When creating an account, automatically generate an account password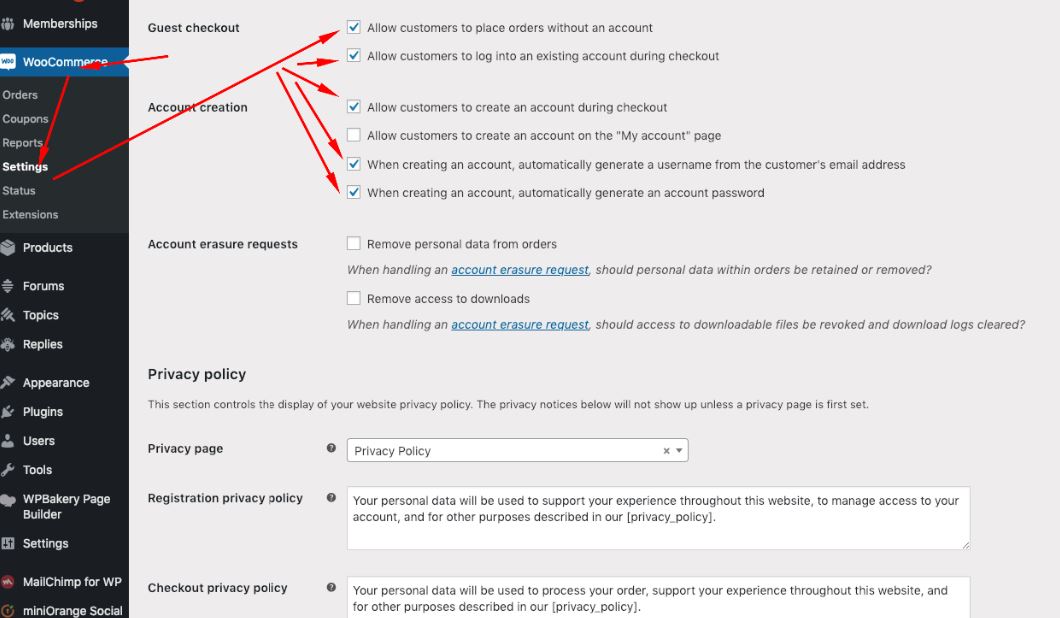 Extended: Installing other payment gateways with WooCommerce – Learnpress Woocommerce Payment
After installing LearnPress WooCommerce Payment, there are 4 payment gateways:
Direct bank transfer
Check payments
Cash on delivery
PayPal
So if you want to usse credit card or pay with another currency, you have to look for a payment gateway that works with WooCommerce then you can make LearnPress payment using that gateway.
For example, you can type Payu payment gateway WooCommerce on Google and search for it. Then you'll find many payment gateway plugins that run with WooCommerce. Pick the one you want and download it to have another payment gateway.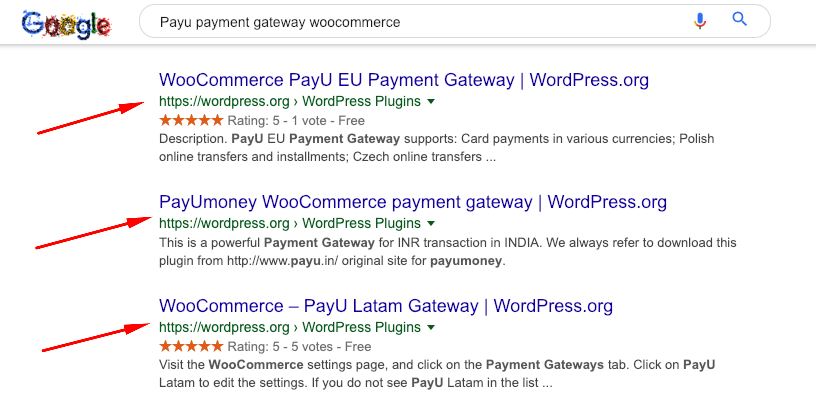 Another way to find payment gateway is to use WordPress.org. Simply click on Plugins tab and type payment gateway on the search bar. Then you will see many plugins that integrate with WooCommerce. They're usually free to download.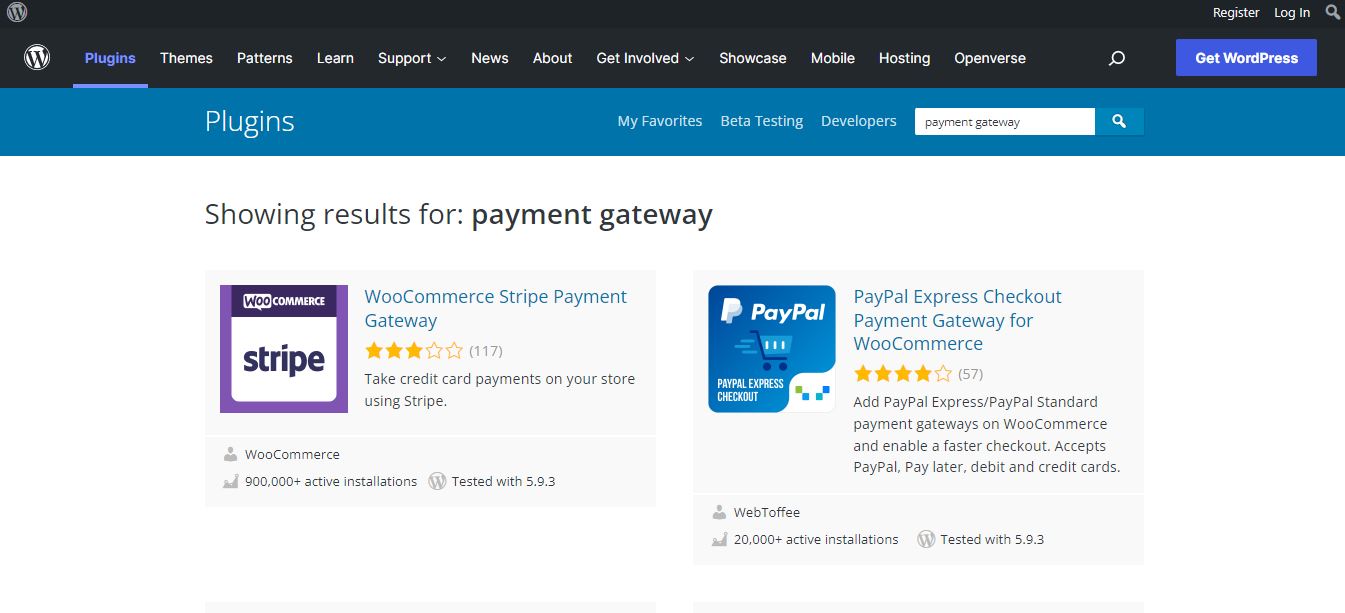 If you look at the screenshot bellow, you can see WooCommerce Stripe Payment Gateway, WooCommerce PayU EU Payment Gateway, Authorize.Net For WooCommerce, etc. Moreover, there are even Cryptocurrency for WooCommerce gateway or Cryptocurrency Checkout – Accept Bitcoin, Ethereum and Nimiq as well.
Extended: Payment without WooCommerce – Learnpress Woocommerce
If you don't use WooCommerce payment gateway for LearnPress, you can setup other other payment channels like 2Checkout, Stripe, Authorize.net, and offline payment. Kindly go to Payment without WooCommerce to understand more detail.
Final Thoughts
Hopefully, you understand our Learnpress Woocommerce Addon today and know how to use it effectively for your LMS websites.
Read More: Paid Memberships Pro: Membership Plugin for Learnpress