Mag WP Theme Introduce – In the era of the cyber world, getting news and information from online sources has become a habit for most people these days. Consequently, online magazines and newspapers are now attractive fields of business to invest in.
There are several news sites in the market. They are big, powerful, and got an enormous number of constant readers. It is hard to stand out of the crowd, especially in the crowd that includes prestigious names such as New York Times, Bloomberg, Mashable, Life Hack, and many others. But it is just "hard," not "impossible." Don't you ever think about combining all the merits of these sites into your own one? Let ThimPress give you a solution with the best Magazine WordPress Theme.
Mag WP could be what you have been looking for so far because it suits any online newspaper, magazine, personal blog, and so on. We apply the innovative technology from the world's best online news site into one theme, to bring out a huge impression from your site to your visitors.
Get Better UI/UX with Mag WP!
With Mag WP, you will have a website that looks like New York Times, Bloomberg, Pinterest, or Lifehack. Yes, exactly the same! We can be proud to say that Mag WP has redefined the interpretation of online publishing by improving the performance of the site and coming up with a cleaner design and faster load speed.
Mag WP is equipped with a fantastic library of demos and layouts which are all carefully designed not only to impress visitors but also to maintain SEO data structure. With 10 beautiful demos, 10 modern layouts, and 3 different stylish types of articles layouts, you will have over 300 separate choices to wear for your sites based on your combination.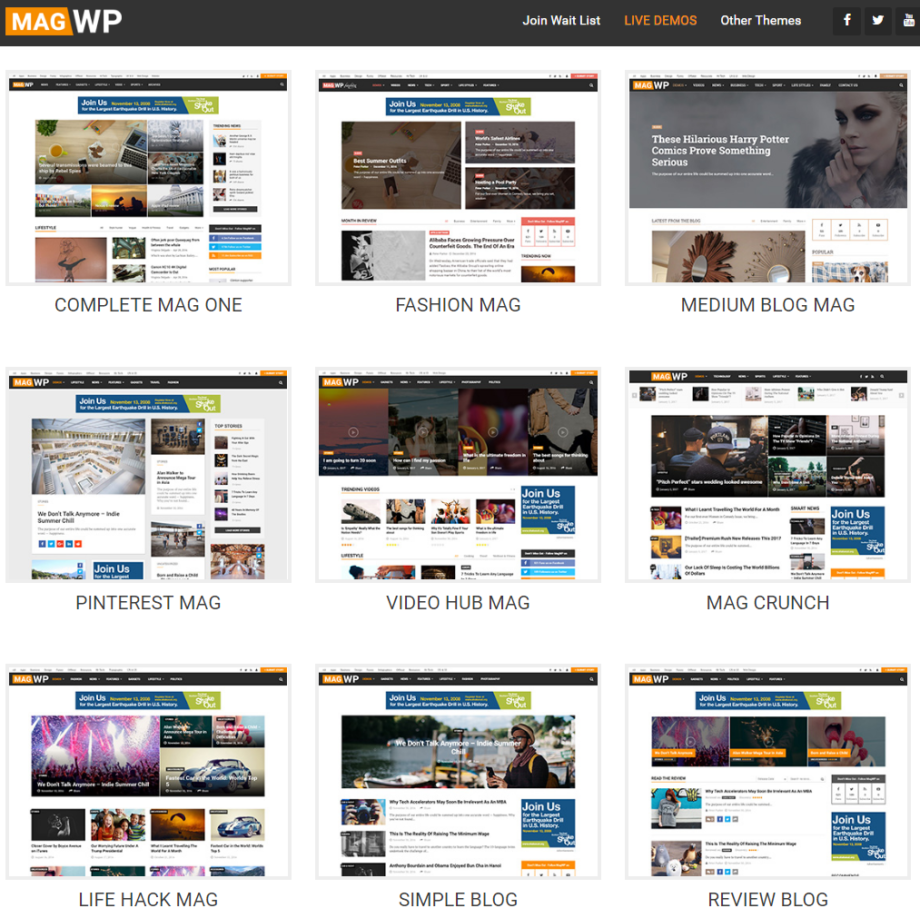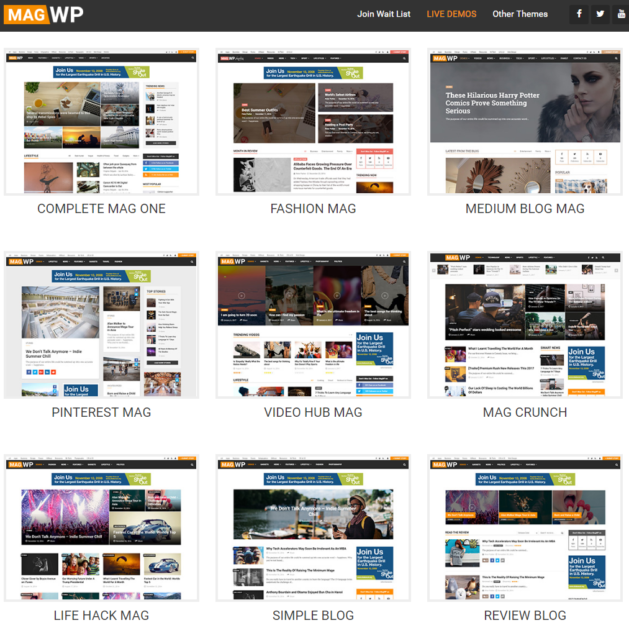 Our massive library allows you to choose the style you want for your site. From the second version of prestigious magazines to different types of blogs, they are all in our source. We designed Mag WP to make sure that you can access the latest technology while being super unique in the market. You will have the most advanced site but your visitors still have the best experience. If Bloomberg, Business Insider, etc are, obviously, attracting millions of readers every day, so does your page!
Online readers are too familiar with well-known names. When they come to you, they will get a familiar experience with the UI but still quite extraordinary adventure with the better UX, we bet. We provide you with the materials, and the rest is all in your creativity. The theme aims to make you feel the most comfortable with your site, simply because it is yours; and you are the one have the power to control it from the very first look.
Built With the Latest Technology
As mentioned above, Mag WP is the first and the only theme that exerts the trendiest technology learning from the big famous online news site to get more readers and subscribers. But what is technology?
Smarter and more personalized suggested post
Thanks to machine learning and AI, Mag WP can recommend more posts for readers based on their interests. It is smart. It knows what your readers used to read; then it can locate what their tendency in reading is. From that point, the suggested post section will display the articles which fit the reader the most. A recommendation like this helps to keep the visitors staying longer. Besides, the widgets integrated into Mag WP are using the most advanced algorithm, which is able to find general visitors' preferences as well to show better suggestions. New York Times and Mashable are doing the same methods with us. Come get and try it!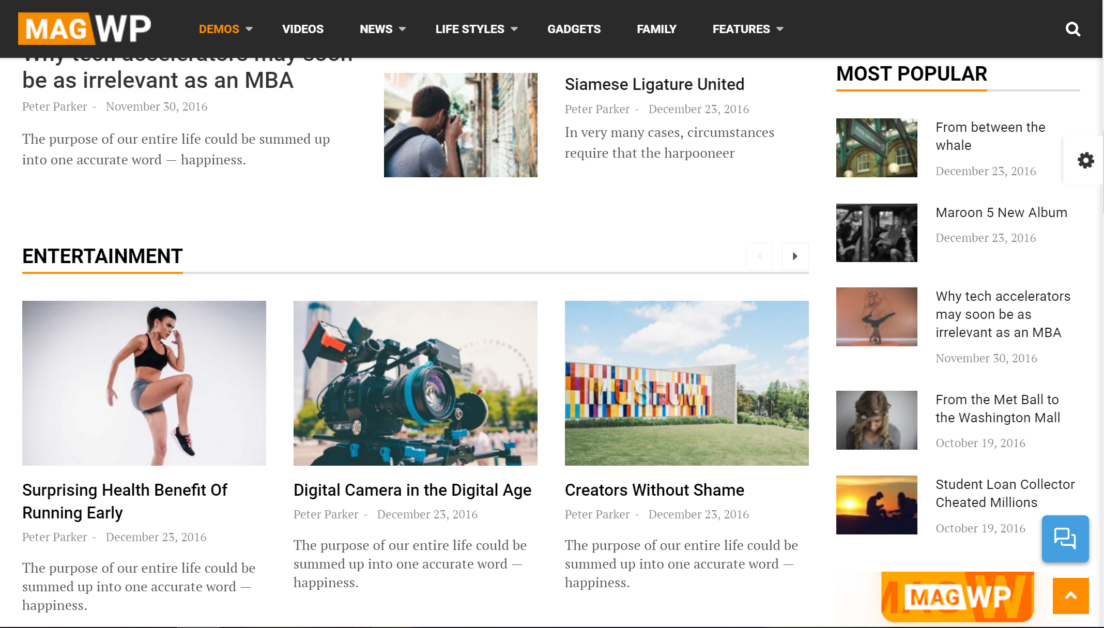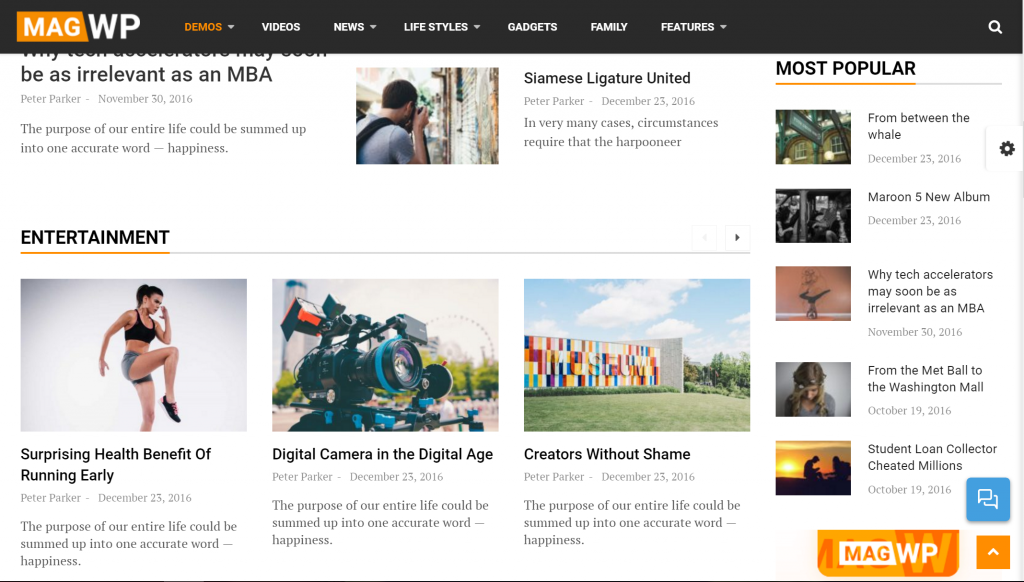 Slide-in suggestion to lengthen the reading time
Another feature making Mag WP close to well-known sites is a Slide-in suggestion. When you are about to the end of an article, Slide-in, as its name, will "slide in" from your side to show you what's more to read. This assistant gives suggestions related to the current content you are in. Slide-in is just a small reminder, that appears at the right corner of the site.
It can urge the reader to click, to explore more about what they are interested in without clicking the Back button on the home page and browsing all the headlines again. It not only makes your site less boring than traditional pages but also leads your patrons to the best reading experience. Accordingly, more profits will come to the site owner. Slide-in has been proven to increase up to 30% of the time the visitors stay on the site. And the plus point for Mag WP is that buyers don't need any extra money to pay for this latest technology. Cool, huh?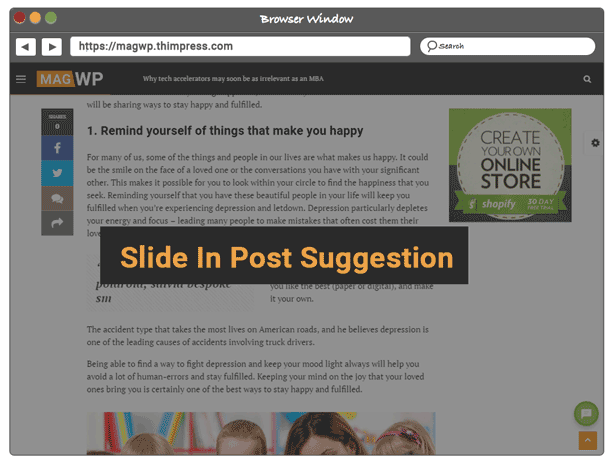 Keep scrolling with infinite content
Have you ever spent hours on Bloomberg because they have so many things to read while you keep scrolling down the site? With Mag WP, the visitors will have the same experience with your magazine or blog. After finishing one piece of news, besides the aforementioned suggested posts, visitors can just scroll down the page to read more news, mostly relevant to the previous post they have read. When they complete reading this one, another article comes up.
The news constantly appears, and it doesn't let you stop reading, helps to cling the readers as long as possible. All you need to do is to prepare for yourself a robust and powerful team of content writers because what they write will be all on the page no matter how much it is. Are you ready for showing off?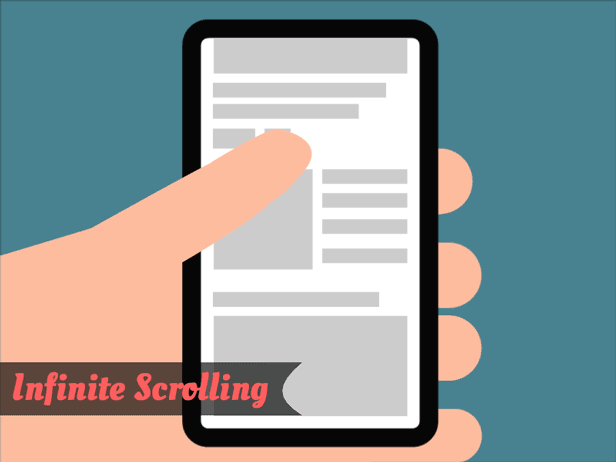 Tracking reading progress
Sometimes the visitors pay attention to the tiny details that we, the creators, never notice. That's why Mag WP made the progress bar to attract visitors, and give them an interesting impression while browsing for news. It is the bar at the top of the article, below the header menu. This bar lets the reader know how much they have read and how much is left. It helps them to control their time and their other business to decide whether they keep reading or set the article aside to read later. We believe this reading progress bar will fascinate the readers because only Mag WP has this function.
Mag WP Is Even More Than Your Expectation!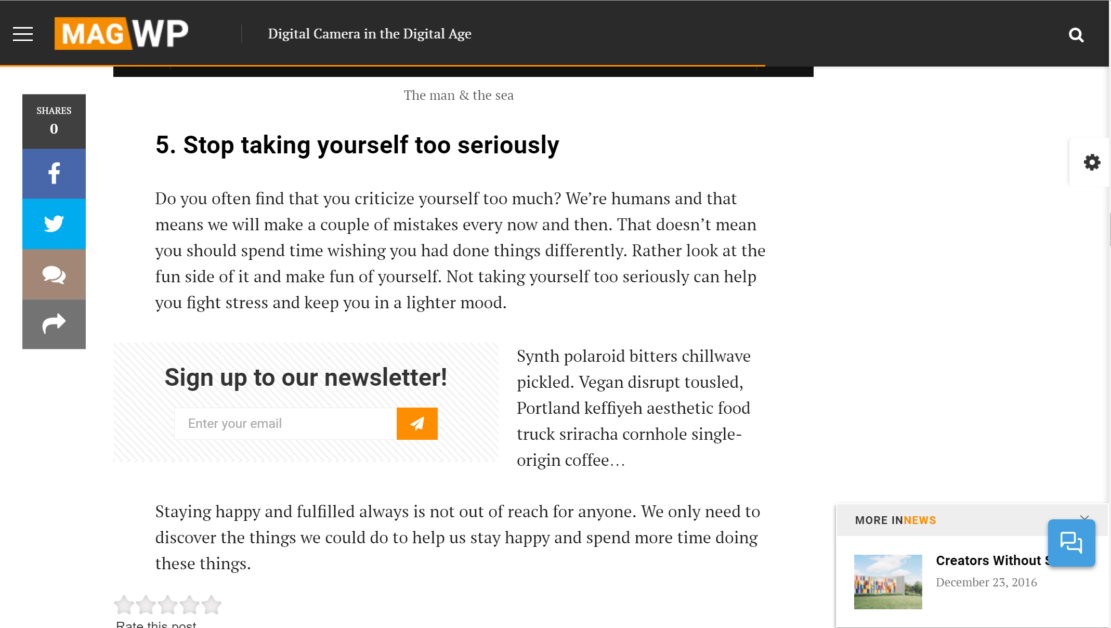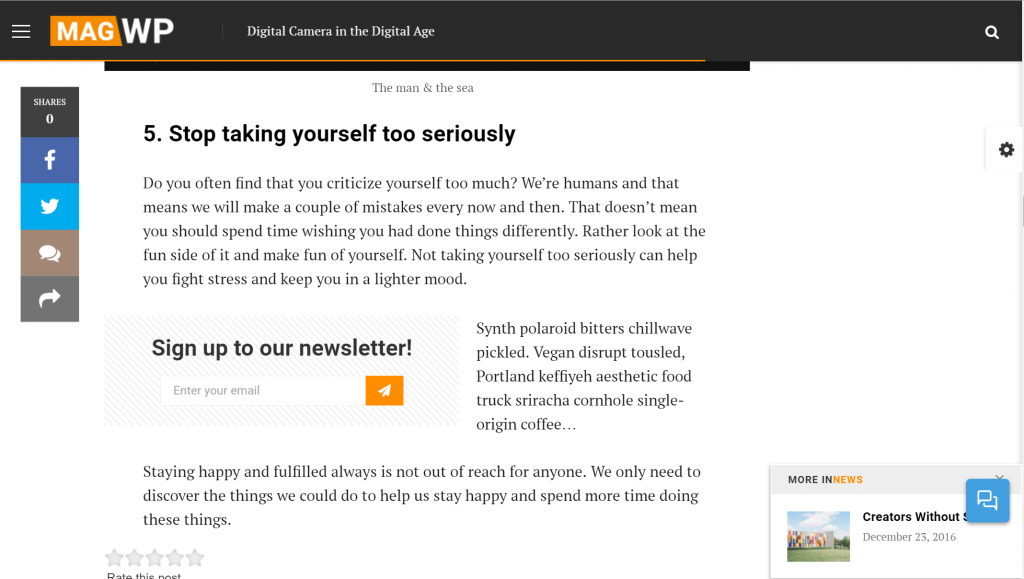 Understanding the consumption of applications on mobile devices and the priority of Internet surfing on these gadgets, Mag WP is a mobile-first design. We are using Google's latest mobile standard – AMP to maximize the experience for all content types on any device. Mag WP promises your blog posts, images or videos will look flawless and superb.
Furthermore, AJAX technology was embedded in the core of this theme. All sections on your page will load instantly without any delay, bringing comfort to your users with a seamless page. Especially with AJAX Smart Search, the interaction between users and the site will be improved faster and smoother, supported by the combination of XML, HTML, CSS, and Javascript.
Moreover, AJAX will also assist you with its login/ register system, making it easier for the site owner to customize the login/ register form with very simple steps. Building a website is now no longer a tough challenge because Mag WP with AJAX made it with no difficulty by using shortcodes for editing and writing.
In addition to this, the connection between the theme and other social networks helps to spread the news quicker and more straightforwardly. A social counter widget keeps following any scroll action and stays along the side of the article, which makes the blog shareable at any time and anywhere, even in the middle of reading. Readers can share your news, even more, broader, and faster by signing up for the newsletter from right in the article; thus, your patrons can get the news from their email, increasing the potential of accessing your page.
Another unique feature of this theme is to turn your visitor into your writer by uploading their story. Your blog/newspaper will become more friendly and attract more viewers when they can share their own pieces of writing to reach certain demographics. Reviews and ratings are integrated as well to gain the trust of visitors. They can also find high-rating articles to read.
A further function that helps to create an extraordinary Mag WP is ThimCore – a very powerful tool developed by ThimPress. One-click installation is a marvelous function of ThimCore. You don't need any particular techniques or extensive coding knowledge.
ThimCore is here and available to help. You will fully have the whole completed theme instead of wasting $50 on any installation service. Additionally, the ThimCore plugin also automatically updates to the newest version of the product to save time and money for you. This plugin is using Theme Customizer to let you adjust every section in your site according to your plan and wishes.
MORE FEATURES
Optimized for SEO
Visual Composer
Drag & Drop Page Builder
contact form 7 & MailChimp support
Left menu bar
Top Headline bar
Sticky menu
Fully responsive support
600+ fonts and 700+ icons
Highly Performance Optimized
Unlimited color schemes
Ad box widget
Or you can also get to know us better with our lovely new buddy. Just head right to our landing page here.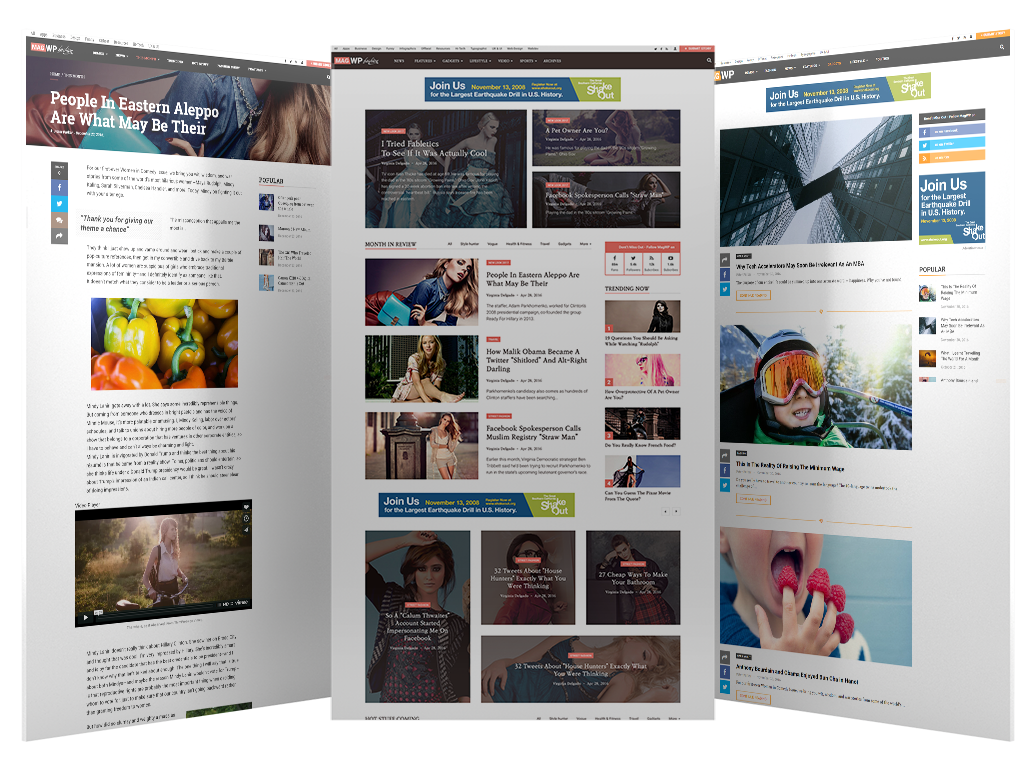 Last Words
Do you find Mag WP the most wanted theme for your newspaper or magazine yet? If what I have revealed from the beginning of this post cannot convince you yet, let the number do. This splendid theme is now only $39 for 100 early birds (usual price: $64)! Our customer service quality is going along with the quality of our every product.
We are always ready to answer your question and support your problem. Why do you hesitate with this fantastic theme and wonderful supporters? Grab your chance right now and start to build your reputation with Mag WP!
---
Contact us, ThimPress:
Website: https://thimpress.com/
Fanpage: https://www.facebook.com/ThimPress
Youtube: https://www.youtube.com/c/ThimPressDesign
Twitter: https://twitter.com/thimpress