Are you using WordPress as source code for your blog/website? So have you ever tried to learn about the history of the foundation and development of WordPress? Where did it come from and what are the key milestones noteworthy? If not, take a few minutes to find out.
The overview of WordPress
Used for millions of websites worldwide, WordPress is the most popular self-hosted open source today. Not only excellence in the world of bloggers, but this system is also capable of powering all models other websites including several popular magazines and e-commerce website pages.
The advantage of WordPress here is that it is completely free and you can use it to create a simple website or a business website. Just go to the homepage of WordPress to download the latest version and install it, you already own a website that can be easily customized, and it requires to have a server, a domain name.
However, WordPress still has a completely free service without those, wordpress.com solves that problem for you with some limitations that are less customization, and have to depend on WordPress servers.
The development of WordPress
The establishment stage
In 2003
WordPress was created in May 2003 by 2 programmers, Matt Mullenweg and Mike Little. They started building a blogging platform on a downed application b2/cafelog. Not long after that project was abandoned, they decided to fork it and continue to develop their own.
In 2004
In January 2004, they released the first version of WordPress (WordPress 1.0). It was very different from the content management system right now because you realize it has a lot of features.
However, it used to have only a few key features that we still use today, such as WordPress editor, easy installation, nice permanent link usage, user admin system, comments management,…
The development stage
Stage from 2004 to 2005
Since 2004, WordPress has undergone many major transformations. The WordPress project is continuously developed, managed, and operated by an open-source community with thousands of members. They work remotely, many are volunteers.  They meet at a conference called WordCamp. WordPress is still on the rise and a new version is usually released every 2 or 3 months. Each version has new features added and security updates.
The first version of WordPress that supports plugins was version 1.2, released in May 2004. The programs were developed independently, through which new functions can be added to WordPress. And in February 2005, they added the ability to manage themes. The vast majority of themes and plugins have been (and are) being created by WordPress users themselves.
Stage from 2005 to 2007
According to Mullenweg's Wikipedia page, version 1.5, released in February 2005, has received more than 900,000 downloads. In 2005, WordPress 1.5 version had more than 900,000 downloads, this is also the year wordpress.com was born to create a free blog for everyone.
By 2006, WordPress had 1,545,703 downloads. 2007 hit 3,816,965 downloads! Regarding plugins, there were a total of 191,567 downloads out of a total of 371 plugins in 2006. One year later (2007), there were 2,845,884 downloads in 1,384 plugins, a 15-fold increase!
The boom stage
In 2009
Released in 2007, version 2.1 brings a new user interface that automatically saves articles and checks for spelling errors. Widgets, improved atom feed, and various speed optimizations were soon followed. In 2009, WordPress proudly announced the ability to automatically upgrade, built-in plugin installation, sticky posts, comments threaded comments/comment paging/replies, as well as there's a new API, bulk management, and inline documents.
In 2010
Custom post types, custom menu management capabilities, new APIs for custom headers and backgrounds, were introduced in 2010 along with the ability to manage multiple pages web (also known as multisite). Since then, users have seen more post formatting, admin bar, welcome messages, feature suggestions, a customizer and theme preview, a file upload manager, and so much more …
In 2018
On December 6, 2018, WordPress launched version 5.0 with major improvements, introducing a Block Editor called Gutenberg that customizes a richer and more complex post layout. There has been a lot of controversy about Gutenberg's launch, including a separate movement coming from many programmers who didn't want to use the feature.
According to 2018 statistics, WordPress.com has hosted around 37.5 million websites, and that number is probably still growing. It's available anywhere it's not blocked, and it supports dozens of languages. There is a free plan, some low-cost, and the business and e-commerce plans are reasonably priced.
More than 60 million websites, including 33.6% of the top 10 million websites as of April 2019, use WordPress figures from Wikipedia. In other applications, such as pervasive display systems, WordPress has also been used.
In 2020
As of January 2020, WordPress.org has 55,487 plugins available. Each of thêm offer custom functions and features that allow users to tailor their website to their specific needs. Such customizations range from search engine optimization (SEO) to the client portal used, to view logged-in users' private information, to content management systems,v.v.
Not all available plugins always come with upgrades, and as a result, they may not work properly or may not work. Most of the plugins are available through WordPress itself, by downloading and installing files manually via FTP or through the WordPress dashboard.
What's the future of WordPress?
WordPress currently accounts for more than 17% of the millions of websites worldwide, which, according to All Things D, equates to more than 70 million websites. So where did WordPress get such success? With nearly 37,000 free plugins available on the library, WordPress has truly gone beyond a basic CMS – it's a system capable of powering a wide range of purposes!
What will the future of WordPress be like? The best way to answer this question is probably to listen to what Matt Mullenweg said: "I see the future of WordPress as a web operating system". Limited only by the imagination of its users and developers, WordPress has a very, very bright future!
Popular WordPress Themes
Eduma – Education WordPress Theme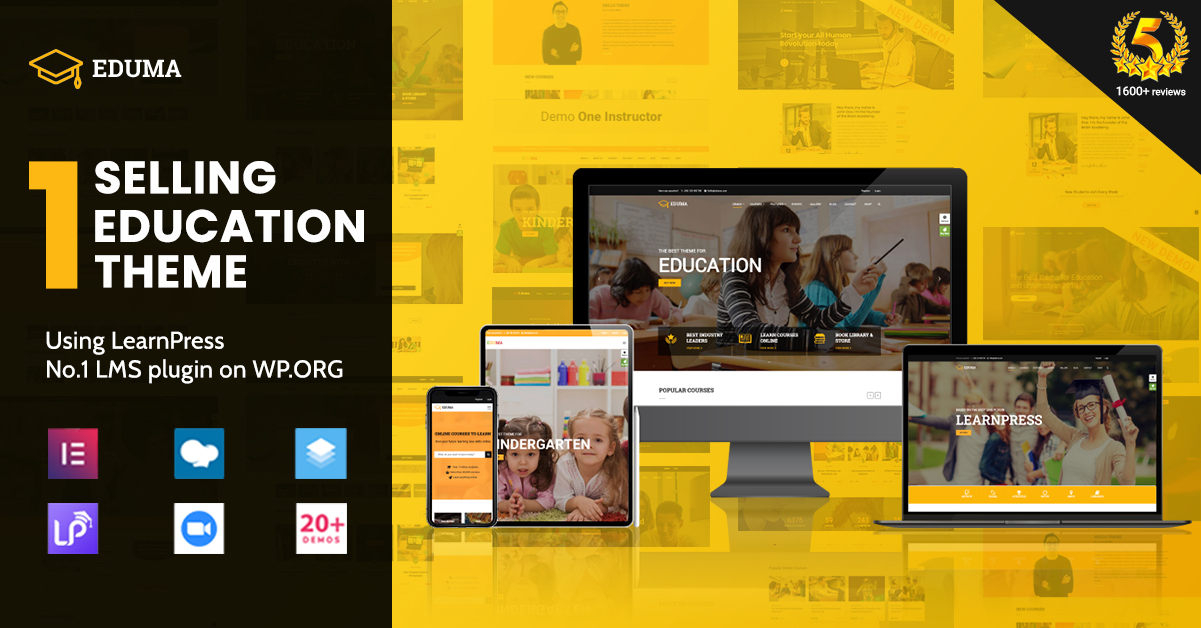 Sailing – Hotel WordPress Theme
Galax – Multi-Purpose WordPress Theme

Charitix – Nonprofit Charity WordPress Themes
Read more How to Choose the Best WordPress Hosting Providers in 2020