With the aid of WordPress and LMS, Online Learning has become more and more popular. To unleash the full potential of your learning platform, there are so many choices of LMS for us to pick.
Nowadays, powerful LMSs could help you create, manage, and sell courses; manage memberships and subscriptions; create quizzes and tests, etc. In this article, I will present to you the best WordPress LMS plugins, and you will be one step closer to your fantastic online learning system.
What is an LMS?
You are looking for a system that creates courses, manages courses, sells courses, and communication with your students becomes better than ever? Then, Learning Management System (LMS) is what you are looking for. But, apart from the features above, LMS will give you more and more than you think: power, control, multi-course, utility, convenience
LMS is software or a plugin to administrate, document, and manage educational systems. Concentrate on online learning, but some of the best WordPress LMS provide the capability to even surpass traditional learning at school and in class.
The Best Content Management System (CMS) for Learning
Speaking of Content Management Systems (CMS), we are all thinking about WordPress. It gives us a base to build our own website and content on it. Categories of websites on WordPress cover blogs, eCommerce markets, from corporations to individuals, and especially, education. All are open-source systems.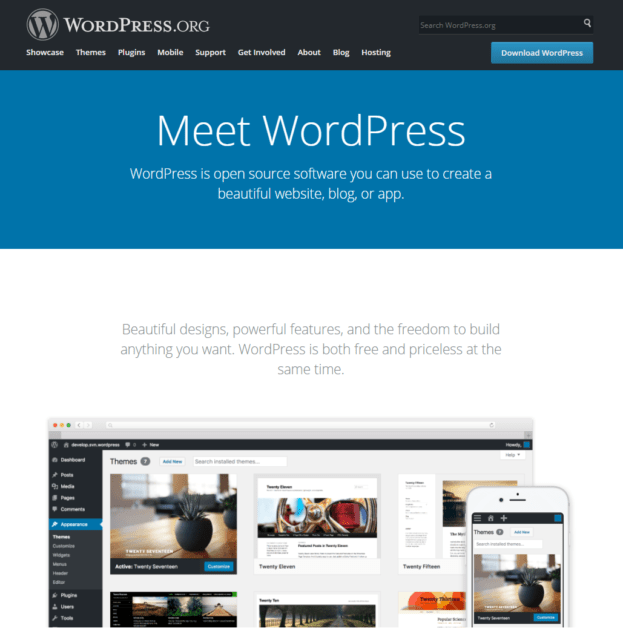 For educational causes, WordPress is just more than a mere content system for online learning. With themes and plugins, they will give us the solution to change your WordPress website to an awesome learning platform. And, LMS plugins are the perfect other half of WordPress that you need.
Let's get started with some of the best WordPress LMS plugins for their features.
LearnPress – The Best WordPress LMS plugin
First Look at LearnPress
Firstly, our number one is LearnPress a plugin that creates, manages, and sells courses. Currently, LearnPress is the most powerful and best LMS plugin ever made for WordPress with over 266.000 downloads.
Overall, most teachers and students find LearnPress the best choice. It's free and always will be. LearnPress includes a bunch of add-ons, each providing you with a unique utility to customize your LMS. With that, LearnPress created an ecosystem with applications for teachers, and instructors to work together. Thus, it gives the teacher the ability to communicate with students better than ever.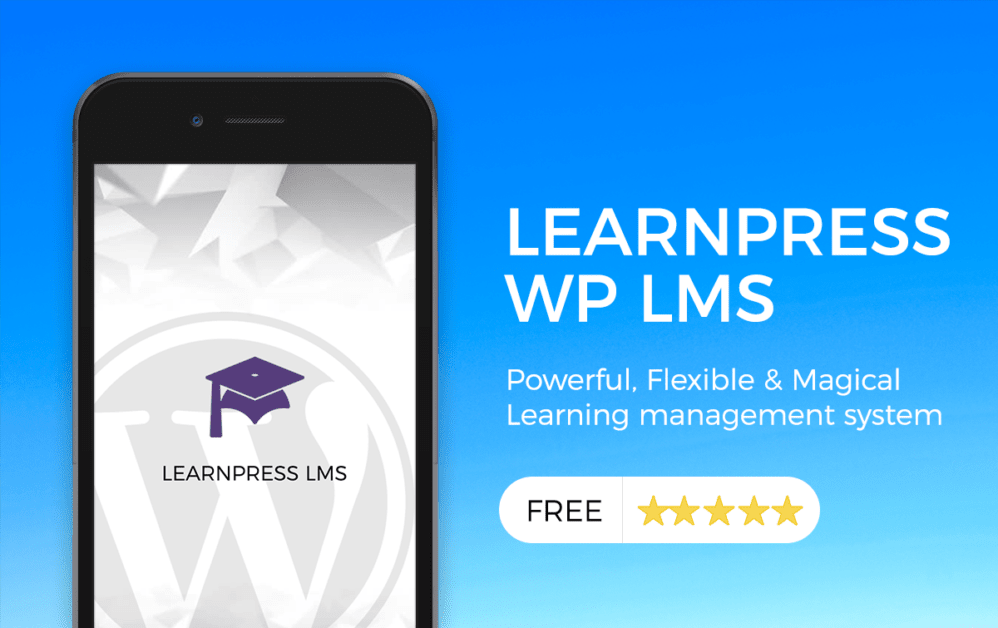 LearnPress's Advance Functions
LearnPress is able to create unlimited courses, lessons, quizzes, and questions, with easy UI and drag-and-drop course builder. Moreover, the co-instructor mode is also supported with LearnPress as well. LearnPress provides complete control over the LMS. Students and instructors will be assisted to move into a course at once after registration, or you can do it yourself.
With a powerful add-on, you can control student and co-instructor access, by setting up requirements, commission, and membership for each of them. You can control not only the inside but also the outside. With content restriction, you can limit your learning website access only to your members. This prevents content thieves and protects your precious work. Also, the content dripping function is available via extension, too. It sets up specific content scheduled to be displayed to students when they reach the expected progress. Thus, courses will be more flexible and you can easily control them all.
Besides, LearnPress supports a variety of payment methods connected with WooCommerce, STRIPE, 2Checkout, etc. And, it's also compatible with your theme, how cool! With the huge pool of themes for WordPress, you are free to decorate your own online learning website. Namely, LearnPress works best with themes such as Eduma, Course Builder, Coaching WP, and eLearning WP. This makes LearnPress become the most beautiful LMS plugin than any others on WordPress. All you need to do is to attach LearnPress to your site, then your beautiful LMS is completed.
Also, LearnPress is actively developed and supports Multisite for WordPress. Another remarkable feature of LearnPress is open source. With more than 266.000 downloads and 21.000+ active users, LearnPress is the largest WordPress LMS Plugin with a giant community. Everyone in the community could contribute their elements to build LearnPress, to make LearnPress greater!
LearnPress features:
Export course lists for other LearnPress users.
Flexible payment methods.
Powerful control tools and access.
Rich add-ons. Rich utilities.
Beautiful with theme compatibility
Content dripping feature.
Easy User Interface, with drag-and-drop course builder.
Custom Certificates for courses and activities.
Content restriction to members only
LearnDash
Next, we have LearnDash. Possibly, LearnDash is one of the most trusted LMS plugins for WordPress. Notably, the best feature of it is multi-tier courses which allow you to easily create courses with lessons, topics, quizzes, and categories. The drip feed content feature also helps you to organize content throughout the whole course session. And, LearnDash can give assignments to your students, and you can leave comments directly on them. Also, quizzes, exams, and tests are easy to make with LearnDash such as Multiple Choice, True/False, Gap Fill, Multi-Line, Single Line, and a question bank.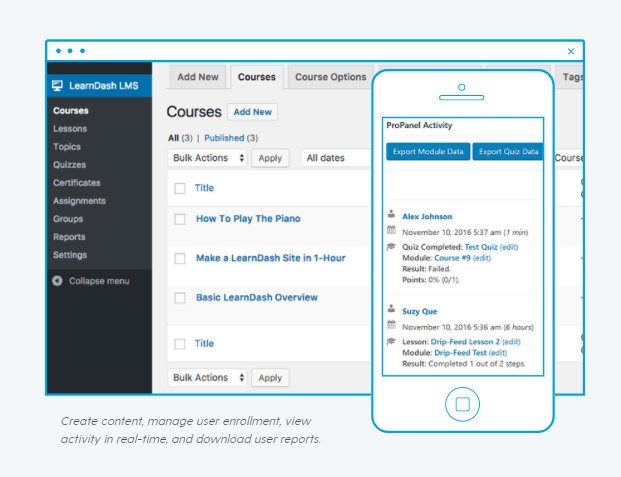 Moreover, flexible prerequisites are another notable feature of LearnDash. It helps you to set courses, lessons, and quizzes based on prerequisites and ensure your students finish the course first before the test. And, with Sync Gradebook, you can access to your grade, report card, and assignment anywhere.
LearnDash provides features such as:
Rating lessons and quizzes from users.
The drip feed content feature can organize course content during the course sessions.
Assignment system and comments.
Gradebook sync, easier to track, easier to learn.
Multi-tier Course with prerequisites.
LifterLMS
LifterLMS is an LMS plugin that provides tons of awesome features. The most convenient of LifterLMS is easy to install and compatible with almost all WordPress sites. Apart from the core features of an LMS solution, LifterLMS can create multi-layer courses with modules, sessions, and more. You can build from small courses to a full degree program.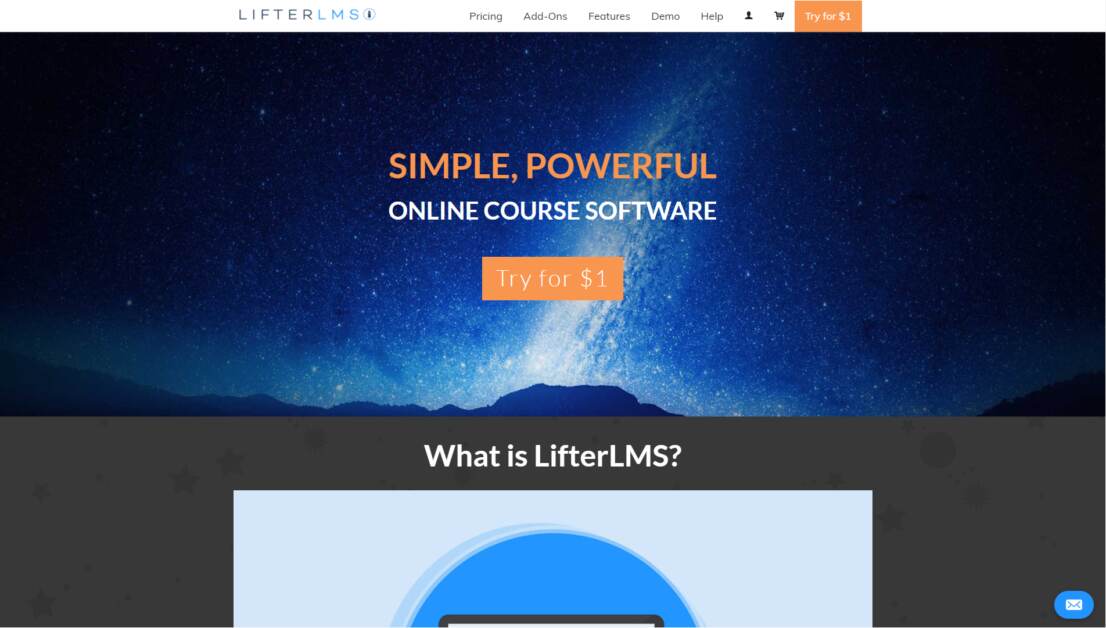 Also, LifterLMS has integrated eCommerce, utility tools like badges, and certificate customization. Moreover, you can use LifterLMS to set levels/membership to others to manage and control your learning platform. You can also control your WordPress page access by restricting content view only to your students and instructors, too.
About payment methods, LifterLMS accepts PayPal, Stripe, or cheques. Furthermore, eCommerce plugins like WooCommerce will help you sell your course faster. LifterLMS has a unique feature: try for $1. With only one dollar, you will have full 30 days of experience with LifterLMS. And then, you can decide to go for the full price or let go.
LifterLMS has features such as:
Gamification with badges and certificates.
Membership with levels to manage.
Profile of students helps teachers easier track their progress
eCommerce plugins and connection to your email marketing service.
Simple interface.
CoursePress Pro
CoursePress is a course management plugin available for WordPress. In fact, it could turn WordPress into a powerful online learning platform. And, CoursePress Pro is easy to create, manage and sell online courses. On the other hand, CoursePress free is a good choice when you only want to provide a few courses. But, to access every feature you would want to go for CoursePress Pro. It has over 3000 downloads on WordPress.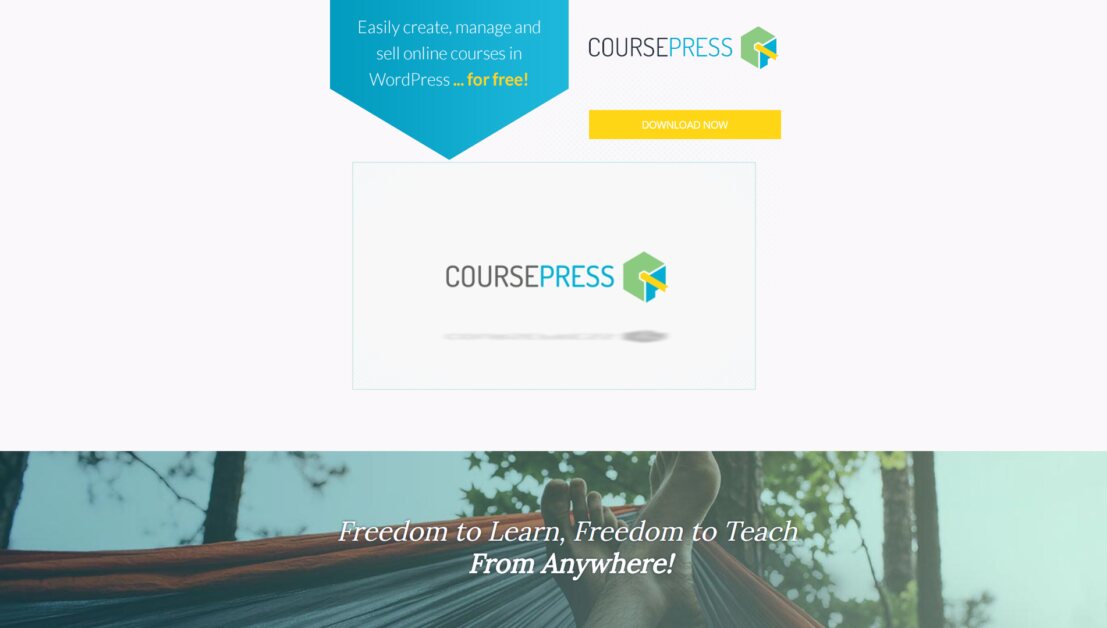 With CoursePress, you can create and share courses with quizzes and media easily. Also, it's available with a lot of different options such as making courses primarily with videos, allowing users to upload and download content, and creating a discussion board where students and instructors can exchange ideas.
Some of its features for example:
Students can observe a whole completed course via video. After that, they will know if it was worth purchasing.
Course promotion and marketing assistance.
New students are well-assisted, such as preview video, and course description with other elements.
After all, more than 13 payment gateway options are available.
Sensei WordPress LMS
WooThemes gave us a learning management system plugin named Sensei. It was made for creating and writing lessons and courses. And, Sensei provides quick registration and manages registration based on WordPress facilities. Furthermore, some extensions are available inside for making things easier. It has both paid and free extensions, including inserting media, badges, certificate features, etc.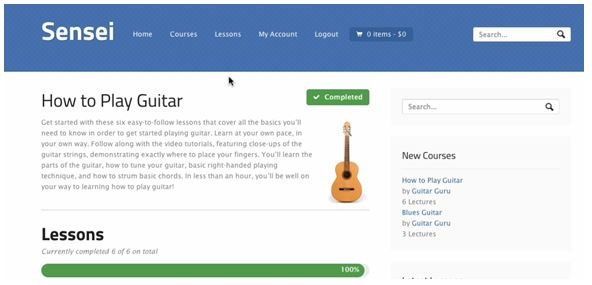 Moreover, SenSei comes with a question bank for you to use, and with combinations of quizzes, you have unlimited ability to test anything. Besides tests, grading also comes along, with manual or automatic mode, the teacher's choice. Built by WooCommerce themselves, Sensei of course was integrated with many eCommerce plugins and allows you to access the course market easier.
Next, some of its other features include:
Able to work with all WordPress installations.
Well-known theme marketplaces are available inside the LMS, allowing us to sell courses online.
Quizzes with a variety of question types, such as True or False, Multiple Choice, fill in the gaps, short-answers, etc.
The teacher could form a bank of quizzes. Then, Sensei can automatically select random quizzes to generate tests for students.
Each course comes with unique certificates.
WP Courseware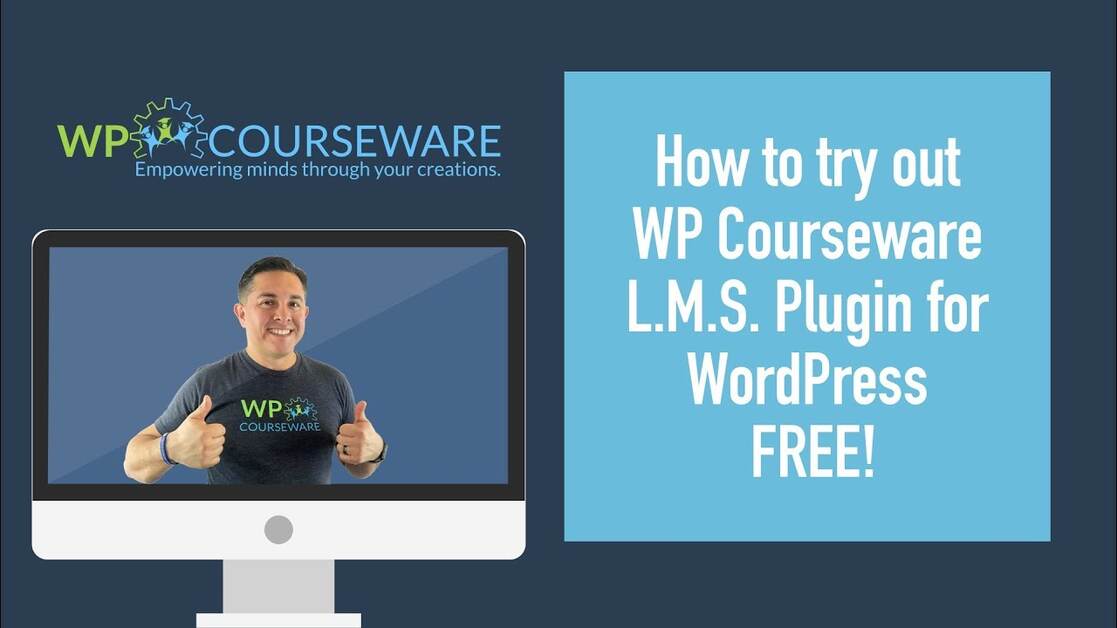 Unlimited courses, modules addition with dynamic progress page, question tagging, and other features. Yes, that's what WP Courseware gives you. Additionally, each course can have multiple modules, units, and quizzes. Pre-requisites and content drip features are also available with WP Courseware. With it, you can control all contents during learning sessions and schedule them to be released by date or at specific periodic intervals. Besides, WP Courseware provides a drag-and-drop feature for course building, it helps teachers easier to get used to their LMS.
Furthermore, it has a question bank that you can generate exams and quizzes for different courses and modules at no time. WP Courseware also supports profiles, grade books, custom email, and many other features that you possibly love it. Students can download quiz results and track grades and progress. Moreover, WP Courseware has the feature to restrict your course content to registered, enrolled, and logged-in students.
WP Courseware has some remarked features such as:
Provide unlimited courses, modules, and lessons.
Support clients such as CNN, Miami University, Indianapolis, etc.
Downloadable quiz results with great quizzes.
Easy to track marks and grades. Moreover, report cards can be exported.
Survey Creation Tool.
Profile, books, custom email management.
TeachPress
Next, we come to TeachPress, a plugin that manages public courses. Teachers meet the general needs of teachers and students. Also, it supports BibTeX compatibility, so that teachers can export course lists in XLS/CSV and import BibTeX format.
Besides, it has a wide range of languages supported: English, German, Italian, Portuguese (Brazil), Slovak, Slovenian, and Spanish.
TeachPress features include:
Course lists can be exported in XLS/CSV.
Supports seven languages.
BibTeX format publications are available to import.
BibTeX-compatible multi-user publication management
Many shortcodes for easy use of publication lists, publication searches, enrollments, and course overviews
Provides RSS feeds for publication.
Course management with integrated modules for enrollments, assessments, and documents
Dynamic data system for courses, students, and publications.
Academy of Mine
Academy of Mine is not only a tool to create and manage courses and students, but also a marketing tool that supports you sell courses and content. Especially, it has built-in eCommerce plugins and marketing and research tools, email marketing, and affiliate programs to promote your products to others.
Same as others, the Academy of Mine also has features like Website Builder, Quiz & Assignments, and Virtual/Live Classes. Those will aid you in creating your own online learning platform.
Moreover, it has hosting, and custom domain tools for you to use. Academy of Mine has a full range of tools to push up your course selling. It's more than just a LMS.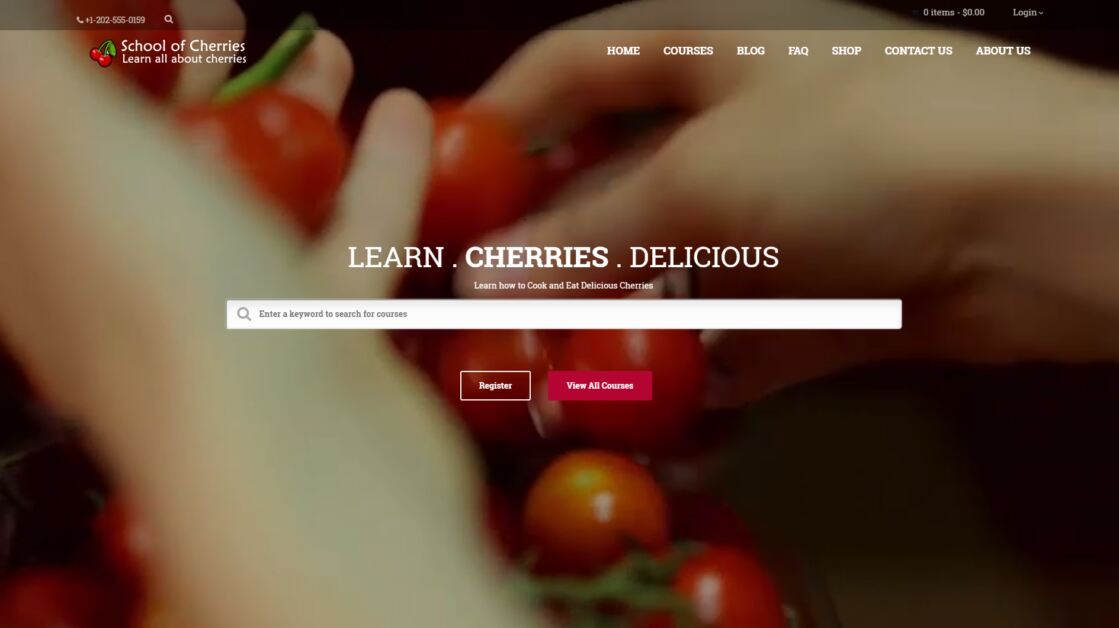 Academy of Mine features:
Drag and Drop templates to build your website. No coding is required.
Fully Integrated Learning Management System to build up courses, students, instructors.
Create Quiz (multiple choice, true/false) and assignments for students to upload.
Sell Courses with various pricing options. Credit cards & Paypal payments with Marketing Tools.
Multiple Instructors.
Namaste! LMS
Namaste! LMS comes with "free-to-play" version with core features available for all. It also has the "full-price" aka "Pro" version that unlocks all the utilities this LMS has. Kiboko Labs has brought us Namaste! LMS with unlimited courses and students, integrated with other free plugins from Kiboko including the membership plugin Konnichiwa.
Also, it could auto-approve or manually review students who want to enroll in a course. Moreover, you can set multiple criteria for lesson completeness such as completing assignment, manual approval, completing exams, etc. Also, custom lessons could be marked for students that they're compulsory to complete. Furthermore, Namaste! LMS provides different user roles to administrate and access the learning material.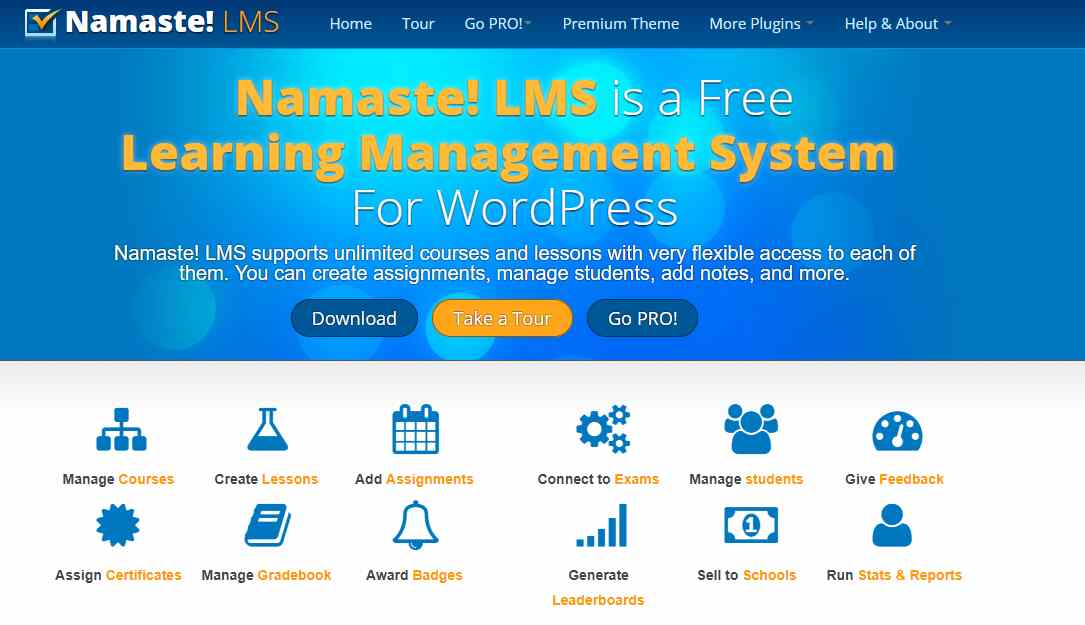 Namaste! LMS features included:
Manage unlimited courses and enroll students or let them enroll themselves
Lessons support rich text, media and plugin contents just like any other WordPress post or page.
Create assignments and approve or reject student's solutions, allow discussion on assignments.
Add notes to students' solutions to help them resolve the problems.
Enable a dashboard widget or a page with an activity stream showing you the latest days of activity in the system using plugins.
Final Words: The Best WordPress LMS Plugins
WordPress LMS plugins can create Powerful online learning platform, and it's all yours to command, customize, build up, create, manage, share, sell, and much more. To help you build your dream education website, these 9 LMS above are the best candidates for you.
In my point of view, LearnPress is the best choice for its variety of abilities and features. It's free, and always will be. Besides, LearnPress provides a huge range of plugins and extensions, and it is compatible with major of themes for WordPress. Therefore, you're free to customize almost everything, and unleash the full potential of your LMS.
Read More: WordPress Education Themes Powered by LearnPress
---
Contact us, ThimPress:
Website: https://thimpress.com/
Fanpage: https://www.facebook.com/ThimPress
Youtube: https://www.youtube.com/c/ThimPressDesign
Twitter: https://twitter.com/thimpress