"How to Create an Online Course" has become one of the most common questions in this period where Covid-19 is spreading vastly. People are moving online significantly and the demand for online education is also reaching its peak. In the market, you can find a lot of educational WordPress themes but LearnPress stands out from the crowd. Today, we want to show you how to create an online learning course with the LearnPress plugin. You can also use it to make a website but we will talk about it in another post.
Create course:
To create a course, you should open your WordPress Dashboard admin and go to LearnPress. On the sidebar dashboard, you will find and hover your mouse to Courses then click on the "Add new" part. You can add the course title, click to add images or videos and write the course description here. Also, you can freely edit your course with options: font, color, alignment, etc.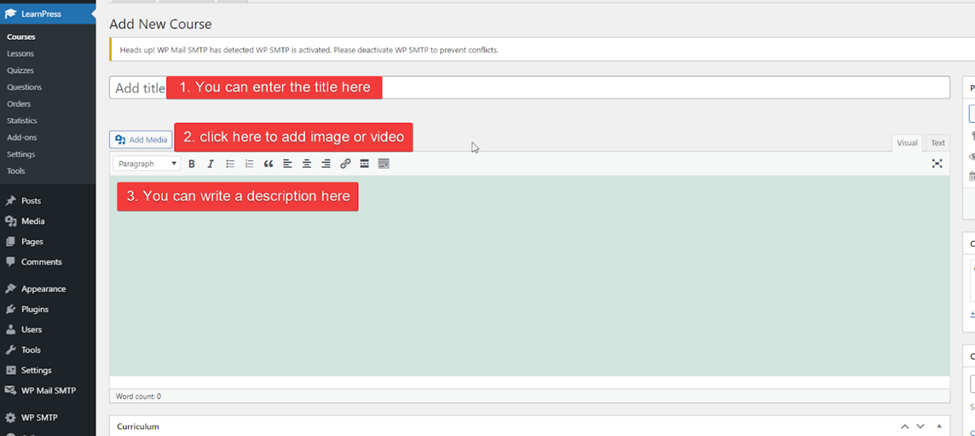 Let's go ahead and scroll down to the Curriculum part to Create a new section.
Then, you will type your section name and press enter.

Then, you can add text to the LearnPress section description. Also, you can select items or create a new lesson and quiz, depending on your choice. If you click on the small book icon, you can create a lesson. If you click on the small clock icon, you can create a quiz. Below, you can see the button "Select items". In case you make a lot of questions and quizzes, you can always check them in here. In each week, you can make as many lessons as you need. Remember to check your course regularly to avoid mistakes.

And that's all for how to create a course with LearnPress. In the next one, we will introduce you to the "Course Settings" part. Thanking you for reading!
Read more:
Way to Configure LearnPress Theme.