More and more businesses are trying to connect with customers through social media. And why not when it represents a very good opportunity for any budding online business to expand its reach? Now, for those who use WordPress as your platform to deliver content to the online masses, I'll show you the direction of the best plugins for sharing your content across all trendy social media platforms.
Why do you need a WordPress sharing plugin?
Many organizations discover while browsing the web that many websites lack sharing tools. There are situations when reading excellent stuff is not possible when you want to share it with your pals.
Alternatively, if I choose, I may copy the URL and then paste it into a social media site. That takes a lot of time and is inconvenient, so I doubt many people do it.
Consider how the owner of the website would lose 100 chances to connect with thousands of his friends on social media if 100 users wanted to share like me but were unable to do so. As comparison to the total number of users on social networks globally, that is an example of an extremely small amount.
As you can see, more than 2.4 billion people use Facebook daily, not to include Youtube, Instagram, and many more websites. Because of this, social media marketing (SMM) is essential to learn about if you want to utilize the greatest free tools available online. So give your WordPress share buttons some thought. You will undoubtedly see favorable results for your website.
Top social media plugins for WordPress
Smash Balloon Social Photo Feed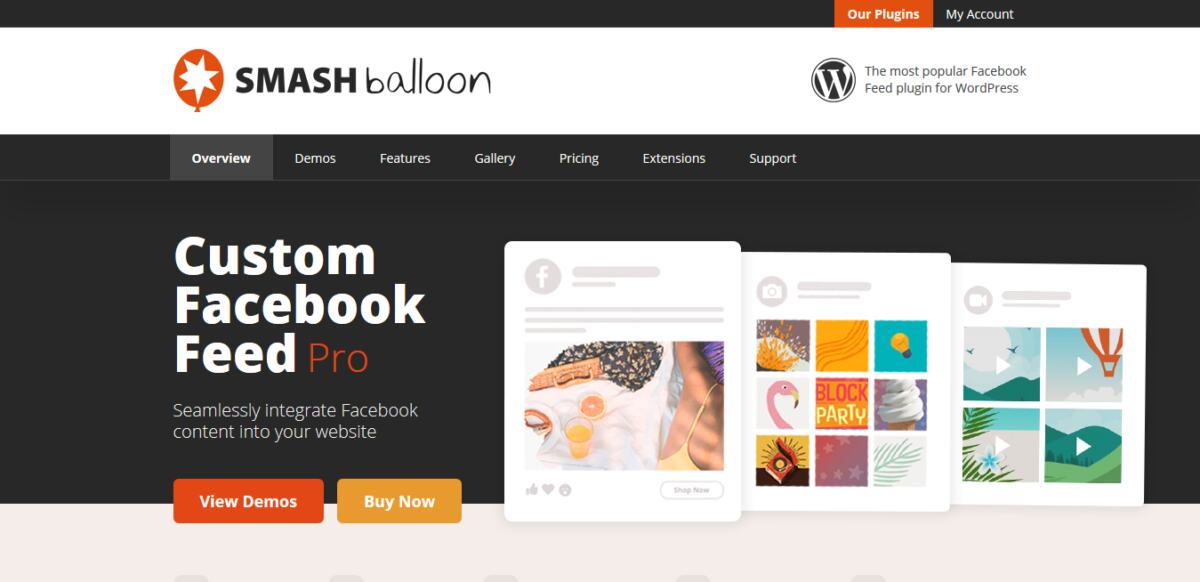 This WordPress social media plugin has a nice layout, pretty share buttons, and lots of helpful functions. Start with the fundamentals: social sharing. It offers user-friendly share buttons for more than 30 social networks in several locations.
Apart from the classic placement options, you also get some unique placement options such as "Share Hub" or "Sticky Bar" as well. You also get the right placement option.
You can choose from a variety of button styles, sizes, and colors. And the Smash Balloon Social Photo Feed also supports both total shares, as well as the ability to set a minimum number of shares and restore old shares if you switch domains or switch to HTTPS.
To check how your content is shared, you can also edit the metadata in your social media accounts. You as well receive dashboard-based statistics to monitor how frequently it is shared and if it is operating at peak efficiency. Smash Balloon Social Photo Feed now offers more than just the essential sharing features that you imagined.
Tagembed Social Media Feeds Plugin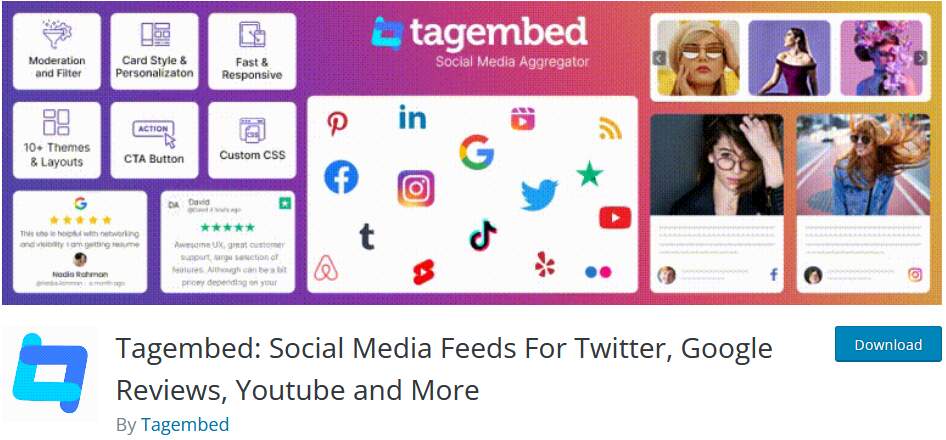 Social Media Feeds Plugin by Tagembed is one of the finest WordPress plugins available. With easy to operate interface, pocket-friendly pricing, and various features, it stands as one of the highest rated in the WordPress plugin store.
Before publishing them on the website, it allows users to select and edit the social media feeds that they have collected. Users can have a variety of information to display on the website and enhance its overall appearance and feel thanks to its compatible with 20+ social networking sites.
Users can easily add social media feeds to the WordPress website by following some simple and basic steps with the plugin. Alongside easing the embedding process, the plugin also allows users to personalize their widget by changing the font size, font style, and more. Also, users can select appropriate themes and layouts for their widgets and improve the charm of their social media widgets.
Also, users may control the material by eliminating any that they feel to be unsuitable or irrelevant for the website. They have two options: they can manually delete the material or use the profanity filter, which deletes any text that contains the given terms. The plugin's extension include customization and moderation in addition to the following:
Responsive widget
Custom CTA button
Analytics
Custom CSS
Auto update
And more
Shared Counts – sharing plugin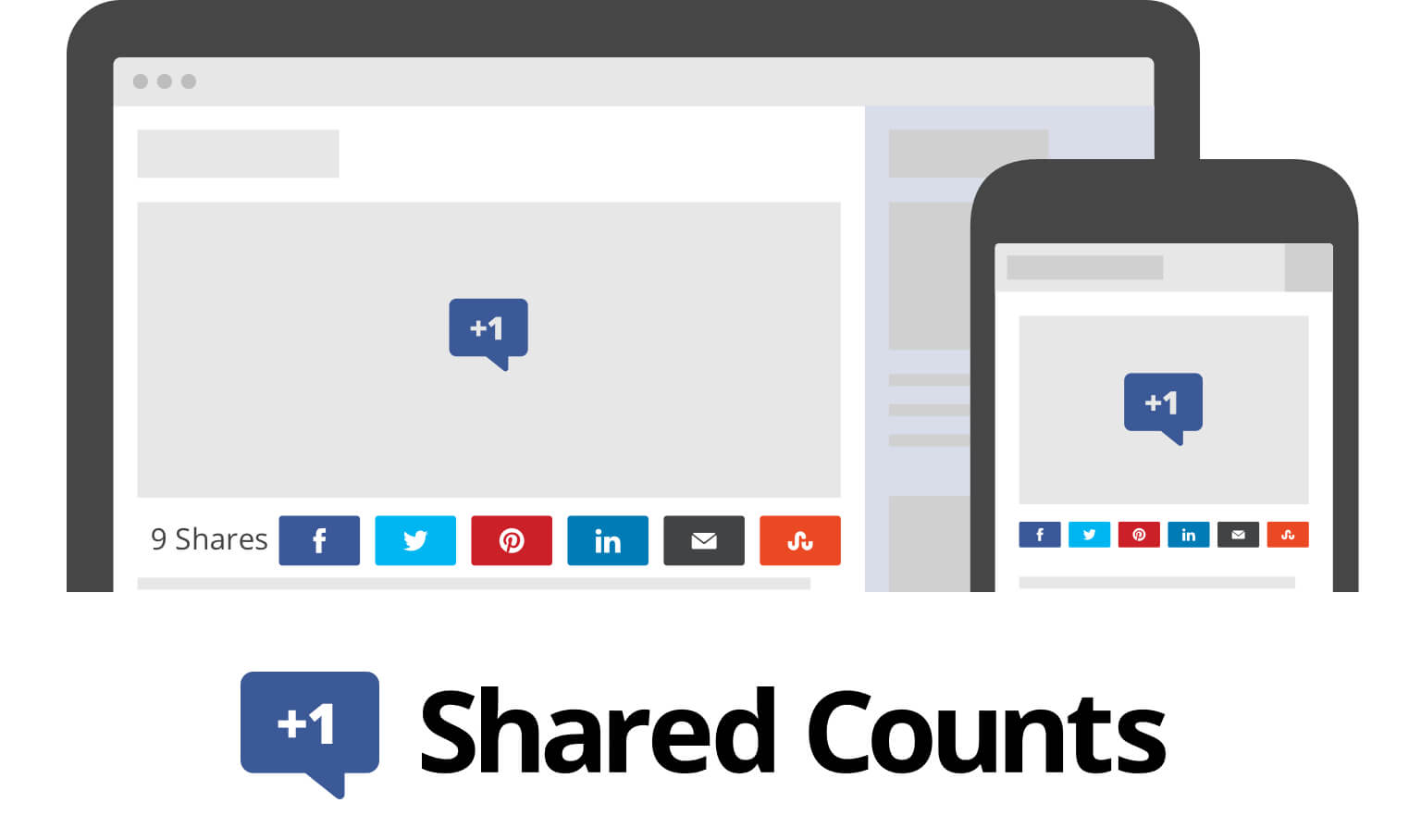 Shared Counts is one of the fairly simple and easy-to-use Social Media plugins for WordPress. It comes with popular social networks like Facebook, Twitter, Stumbleupon, Pinterest, Yummly, and LinkedIn.
There are several types of display buttons as well as multiple locations for displaying map nodes. You can enable it for different types of posts on your website.
These plugins will help you increase the number of post shares, you can also show the total social shares of your link.
Sassy Social Share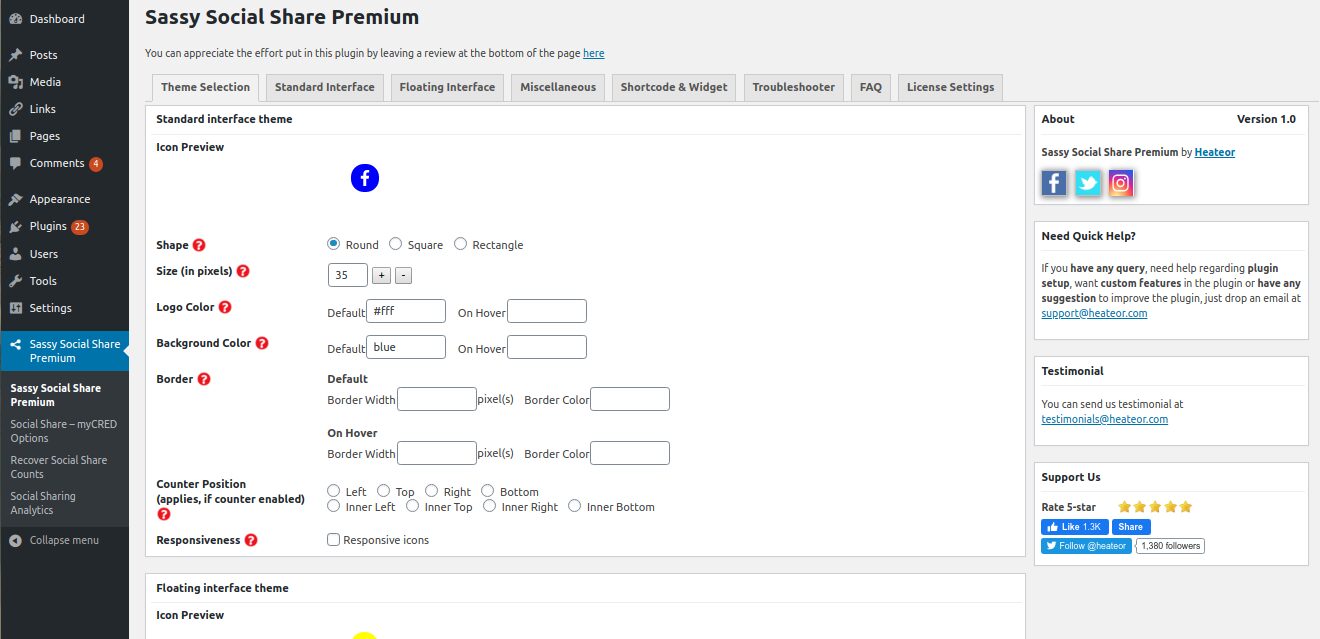 This plugin has been with many companies for a long time, according to shares in general forums, when researching the user experience on the Web has begun.
The reason many users chose Sassy Social Share at that time was that it had a really cool feature that could even say no clash with any other sharing plugin. That feature is fake social sharing metrics. It sounds like a scam, but in fact, it has no effect, even beneficial.
You are aware of the relevance of social effects in particular; a visitor will commonly halt when they read an exceptional piece that nobody is sharing. When you can prove how many people actually participated in the activity, your chances of sharing are effective responses.
And Sassy Social can do so by filling in every type of content of the number of shares you want in the customs field.
With this plugin, you are supported by over 100 different social media platforms. Furthermore, there are plenty of other changes and I think the sharing plugin is very complete:
Display position (Floating Sidebar or Inline)
Default colors or customized by brand
Size & button shape
Arrange the button position
Facebook like, Twitter Tweet, Pinterest Save, … buttons
Furthermore, this plugin also supports widgets, links to social networking accounts, and shortcodes. A subscription edition of Sassy Social Share is also available with extra features including Facebook Comment, social network account login, analytics information, and share recovery.
AddtoAny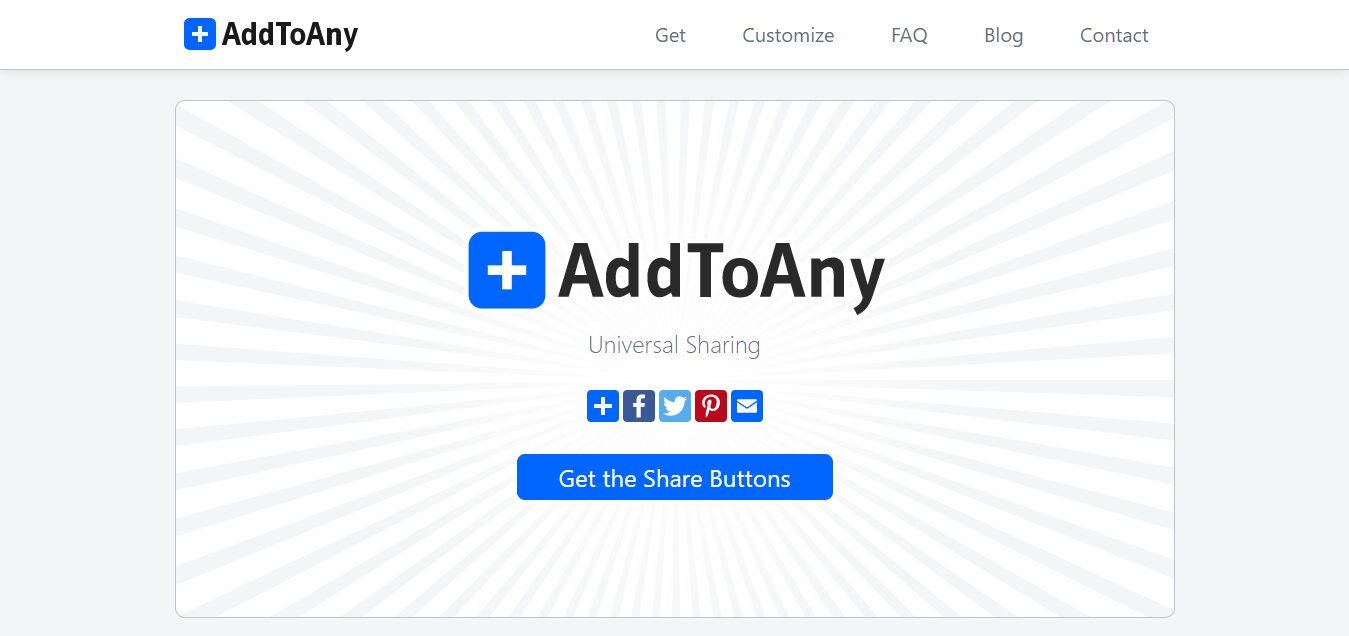 If you are wondering what is the best free WordPress sharing plugin on the market, many people make sure that AddToAny is at the forefront of this list.
A 4.5-star rating overall and 500,000 installs on the WordPress library attest to its validity. Although not being very noticeable in terms of appearance, AddToAny is accessed by several other users. for its ease of use. So, the code neatly arranges it for the fastest page loading possible. Even many people have said that implementing AddToAny's sharing function will not slow down your website's loading time (in other words you install nor install).
AddtoAny supports up to 100 different social networks, so your visitors can freely choose the platform they want to share. Besides, there are many button editing options such as:
2 sharing locations: Floating sidebar (next to the screen) & Inline (On-bottom of post content, page, …)
Shortcode support helps you to insert anywhere on the Website
Customize colors according to the brand
Change your call-to-action text as desired
Show the counter amount of shares
Customizing CSS
Show more share buttons when clicking the (+) sign
In addition to sharing, you may add your social media accounts, which will make it easier for people to follow you and engage with you. This feature is very useful for you if you are familiar with Google Analytics. For research and publication on the website, AddtoAny also enables connecting to Google Analytics.
FS Poster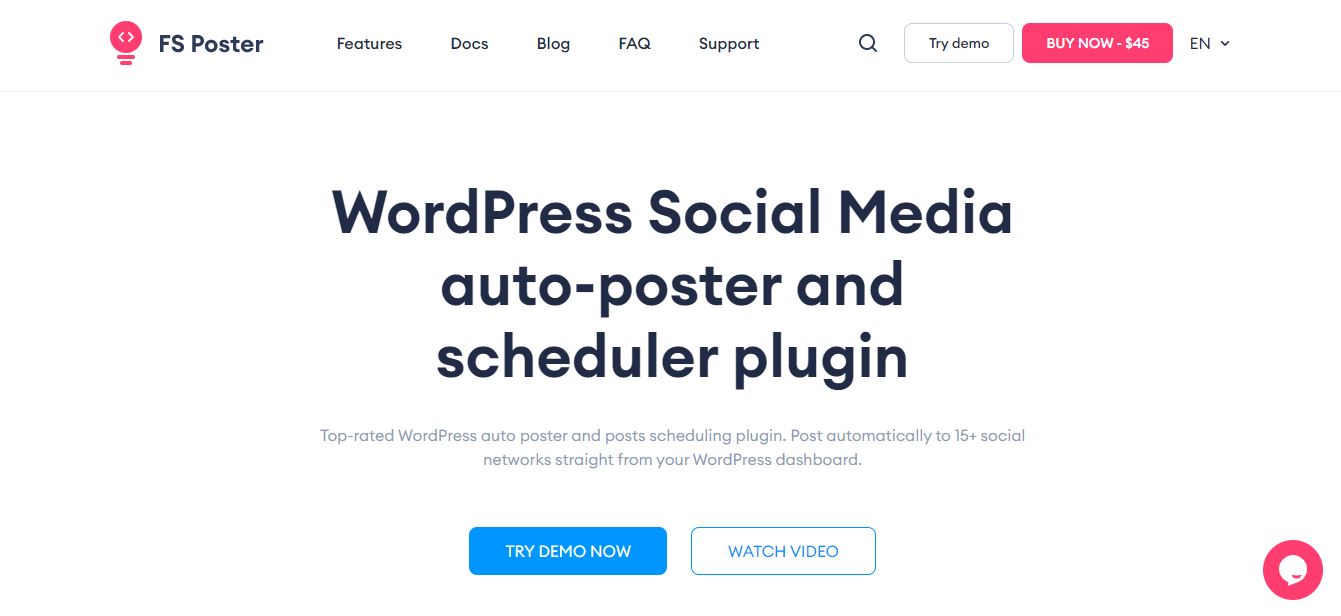 It is an amazing social media auto-poster and scheduler plugin to automatically publish WordPress posts on the most popular social networks. In addition to adding new blog posts with FS Poster, you can set a date for your blogs to be published earlier and republish old posts.
It allows you to automatically share your posts on more than 15 social networks, including Instagram, Twitter, and Facebook.
One of the plugin's best advantages, in my opinion, is the capacity to automatically post blog articles to social network profiles with minimum ahead preparation. Simply write a new post, schedule its publication date, and select which social media platform you want it to be shared on.
We can have hundreds of accounts, pages, and groups. Of course, all objections will come from the same source and we want to hide them.
Several social networking platforms, including Instagram, have been prohibited in some countries. You will be able to log in without difficulty even if it is blocked owing to this functionality, though. You can get support for proxy servers for this.
After sharing your posts on Social Media, you can track their monthly, and daily clicks and also see the comparison of accounts.
You can buy it for $45 and get a 12-month package for an additional $15.
WordPress to Buffer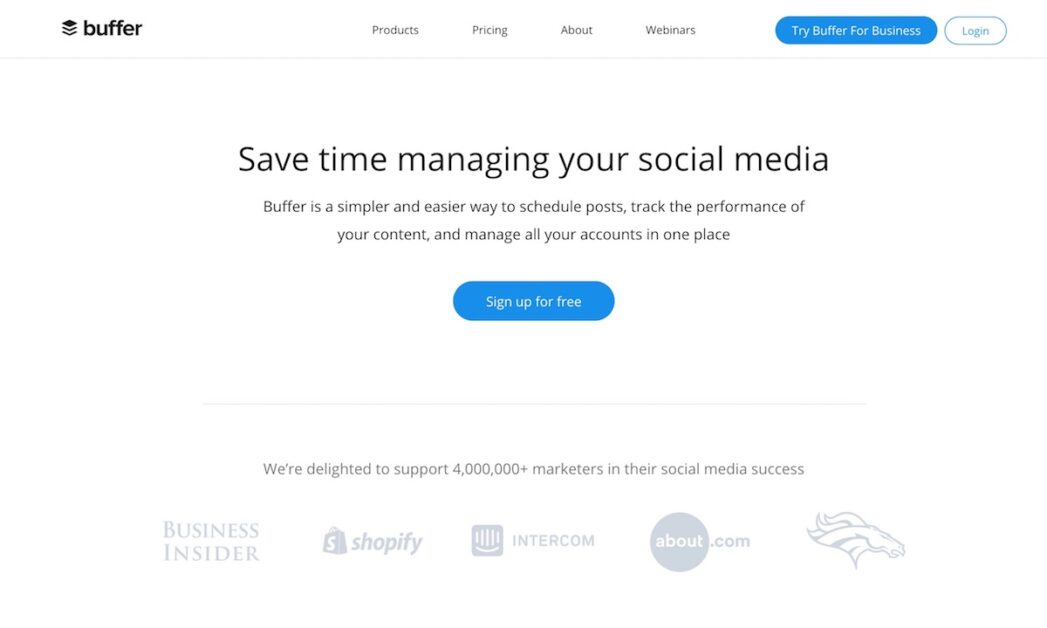 Buffer is a browser app that enables you to upload on various social networks. It is an intelligent platform to transfer things in their own words. Facebook, Twitter, and Linkedin can be integrated into a single Buffer account. You can share stuff across all your networks with a single dashboard. It also provides analysis, easy planning of posts, and shortening of URLs.
Then, go to the Buffer homepage and register using your email. Basically, you may register through Facebook, Twitter, or Linkedin. You will be sent to your Buffer Dashboard after you're finished. The dashboard of your buffer has to be connected to your social media accounts. With this, it is understandable why Buffer is the top social media plugin.
Simple Social Icons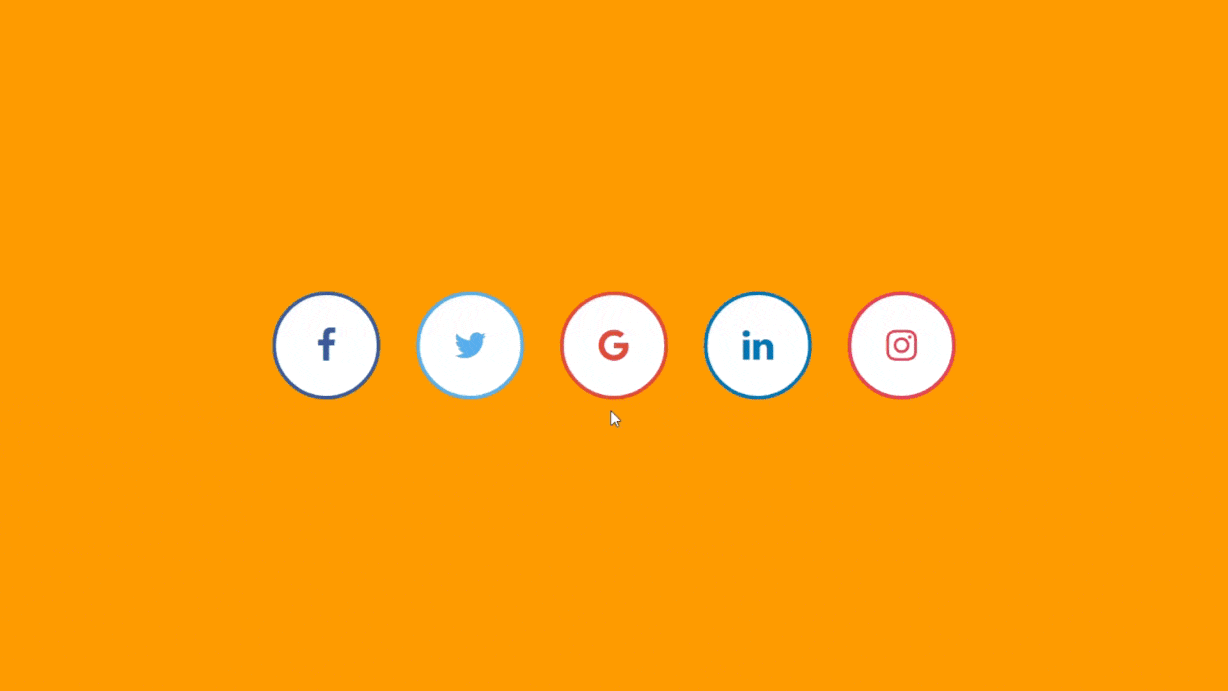 This plugin redirects Website visitors to your social media platforms. Furthermore, Simple Social Icons allow you to flexibly customize the size and form of your icon with 6+ styles. Many bloggers and online business owners appreciate this sharing plugin.
Simple Social Icons' main features:
Easy to upgrade to new updates.
Improve the quality of the human experience.
User friendly (no coding required).
100% compatible with most WordPress themes.
Using Widgets and Shortcodes is easy.
WordPress Social Login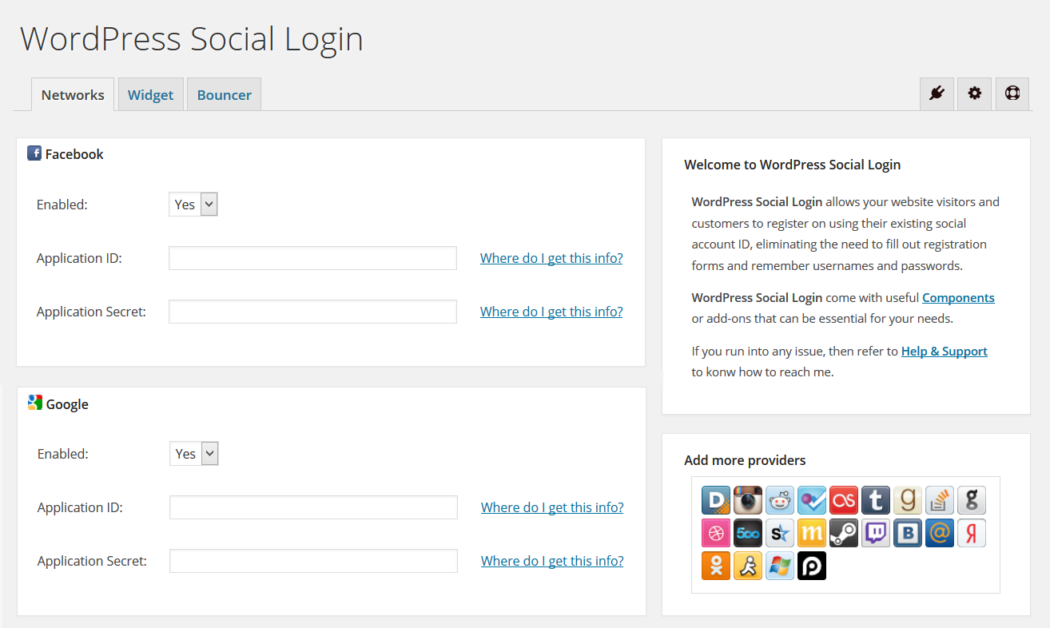 Logging in with a certain social network account on the website is also great, isn't it? Then install WordPress Social Login. It is one of the best social media plugins that I need to mention.
It is simple to use, supports several well-known social networks, and can be set up to provide specific user information. You also have a contact manager and a user manager.
Conclusion
Social media marketing and website development are closely related. If the WordPress framework was implemented when you build your website, use the mentioned social media support plugins straight immediately. They will help you win the trust of website visitors by posting on social media.
However, you also need to review and choose the most suitable and effective support plugin. With the above sharing, we hope you have the best choice for your Website. Good luck!
Read more: Most Valuable Tools for Marketing Technology Stack.
---
Contact us, ThimPress:
Website: https://thimpress.com/
Fanpage: https://www.facebook.com/ThimPress
Youtube: https://www.youtube.com/c/ThimPressDesign
Twitter: https://twitter.com/thimpress