Does your WordPress website have a booking function to save your customers time and increase their satisfaction? It is a necessary feature that your business needs to have in the market. People now like to book/ reserve/ register on the internet before coming to the destinations in whatever industry: Travel, Hotel, Restaurant & Cafe, Gym, so they can skip the queue onsite. To have this, we need a WordPress Booking Plugin for your website.
What Features Should Have in a WordPress Booking Plugin?
As the title suggests, of course, you need to find a plugin that has a strong booking system that lets you customize whatever form you like to fit your business. But it's not good enough, below are some features that we want you to look for:
A flexible booking form: To customize easily on each business such as a travel website needs to have at least a destinations function, a restaurant website needs to have available time slots, a hotel needs to show available rooms and calendar views, etc. It is indeed important for a booking plugin WordPress

.
A mobile responsive design: To book your service anywhere and anytime on any devices such as smartphones, tablets, desktop computers, etc.
Automatic email notifications: To let customers know when they reserved or booked successfully and also remind them of their upcoming bookings.
Integration with online payments: For example, WooCommerce, to give more options and conveniences for your clients. Maybe a small business does not require online payment. However, we live in this age of life, we highly recommend you to integrate this function besides offline payment.
8 Best WordPress Booking Tools
Now is the time for you to study and pick a WordPress Booking Plugin that you prefer for your own business. Our experts tested and tried most of the booking plugins to give out this list. Let's explore it.
Bookly – Top 1 Free & Paid WordPress Booking Plugin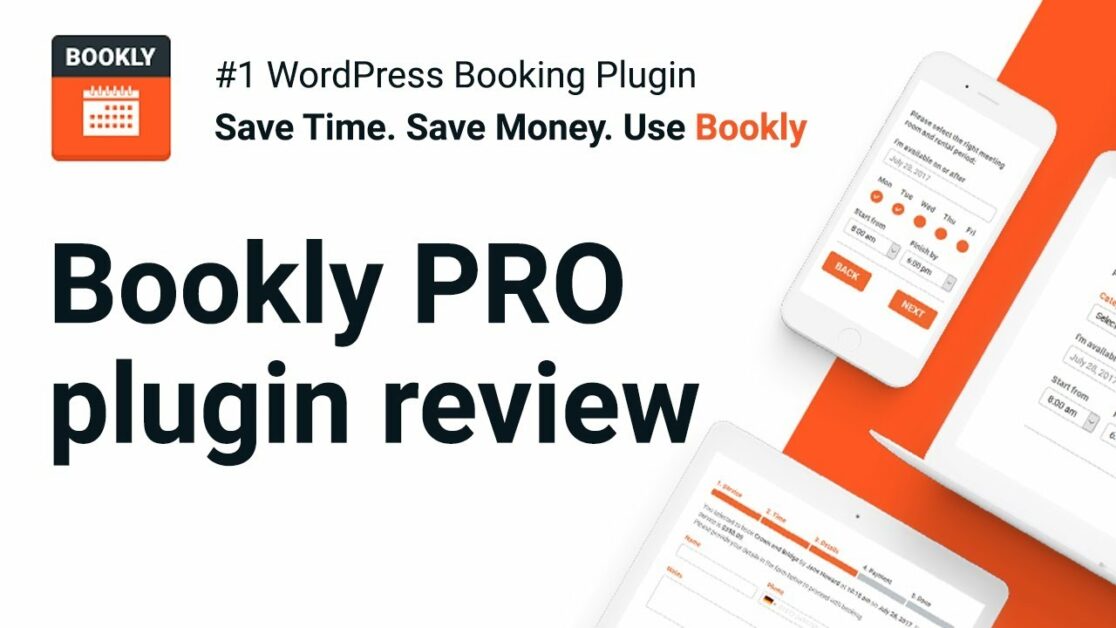 Bookly is the first booking plugin WordPress we have to mention here. There are Free and Paid versions.
The free version usually has a simple booking system but it's still good enough for you if you do not require such features. It offers an online booking form that allows users to schedule time and date as well as a reserve on your website. Moreover, this free plugin has a mobile-friendly form, it looks great even on the small screen size. After booking, users will receive not only an email but also an SMS to confirm the online reservation with the upcoming plan reminder too. However, if you wish to have the function of online paying or add-on, it is impossible with the free version.
Besides the features of the free version, the Bookly Pro version offers you a complete booking system. By integrating with the WooCommerce plugin, you can pay online with different channels. Actually, you can pay cash on arrival or pick one in ten online payment options. Plus, this plugin syncs with Google Calendar to manage staff workload, hours, and bookings. If there are busy slots in Google Calendar, this plugin will auto close that time and provide the best available time slots. Some add-ons are included in this powerful plugin such as Service Extras, Group Booking, Cart. Let's check out to understand more information and make this plugin yours!
Booked – A Strong WordPress Booking Plugin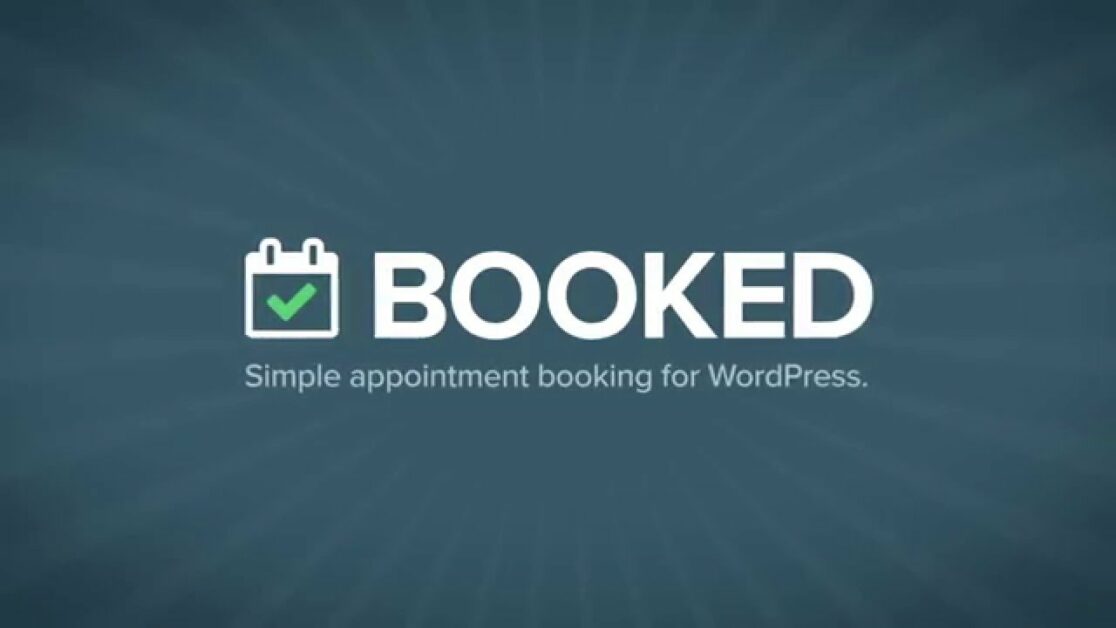 If you are interested in the WordPress Booking Plugin, Booked is another tool that definitely helps you out. If you feel hassle with the registration when you book something on some websites, Booked brings a new feature to you. It allows your customers to book appointments right away by only providing a name and email address. You can show the time slots in a calendar or list view, add multi-calendars with a lot of color types and assign to the specific agent to handle each one.
In addition, Booked supports WooCommerce to purchase online instead of paying cash onsite. Using Booked on mobile or laptops or other devices is possible. Even if you wish to translate to another language, you can do as well. The price of this plugin is quite reasonable, $49, it includes 6 months of support and lifetime updates. Well, worth considering!
Booking Calendar – A Free WordPress Booking Plugin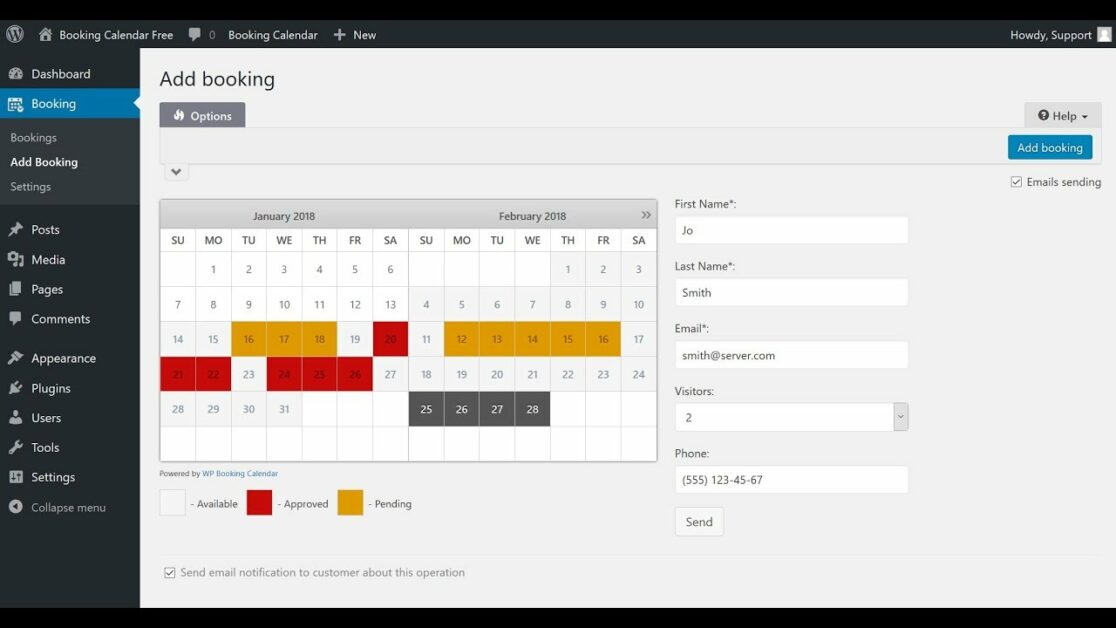 Booking Calendar is a free WordPress booking calendar plugin. Do you know that this is the first booking tool for WP and the oldest one? Booking Calendar has necessary functions for your small/ medium business. Customers can check the availability and choose the date & time slot then submit their appointment. A notification email will be sent out to them and you can either accept or decline that booking via the admin panel dashboard. Also, you can import Google Calendar Events easily to the booking admin as well. The plugin also supports captcha for the security part to test and avoid spam too.
WP Simple Booking Calendar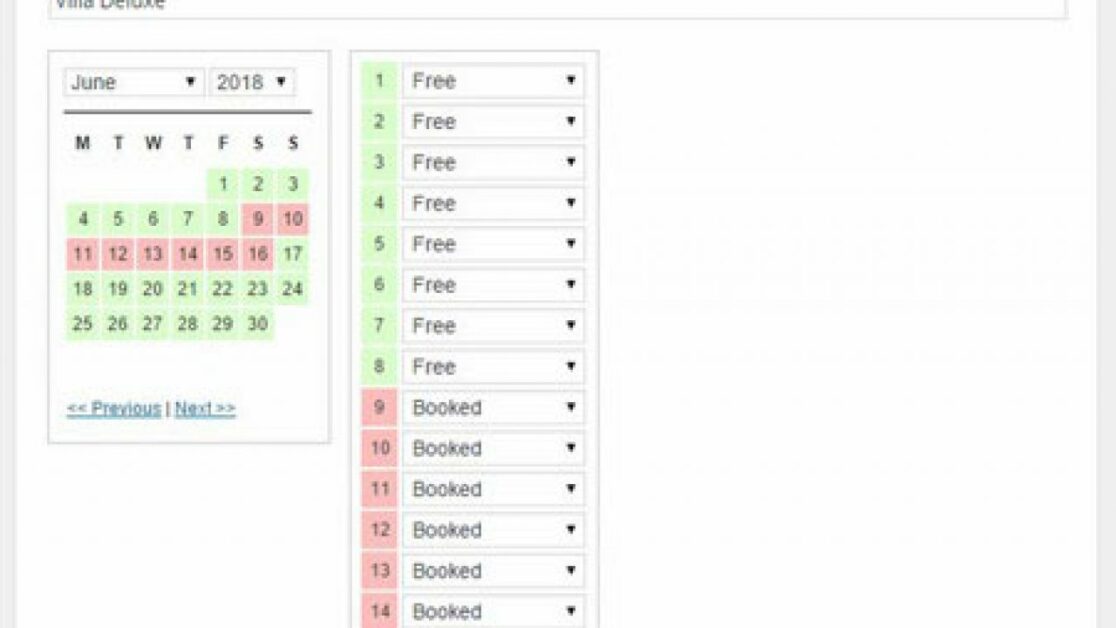 WP Simple Booking Calendar is another WordPress Booking Plugin. Even though this is a free version, you still can use all the basic functions of a booking system. Clients can check the legend near the calendar and select the preferred date, however, they can not reserve the time slots. The plugin is translation-ready with backup/ restore calendars.
If you do feel that this free plugin is not enough, you can check out the premium version. It offers a powerful booking calendar that users can book multiple times. You might be familiar with Airbnb, Booking.com, or Agoda, then this version can sync the calendars with those famous platforms too.There are various options to customize the booking system such as showing multiple months, editing week/ month/ year.
WooCommerce Bookings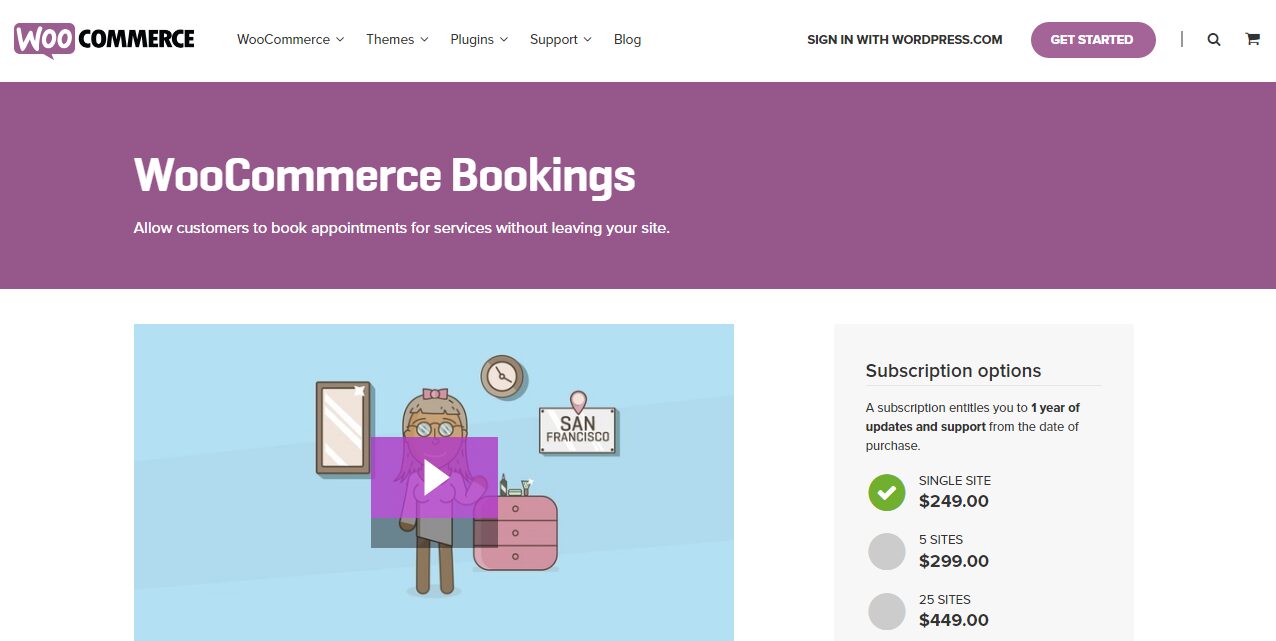 Next is WooCommerce Bookings plugin from WooCommerce extensions for the booking system WordPress. You can set up for customers to book and reserve preferred time slots of classes, appointments, rentals, tours, hotels, etc. Blocking the time off and creating buffers between bookings are easier with this plugin. If you want to customize the different prices, it's possible. You can receive the confirmation email to check before approving that order or set up a cancellation function or remind customers of the upcoming bookings.
However, this extension comes with $249 for only one site, and with $449 for 25 sites, it's quite expensive compared with others. On the other hand, they do not offer only 6-month support as normal, they give you 1-year support. You can request a full refund within 30 days counted from the time you purchased. Because it's base on the free WooCommerce plugin so this WooCommerce Booking integrates well with all other WooCommerce extensions and add-ons
BirchPress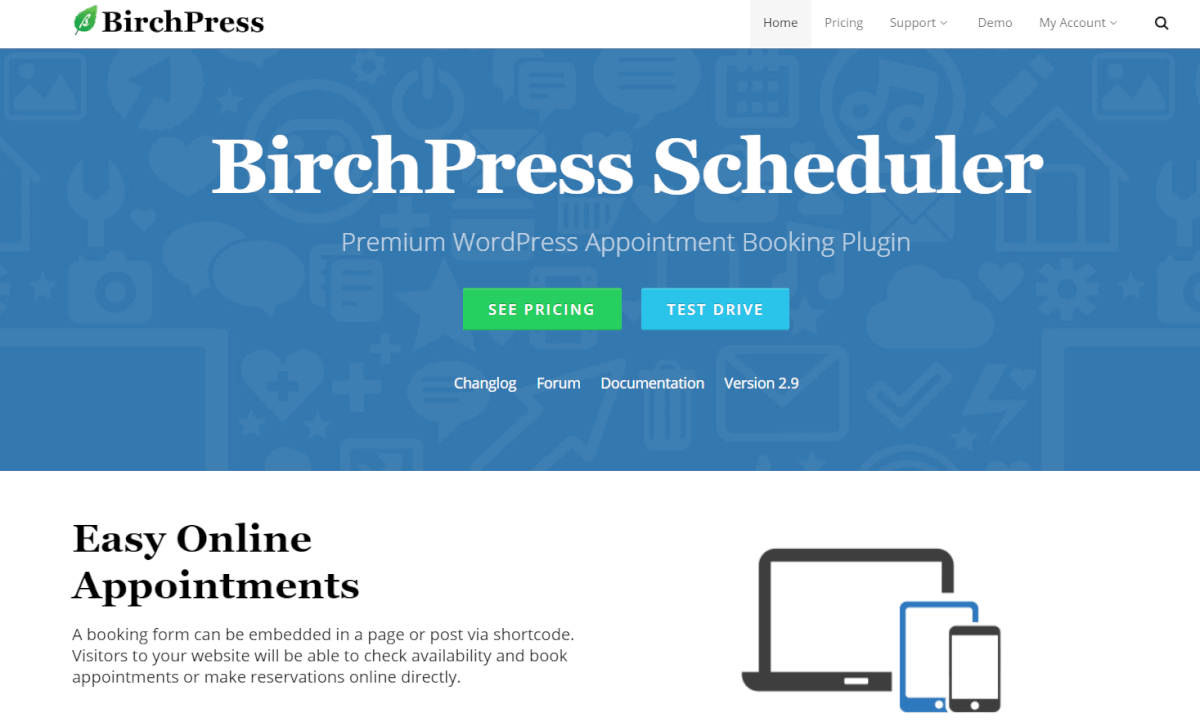 BirchPress is a professional WordPress Booking Plugin. It is a fully responsive plugin. Customers access your site to check and book online appointments anywhere. Paying through Paypal or any kind of payment by the WooCommerce integration. Moreover, BirchPress syncs with all kinds of calendars(Google, Outlook, Ical, etc).. Same other booking plugins, email notifications, and reminders are in the package too. In short, BirchPress is suitable for small businesses such as education, healthcare, fitness, salons, etc.
MotoPress Hotel Booking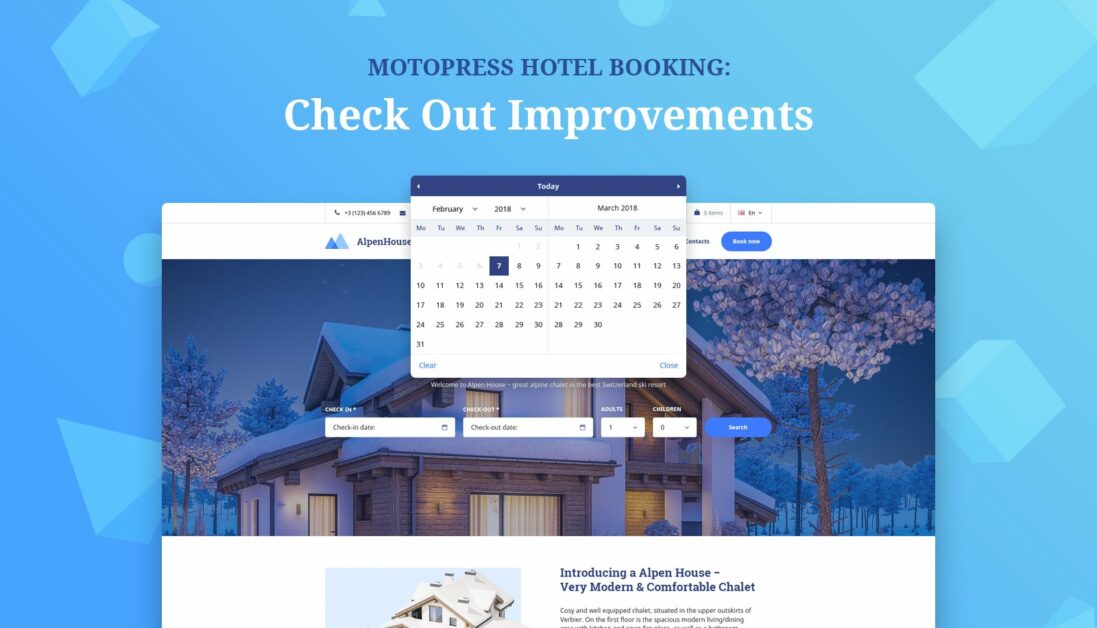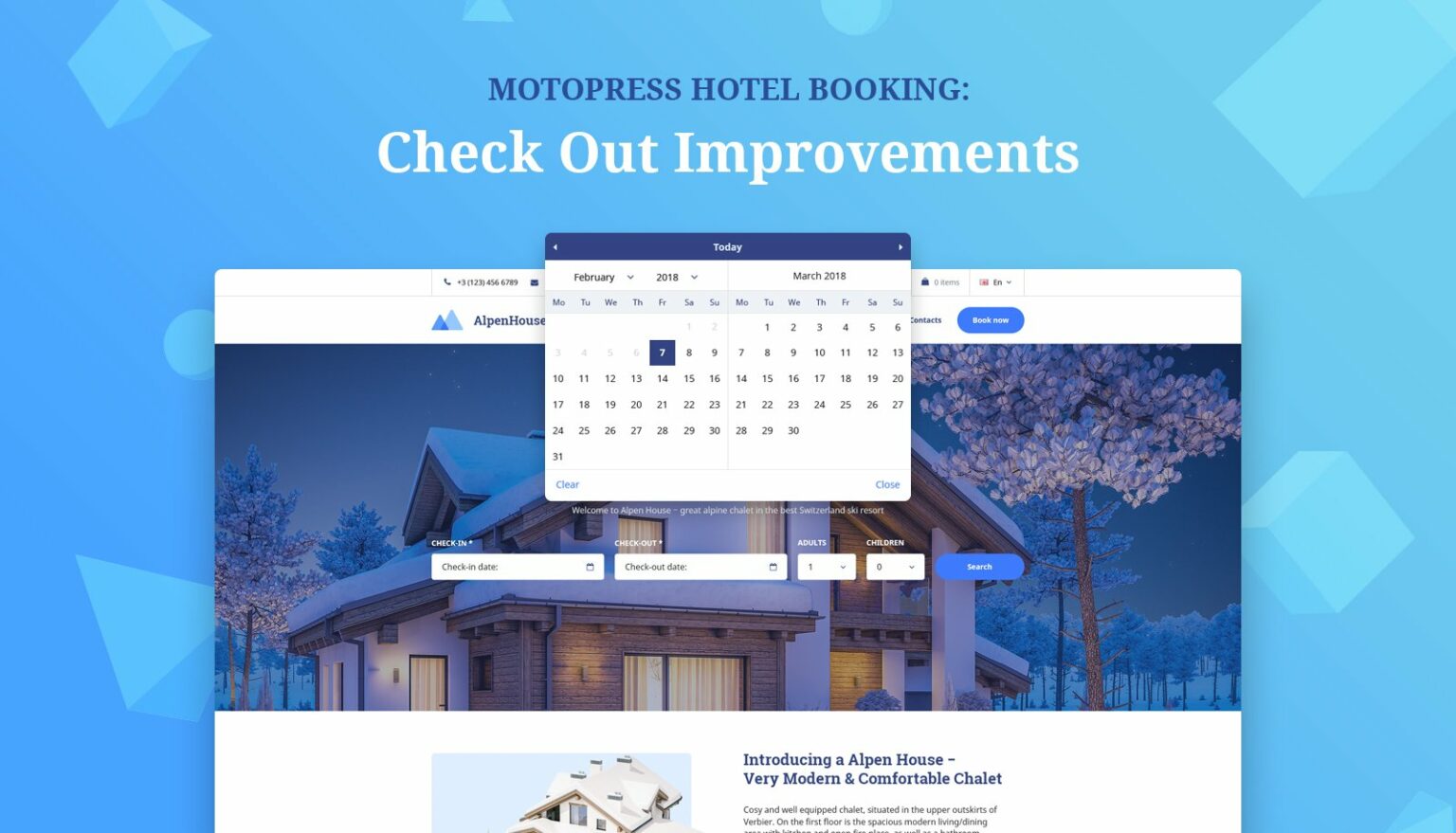 MotoPress Hotel Booking is a powerful WordPress reservation plugin. It's absolutely for hotel or vacation rental sites. It offers 2-way iCal auto synchronizations with Airbnb, TripAdvisor, booking.com, etc. Also, with WooCommerce, you can pay through many gateways. If you run a promotion, Motopress gives you the option to set up coupons on the admin dashboard. Those coupons can have expiration dates as well. The plugin integrates with famous editors such as Gutenberg, Divi, Elementor, and it also has email notifications, well-documented, WPML, and more.
StartBooking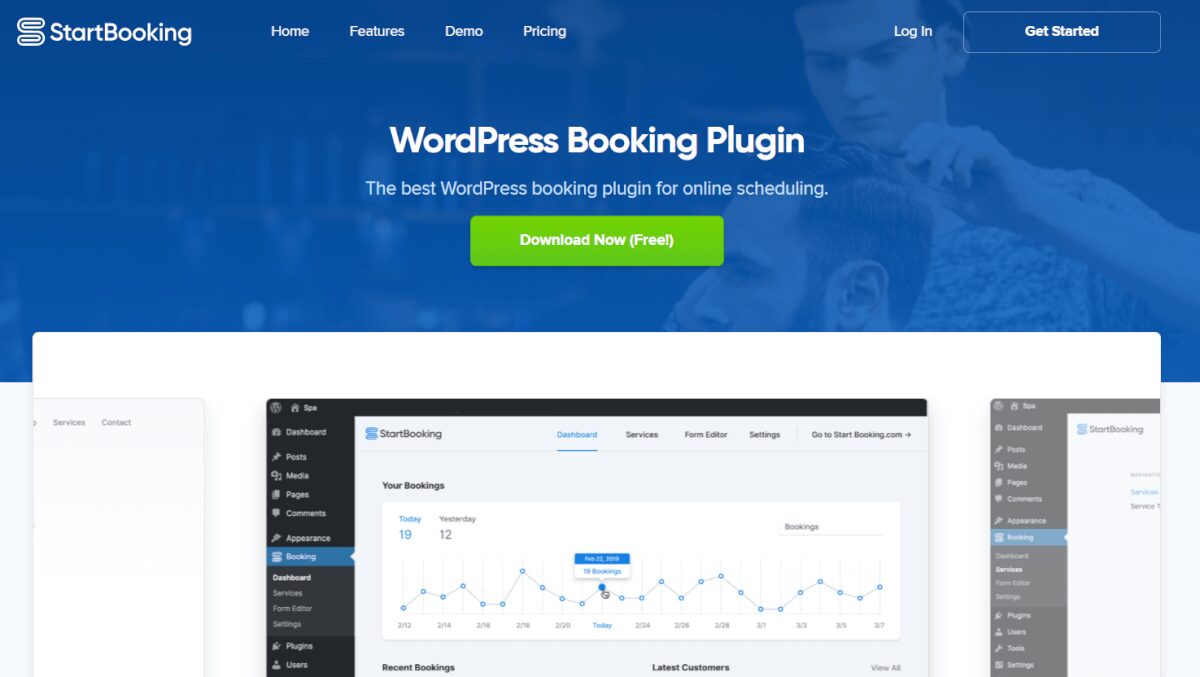 StartBooking is the last WordPress Booking Plugin on our list today. It gives you 14 days of trial with unlimited site & appointment, and they offer a money-back guarantee option if you wish to apply for a refund. StartBooking lets you customize online appointments easily and connect to Google Calendar for better arrangement. By providing time slots, duration, group booking, working days & hours, you can have in hand a smart booking system than ever.
Moreover, your clients can use your site on any size of the screen like desktop, tablet, smartphone, and checking reminder notifications anytime. The plugin integrates with Stripe as well for online payments. If you use an individual package, it costs only $12/ month. And if you go with a business plan, it needs $28/ month with further features such as booking upsells, advanced reports, VIP support, etc.
To Sum Up
It's the end of our topic today and we hope that you can choose a WordPress Booking Plugin without taking time to study a dozen plugins on the market. If you want to have a free booking plugin, you can visit WP Simple Booking Calendar and you can check out with Bookly if you want a plugin with a lot of features.
Read More: 5 Best Contact Form plugins for WordPress compared