At the very top of your screen, there is a useful black bar called the WordPress Toolbar. You can quickly do things like start a new blog post or modify your profile settings thanks to it.
The toolbar is visible to users who are signed into WordPress and is there whether you are viewing the Backend or the Frontend. It may also be referred to as the "admin toolbar" or the "admin bar."
WordPress Toolbar Features
The Toolbar shows a pre-set list of links to particular sites on the admin sidebar, making it simple for you to carry out routine administrative operations. The toolbar's standard shortcuts include the following:
The home page for WordPress.org, where you may post feedback and access support forums.
Update your WordPress theme and plugin installations.
Clicking on your site's title will take you to the home page of your website.
Theme customizer.
Display Access to the comments screen is provided by the number of comments awaiting moderation.
Make fresh pages, posts, and other content kinds.
Managing user profiles and a logout button.
The links in the toolbar, however, are determined by your user role and permissions. It's possible that the toolbar will display more icons when you add more WordPress plugins. A new shortcut is added to the toolbar when you are viewing pages, articles, and categories on the front end of your website. This makes it simple for you to edit the page, topic, or category you're looking at.

How to hide the Toolbar?
By unchecking the "Show toolbar when viewing site" box on your user profile page, you can quickly conceal the toolbar. Simply check the option once more to enable it once more.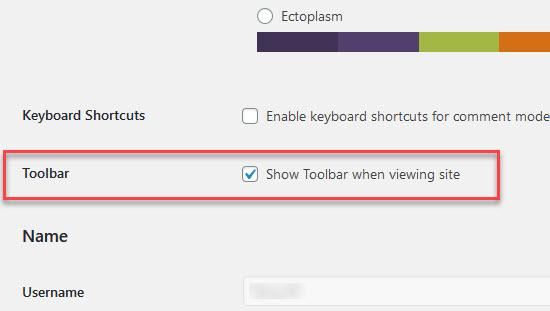 Conclusion: Now you know 'What is Toolbar in WordPress?'
In conclusion, the WordPress Toolbar is a practical tool that makes it simple for users to perform frequent admin chores like adding new content, updating plugins and themes, and managing their user profiles. It can be adjusted based on user role and permissions and appears on both the frontend and backend of a website.
Read More: What Is A Sidebar?
---
Contact us, ThimPress:
Website: https://thimpress.com/
Fanpage: https://www.facebook.com/ThimPress
Youtube: https://www.youtube.com/c/ThimPressDesign
Twitter: https://twitter.com/thimpress