The online education landscape is constantly evolving, and educators need to stay ahead of the curve. That's why ThimPress created Eduma Marketplace, a cutting-edge e-learning platform that offers a seamless and innovative learning experience.
Eduma Marketplace inherits the best features of Eduma, including a user-friendly interface, strong SEO optimization, and blazing-fast performance.
It also adds new features that make it even more powerful and versatile, such as:
Compatibility with a wide range of essential tools and platforms.
Coursera and Udemy-inspired convenience.
A future-proof design that will keep your website up-to-date and secure.
In this Eduma Marketplace blog post, we'll explore all the different things that make Eduma Marketplace special. This makes it the best option for teachers and people who love online learning.
The Key Features of The Eduma Marketplace
Here are some of the key features of Eduma Marketplace.
Coursera and Udemy-Inspired Convenience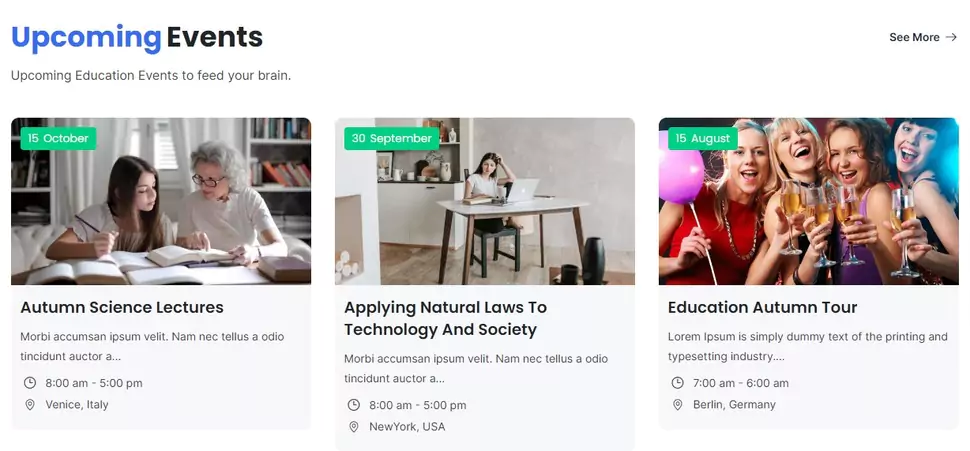 A really cool thing about Eduma Marketplace is its goal. We want to make an interface that helps course creators connect with learners easily and fast, just like big names like Coursera and Udemy.
Like having a little shop, users can earn money from their courses. They can decide how much their courses cost, give discounts, or even make them available through a monthly subscription.
Users can check how well their courses are doing with Eduma Marketplace features. It's like looking at a report card to see how good your courses are, and you can make them even better.
Complete eCommerce capabilities for purchasing and selling courses

Eduma Marketplace is equipped with complete eCommerce capabilities for purchasing and selling courses. Here's a straightforward explanation:
Buying and Selling Courses. Eduma Marketplace works like an online store where you can both buy and sell courses.
Purchasing Courses. As a student, you can browse through the available courses, pick the ones you want, and buy them.
Selling Courses. If you're a teacher or course creator, you can list your courses for sale on the platform. When students purchase your courses, you earn money.
Payment Handling. Eduma Marketplace takes care of the money part. It helps students pay for courses securely and ensures that course creators receive their earnings without any hassle.
Course Access. Once you've purchased a course, you'll get access to it right away!
A Smooth Way to Teach

Eduma Marketplace takes after Eduma, which people love for being easy to use. This smooth interface makes teaching and learning easier.
As a user, you can add lots of things to your courses, like videos, quizzes, and assignments. It's like having a toolbox with different tools for teaching.
What more? You can give your courses a special look. Add your own colors, logos, and designs to make your courses stand out and show your style.
Whether you're a teacher making courses or a student studying Eduma Marketplace's interface will make things simple for you.
SEO Optimization for Enhanced Visibility
Eduma keeps up the good work with strong SEO optimization. Of course, Eduma Marketplace is optimized for search engines too, so your courses will be more visible to potential learners.
Just making a course isn't enough. You need to tell people about it. Eduma Marketplace helps you do this by making your courses easier to find on the internet. You can also share them on social media to get more students.
Eduma Marketplace makes sure your website and its content show up near the top in search engine results. That way, more people can find your courses and educational stuff.
Plus, ThimPress has a team of top-notch SEO experts. If your website isn't showing up well on search engine results pages, we're here to assist and fix that issue.
Blazing-Fast Performance with Clean Code
Website speed is a big deal for user experience. Eduma Marketplace is designed to be super fast because it has well-made and neat code.
It is built on a clean and efficient code base, so it loads quickly and smoothly, even on slow internet connections. Your learners will like that the website responds quickly and works fast. This makes their educational experience better and more fun.
Compatibility
Eduma Marketplace works smoothly with many important tools and platforms. It can easily connect with:
The newest WordPress Version: So your website stays safe and current.
Elementor: A famous page builder that lets you customize your site a lot.
WPML: For speaking different languages and reaching people around the world.
GDPR Ready: To follow data protection rules.
WooCommerce: This makes it easy to sell your courses and educational stuff.
Various Payment Gateways: To simplify checkout process, increasing conversion rate.
And more.
Try Eduma Marketplace NOW!
If you're looking for a powerful and versatile e-learning platform, Eduma Marketplace is the perfect choice for you. It offers everything you need to create and deliver engaging courses, and it's backed by a team of experienced developers who are committed to providing you with the best possible support.
Read More: WordPress for Education: A Comprehensive Guide
---
Contact us, ThimPress:
Website: https://thimpress.com/
Fanpage: https://www.facebook.com/ThimPress
Youtube: https://www.youtube.com/c/ThimPressDesign
Twitter: https://twitter.com/thimpress