Are you looking for the best Online Course WordPress Theme?
WordPress is an excellent platform for building online course websites. WordPress, with its intuitive interface and extensive customization options, offers a flexible and effective solution for course creators who want to share their expertise and knowledge online.
Choosing the right theme is a key step in creating an online course website. There are thousands of WordPress themes available, but not all of them are suitable for online courses and educational content. The following online course WordPress themes have unique features and designs that make your courses stand out. So, you can select a WordPress theme for selling online courses.
The Advantages of Choosing WordPress to Create Online Courses
For a variety of reasons, WordPress is a fantastic way to build online courses. First, WordPress course creators have total power over how their content is displayed and shared. This is extremely significant for individual course creators who wish to make sure that their courses reflect their unique branding and teaching style.
Another advantage of using this platform for online courses is its significant level of customization. With a vast number of plugins and themes available, WordPress lets course creators design their online educational website exactly how they want it to be, which includes the addition of extra pages like an online book store. As a result, WordPress is a perfect option for most course creators, including independent instructors, online trainers, and academic institutions.
Of course, you'll need an LMS plugin to create online courses with all of the functionality you require like content drip, certificate, gamification, grade book, assignments, and so much more. A well-known course builder plugin by ThimPress is LearnPress. But don't miss out on a few Best WordPress LMS Plugins that are available.
It is absolutely essential to select an online course theme for your WordPress site because it will be created to provide a positive learning experience. It also included many premade learner-friendly templates and was frequently designed with a specific LMS builder plugin in mind.
An external e-learning platform is a viable alternative to selling through WordPress. Although there are some built-in platforms like Udemy for selling courses, course creators do not completely own their content. Hence, Udemy has authority over how courses are displayed and distributed. And course creators might follow Udemy's policies and guidelines. Furthermore, Udemy gets a portion of course sales.
Furthermore, you can easily build an online store to sell courses or items with WooCommerce. So that course creators can sell their courses directly from their website without using another platform. For example, using LearnPress and WooCommerce, you can make your own courses that students can add to their cart and buy just like any other product. Besides, seeing as WordPress enables course creators to keep 100% of their sales revenue (minus transaction fees owed to payment gateways), it's a financially appealing option for many educators.
What Features Should An Online Course WordPress Theme Have?
There are a number of important features to search for when selecting a WordPress theme for an online course site, such as:
1-click demo installation
Responsive designs
LMS plugin integration
Configurable widgets
RTL support
Simple theme options
Supports plugins that offer pre-styled contact forms and user-friendly sliders.
options
Customization
Are you ready to dive into our online course on WordPress themes? Let's get started!
Best Online Course WordPress Theme: Popular Choices
Eduma – The Best Online Course WordPress Theme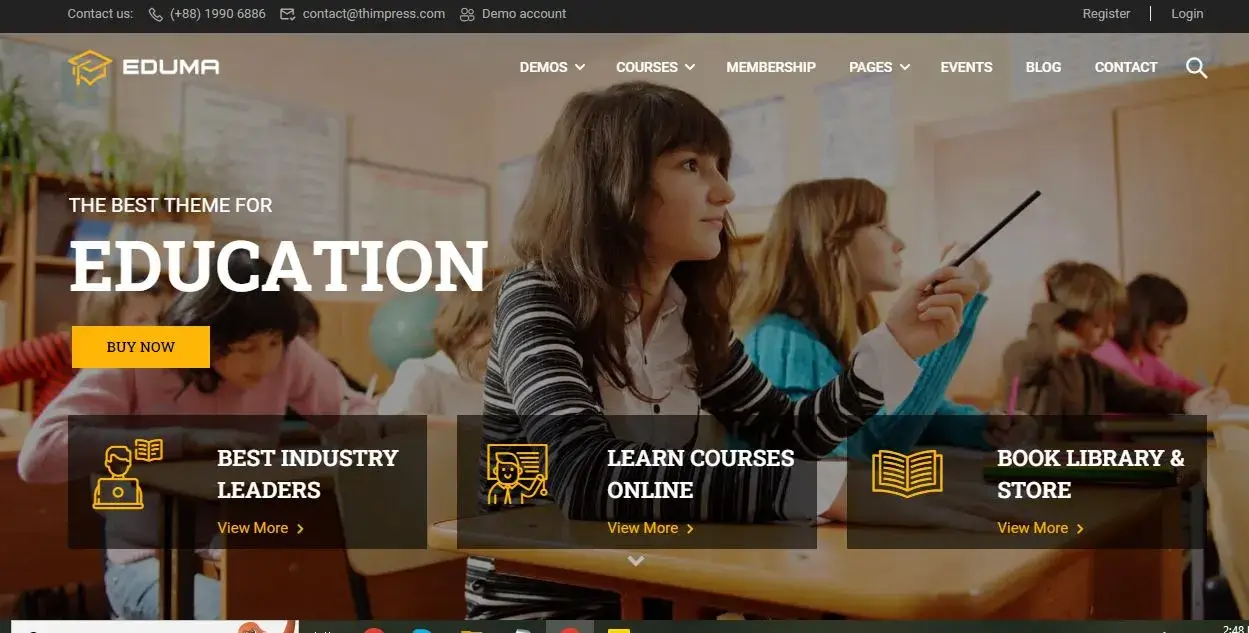 Try Eduma
Eduma stands out as the best online course WordPress theme that is compatible with the most well-known LearnPress. Eduma's great benefit is that it comes with a variety of LearnPress Pro add-ons. It means course creators can expand the functions and features of their online courses.
Furthermore, Eduma is fully responsive and built for integration with notable page builders, such as Elementor and WPBakery, so it's beneficial for course creators that wish to customize the design of their online learning site. Get this WordPress theme builder now!
Coaching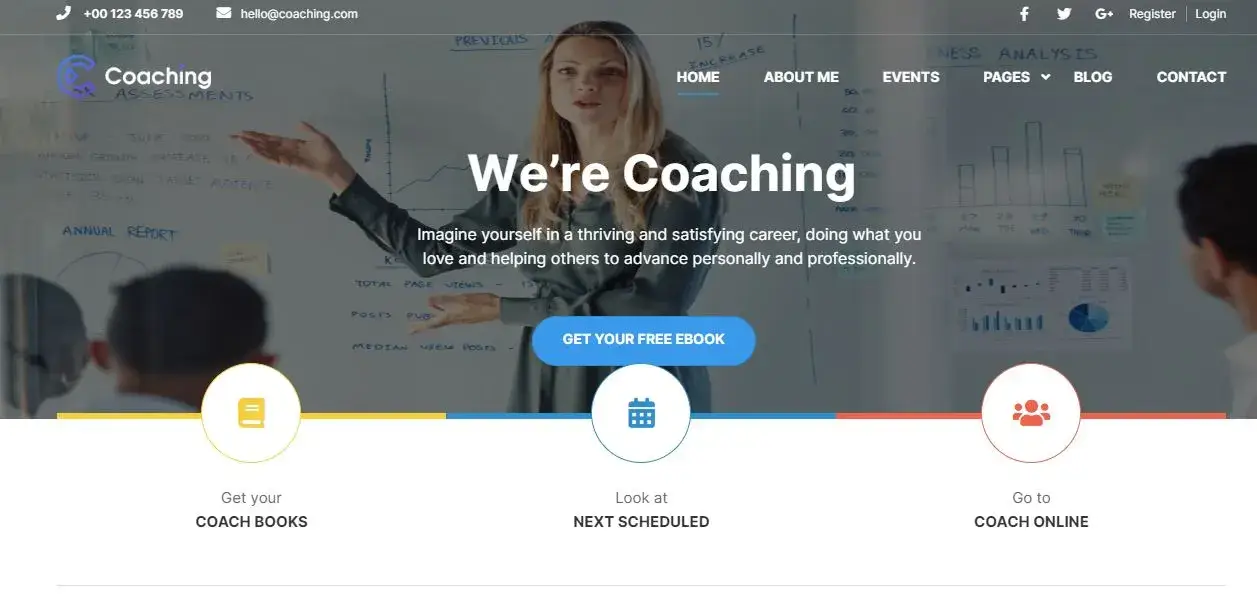 Try Coaching
Coaching is the best online course WordPress theme that is compatible with LearnPress. It comes with full LearnPress addons, meaning that course creators can use a variety of LMS options based on their specific requirements.
Coaching includes a number of pre-made demos you're able to import to get up and running quickly. This is a helpful feature for course creators wishing to build an attractive course website without beginning from scratch. Coaching is also compatible with the widely known Elementor, which allows users to customize the design of their website to their own taste.
IvyPrep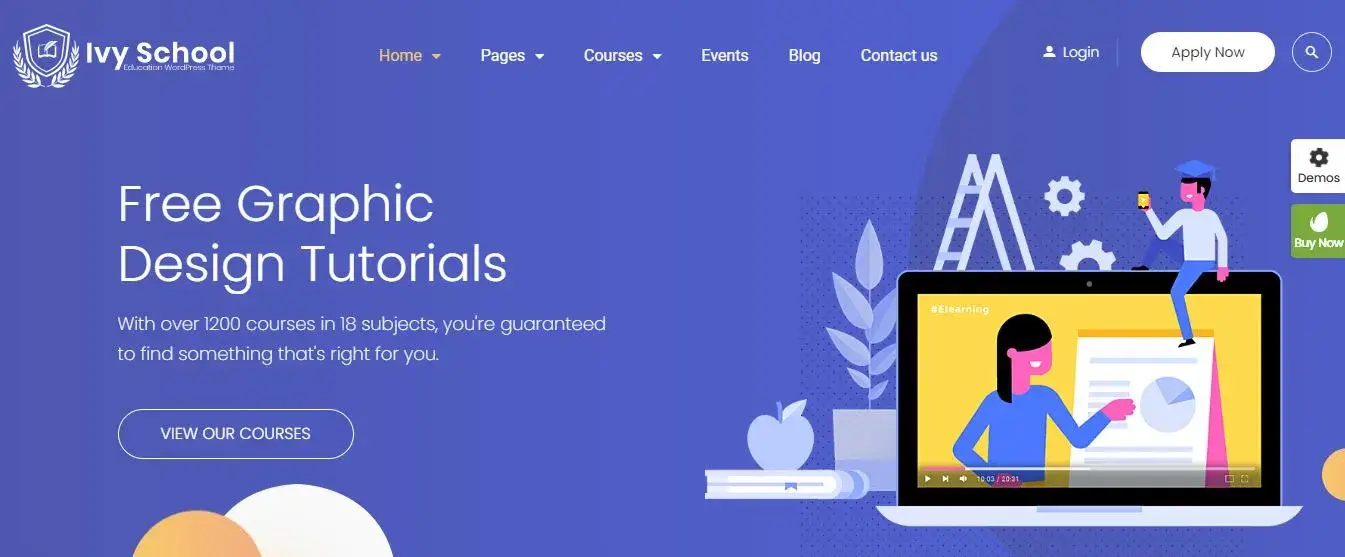 Try IvyPrep
IvyPrep is the next-best WordPress theme for selling online courses. Of course, it's compatible with LearnPress. Moreover, IvyPrep does have a few unique features that course creators may find useful. IvyPrep, for example, includes event management, which can be useful for managing and creating events on websites easily.
Furthermore, IvyPrep allows you to create a professional online marketplace for your courses thanks to WooCommerce integration. It's really useful if you plan to sell courses or recruit an expert team to create a tutoring academy.
StarKid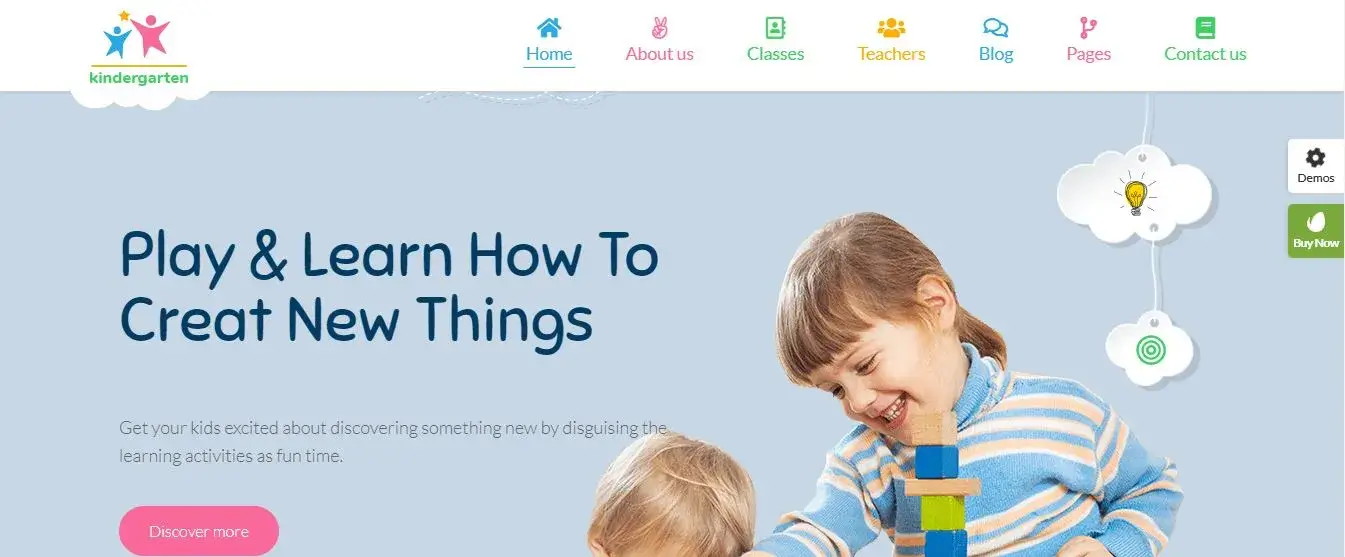 Try StarKid
Starkid is a WordPress online course theme that is compatible with LearnPress and the page builders like Elementor and WPBakery. You can easily create pages and add elements to your e-learning website using the theme's page templates. It's a useful functionality for course creators looking for a quick and easy way to tailor the design of their websites.
Course – Free Online Course WordPress Theme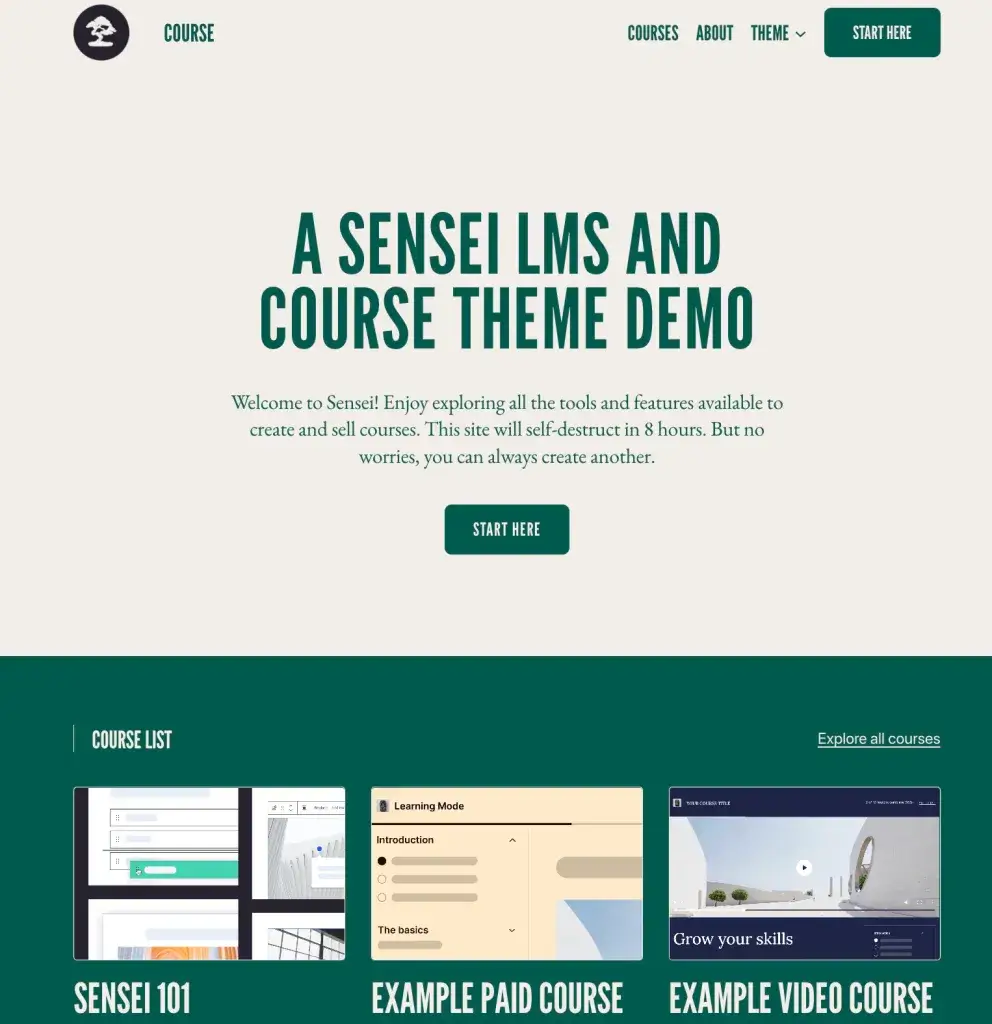 Try Course
Course is a free online course WordPress theme created to work with the famous Sensei LMS plugin. This integration is ideal for course builders because it includes a variety of features that make it simple to quickly create and market courses on WordPress.
The theme even works fine without Sensei integration. Moreover, you can tailor the appearance and vibe of your courses and content with various font and color options. Some of Course's goodies are a number of built-in block patterns, Gutenberg integration, minimal design, and adaptability on any device.
BuddyBoss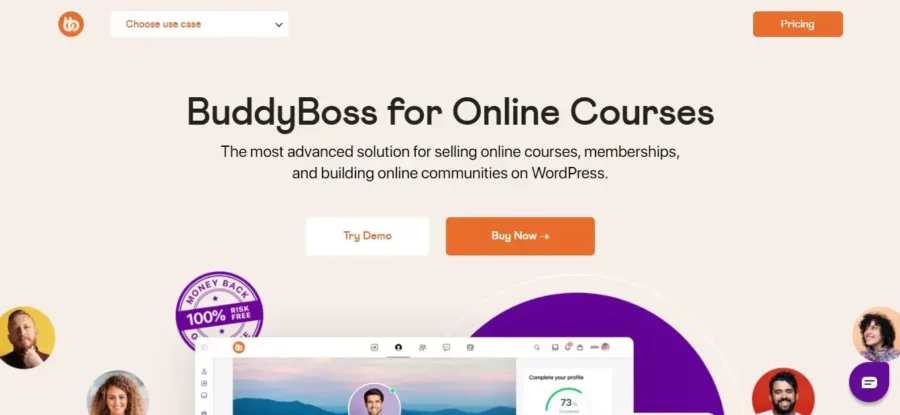 Try BuddyBoss
BuddyBoss is a sophisticated online course WordPress theme that is intended to provide students with a virtual classroom experience. BuddyBoss lets you set up member profiles as well as member types. This might be a nice option for designing personalized learning experiences and giving tailored help to various student groups.
BuddyBoss also integrates with effective apps like Zoom, which are useful for hosting live classes or meetings with your students. BuddyBoss also includes forums that are useful for building a sense of community among your students. Forums let learners communicate with one another about course material, ask questions, and provide reviews, which can make for a more enjoyable and interactive learning experience.
BuddyBoss' integration with LearnDash, a popular tool for creating and managing online courses on WordPress, is one of its major features.
WPLMS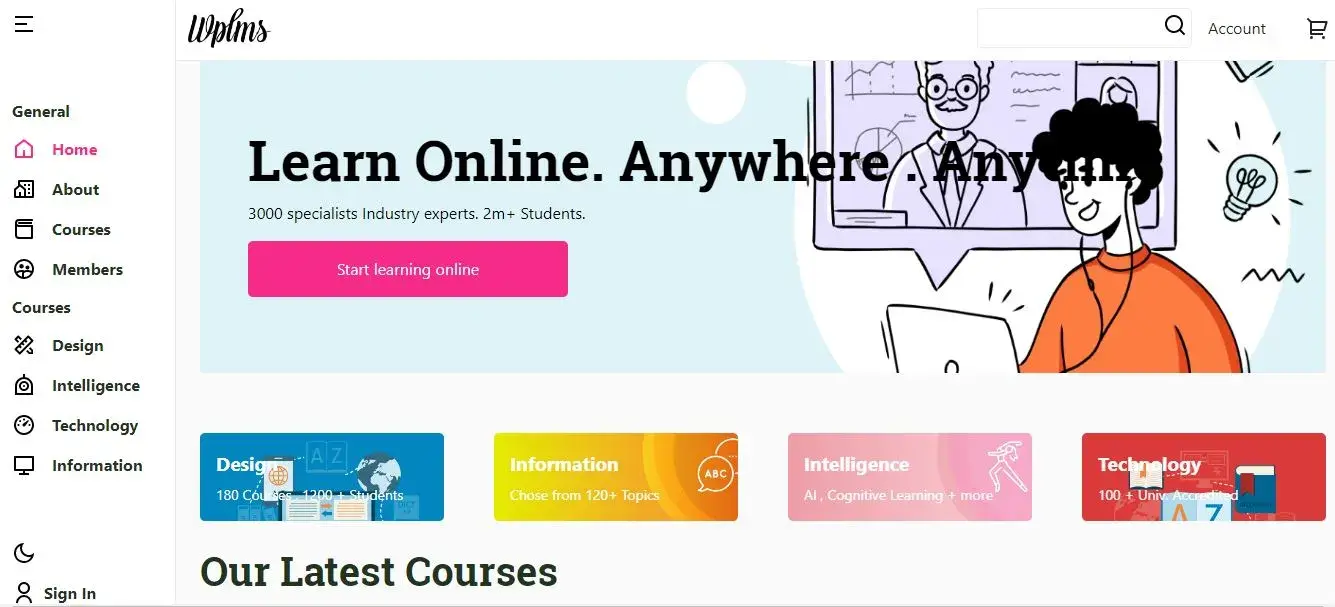 Try WPLMS
WPLMS is a WordPress LMS theme that lets you create online courses without having to install additional plugins. Its great feature is that it includes PWA technology, which provides fast page speed and smooth navigation. As a result, students can download courses and follow them while not connected to the internet. So, it's the perfect choice for students who have unstable internet connections.
Read More: 10+ Best Themes for LMS Course Builder: A Comprehensive Review and Comparison
---
Contact us, ThimPress:
Website: https://thimpress.com/
Fanpage: https://www.facebook.com/ThimPress
Youtube: https://www.youtube.com/c/ThimPressDesign
Twitter: https://twitter.com/thimpress