Elementor is a fairly popular free page builder that is available to the WordPress community as an advanced design solution. In fact, this ultimate & free WordPress page builder lets you create beautiful WordPress websites as easily and quickly as possible. Moreover, working with Elementor has its charms. The ease of limitless live designing is made available to you on the site's frontend.
While the designer offers you some great design possibilities, there is always some room left for add-ons. This is where Master Addons for Elementor have a spot saved for website users who want extra features for their websites. Master Addons also offers a unique library and features for its users along with awesome designed Addons and Element widgets.
Available to its users as Master Addons Free Version, Master Addons provides access to most of all Elements with multiple variations. Once the users are thoroughly impressed and want to go ahead with the Pro version, they can get that going. The Addon is also available for use by ordering a 14 days free trial without submitting any payment info. Then, with 30 days money-back guarantee.
Here are some of the widgets (50+) offered by Master Addons:
Content Elements
Dual Headlines
Call to Action
Animated Heading
Accordion
Tabs
Tooltip
Progressbar
Progress Bars
Team Member
Team Slider
Creative Buttons
Changelogs
Infobox
Flipbox
Creative Links
Image Hover Effects
Business Hours
News Ticker
Blog
Table of Content
Image Hotspot
Timeline
Pricing Table
Domain Search
Image Filter Gallery
Restrict Content
Current Time
Table
Nav Menu
Search
Counter UP
Countdown Timer
Gallery Slider
Form Elements:
Contact Form 7
Ninja Forms
Gravity Forms
WP Forms
Caldera Forms
Weforms
Marketing Elements:
Mailchimp
Mailster(Coming Soon)
Social Share(Coming Soon)
Extensions:
Custom CSS
MA Particles
Parallax(Coming Soon)
Animated Gradient
Background
Background Slider
Positioning
Mega Menu
Entrance Animation
Transforms
Rellax
Reveal
Custom JS
Header, Footer,
Comment Builder
Reading Progress Bar
Container Extras
Dynamic Tags
Then, let's talk about some of their most popular elements:
1. Gradient Background
Applying effects to their section's background is something that a lot of webmasters wish to carry out. With this feature, users can apply both Particles and Gradient color to their section's background. The customization possibilities are huge with the color picker and Particles generator.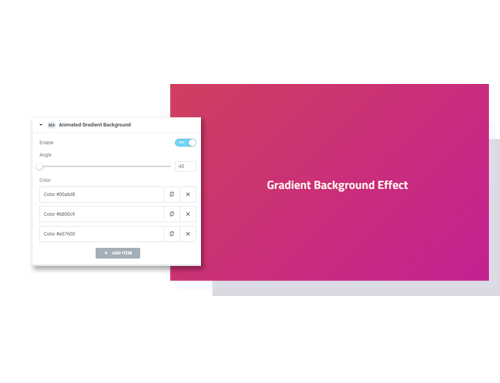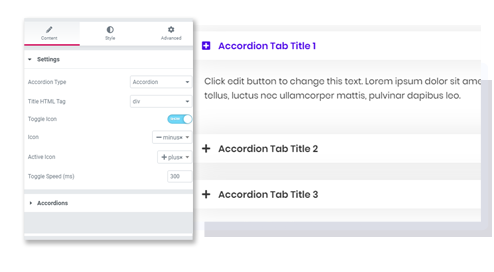 Meant for mobile visitors, absolutely, this feature lets visitors control their content path and decide what to read and ignore.
2. Elementor Mega Menu
This one is also an extension by Master Addons and the package contains a Navigation menu element. This feature allows the users to arrange any type of menu like one page, multi-page, Mega Menu, Off-canvas, Hamburger, full-screen menu. Moreover, developed with Elementor Page Editor, you can place anything in your mega menu from your Elementor Elements library. Users can seamlessly divide the mega menu into multiple columns as required.
3. Image Hover Effects
As the name clarifies, this add-on element helps in giving your website a vibrant and lively style.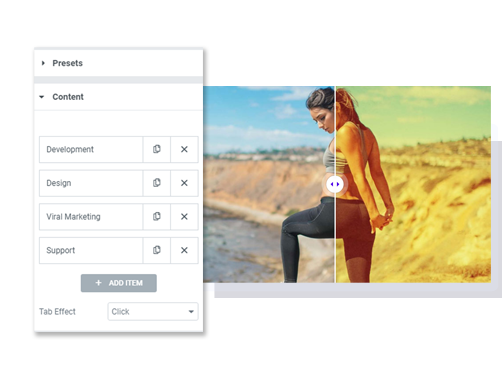 4. Blog element
Undoubtedly, this addon helps set up a clean layout for a blog on your website.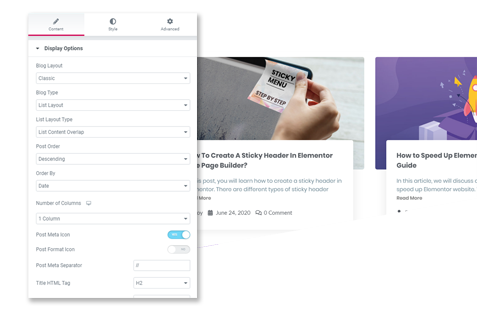 5. Custom breakpoints
Did you know that there are 3 breakpoints available in Elementor? If you are looking for a super extension, folks at Master Addons, surely, have developed an extension. It will help you to create unlimited breakpoints. Further, the Custom Breakpoint addon is a must-addon for you if you are wondering to create a device-based responsive website. The availability of different responsive properties is an advantage. Also, with a careful selection of your desired property and value, the addon can work wonders for you. One can also select device orientation – Portrait or Landscape too.
Together with the Custom breakpoints feature, users can extend the breakpoints for a fully responsive website – device-specific. Once you use this feature to simply input your desired device breakpoint value, you can create a perfect responsive page Then you can select the device and do responsiveness for that exact device.
Let's talk about a few other awesome extension add-ons offered by Master Addons that you might need and will absolutely love so far.
6. Header, Footer & Comment Builder
Your theme offers default choices for Header, Footer, & Comment forms. However, if you want to be unique, Master Addons offers a Mega Menu extension and Nav Menu Element. With the use of multiple elements made available, users can arrange any type of header. For example, users who are looking to integrate a sticky header can choose to enable the same from nav menu options and configure it. If they want to place important links in the footer or inside the page, the use of vertical menus can help accomplish the same.
If you are looking to design a custom-made comment form with Elementor, you also can do the same with Master Addons comment element.
7. Custom CSS for Elementor
A very highly wanted feature for web designers is the requirement for custom CSS for controlling the design for sections, contents such as responsive, Hover effect, Typography, Spacing, etc. Master Addons offers Custom CSS to its users as Free and Pro versions. With the use of this feature, designers can also apply CSS code inside any section, column, or element.
8. Restrict Content For Elementor
Plagiarism on the Internet is especially a real issue. Moreover, website admins do everything in their capacity to protect their content from getting compromised. Other times, websites that offer membership are also in need of the feature to lock their content and restrict specific types of content. So, if you are also looking to lock and protect your content from unwanted audiences, the developers at Master Addons have a unique widget to offer.
Accordingly, the widget is not only a plain offering. It also offers huge variations and much customization to help users restrict content that they want to. Users can block image, video, pdf, text with this element, and also enable user-based, password, age restriction, math captcha system. Also, there are on-page and popup types available.
How Much are you going to be paying for Master Addons for Elementor?
Let's get to the point now that we know this is an impressive thing of all sorts. Here's the pricing breakdown:
If you are going to be using this for a 'Personal' license i.e. a single website, you will have to pay $29 yearly. In fact, on a lifetime payment, the plan is available at $49. So, this is what the personal license for Master Addons for Elementor has to offer:
14 Day Free Trial
No White Label Branding
50+ Widgets & Growing
50+ Ready-made Blocks
50+ Ready-made Pages
50+ Header & Footer Blocks
Also, 1 Year of Support & Update
The 'Business' plan for up to 3 websites, so, it is priced at $49 yearly. On a lifetime payment, the plan is available at $ 149. It offers the following:
No White Label Branding
50+ Widgets & Growing
50+ Ready-made Blocks
50+ Ready-made Pages
50+ Header & Footer Blocks
1 Year of Support
Also, 1 Year of Update
Surely, the 'Developer' plan is suitable for agencies and is priced at $149 yearly. On a lifetime payment, the plan is particularly only $299.
Unlimited Websites
White Label Branding
50+ Widgets & Growing
50+ Ready-made Blocks
50+ Ready-made Pages
50+ Header & Footer Blocks
1 Year of Support
Also, 1 Year of Update
The takeaway
In our honest opinion, the Master Addons for Elementor are not just amazing but also affordable. They require no configuration so it's quite easy to use. With their offer of a 14-day free trial option for the PRO version, interested users can get to experience what they're going to eventually pay. With the 14 days money-back guarantee, this offering is especially irresistible.
The addons are not just efficient because the users also get the robust support feature as well. Surely, a must-try for WordPress design enthusiasts who are in love with Elemnetor. In addition, for further want to expand on the prowess of the platform and create a stunning website!
Read more Plugins for WordPress – Most Used Plugins for Beginners