Have you ever wondered what the captivating picture next to the title of your favorite blog article is? A Featured image is what WordPress refers to as the main attraction. This main image catches the attention of your reader and provides a sneak peek at the material on your homepage and social media platforms.
Not just an image, a featured image improves user interaction, adds visual interest, and gives context to your material. Search engines and social networking websites also use it to highlight your content. The best part is that featured photos can also be configured for pages and custom post kinds, making them a flexible tool for any content you produce.
A WordPress Theme Feature: Featured Images
As you delve deeper into the world of WordPress themes, you'll find that almost all of them provide incredible ways to display Featured photos on your website. These alluring photos can now enhance the appearance of your website thanks to theme authors who have infused their designs with the magic of featured image support in the functions.php file.
Whether you're looking through photography themes or checking out the newest information on entertainment websites powered by WordPress, featured photos will catch your eye with their artistic allure. Therefore, take a breather and appreciate the aesthetic treats featured photos can add to your website.
Adding a Featured Image to A Post
Want to increase the appeal of your WordPress post and increase readership? Include a nice image! Simply click the Set featured image option on the Post Edit screen to get started. Have no image in your head? Not to worry! A basic image included with many WordPress themes will do the work. Additionally, you may just upload your own default image if your theme doesn't have that capability.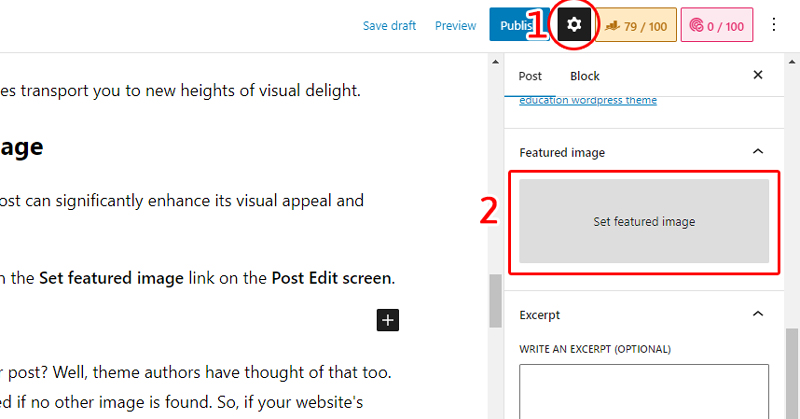 Requiring a featured image for every article is a smart idea if you're in charge of a blog with multiple authors. This maintains uniformity and improves the aesthetics of your website. WordPress allows you to easily conceal a picture if a certain post doesn't require one.
Featured Image & Thumbnail: Understanding the difference
A thumbnail is a very small image that displays a scaled-down replica of a larger image. It's typically used to make it simple and quick for you to see or arrange a number of larger photographs.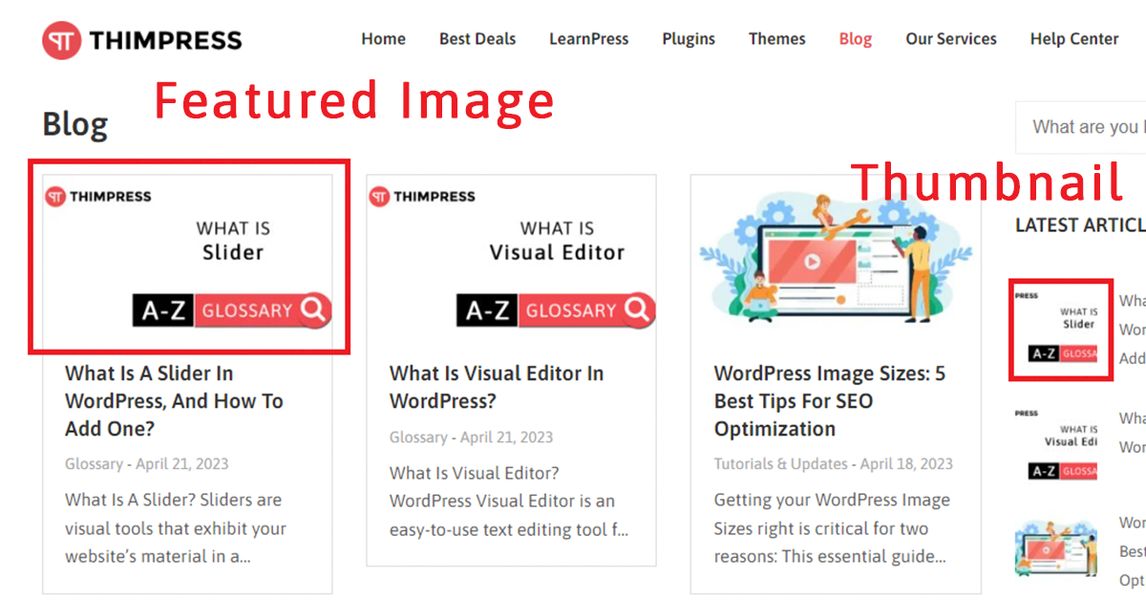 So, a thumbnail is just another word for a small featured image, which you may have heard before. Although "featured image" is the official name, "thumbnail" is also frequently used. But because the image is meant to symbolize the contents of the post, "featured image" more accurately characterizes its function than "thumbnail."
Featured Image & Cover Image: Understanding the difference
In the body of your posts or pages, cover images are utilized to divide off long text.
However, a featured image is the primary representation of your article and appears before or next to the content rather than inside the post itself.
Finding Suitable Images: Where to Look
You should exercise caution when selecting photos for your website. Because they are covered by copyright restrictions and cannot be used without permission, you cannot simply use images that come up in a Google search.
However, there are several free tools available to assist you in finding photos for your blog posts without running afoul of any laws. To learn more, visit "Top 4 Best Copyright Free Image Websites For Your WordPress Blog SEO".
Conclusion: Now you know 'What is a Featured Image?'
Now that you know everything there is to know about featured photos, you can better your website's aesthetics and increase reader engagement with your content. Featured photos can be utilized for pages and custom post types in addition to blog posts, providing you with more options for promoting your content.
There is no excuse for not starting to add eye-catching featured images to your website right away, especially with the abundance of free sites available for discovering photographs.
Read More: What Is User Experience?
---
Contact us, ThimPress:
Website: https://thimpress.com/
Fanpage: https://www.facebook.com/ThimPress
Youtube: https://www.youtube.com/c/ThimPressDesign
Twitter: https://twitter.com/thimpress