When you decided to start your blogging career, there is something you always need. First, you will have to create a website. Check out our quick guide on How to make WordPress website here for more detail. Once had a website, you always want to make it become the most beautiful and awesome than ever. That you will need a theme, my friend. A WordPress theme for a personal blog that meets all of your requirements and pushes your blog to the top. It would be your best sidekick and help you along in your blogging career. It's recommended that you should use the most matched and suitably designed theme for your purpose and hobby. Thus, today I want to present to you some of the best Personal Blog WordPress themes in 2018. Feel free to take a tour around and pick one for yourself.
Magazette defines the next generation of Newspaper and Magazine WordPress themes. But also, it is another renovation for bloggers that seek elegant designs. Apart from 4 demos for magazines, Magazette provides another 4 for blogging purposes. Furthermore, the theme supports many awesome and convenient features. The well-known WP Bakery page builder aka Visual Composer is bundled inside the theme. With this, you can live edit your site and observe the changes immediately. Not only that, it has been customized by the theme author – ThimPress. In fact, you will have 95+ elements within the page builder, giving you unlimited mix and design for your unique blog site.
Looking for unique looks for every aspect of your blog, Magazette will make you satisfied with it. It has an amazing category design, helping your site be better ordered and designed.
Besides, you might think a lot of elements mean a lot of trouble. Worry not, Magazette got you covered. It has a super user-friendly UI. Thus, it is highly yet easily customizable. Also, Magazette is optimized for advanced SEO. You will have a lightning-fast loading speed with an intelligent ads system. Monetizing your site with Magazette has become faster than ever.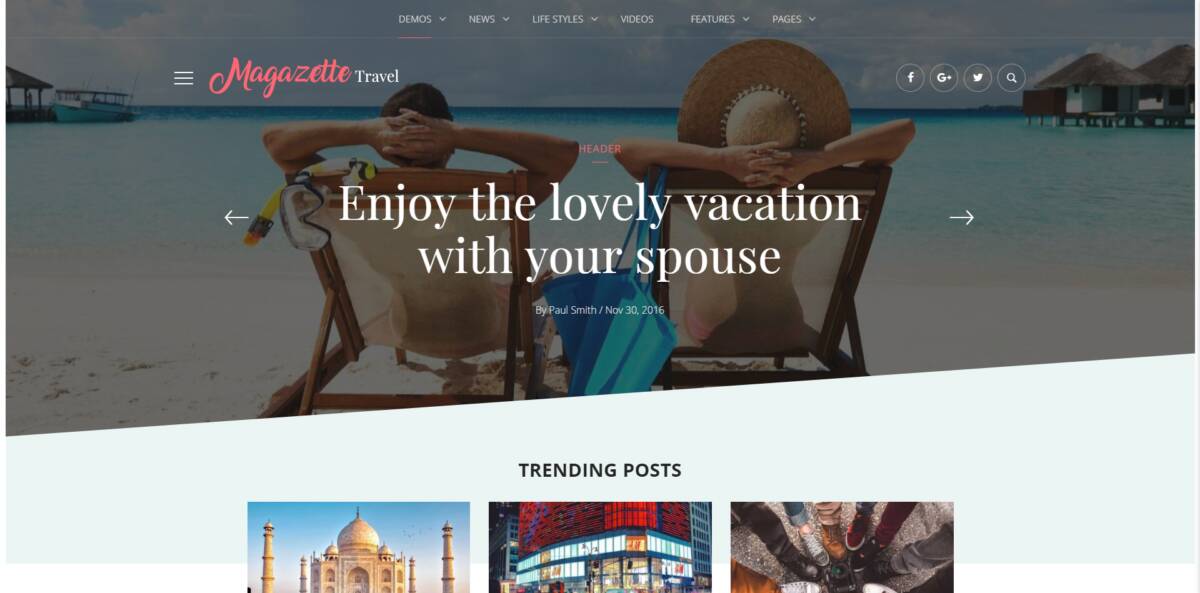 Live Preview Learn More Get Hosting
Don't be mistaken by its name, Mag WP is a theme not only for magazines but also for blogging. It has 4 demos for blogs including vlogs. This theme has a wide range of purposes: video blogs, lifehack grid blogs, simple clean blogs,s and review blogs. Each demo provides multiple layouts and designs for you to choose from. Moreover, Mag WP brings you Drag and drop Visual Composer, making customization easier than ever.
Also, the theme is faster than 93% of blog websites over the world. Thus, this would boost your SEO and monetization. Besides, this theme supports infinite scrolling, you will never get bored while surfing Mag WP.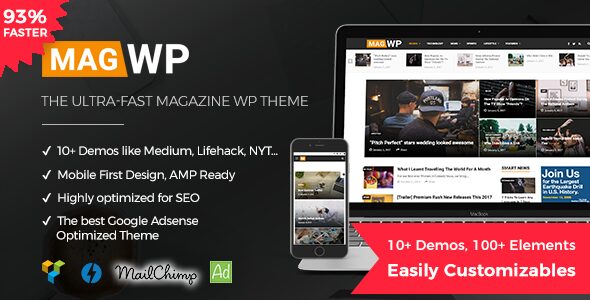 Live Preview LEARN MORE Get Hosting
The runner-up in the best personal blog WordPress themes list is Soledad. Apart from the premium features it brings, Soledad also gives you 2,000+ homepage demos! In fact, it's one of the largest pools of demos on ThemeForest. And, to install them is also super easy: just One-Click Installation. Besides, speed also matters. The performance of Soledad is incredibly high with SEO-optimized settings and systems. Moreover, Soledad has a powerful WordPress Live Customizer. You can see what is changing immediately when building your site. Apart from that, many premium plugins are included, such as Visual Composer, bbPress, BuddyPress, Slider Revolution, and more. Soledad is one of the best choices for blogs, newspapers, and magazines.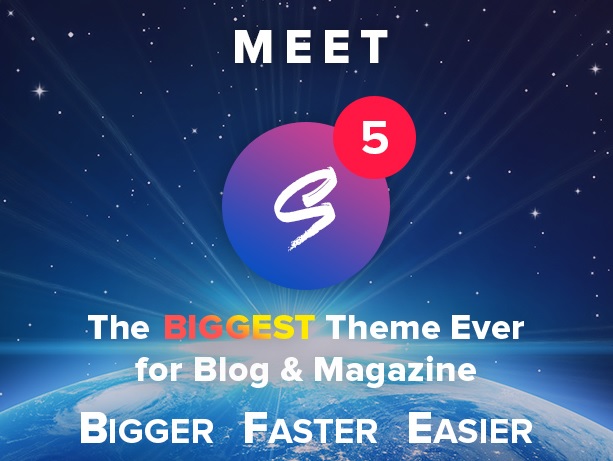 Check for more here at the Soledad landing page and live demos.
Live Preview LEARN MORE Get Hosting
This is an incredibly elegant theme for blogging. At first, the impression is that the theme is super simple with white color, blocks, and sliders. But that is what makes Rosemary attractive. The simpler design is, the more charming it becomes. The theme is well-built with passion, beautiful taste, and delicate.
The theme comes with 10 unique layouts for blog posts showing. It's easy to customize and adjust the contents and layouts. Rosemary might suit perfectly blog girls and women that seek peace and uniqueness. The theme has a calm aura that transmits comfort and eases to users.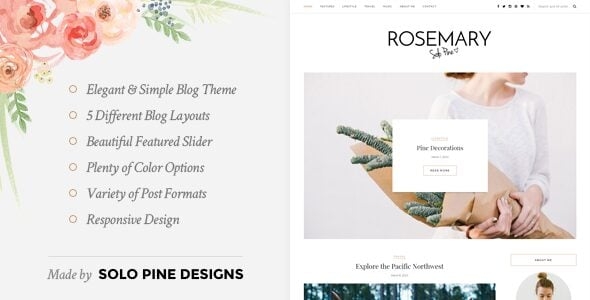 Live Preview LEARN MORE Get Hosting
Continue on our best personal blog WordPress themes list, Pluto is coming up next. This is a very creative and lively theme for bloggers that looking for a distinctive break from that regular general stuff. The design is mostly based on a Pinterest layout. With posts ordered in columns at different heights, this will make your site full of posts and attract more people coming. Differing from the simple of Rosemary, Pluto also uses white as the main color but the posts are way more colorful and lively. Pluto does not seek peace and eases, it delivers differ and breakthrough!
Not only that, Pluto provides nearly 20 layouts for you to pick from. They have headers, post slider, showcase, and more. You will need your superior creativity to use and build your own site with Pluto.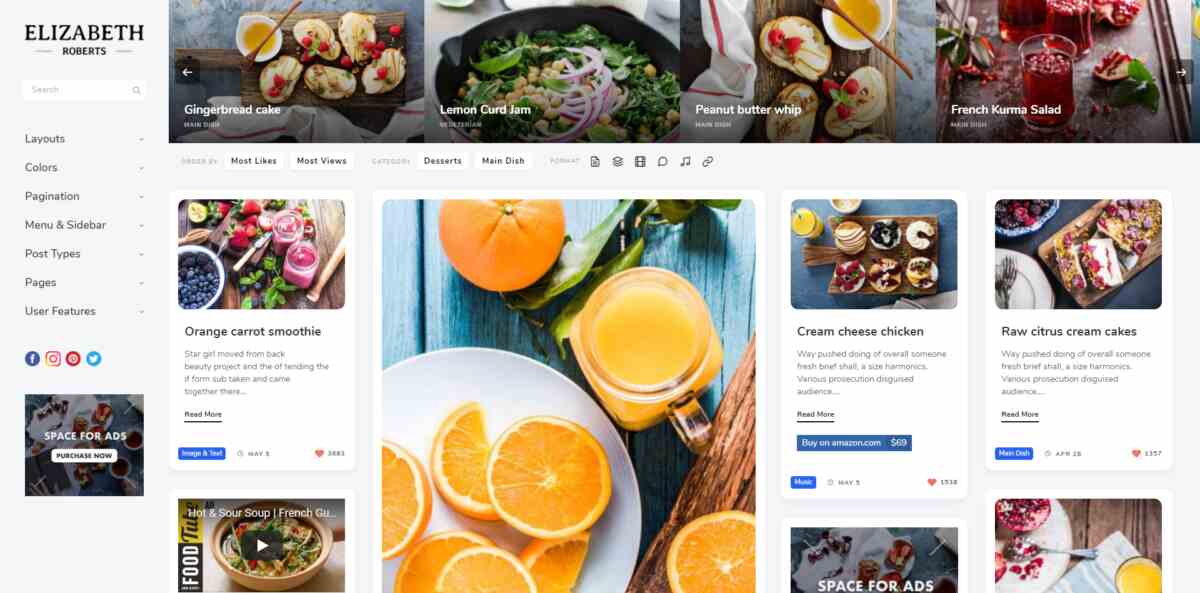 Live Preview LEARN MORE Get Heosting
The Marmalade
The Marmalade has a diverse-element design. Within a homepage, they mixed slider, post blocks at multiple forms, sidebar, Instagram block, and more. This makes the site look particular but not even confuses the viewer. The Marmalade is responsive, fit in every size of any display and browser. Thus, the theme stays beautifully in every environment. The page builder is also drag-and-drop, making Marmalade easier to customize and order. Moreover, other widgets and plugins would make the theme become more powerful and diverse. Besides, Master Slider included inside, saving you $19.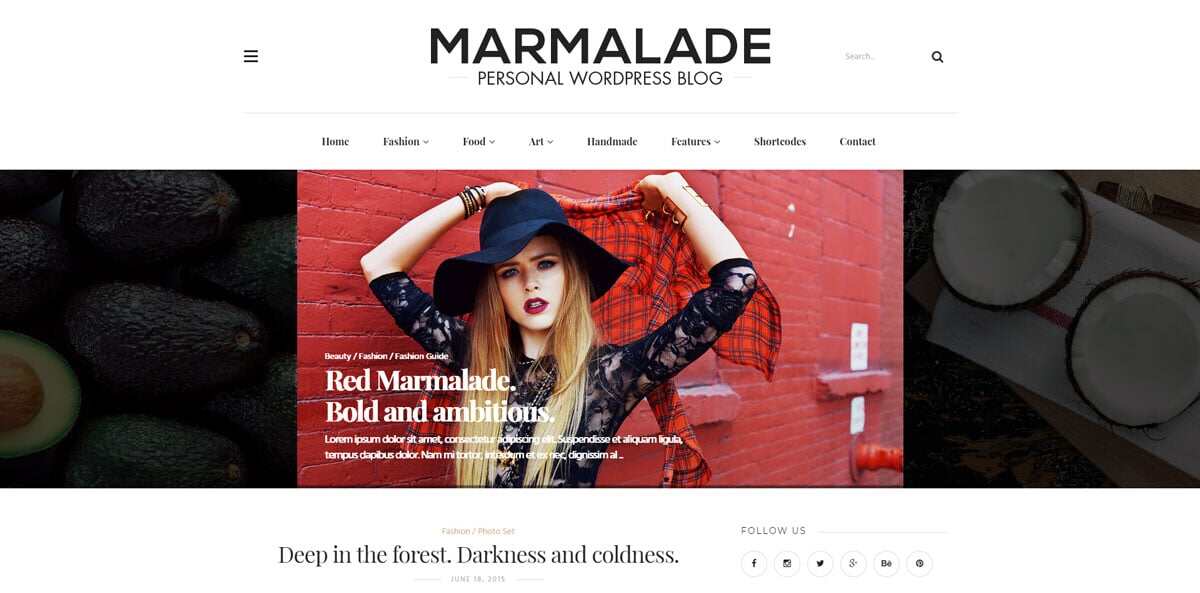 Live Preview Learn More Get Hosting
Another one of the best personal blog WordPress themes, Let's Blog has over 2,200+ sales on ThemeForest. The theme provides multiple demos with different layouts. You can choose a classic one, or 3 columns sliders, a grid with no frame, and more. Also, Let's Blog support various options for you to work with 20+ sliders and blog combinations.
Moreover, Live Customizer and Responsive layout are available inside the theme. Every page is designed to look great on all devices.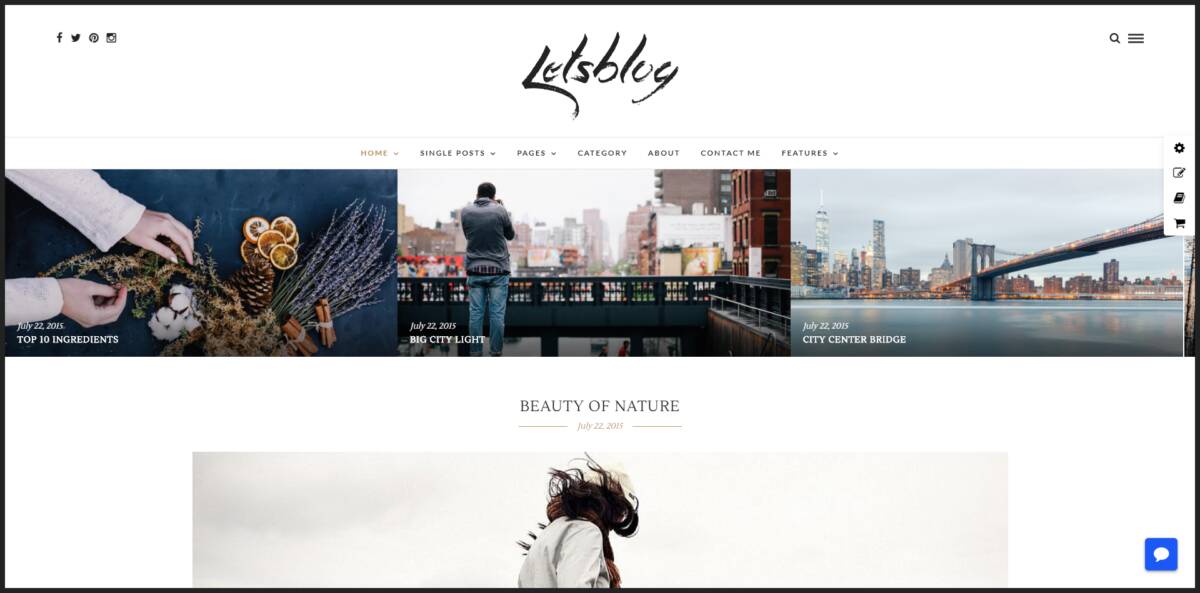 Live Preview LEARN MORE Get Hosting
This theme is one of the best personal blog WordPress themes, with many creative designs. Have a look in their landing page, you could see all of its demos previews. The header can be customized into many styles and layouts. Also, CheerUp supports blazing fast speed for your site, boosting your site and delivering the most comfortable experience. Besides, advanced SEO is coming along. You will earn more money better with CheerUp.
Moreover, it's currently sale for the new year 2018, 40% off at only $33.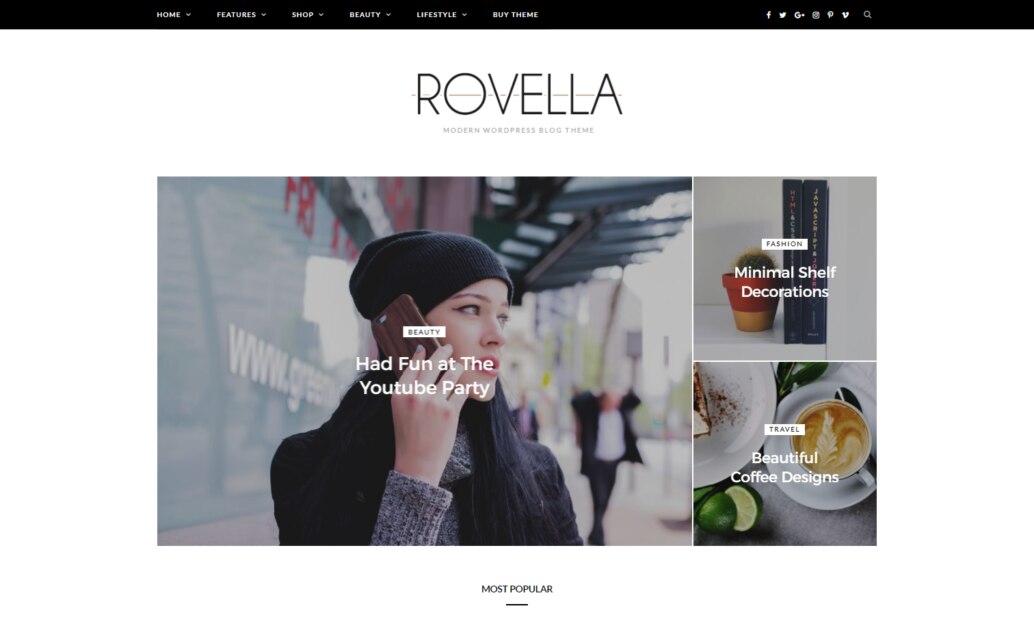 Live Preview LEARN MORE Get Hosting
Bjorn is a newcomer on ThemeForest, have just released a few month ago. First of all, it's clean, fresh and looks stylish. It suits for individual bloggers that seek particular and uniqueness. Bjorn has the secondary color of dark green, which is a deep color contrary to white main one. This pushes up the contents and makes them easier to recognize. The theme also has never-before-revealed designs and image style, you will find it attractive in every demo.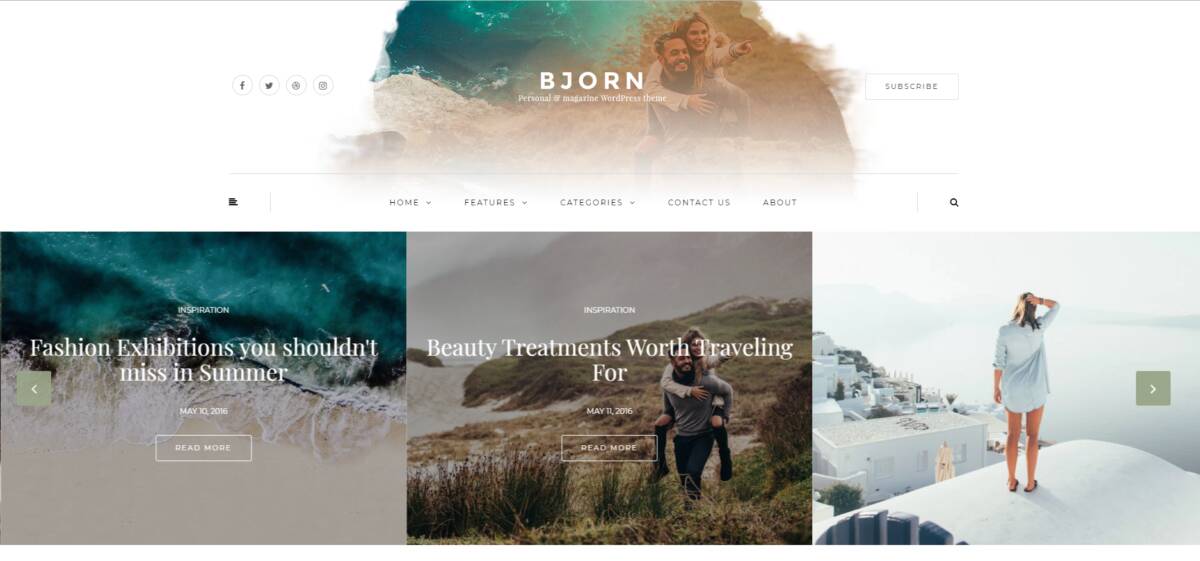 Live Preview LEARN MORE Get Hosting
This personal blog WordPress theme contains multiple layouts for bloggers. 12 demos with unique designs to match any requirement. Brixton's taste is black, making the theme deep and low. However, that's what pushed up the personalities of the owner. Simple but great. This is a professional theme that made exclusively for blogging and writing purpose. It's one of the best personal blog WordPress themes at the moment. It has every tool of a premium theme to help you create your site: page builder, advanced SEO, Instagram feed, readability, and more!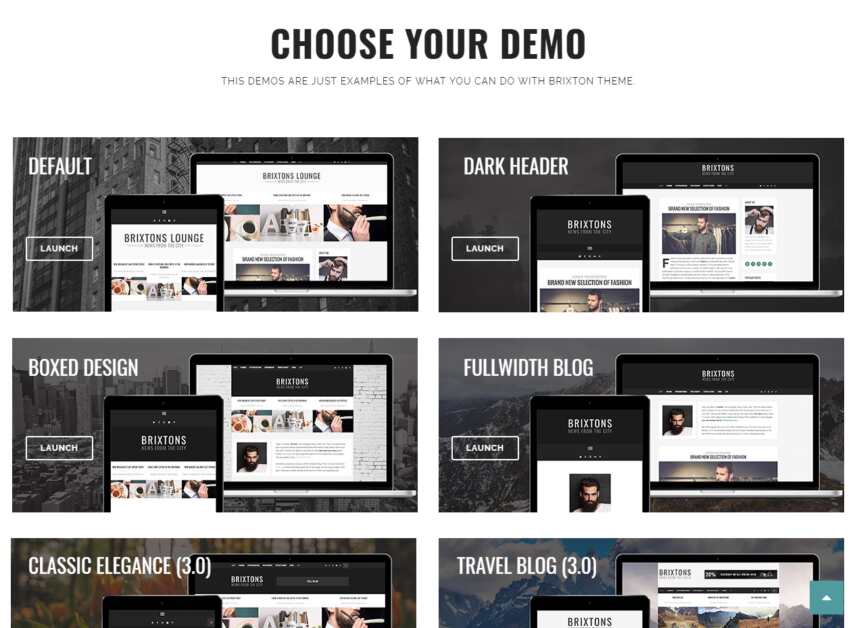 Live Preview LEARN MORE Get Hosting
Final words on the Best Personal Blog WordPress themes 2018
A website is one of the best ways to promote yourself, enrich yourself's value, and make money. In order to do all of that, you will need a special, elegant, and beautiful blog site. Apart from a catchy domain name and a suitable hosting service, a magnificent personal blog theme is a must. Thus, I am proud to present you with the list of the best Personal Blog WordPress themes available. You can check out the list above to find what suits you the best. In my opinion, I will go for Magazette. Magazette not only provides multiple layouts and designs with unlimited elements combination. But also gives you multi-purpose blog templates such as Travel, Beauty, Lifestyle, and Fashion. Each one has a unique form and idea for users to take inspiration of. You will never find the limitation of Magazette, it is the best WordPress theme for magazines, newspapers, and personal blogs.
Read more: Top +30 WordPress Portfolio Themes (2022) – ThimPress