WordPress is among the most famous platforms for creating websites, blogs, and online stores. Moreover, building a WordPress site is not difficult, even if you are a beginner without coding skills. But if you require something more specific, you should hire WordPress developers to help with your projects.
These are a few questions that you might have if you're looking for WordPress developers for hire, such as: Why and when do you need to hire a WordPress developer? How much does it cost to hire a WordPress developer? How to choose a platform to hire developers?
In this topic today, we will answer these questions and provide you with the best places to hire WordPress developers.
Reasons to Hire a WordPress Developer
WordPress is the best CMS platform. It is easy to use, flexible, and powerful.
You don't need professional help to build a WordPress site, as you can choose from thousands of popular WordPress themes and plugins (including free and paid ones) that suit your needs and preferences. This DIY method can help many small businesses succeed without spending too much.
However, your costs could rise along with the popularity of your website. You may wish to create a custom theme or plugin for better features and functionality when your website starts generating income.
This is the scenario where developers are needed.
For instance, if you own an online shop and need a customized WordPress eCommerce theme, you can easily hire a WordPress website developer to do so.
Also, developers can do routine upkeep to keep your site fresh and safe from hackers and bad software.
How Much Does It Cost To Hire a WordPress Developer?
Hiring a developer's cost depends on several factors, such as the developer's experience, place, project difficulty, and others.
If you go to Codeable to hire WordPress expert, the hourly rate can range between $70-$150, which may be prohibitively expensive for some beginners.
If you don't have much to spend, Upwork or WordPress Jobs are your next options. It will cost you $15 to $40/hour.
How To Choose A Place To Hire Developers
Before deciding on a platform to hire developers, you must think about the variables that follow:
The project type: Depending on the type and size of your development project, you will probably choose different platforms. Upwork is ideal for simple and short-term projects, while Codeable or Toptal can handle more complicated and long-term projects.
Pricing: Different platforms have different rates for developers. For instance, WordPress Jobs or Freelancer are cheaper than WPhired or Toptal.
Proficiency: Different platforms offer different levels of developer talent. Developers on platforms like Codeable and Toptal are carefully selected and verified, whereas developers on platforms like Upwork or WordPress Jobs are not checked for their skills and experience.
There are numerous individuals, agencies, or companies on the internet providing WordPress development services. So it is hard to find the right developer to meet your needs.
So how to hire a WordPress developer?
Keep reading to check out the best places to hire WordPress developers!
Codeable – WordPress Web Developer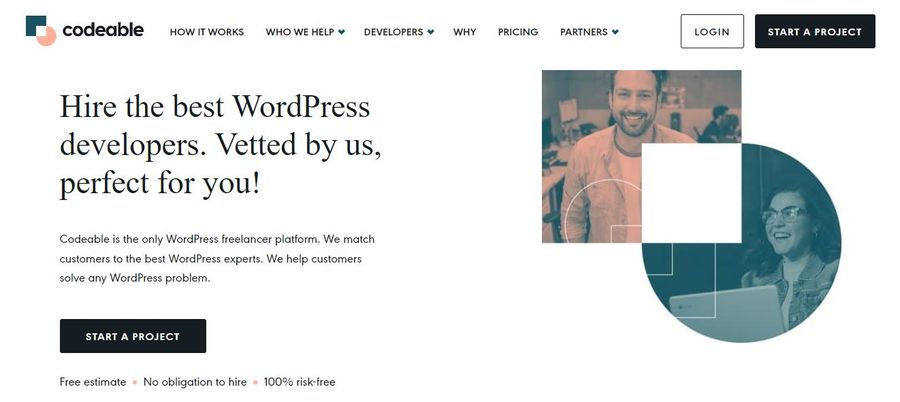 Codeable is the ultimate outsourcing platform for WordPress web developer projects. They only work with the best of the best WordPress developers, who have to complete a strict testing process.
You can easily describe your WordPress blog vision in a form, and Codeable will find you the perfect developer for your needs in a day.
Pros:
Other outsourcing platforms do not have the same level of quality control as Codeable, which ensures that each developer is thoroughly vetted.
It is completely riskless, and it will refund your money if the results do not meet your expectations.
There is no charge for the estimates.
Cons:
Codeable's pricing is around $70-$150/ hour, which may be too high for some beginners.
Toptal – Hire WordPress Developers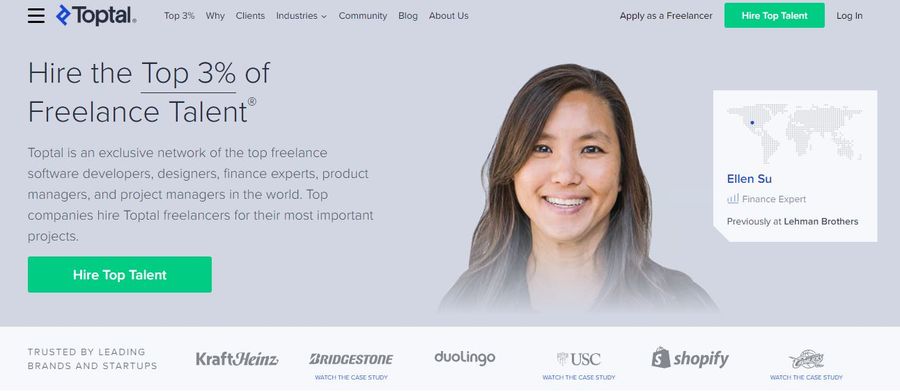 Toptal is a premium network that only accepts the most skilled 3% of freelancers.
You can find software developers, WordPress experts, designers, and others for your small business website through Toptal.
To hire WordPress developers on Toptal, there is a form to fill out detailing the type of work you require, your estimated expenses, and the time frame of the project.
After completing that, Toptal quickly connects you with a professional who has the necessary skills for your project.
Pros:
It ensures that only the top developers can showcase their work on the platform by applying a strict screening process.
You can start a 14-day trial with no risk by paying a deposit, and then you can either keep or replace the candidate.
Toptal's costs depend on the hourly rate of the developer, so you know exactly how much the service will cost before you hire an expert.
Toptal provides excellent customer service by scheduling a Skype or phone call with a representative at your leisure.
Cons:
Because Toptal only features the best experts, their rates are higher than on other sites.
The platform itself will require an initial payment.
A major drawback of Toptal is that it can take a long time to hire a developer.
WordPress Jobs – Freelance WordPress Developer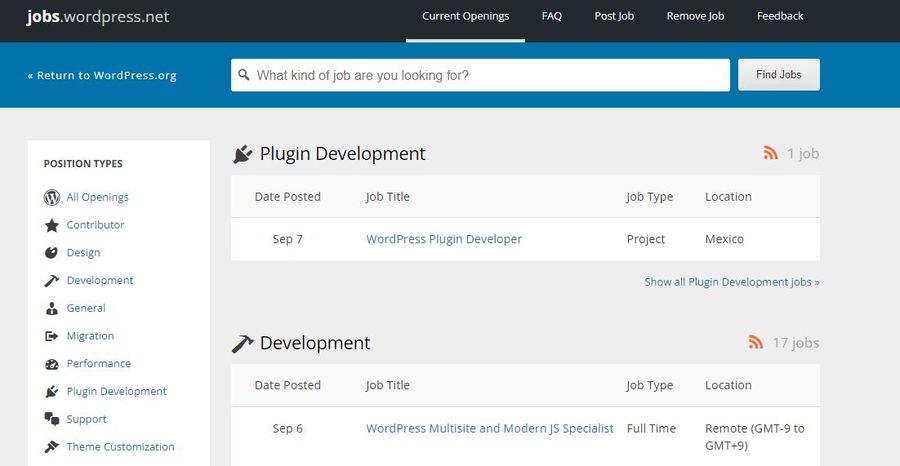 WordPress Jobs is the authorized site for job postings that is kept up by WordPress.org. You can use this platform for free and simply complete a 'Post Job' form and send it for evaluation.
Besides developers, you can also advertise jobs for writers, web designers, customer service, or website migration on this site.
Pros:
After your job listing is approved, you have 21 days to search for the best expert for your website.
Freelancers on WordPress Jobs are usually affordable.
Cons:
Many job postings on this platform board are poorly written and unclear.
WordPress Jobs does not verify the developers' qualifications and backgrounds.
You must pay your developer by yourself since WordPress Jobs does not provide a secure payment service.
The developers have different degrees of proficiency and knowledge, meaning you need to select the best one for your project by yourself.
WPhired – Hire WordPress Developers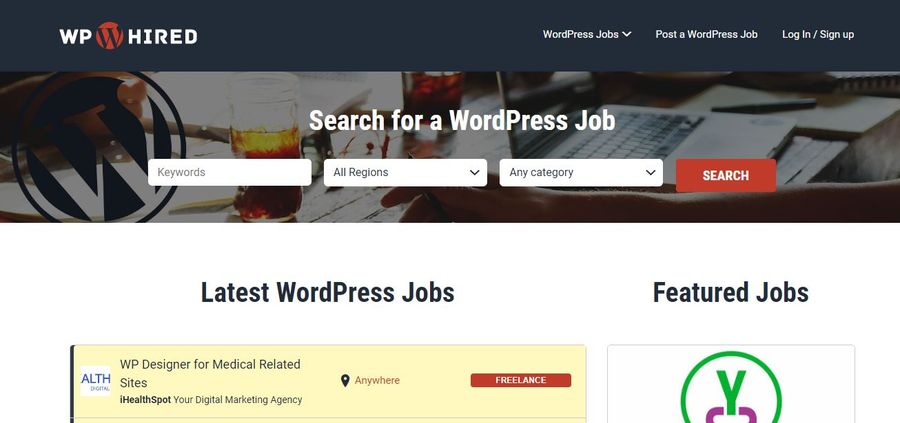 WPhired is a WordPress-only job board that debuted in 2010. This platform offers free job postings for WordPress-related projects.
It provides a wide variety of freelancers with different levels of skills and experience, helping you find the best match for your WordPress site.
Pros:
By choosing developers on this platform, you can lower the expense of your project as they have reasonable prices.
You can post an unlimited number of job postings for free.
You can also use WPhired's escrow service, which means that your payment is stored in a safe place until you are happy with the work.
Before hiring a freelancer on this platform, read their reviews and ratings to get a sense of their experience and work quality.
Cons:
Finding the right one might take some time.
The platform lets you do the vetting, as it does not have any screening process for developers.
The free job postings are only available for 30 days. After that, you must pay to have your job listing posted for 60 days or more.
Upwork – Hire a WordPress Developer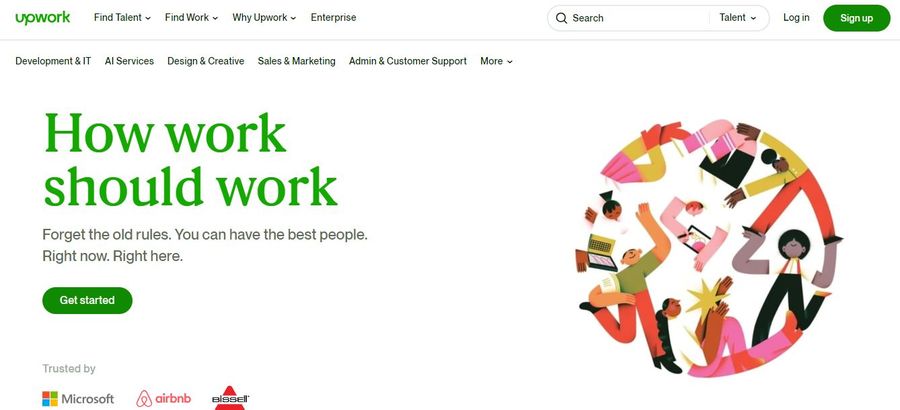 Upwork is an online platform that has a lot of jobs and workers. Posting a job for developers is simple and quick by providing a comprehensive description, and then possible candidates can propose their skills.
Upwork typically has developers of all levels with various skills and experience, so you can easily find the best fit for your budget and the skill set you need.
Pros:
You can easily hire a developer with a detailed profile that includes their previous experience, skill tests, completed jobs, ratings, and other information.
Upwork provides escrow services.
Posting a job is completely free.
It provides affordable rates, which can lower your costs.
Cons:
It may take some time to find the best one, especially if you need a certain skill.
A few Upwork freelancers can be unresponsive.
You need to pay a fee for using Upwork, which makes your project more costly.
At first, Upwork can be overwhelming for newcomers. There are numerous options to select from.
Freelancer – Hire WordPress Developers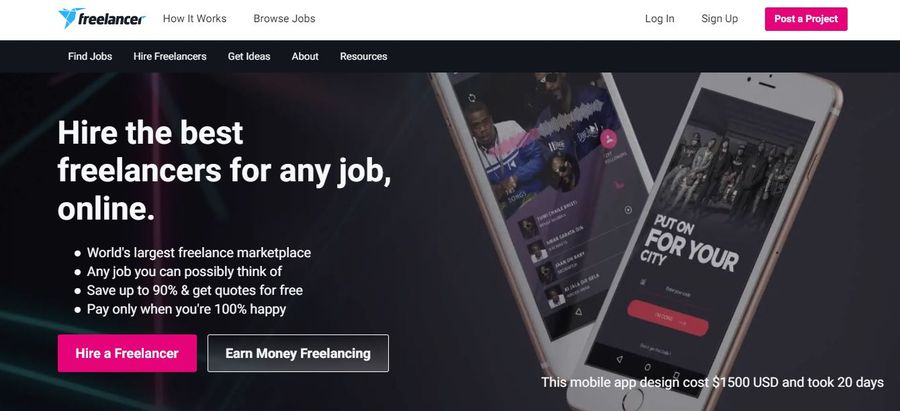 Freelancer is a very popular job platform that has a big network of freelancers, such as WordPress developers.
The platform lets you post the job listing for free after asking you about your project and budget. Then, developers who match the requirements for your job can make offers on it.
Pros:
Freelancer keeps a comprehensive profile for each freelancer that you can check.
You can directly communicate with and interview developers to learn more about their abilities or knowledge.
Freelancer keeps your money safe until you are happy with the work.
It is highly flexible in terms of the project price.
Cons:
You need to check the developers' skills and experience yourself, as there is no pre-screening process for them.
It isn't appropriate for long-term projects.
It costs money to use Freelancer.
Candidates' contact information cannot be exchanged.
Read More: Best WordPress Website & Theme Examples
---
Contact us, ThimPress:
Website: https://thimpress.com/
Fanpage: https://www.facebook.com/ThimPress
Youtube: https://www.youtube.com/c/ThimPressDesign
Twitter: https://twitter.com/thimpress