Are you finding a good way to Embed Video in WordPress?
Just like images or texts, you can use videos as fantastic and lively widgets to attract viewers, engage pageviews, keep your audience around, and gain your site's better ranking on search engines. Also, some content must be described by videos to show the full information – which tons of images can't do the same.
Therefore, we would love to guide you on How to Embed Video in WordPress site and some tips for embedding videos in LearnPress.
How to Embed Video In WordPress LearnPress Website
We all know that LearnPress is a popular WordPress LMS plugin which means the users will demand more about it, and video embedding is one of those queries.
Before dipping in, we would love to show you how to embed videos to LearnPress with some video-hosting platforms:
Okay, then we should move on to the main part, shall we?
2 Ways to Embed Video in WordPress System
To deliver a video to the system of your WordPress site, you can make it in double ways.
First, in the WP dashboard, go to Media -> Add New.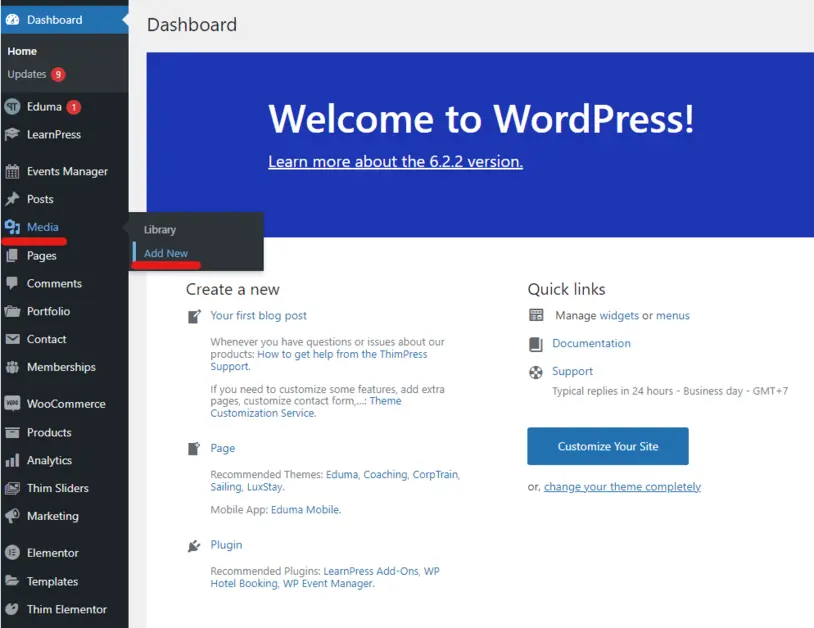 On the page "Upload New Media", you can drag and drop the video or select files from your PC's storage. Also, you can switch between the multi-file uploader or built-in browser uploader for the suitable user interface (UI).

Second, you can go to a single page's editor, for instance, a course page's editor. Select "Add Media", choose "Upload files", and repeat the same steps as the first way.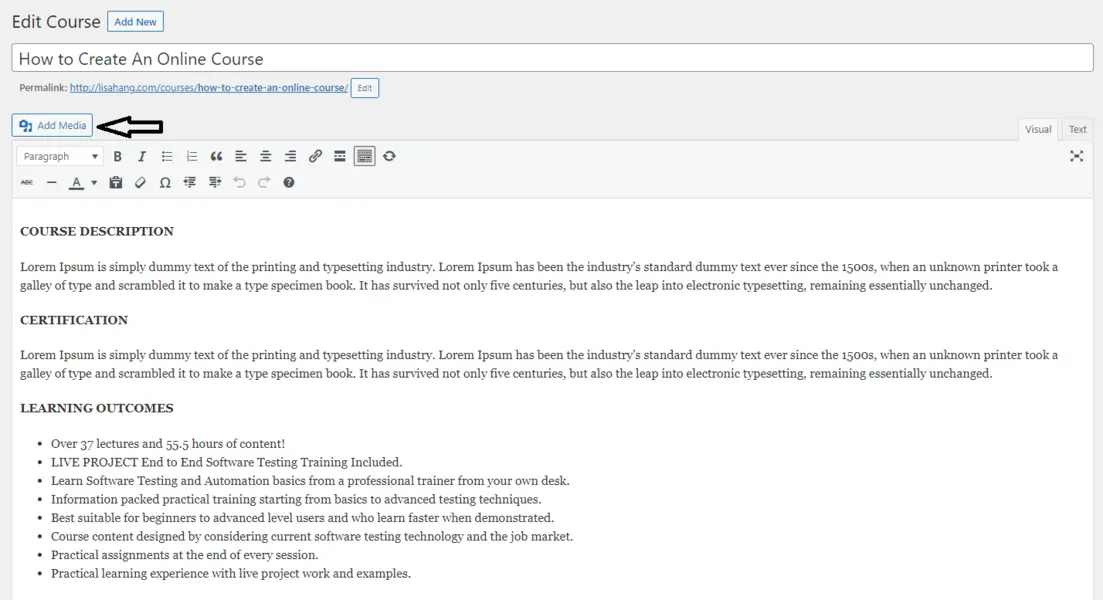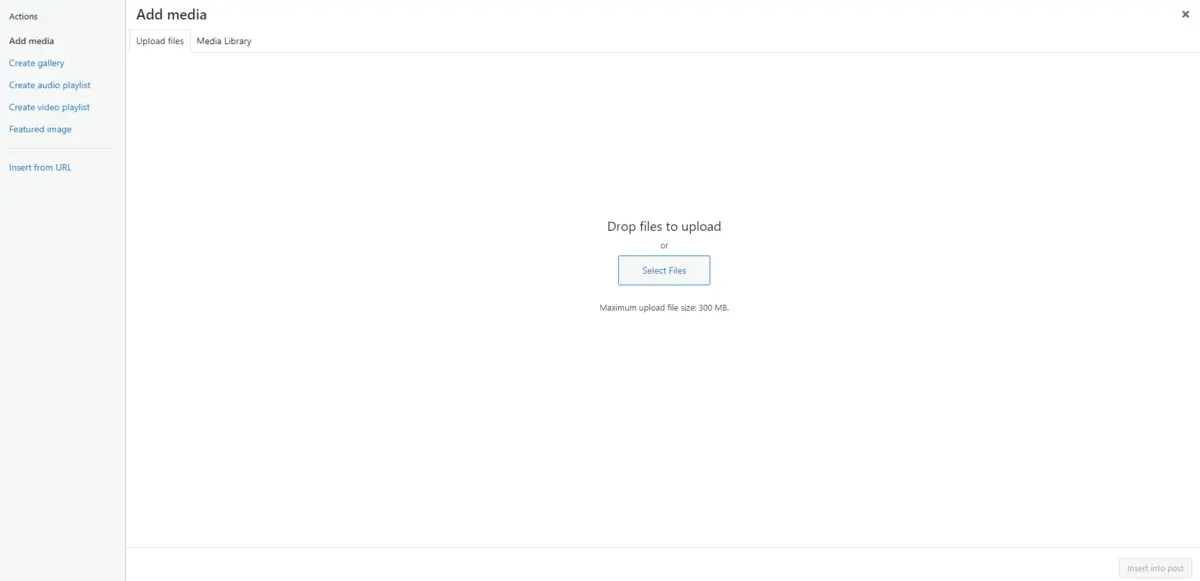 After that, this is what you will see in the editor: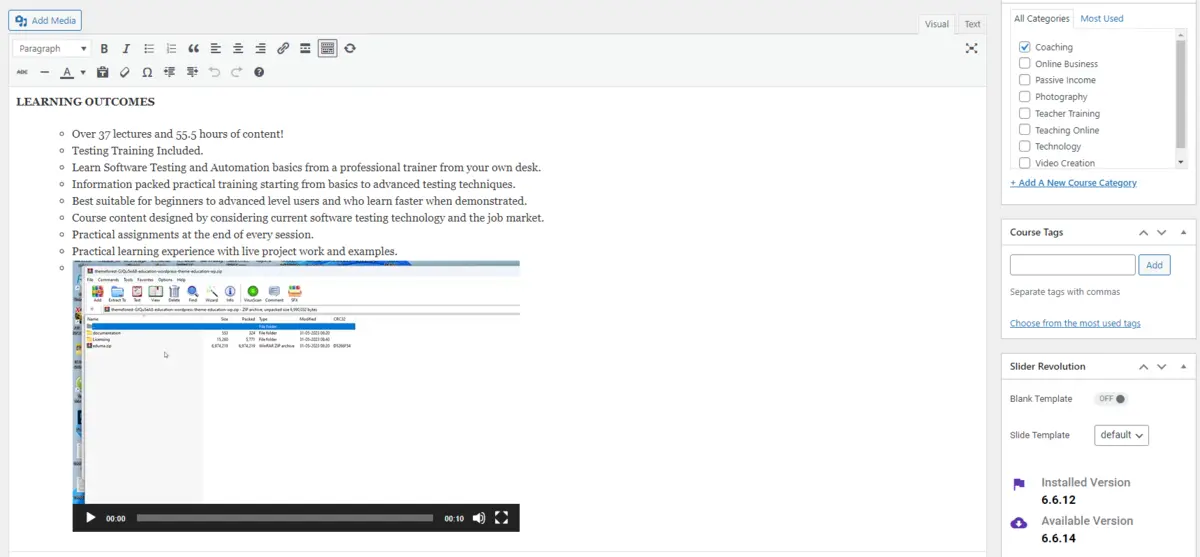 Embed Video in WordPress LearnPress Pages
Into a Course
You can embed video into a LearnPress course by accessing LearnPress -> Courses -> Edit a course -> Add Media -> Choose the wanted video ->Insert into post.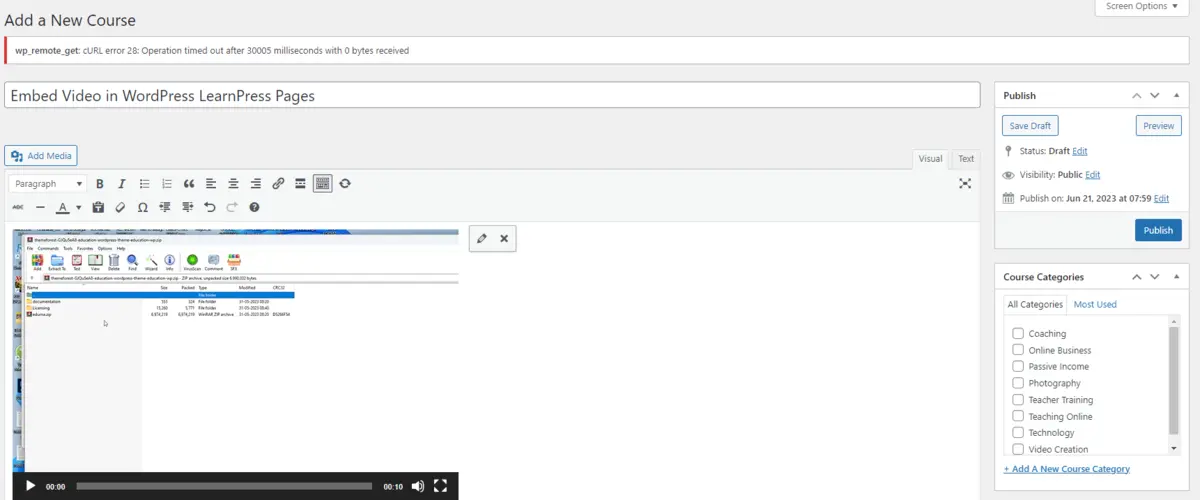 Otherwise, you can add it with a code line in the Text description. For example, we use the code here to add a video:
[video width="1320" height="800" mp4="http://lisahang.com/wp-content/uploads/2022/10/vid.mp4"][/video]
What you have to do is type the code, copy & paste the video's system link, choose the video's width & height, and click "Update".
Into a Lesson
You will do as same as adding one to a course: adding videos to a lesson and clicking "Publish" if it's a new lesson, or "Update" if it's an available one.
The same process to embed a video into LearnPress can be applied to Quizzes, Questions, Assignments, Products, and Events.
Into a Blog
To do that, you may navigate to Posts -> Add New/Edit a post. Then, select the button "Add block" -> "Video".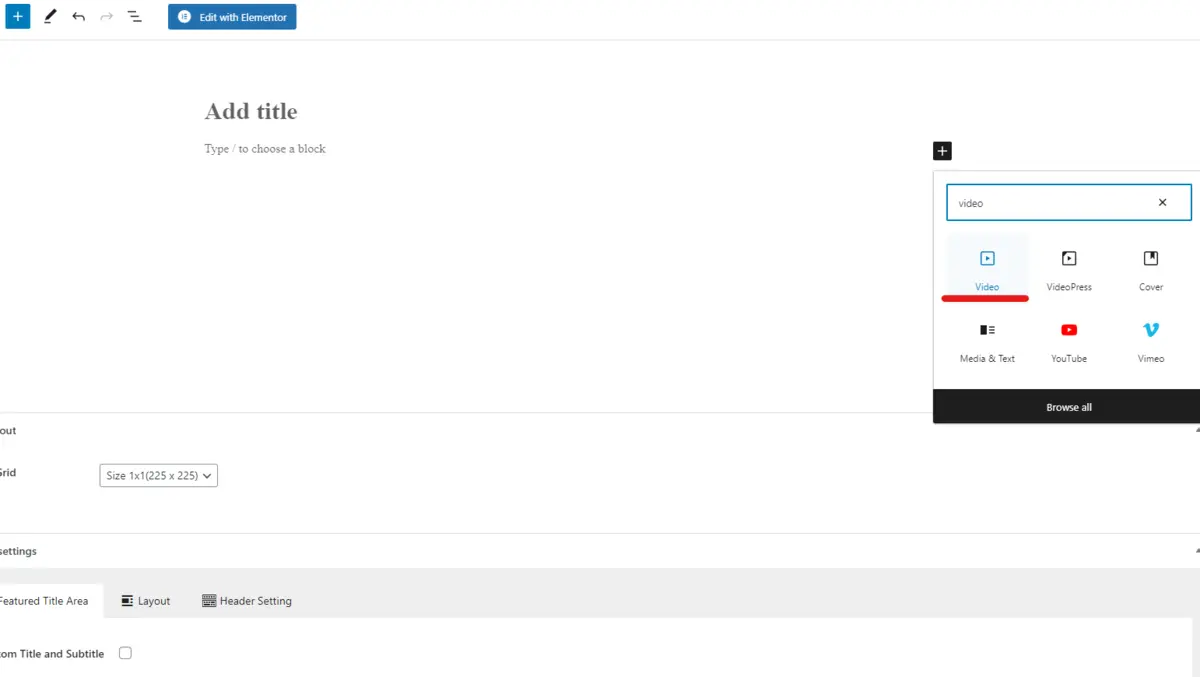 Then, 3 options will pop up for you: Upload, Media Library, and Insert from URL, the choice is yours! With the Upload % Media Library options, you have to upload your video to your site's system, meanwhile, the option Insert from URL allows you to use other sources' videos without uploading to your storage.
Video Embedding Plugins
There are some plugins that will help you embed and manage the video better than doing it manually. Let's find out.
EmbedPress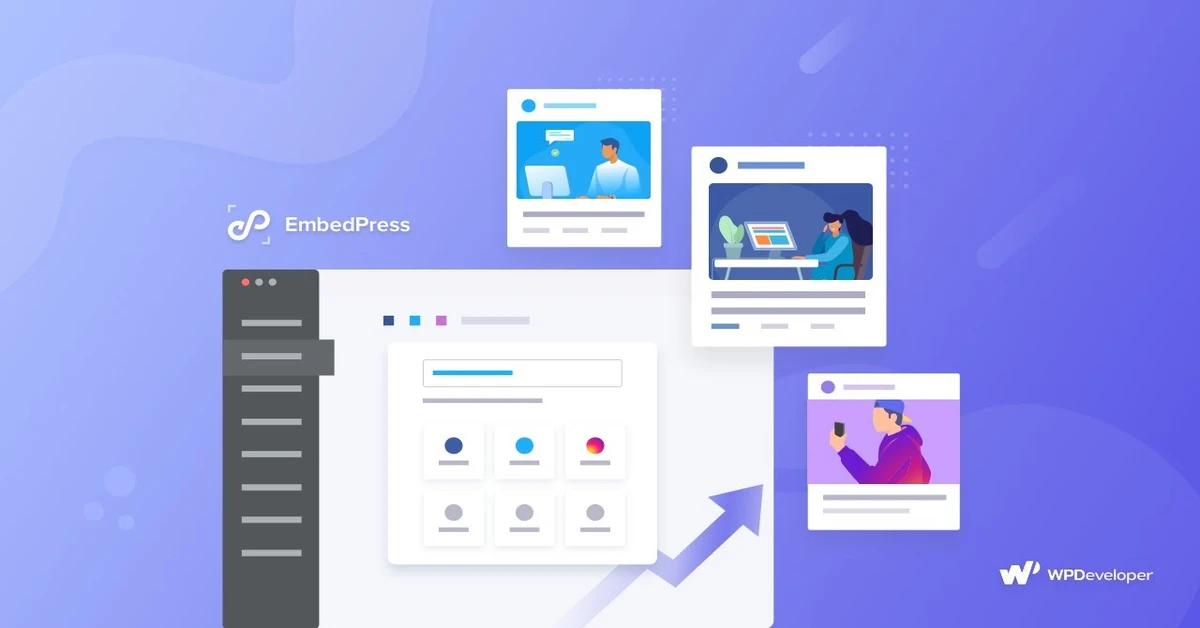 EmbedPress is a plugin that helps you embed video in WordPress website – almost anything on the Internet into your website. I can work well with over 150 data sources, including YouYube, Vimeo, Google Docs, Google Drive, Google Maps, Spotify, PDF, and more, using custom block editor, classic WordPress editor, Elementor, etc.
EmbedPress lets users embed any multimedia content with 1 click and display nicely based on your site customization. You can translate your embedded video with WPML – no1 WordPress multilingual plugin. In the Pro version, some advanced features are adding custom branding, embedding a Subscription button, enabling/disabling closed captions, live chat, and autoplay allowance.
HTML5 Video Player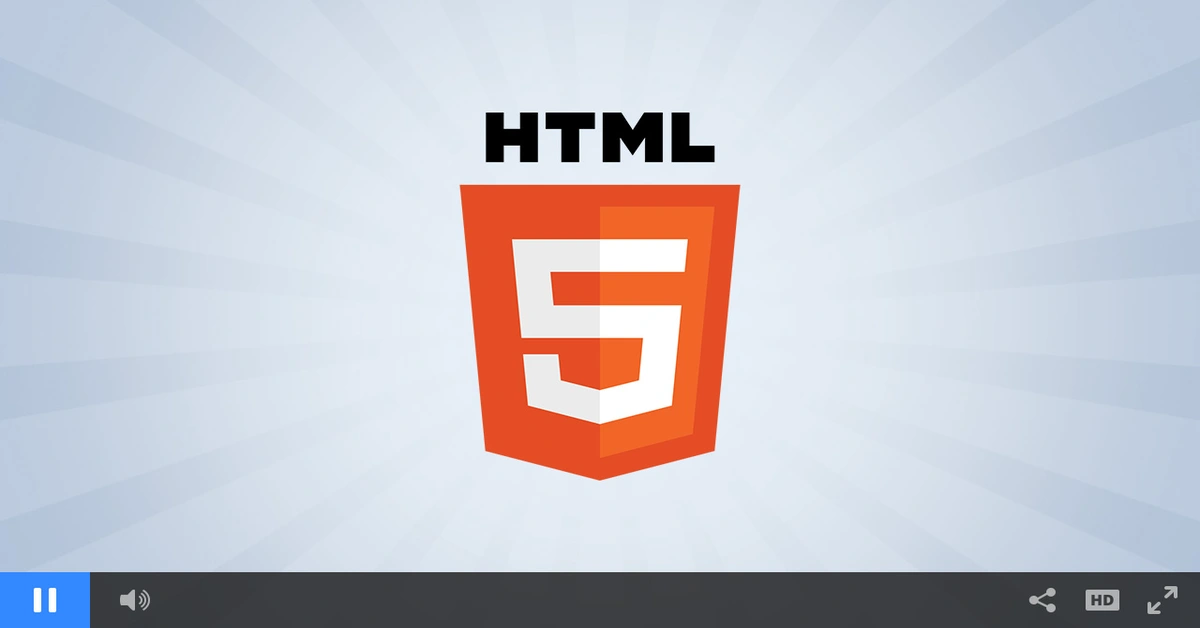 HTML5 Video Player is a simple but powerful WordPress plugin to help you embed video in WordPress. With this embed plugin, you can embed any video you like to your page, make & manage video lists, and customize your videos for better outcomes.
This plugin can support a lot of video formats such as MP4, WEBM, FLV, and OGG. The size of the video is up to you – you will decide the length, height, and quality of that video. Also, HTML5 Video Player also provides users with tons of shortcodes for more possibilities.
Embed Plus

With Embed Plus, you can embed and customize any standard YouTube videos, shorts, channels, galleries, and live streams. Embed Plus focuses on your video's performance with the lazy-load ability.
Now, YouTube videos from Embed Plus will support Facade mode which loads a lighter version of the player until the video is clicked, improving the site's performance. Also, enhancing video loading time is a great bonus point for this plugin.
Embed Video in WordPress: Why Should You Never Upload a Video to WordPress?
If uploading a video to WordPress is fast and convenient, why shouldn't you do that? We should define the terms "Upload" and "Embed" since they are different. Uploading/Hosting a video means your video will be stored on your site's database while embedding means you first upload to other video-hosting platforms like YouTube or Vimeo, then you embed it in your pages. The video can be viewed on your site but stored somewhere else.
Embed Video in WordPress: Save Your Server's Bandwidth
The server will have to share space for your uploaded videos which will dry up your site's resources, even high-quality videos will cost more bandwidth. If you allow your videos to be embedded publicly, the bandwidth will get multiplied every time your video is clicked and viewed, leading to adding more plugins or add-ons to manage and display the videos.
At the same time, the videos and the added plugins will increase your server load. You will have to optimize your WordPress site speed or it will affect SEO rankings.
Embed Video in WordPress: Brand Image & Visibility
We all know that YouTube is the best video search engine and other platforms such as Vimeo or S3 AWS are also popular as well. Uploading a video to other video-hosting websites can get your video more views and brand popularity.
Embed Video in WordPress: Video Optimization
If you upload a video to YouTube or Vimeo, the audience can choose how they watch your video such as resolutions. Uploading videos to WordPress will narrow the audience's viewing options.
Embed Video in WordPress: Conclusion
The video content will bring value to your website and increase SEO rankings. However, we are against uploading videos directly to your WordPress website and recommend embedding videos to your site. Since you just acquire a lot of knowledge, why don't you give it a try with LearnPress?
Read more: Detailed Guide to Embed a YouTube Video into LearnPress
---
Contact us, ThimPress:
Website: https://thimpress.com/
Fanpage: https://www.facebook.com/ThimPress
Youtube: https://www.youtube.com/c/ThimPressDesign
Twitter: https://twitter.com/thimpress