If you are using LearnPress for your LMS website, you definitely need our LearnPress BuddyPress Integration to turn it into a fully-functioning community network. Especially since it's a free add-on, you can download and use it quickly.
LearnPress BuddyPress Integration is a perfect combination of two powerful plugins. It enables users to set up member profiles, groups, activity streams, messages, and notifications that are relevant to their courses.
Sounds great? Let's dive into the details!
Wait! If you are looking for the best WordPress education themes, you should check out Eduma. This amazing theme is integrated with LearnPress so you don't need to do anything. With Eduma, you can access all the free and premium addons of LearnPress without paying any extra fee. This means you can create and manage your courses, quizzes, events, certificates, and more with ease and flexibility. Eduma also has many features and options to customize your website according to your branding and style. You can choose from different layouts, colors, fonts, and widgets to make your site unique and attractive. Eduma is a great solution for building educational websites with WordPress. In addition, Eduma is on sale now, don't miss your chance!
Why Should You Use LearnPress BuddyPress Integration
As we know, LearnPress, a WordPress LMS plugin, lets you create and sell online courses with ease. BuddyPress, a social networking WordPress plugin, helps you communicate and connect with your users. Hence, the main reason we should use BuddyPress Integration for LearnPress is to enhance the online learning experience by making it more interactive and social for everyone.
Advantages of Using LearnPress BuddyPress Add-on
LearnPress BuddyPress Integration offers many advantages for your online learning and social networking website. For example:
You can set up a custom profile for your students and instructors where they can showcase their achievements and interests.
It's also easy to manage account settings, such as changing passwords, emails, or avatars.
Your users can create groups and forums for your courses where they can discuss topics, share resources, and collaborate.
You might also get notified of all activities related to your courses and learners, such as enrollments, completions, reviews, or messages.
Users can connect with other users and message privately, creating a sense of community and belonging among your users.
How to Use LearnPress BuddyPress Integration?
Before proceeding further, we recommend you check out our tutorial guide for creating an LMS website with LearnPress that can be useful for you.
Now, let us move on to the setup of the LearnPress BuddyPress Integration.
Download and Install
Firstly, you need to download the BuddyPress addon for LearnPress from WordPress.org. After that, go to your WordPress Dashboard -> find Plugins on your left sidebar, -> click Add New

Hover over the Upload Plugin button -> click the Choose File button, and select the.zip file that you've downloaded earlier.

Then, click Install Now to initiate the installation process.
Wait for a second to see your plugin installed successfully, then click Activate Plugin to activate it.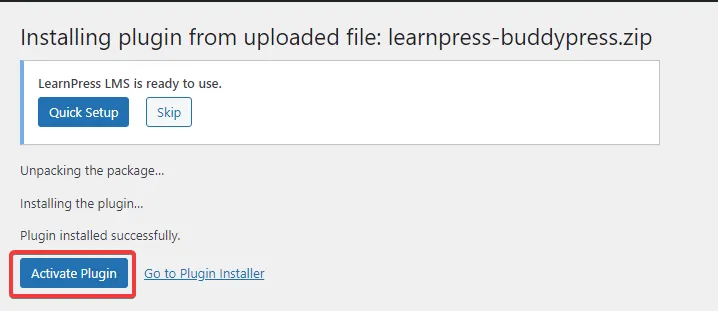 After that, you should download the BuddyPress plugin too. Open WordPress Dashboard -> Plugins -> Add New -> enter BuddyPress in the search bar and click Install Now button.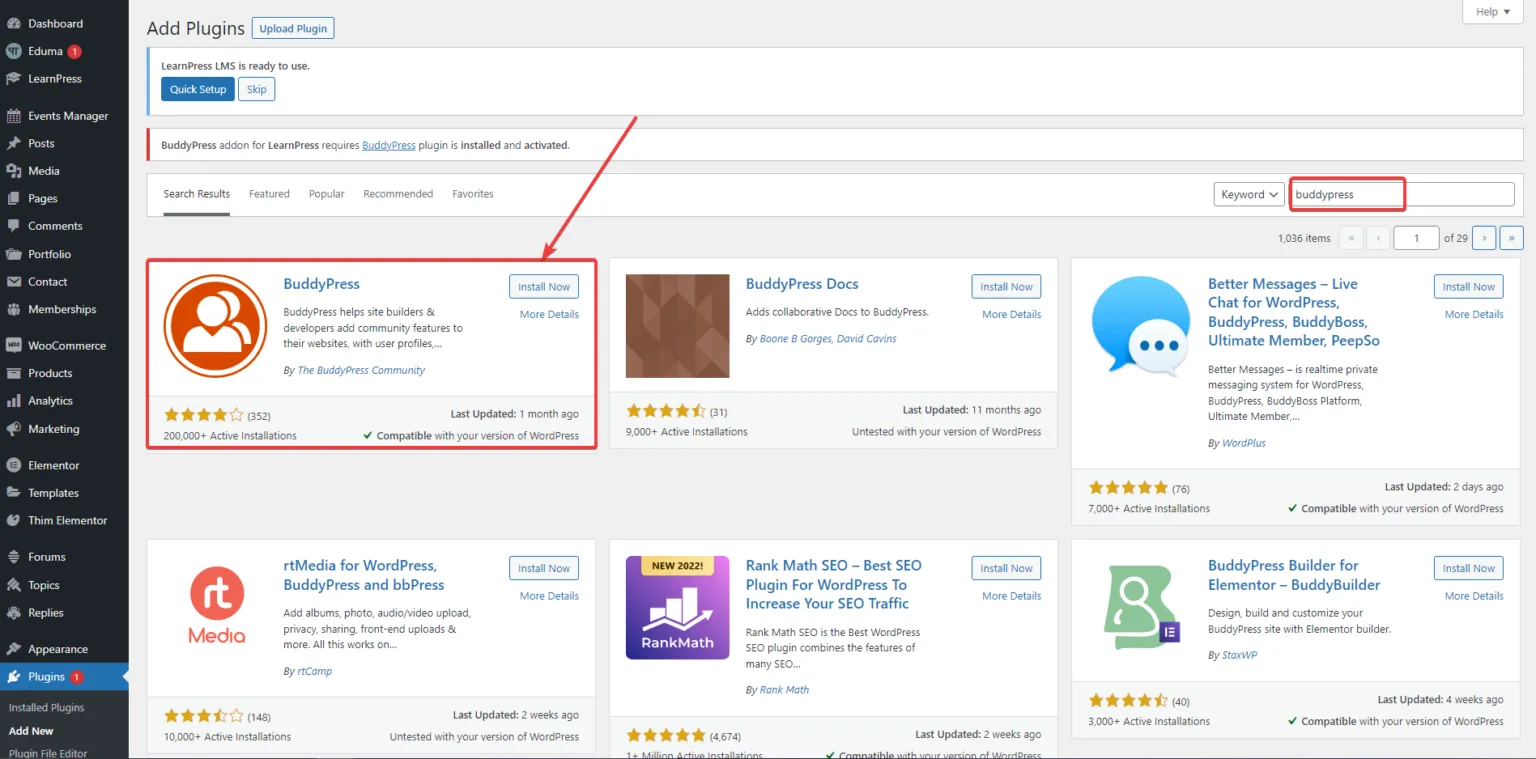 Settings
Back to your Dashboard -> LearnPress -> Settings -> and find BuddyPress Settings to configure.
You can choose any of the components you want for creating your social network.
Make sure to click on the Save settings button to save all your settings.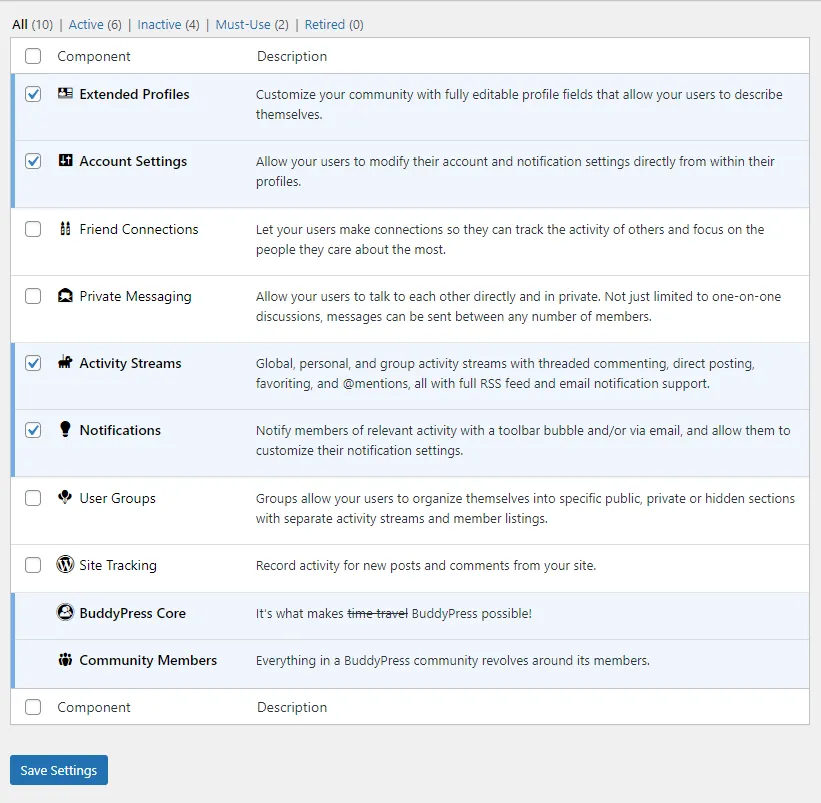 Users can find BuddyPress features under their regular profile settings: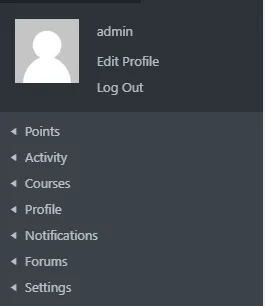 Final Thoughts
Hopefully, you like our guide on LearnPress BuddyPress Integration today and install it succesffully to build a vibrant and interactive learning community on your website.
Read More: LearnPress WooCommerce Integration