The course review feature is essential for creating a great e-learning experience. LearnPress is a cutting-edge LMS that lets you add course reviews to your online courses with ease.
In this article, we will show you how to use the LearnPress Course Review Integration to set up course reviews for LearnPress. 
Let's get started!
Why Choose LearnPress Course Review Integration?
LearnPress is not just an LMS – it's a complete platform for building and running online courses. Here are some of the reasons to choose LearnPress when it comes to course review integration:
Easy to set up and use. LearnPress Course Review Integration is a simple add-on that you can install and activate in minutes. You can manage the reviews from your WordPress dashboard and customize the settings as you wish.
Seamless Integration: It seamlessly integrates with LearnPress, providing a user-friendly interface for students and instructors to interact and share feedback.
Valuable Insights: Course reviews offer valuable insights into the strengths and weaknesses of your courses. By analyzing feedback, you can make data-driven decisions to improve the learning experience.
Engaging Learning Environment: By allowing students to provide feedback and express their thoughts, LearnPress fosters an engaging and collaborative learning environment.
Customization Options: LearnPress offers various customization options, allowing you to tailor the course review feature to match your branding and design preferences.
How to Set Up The LearnPress Course Review?
LearnPress is the most famous and powerful WordPress LMS plugin for creating & managing online courses. But don't just take our word for it.
Watch our detailed video tutorial and see for yourself how easy and fun it is to use LearnPress.
You'll learn how to set up your courses, add lessons and quizzes, enroll students, track their progress, and much more.
Whether you're a beginner or an expert, our video tutorial will help you get the most out of LearnPress.
Step 1: Download the LearnPress Course Review Add-on
To begin, you'll need to download the Course Review add-on for LearnPress or from WordPress.org. Of course, it's free. 
After that, log in to ThimPress and hover over My Account. Select the version you want to Download to begin the download process.

Step 2: Install and Activate
In this step, you need to open your Dashboard -> Plugins -> Add New -> Upload Plugin and upload the LearnPress Course Review Add-on .zip file that you downloaded earlier.
After a second of uploading, click Install Now.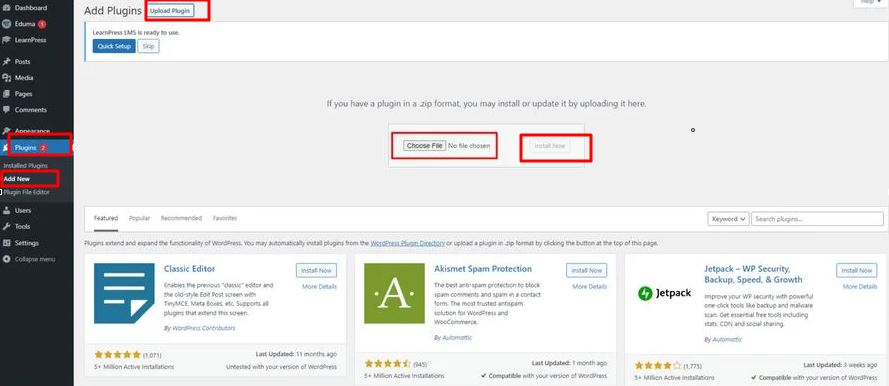 Once you see a message that your plugin is installed successfully, don't forget to hit Activate Plugin and it will be ready to use.
Once the add-on is installed and activated, you will notice a new Reviews tab on the course page. This tab displays the ratings and comments given by students. It's a great way to showcase the quality of your courses and build trust among potential learners.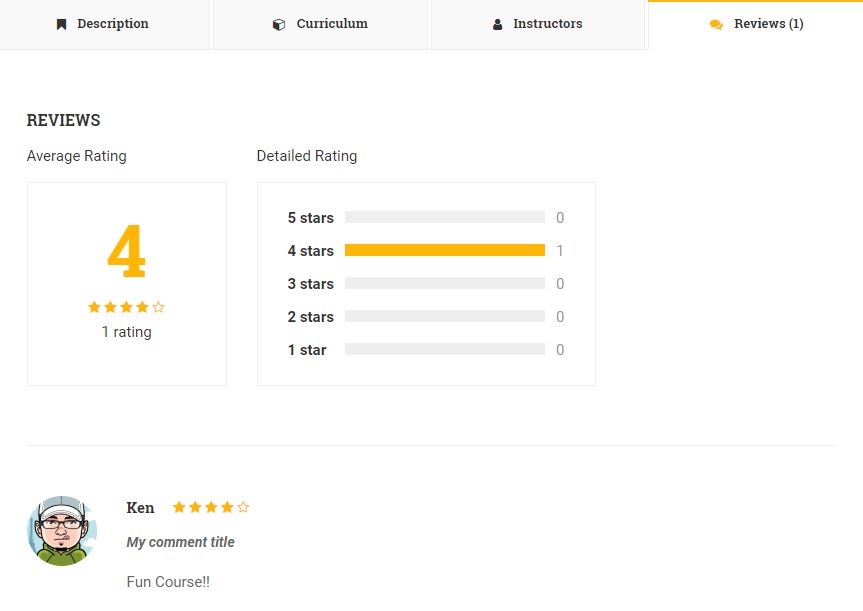 Step 3: Set up the LearnPress Course Review Integration
With the LearnPress course review add-on, students can easily provide feedback and write comments once they finish a course. This feature allows them to share their thoughts and experiences with others, building a sense of connection within your online learning platform.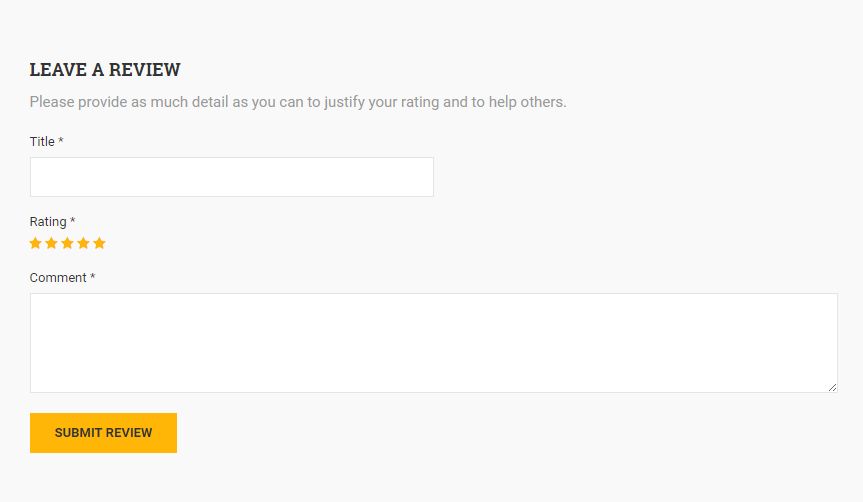 To manage the reviews and comments, follow these steps:
Go to Dashboard -> LearnPress –> Courses.
Choose the course you want to manage ratings and comments for.
Navigate to the Comments section.
Here, you can view and take action on the ratings and comments provided by students.

By actively engaging with student feedback, you can address any concerns or issues, and continuously improve your courses.
Final Thoughts
We hope this guide has helped you understand how to set up course reviews for LearnPress using the Course Review add-on for creating and managing online courses. If you have any questions or feedback, please feel free to contact us anytime. 
Read More: The Ultimate Guide To Learnpress Announcement Integration
---
Contact us, ThimPress:
Website: https://thimpress.com/
Fanpage: https://www.facebook.com/ThimPress
Youtube: https://www.youtube.com/c/ThimPressDesign
Twitter: https://twitter.com/thimpress