The LearnPress myCRED Integration helps you improve your LMS website by adding a gamification system. So that you can give your students points, badges, and virtual currency as rewards, making the learning experience more engaging and motivating. 
In this guide, let's learn how to download, install, and configure the myCRED add-on for LearnPress.
What is the LearnPress myCred Integration?
LearnPress myCred integration, a useful add-on, is a seamless combination of two powerful plugins that bring gamification elements to your online courses. It helps you set up a points-based reward system in which students earn points for completing lessons, quizzes, assignments, and other course activities. Students can redeem these points for a variety of rewards or used to gain access to additional course content.
You can refer to our detailed video if it's your first time creating an LMS website and looking for the best education WordPress themes.
Benefits of LearnPress myCred Integration
LearnPress myCred Integration offers several benefits for both online course creators and students. Some of the key advantages include:
Increased Engagement: Gamification elements, such as points and rewards, motivate students to actively participate in the course and strive for better performance.
Enhanced Learning Experience: Students gain a feeling of achievement by earning points and unlocking rewards, making the learning experience more enjoyable and fulfilling.
Better Retention and Completion Rates: Gamification has been shown to improve student retention and course completion rates as it provides an additional incentive to stay engaged throughout the course.
Encourages Healthy Competition: You can add leaderboards and badges to encourage healthy rivalries among learners while also promoting a sense of community.
Flexible Reward System: Customize the points and rewards structure to align with your course objectives and create a unique learning environment.
Setting up the LearnPress myCred Integration
Download, Install, and Activate
First, you need to download the myCred add-on for LearnPress by visiting ThimPress and signing in to your account. Go to My Account -> Orders -> Download or Pick the version you want to get the add-on.

Once it is completed, follow these steps to install and activate the LearnPress myCred Integration:
Go to your WordPress dashboard -> navigate to Plugins -> click Add New -> Upload Plugin.
Find the.zip file you have downloaded and click on Install Now.
After successful installation, click on Activate Plugin.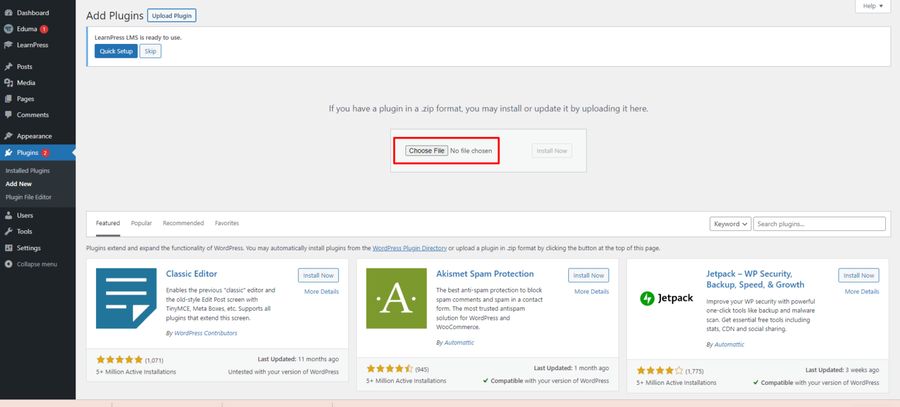 You will receive a notice confirming that the myCred add-on activation was successful and is ready to use.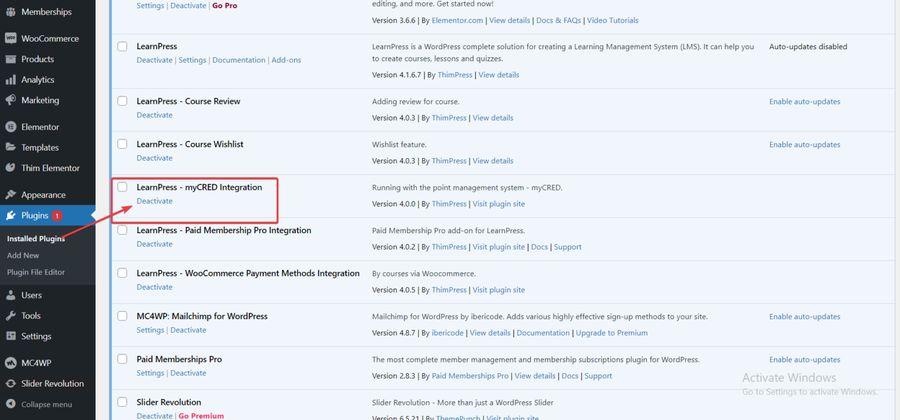 After activating the LearnPress myCred Integration, it requires the free plugin – myCred. Follow these steps:
Open your WordPress dashboard -> find Plugins -> click Add New and go to the search bar.
Search for myCred and press the Install Now button next to the myCred plugin.
Once the installation is complete, click on Activate.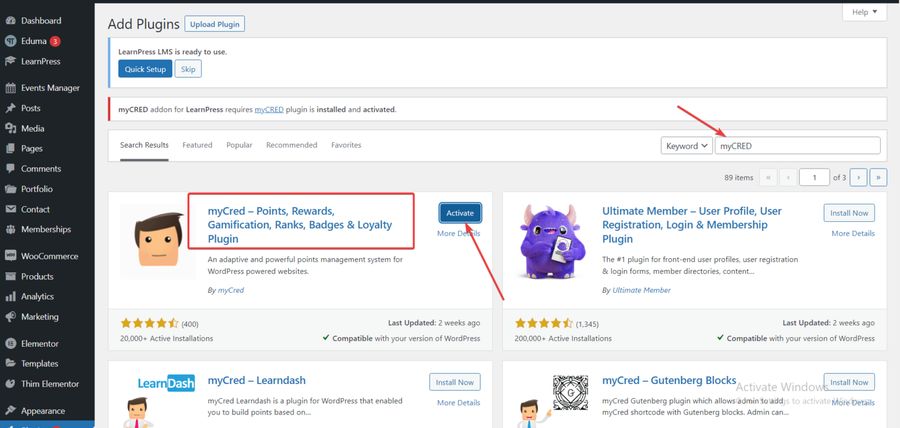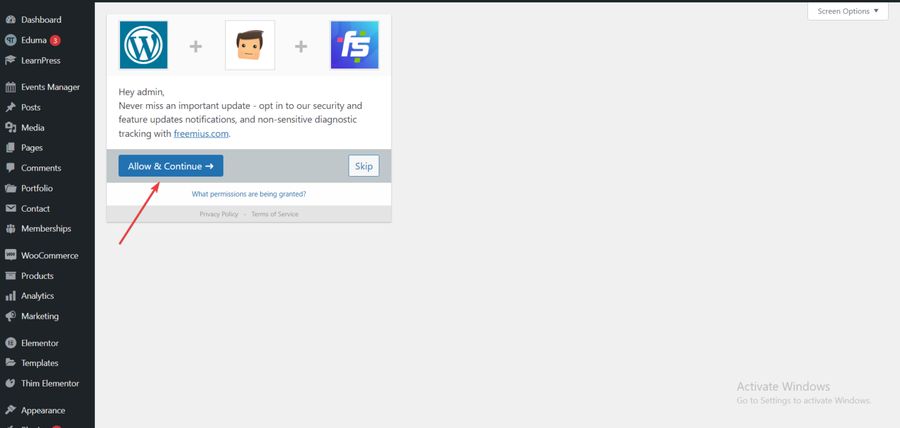 Configuring LearnPress myCred Integration
After you activate the LearnPress myCRED Integration successfully, you will see Points on your WordPress dashboard. Follow these steps to set up points.
From your WordPress dashboard -> Points-> Hooks.
Choose LearnPress: for instructors and LearnPress: for students to Add Hook.
There are different activities to set up the LearnPress: for instructors and the LearnPress: for students.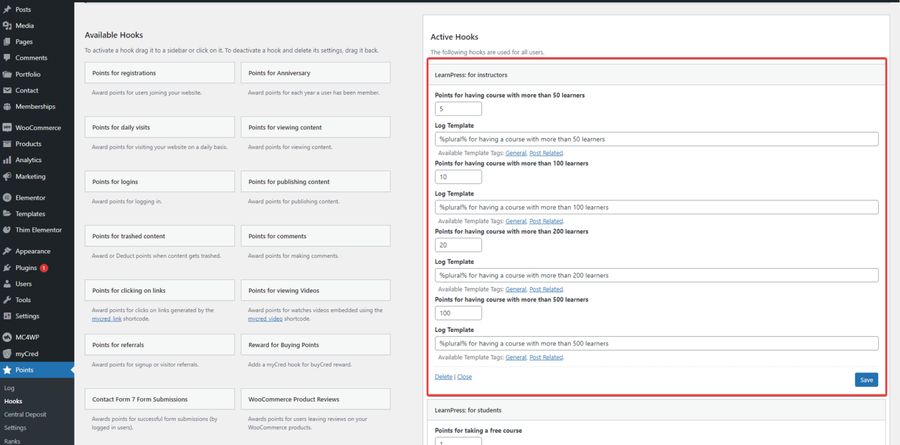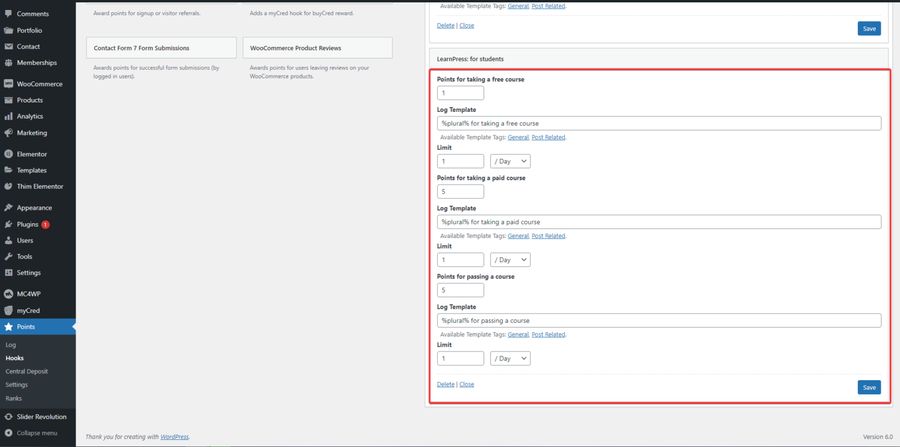 You can also view the points for each user.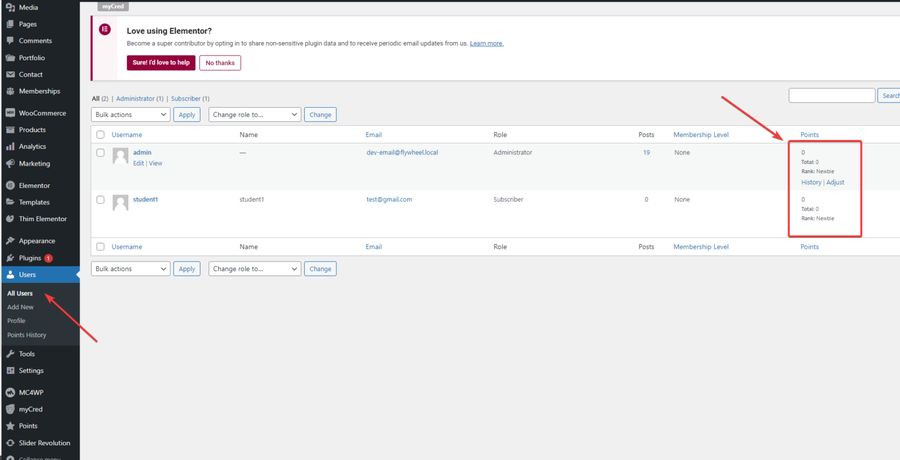 Final Thoughts
LearnPress myCred integration offers a powerful way to gamify your online courses and enhance the learning experience for your students. By rewarding students with myCred points, you can increase engagement, improve retention rates, and foster a sense of achievement. Additionally, the LearnPress PRO Bundle provides an opportunity to unlock even more add-ons and features, further expanding the capabilities of your LearnPress LMS.
Read More: LearnPress WPML Integration: A Comprehensive Guide
---
Contact us, ThimPress:
Website: https://thimpress.com/
Fanpage: https://www.facebook.com/ThimPress
Youtube: https://www.youtube.com/c/ThimPressDesign
Twitter: https://twitter.com/thimpress