As an online course creator using LearnPress, you understand the importance of delivering valuable content to your students. But have you considered the potential of upselling to enhance your course offerings and increase revenue?
In this article, we will explore the power of the LearnPress Upsell Integration and how it can transform your online education journey.
Advantages of Using LearnPress Upsell Integration
The LearnPress Upsell Integration is a powerful add-on designed to seamlessly integrate with your LMS website, enabling you to set up upsells within minutes. No matter if you're an experienced course creator or a beginner, this add-on can elevate your courses by offering a smooth user experience and tailored package offers.
Effortless Integration
The first advantage of the upsell add-on is its effortless integration with LearnPress. You don't need coding skills or technical expertise to set up upsells.
Streamlined User Experience
LearnPress Upsell Integration ensures a smooth user experience for your students. They can easily access and enroll in the upsell offers within your LearnPress courses without any disruptions or complex navigation. So it lets students explore additional resources and expand their knowledge base.
Customized Package Offers
Upselling success depends on tailoring your package offers to your student's particular needs and preferences. The LearnPress upsell Integration enables you to create value-rich packages that enhance your main courses. Hence, your students will gain a more comprehensive knowledge base, learn new skills, and reach their educational goals more effectively.
Hassle-Free Coupon Creation
Creating enticing coupon codes is a breeze with the Upsell Add-On. You can easily customize your coupons with options like percentage-based discounts, fixed-amount reductions, or even free course access. By aligning your coupon offers with your marketing strategies and goals, you can attract more students and increase conversions.
Creating appealing coupon codes is simple with the LearnPress Upsell Integration. You can easily customize your coupons with options like percentage-based discounts, fixed-amount reductions, or even free course access. By tailoring your coupon offers to your marketing strategies and goals, you can attract more students and increase conversions.
Easy Redemption Process
It provides an easy redemption process for your students. They can easily apply their coupon codes during the enrollment process, ensuring a smooth and user-friendly experience. It motivates students to use the discounts you're offering, resulting in higher enrollment rates.
How To Use The LearnPress Upsell Add-on
Make sure you have purchased the LearnPress Upsell Integration so now let's install, activate, and use it. Follow these steps:
Step 1: Download and Install
Sign-in ThimPress -> Hover to My Account –> Orders -> Download the version you want

Open your Dashboard -> Plugins -> Add New -> Upload Plugin -> Choose File and upload the file you have downloaded -> Install Now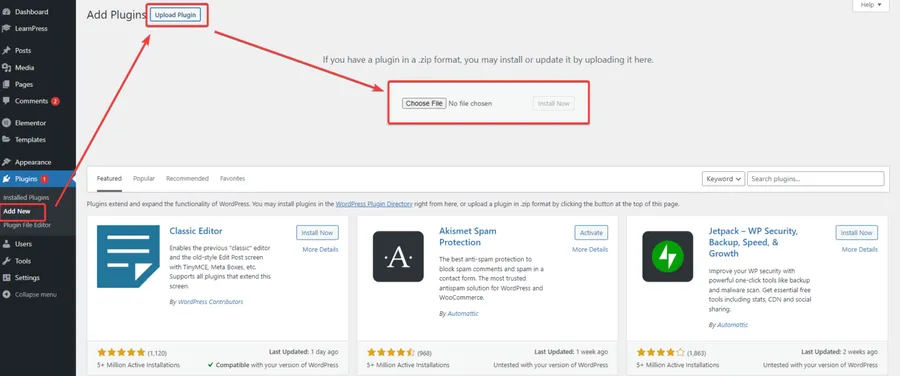 Next, you will see a message confirming the installation process is successful, so click Activate Plugin.
Step 2: Configuring LearnPress Upsell Integration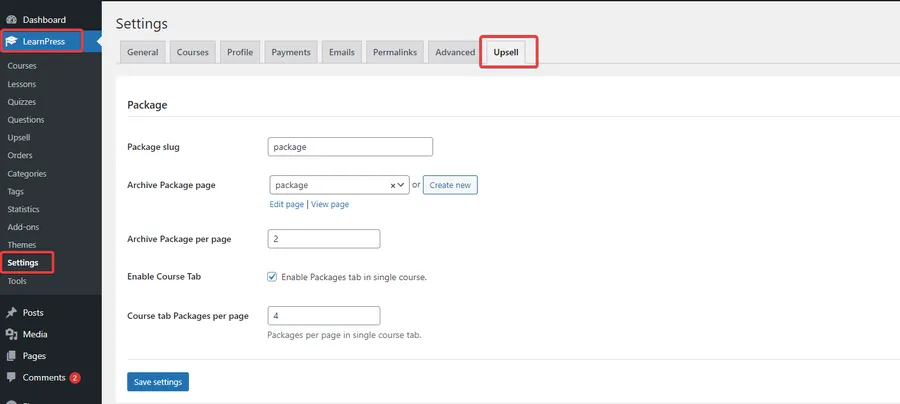 Go to the LearnPress menu in your WordPress dashboard -> press Settings
Click on the Upsell tab to access the upsell settings and package management.
There is a package slug, archive package page, archive package per page, enable course tab, and course tab packages per page to set up.
Package slug: Allow changing the slug of the package.
Archive Package page: You can choose the page, edit, create, and view the page that shows on the archive package page.
Archive Package per page: The number of packages shown on the package archive page.
Enable Course Tab: When you enable this option, the single course page will show a package tab. If you disable this option, the package tab will not be shown on the single course page.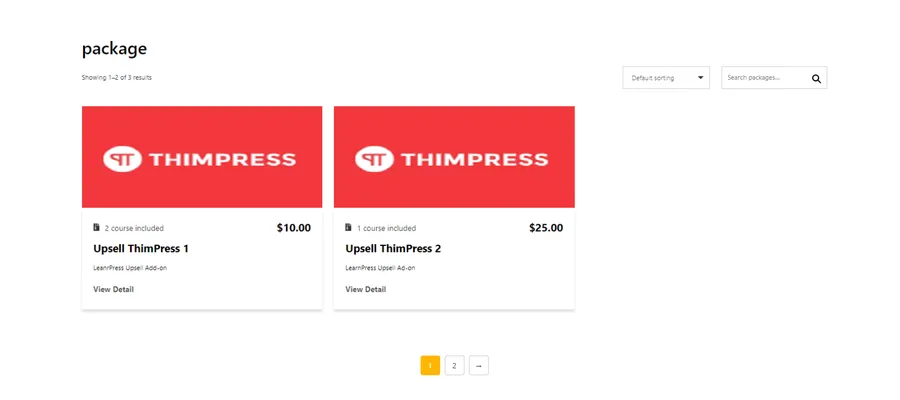 Course tab Packages per page: Display packages per page in a course tab. If the course has you in more than one package, it will show Load more.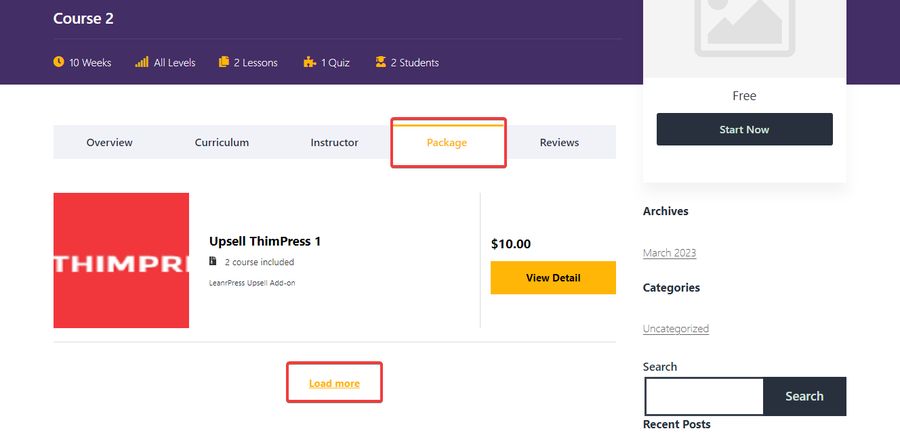 Step 3: Adding a New Package
It's easy to add a new package. Simply Go to Dashboard -> LearnPress -> Upsells -> Add new.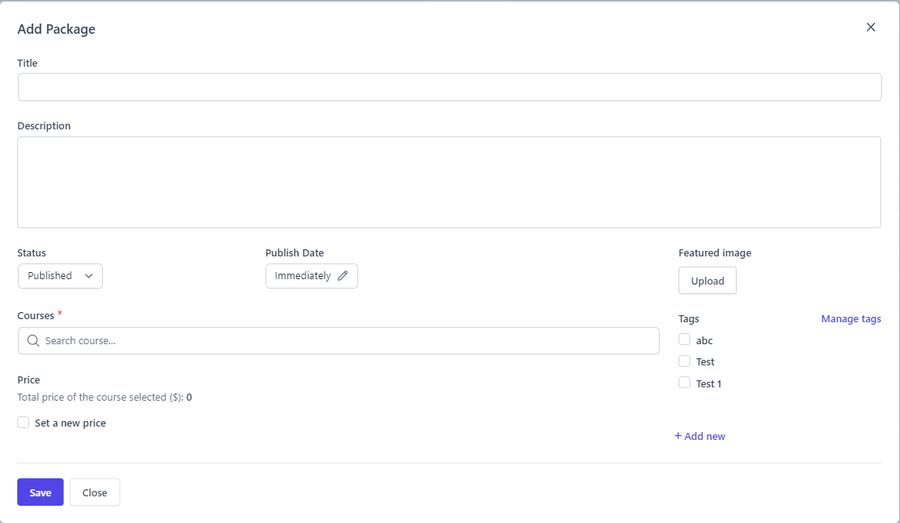 Fill in the following details:
Title: Enter a title for your package.
Description: Add a detailed description of the package.
Status: Set the package's status to Published, Draft, Pending, or Trash.
Publish Date: Choose a publishing date or schedule the package for future publication.
Courses: Add or remove courses from the package by using the search function and the "x" icon.
Price: Set the total price for the package. You can choose to set a new price or keep it as the sum of the individual course prices.
Percentage Discount: Offer a percentage discount on the package fee based on the total cost of the courses included.
Fixed Discount: Set a fixed price for the package, irrespective of the individual course prices.
Featured Image: Assign a featured image to make your package visually appealing.
Tags: Add relevant tags to categorize and manage your packages effectively.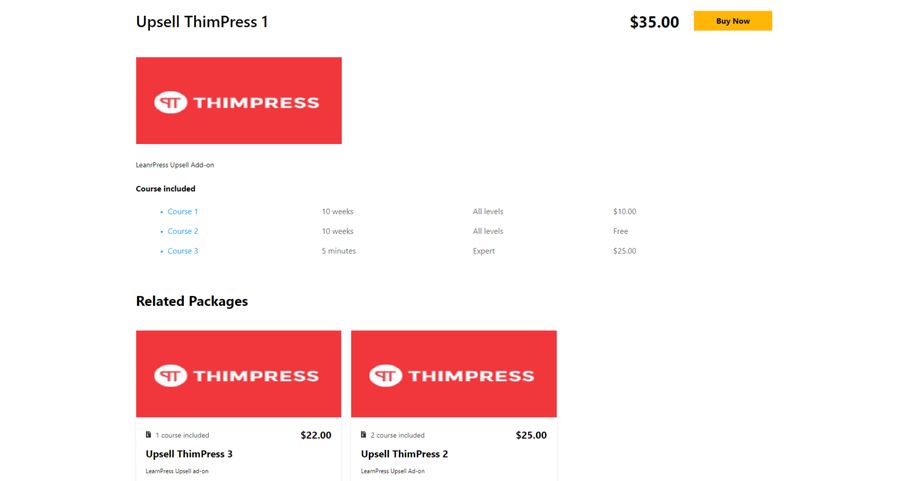 Upselling Strategies
Once you have created your packages using LearnPress Upsell Addon, it's time to implement effective upselling strategies to maximize your course sales. You can consider some strategies:
Cross-Selling Related Courses
When a student purchases a course, you can use this LearnPress Upsell Integration to recommend related courses that complement their chosen course. This cross-selling technique leads students to explore more courses within your offerings, increasing their overall engagement and satisfaction.
Offering Bundle Discounts
Bundle discounts are a famous way to incentivize students to purchase multiple courses at once. You can entice students to invest in a complete learning experience while saving money by creating packages that provide a discounted price when compared to individual course prices.
Limited-Time Offers
Using limited-time offers to create a sense of urgency can be a strong motivator for potential customers. By specifying a future publishing date for your packages, you can display a "Scheduled" tag, indicating that the package will be available for a limited time only. This can drive students to make a purchase decision sooner rather than later.
Read More: LearnPress Stripe Integration: The Best Way to Process Payments for Online Courses
---
Contact us, ThimPress:
Website: https://thimpress.com/
Fanpage: https://www.facebook.com/ThimPress
Youtube: https://www.youtube.com/c/ThimPressDesign
Twitter: https://twitter.com/thimpress