Content Drip Add-On for LearnPress
Restrict the access of students to each lesson by progress, or time. Allows you to manage course's opening time.
Price: $39
---
Set a specific of time when a lesson becomes available.
Lesson open time could also be based on if the student had finished a specific lesson or not.
License:
1 site license + 12 months support and update.
Price: $39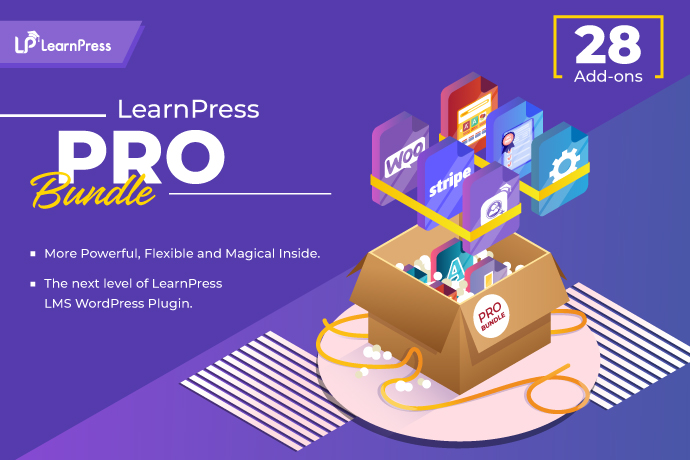 Want more Add-ons at lower price? Check LearnPress PRO Bundle
Combination of the most powerful Add-ons, LearnPress Pro Bundle is an extraordinary product which totally gets your money's worth.
Visit LearnPress PRO Bundle
How Content-Drip Add-on for LearnPress works
If you've created a schedule of your courses, instead of publishing courses in a sequence, you can publishing all courses immediately and set Content Drip for us. Content Drip will help you to manage opening time for your courses following your schedule.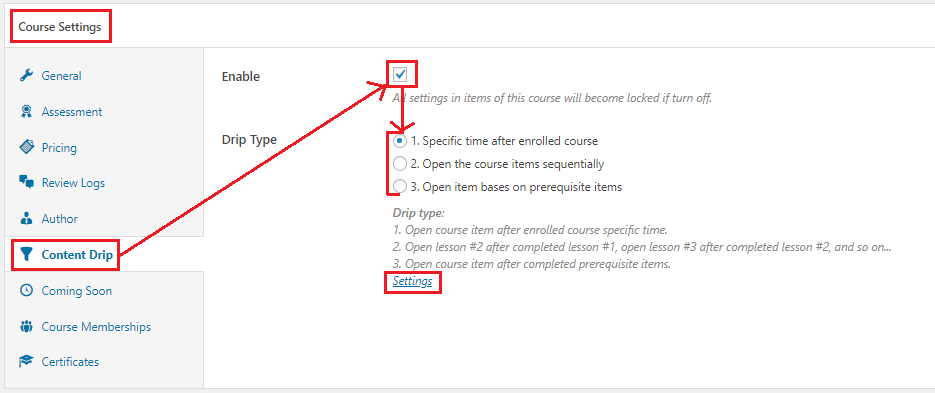 Drip Types:
Content Drip by specific time
With this Drip type, you can choose to open course immediately, after enrolled course specific time or after a special day.
Open the lesson / quiz sequentially
With this Drip type, you can choose to open lesson #2 after completed lesson #1, open lesson #3 after completed lesson #2, and so on…
Open item based on prerequisite items
The option lets you set the condition for opening a lesson based on if you have opened some other specified lessons or not. You will need to set the option 'Open item bases on prerequisite items' and UPDATE the course and then click on 'Settings' to be able to see the settings for it.

When you have a course with many lessons and quizzes whereas the next one is fundamentally more difficult than the previous one.
When you need your students to fully understand the lesson before moving on to the next lesson.
When you want to make sure your students studied all necessary information before giving them a certificate.
This is a great way to guarantee better study effectiveness.
You can use Content Drip along with Certificate Add-on (to give certificate to those who finishes the course) or with Quizzes after each lesson to make sure your students understand the lesson.
How to setup Content Drip for LearnPress with this Add-on
Get the LearnPress add-ons Bundle

FOR FREE
As we want to encourage Education movements around the world, we will provide a LearnPress add-ons Bundle ($300) for Free to any of our customers who purchased one of our Education themes below.
So, quick, go ahead and buy one of these themes for only $59+ and get ~$300 bonus LearnPress premium add-ons.
Note: This bundle doesn't include the Frontend Editor add-on, Assignments add-on and Announcement add-on for LearnPress.
Change Logs
= 4.0.2 (2022-09-23) =
~ Fixed: some minor bugs.
= 4.0.1 =
~ Fixed: Call and min file js - hungkv
= 4.0.0 =
~ Fixed: Compatible LP4
Related products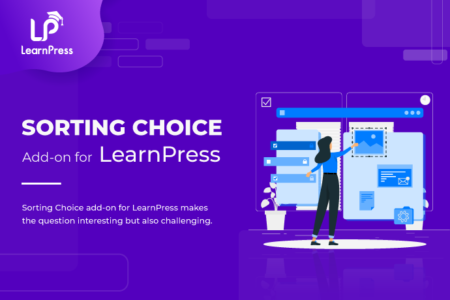 Add to cart
$

19
Makes the question interesting and challenging. Students receive full credit if ALL the choices are correct.