Looking for a Shopify Review App?
The review of a product is very important no matter where you sell it. Researchers estimate that over 95% of customers will decide to buy after reading that product's reviews, in that a big half of them take a look on their mobile devices & about 70% of customers claim they will purchase right after reading the reviews. So what is the point here?
Well, the point is that your products should include a review section, a star-rating option, and related stuff. If you wonder what tool can help you, they are applications for Shopify Product Reviews.
What is A Shopify Review App?
A Shopify review app is an extension that helps you gather product reviews and lets the clients give feedback about the products. Therefore, the widget will increase your brand awareness and enlarge the customer range.
Standards for A Great Shopify Product Review Plugin
After using many of them for testing, we will select the best one on these standards:
Easy to use: For both experienced and inexperienced Shopify web owners, a simple-to-use app will help them a lot in saving time and effort. What we are talking about here is a smooth drag'n'drop interface.
Easy to integrate with different apps: Shopify app storage is massive with both free and paid ones so a product review extension should work along well with others. If they conflict, you will have to look for alternatives that cost you time – and time is business money!
Worth the cost: You may pay the money for the paid review apps and they should have great (and unique) functionalities that will impress the viewers.
Attracting front-end outlook: The review area should attract the audience's attention to engage 'em to write reviews and really put effort into it.
Image & video reviews: As a consequence, people will believe the review with the image or video illustrations. Real pieces of evidence make reliable reviews!
Kind customer support: Some users may meet difficulties when applying & running the app. Therefore, a responsive support team will come in handy.
Best Shopify Review App Collection
Stamped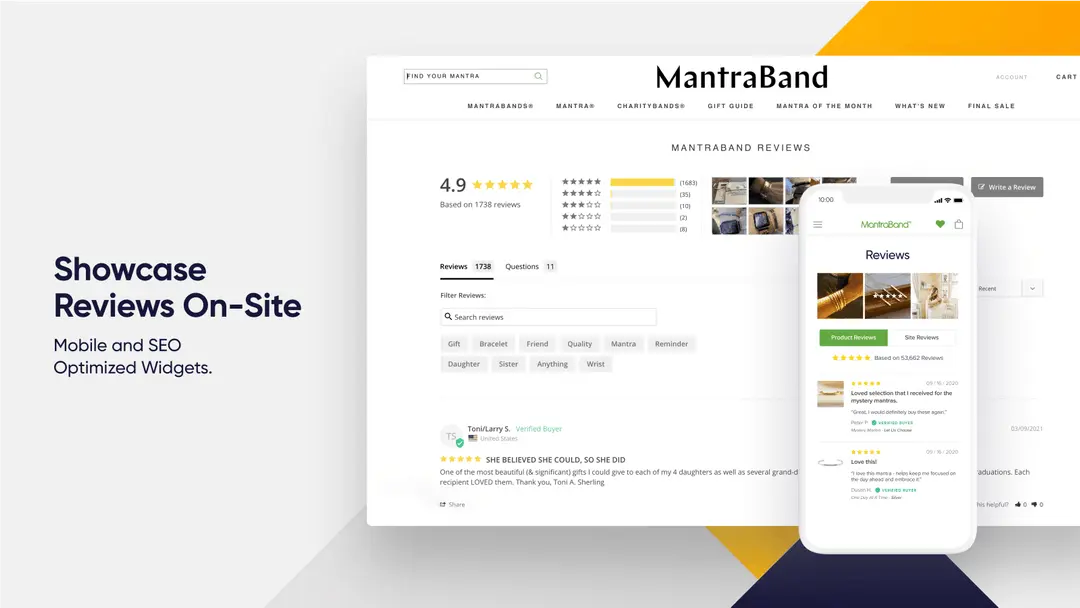 Stamped is a Shopify review app that lets you collect & manage customer reviews. This extension will help you gain better insights into what the buyers think about the products or services as well as the shopping experience with you. Stamped does offer a free plan including 10+ tools such as product Q&As, check-out reviews, image/video reviews, and more.
This Shopify app has a clear and simple user interface regarding the various features. Since it uses Polaris UI – the Shopify design system, you will feel like working on Shopify although this app is not embedded into the platform. On the other side, you can import reviews from different sources like Facebook, AiExpress, etc., or add 'em manually. One drawback is that it does not integrate well with black-background themes. Overall, it is a great app that offers extraordinary value to your site.
Loox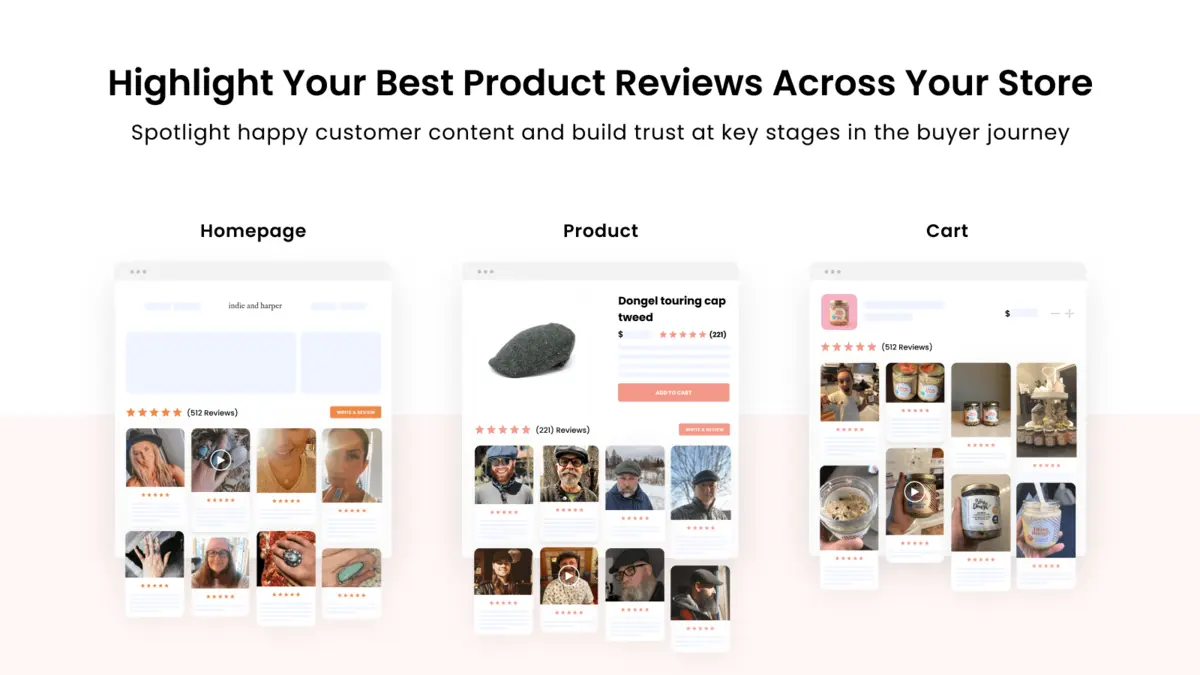 To make customers trust your service and pursue them to buy a specific product, you should deliver confidence and influence them to make decisions as your social branding proof. You know, images and videos are the clearest things you can give your viewers about how your products work, whether it's good or not, and how other customers show their love after buying. Loxx the good Shopify review app will help your store with How to Add Reviews on Shopify.
Loox allows web owners to collect review data directly from the customers and show those reviews on the store. You can edit the appearance of this section to display all reviews in various forms such as a popup, a review carousel, or a sidebar. Moreover, you can integrate this app with other themes and apps as well, widening your possibilities. It has 3 versions: Beginner ($9.99 per month), Growth ($34.99 per month), & Unlimited ($299.99 per month).
Judge.me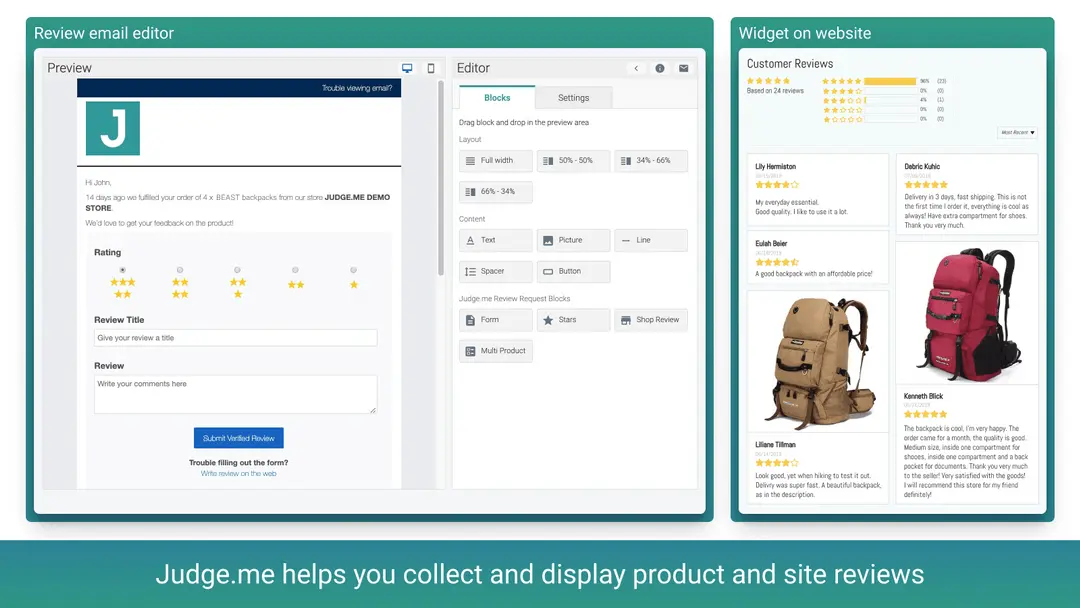 Judge.me is considered one of the most popular apps for product reviews on Shopify. It provides us with a free unlimited plan and a paid version with no app branding and advanced features. Having over 5000 reviews with an average rating of 5/5 has spoken all about the quality of this third-party app.
You can display the reviews on the product page directly and customers can post a review with a single form on the same page as well. The average score of the review can be shown on the collection pages or product summaries which help your visitors browse the product or services easily & influence 'em more to take up a bill.
You can find 2 available plans here: The free version (unlimited reviews requests and imagery reviews, etc.) and the Awesome plan (more advanced features.
LAI Ali Reviews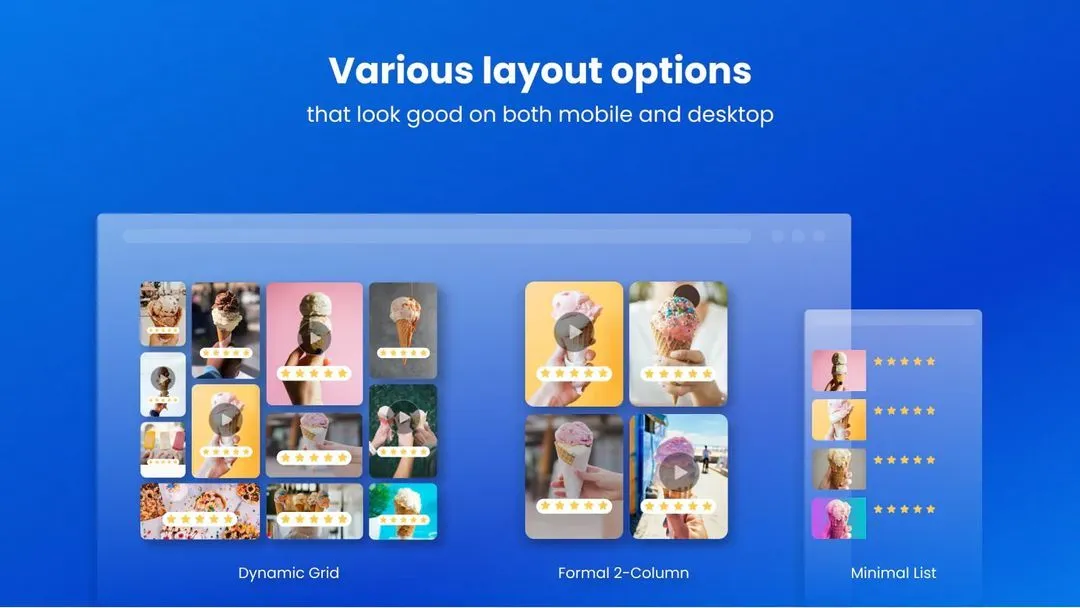 LAI Ali Reviews is a Shopify review app that allows users to design and control how the reviews from their customers will be displayed on the site.
Do you have reviews on other platforms, such as AliExpress, Amazon, etc.? LAI Reviews app will help you import from those platforms but what about dropshipping apps or a CSV file? Don't worry, this app will get you covered. After importing review data or receiving reviews from the site, you can display 'em in different review formats and highlight them on the chosen pages. Also, you are free to design your own review-displaying layouts.
To help you get more reviews, this Shopify review app offers an automatic system sending review requests when finishing an order and makes popups giving rewards for reviews such as a coupon code or a direct sale-off for the next purchase. You can have a 7-day free trial, then Essential ($4.95 per month), Growth ($11.95 per month), or Expert ($19.95 per month).
AiTrillion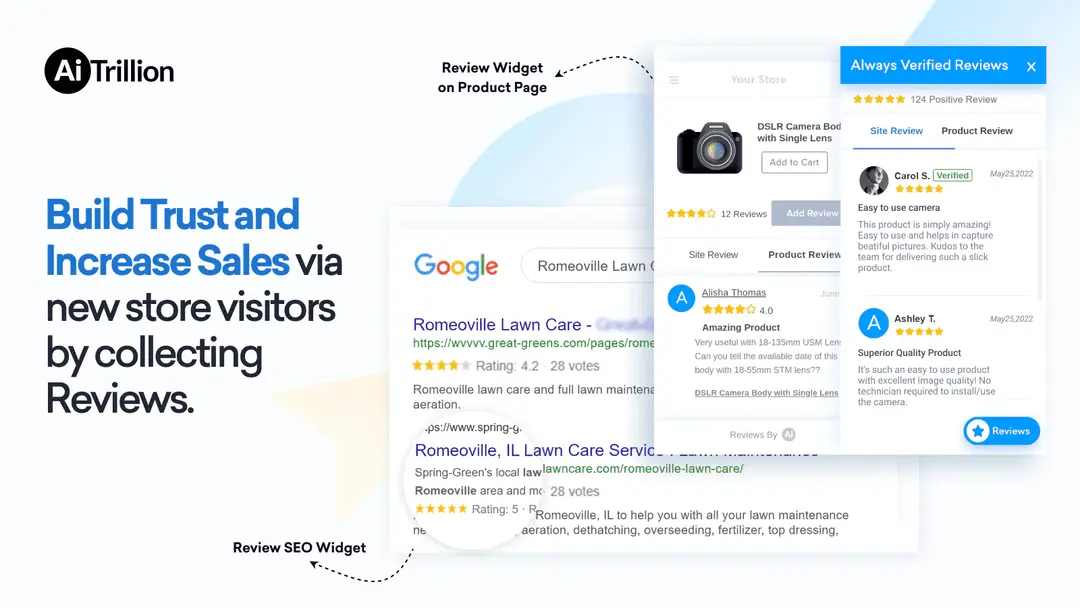 For merchants, AiTrillion is a great Shopify review app that includes a loyalty program besides the customer review feature.
This app will provide its users with many marketing features like making a loyalty system (loyalty points, rankings, & reward system), setting up activity-based triggers, collecting reviews, etc. About the review collecting features, the app simplifies it with an email template system before sending review requests. Also, you can edit the display of the review section on your site and feature 'em on Google with structured data.
There are 3 pricing plans for AiTrillion: Startup ($49 per month), Growth ($99 per month), & Premium ($199 per month). You also have a 30-day free trial to decide whether it's worth your money or not.
Trustmary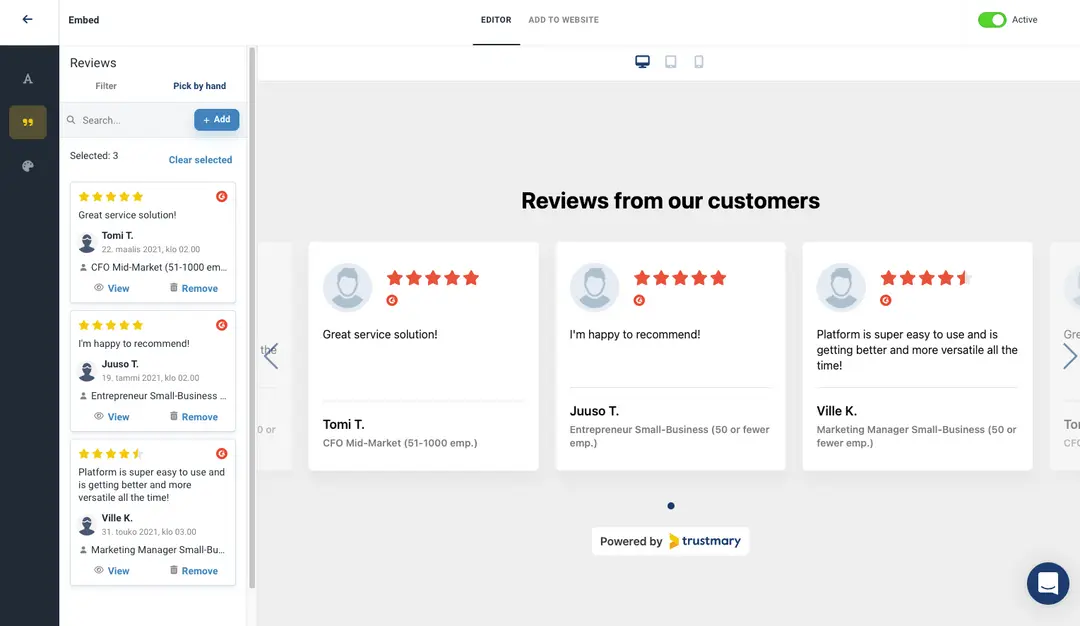 Trustmary is a third-party Shopify review app for showing reviews on Shopify eCommerce sites. It can import reviews from a lot of sources like Google, Facebook, App Store, etc. Well, it's time to solve the problem to import Etsy reviews to Shopify or how to import reviews from AliExpress to Shopify.
You can choose the way you want to show your reviews: widgets, layouts, section placing, and selected reviews to show. Some other great features are pre-tested review collection forms, image/video reviews, social proof popups, contact forms, and more.
Trustmary offers you a free plan with 20 published reviews, 1 review form, and 1 widget. To integrate this app into your Shopify store, you will have to spend $290 per month or $249 if you pay annually. The premium version has many bonus features and you have a 14-day trial.
Fera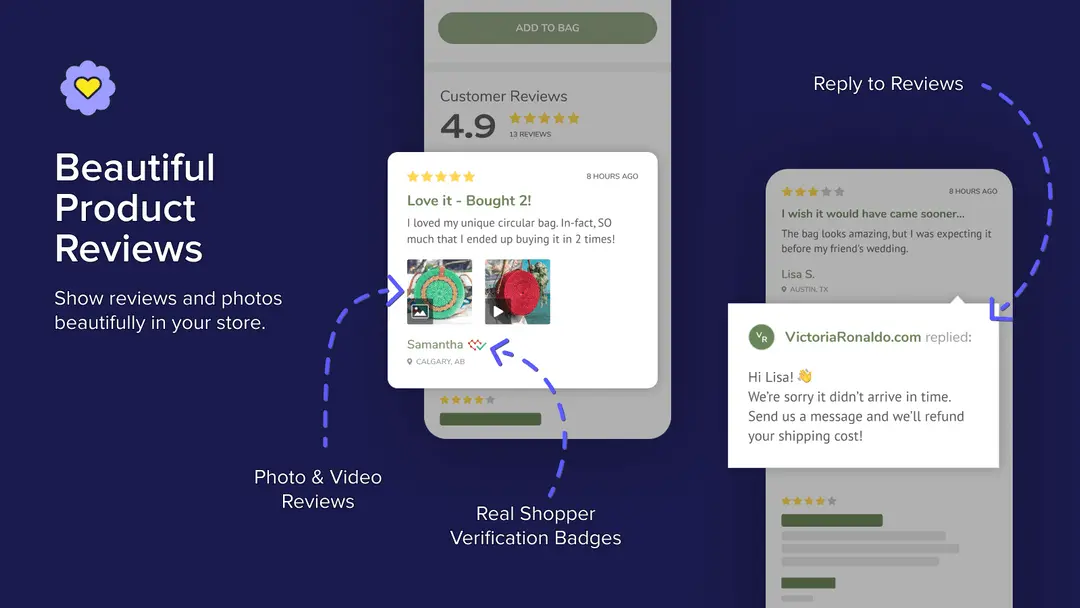 Fera is a top-tier Shopify review app that will save a lot of time on managing review parts.
With just 1 click, you will go straight forward to an administrative system where you can edit the outlook of the review section to increase conversion rate and enhance SEO rankings. Designed to simplify the process, you can find a responsive UI, review translation, and more features. On the other hand, the app is super customizable as you may accept 3 types of reviews (text, image, & video) and follow-up users by the review request email system. The app allows the customers to give reviews on both products and stores, which means you can find out more about the shopping experience and improve anything wrong.
The free version of this Shopify review app gives you 10 review requests, 1 widget, and other features. About the paid ones, they are Startup ($9 per month), Small ($29 per month), and Medium ($99 per month).
Shopify Review App: Wrapping Up
We have just listed a Shopify review app collection that varies from unlimited free apps to premium apps. Each app will work a bit differently but they all head to the point to help you display the products' reviews on your websites. Choose your Shopify review app wisely and you will gain a hell of conversion rates and SEO.
Read more: Wix vs Shopify: Which One is Better for eCommerce?
---
Contact us, ThimPress:
Website: https://thimpress.com/
Fanpage: https://www.facebook.com/ThimPress
Youtube: https://www.youtube.com/c/ThimPressDesign
Twitter: https://twitter.com/thimpress