Are you looking for the best WordPress Themes for NGO that catch the impression at first sight and make it simple for people to visit and donate?
Nowadays, the world is developing day by day, and along with that, a lot of NGOs are born. NGO is short for Non-Government Organization, a non-profit group that works independently of any government. An NGO usually functions based on community, national or international, or both, to handle an important part in international development, assistance, and charity contribution.
In default, NGOs are non-profit but they need millions or billions of dollars per year to run budgets. Therefore, they need funding sources like government supplements or private donations from personnel, companies, and incorporations. While there are many WordPress themes for business, charity webs seem to be harder to be found. Luckily, we will show you a list of WordPress themes for NGOs to enlarge their funds and build their supporter bases.
Build up Highly Customizable NGO WordPress Themes
With a crowdfunding website, the main purpose is to get people to notice their work and donate to their fund. The WordPress themes for NGOs vary based on the needs of customers. First, a WordPress theme for NGOs must be very customizable. The structure should be easily changed, the layout should be modified in a few clicks, etc.
Without coding, users can comfortably adjust what you will show on the page: images, videos, letter content, fonts, colors, and other related stuff. The header and footer are placed on your decision to set up the important links on the web. From those features, you can create a WordPress theme for the nonprofit organization, running from simple to complex ones, and a donating system as well.
Make Your Charity Websites Fast and Responsive
Many customers have claimed that the responsiveness of a website decides whether the web is gathering attention or not, which also means the responsiveness is friendliness. Not only on computers but the fundraising WordPress themes should also run well on mobile devices.
In this decade, smartphones are very popular, and this is truly a test for page builders. They need a mobile-friendly and responsive theme. The WordPress NGO themes can meet the demand. They allow you to make a stunning NGO page without messing up people's experiences. Those webs will look perfectly balanced and amazing on all devices and screen solutions.
Form and Make Charity Campaigns
The main purpose of charity webs is to find the resources for voluntary works, mainly raising funds from donations and human volunteers. The most necessary thing here is that you can bring out causes and receive their donations.
Our WordPress not-for-profit themes will help you with that by allowing you to run new different projects and remove the old ones. Not only the information aspect that our themes help you deliver, but we also provide photographic help, including videos and pictures. Besides, building your donation-receiving system is one of our charity themes' best features
Best WordPress Themes for NGO
A well-done analysis points out that WordPress is the most preferred CMS platform for charity and non-profit associations due to the combination of flexibility and a good outlook. With some very fine WordPress themes for NGO below, you can go through and get the suitable one that compliments your group or your purpose.
Astra – Fast and Lightweight WordPress Theme for NGO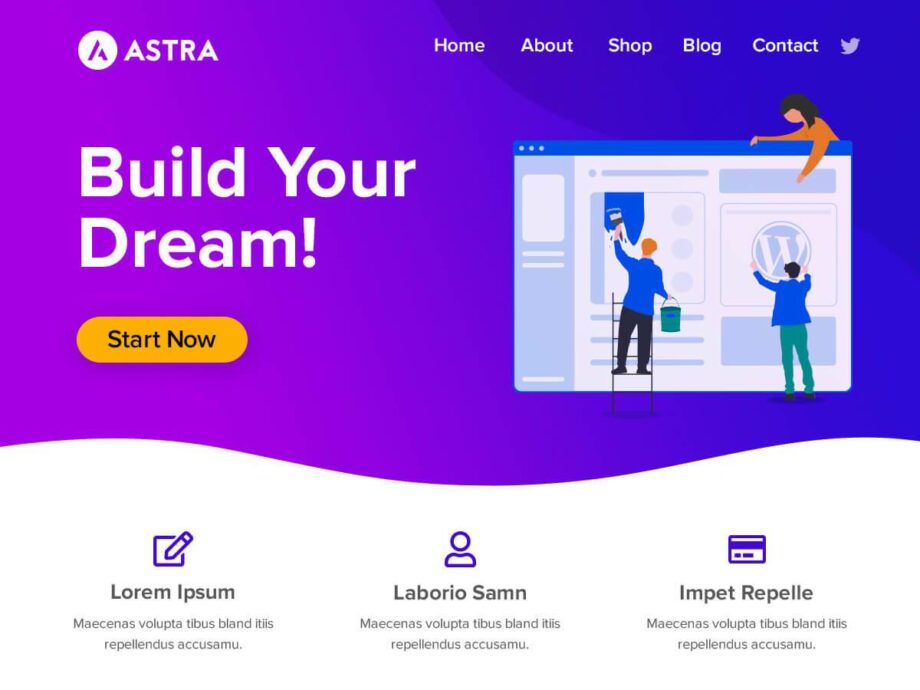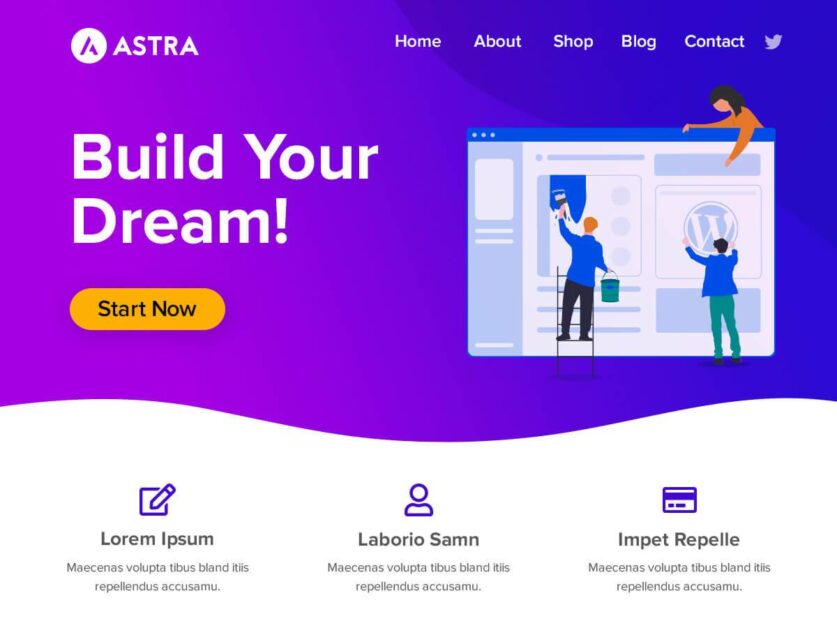 Such a fast, lightweight, and well-customizable WordPress theme for non-profit organizations Astra is. The first thing Astra brings you is the benefit of speed. For page builders and web managers, less time spent on web managing means more time for other work.
With the pre-built website demos, you can easily pick up from our library of starting templates. Coding might be a challenge, so we enable you to customize without knowing anything about codes. As has been said before, Astra is made for fast speed. The ability to maximize the theme's performance makes it the most lightweight theme in the market.
Not only speed but Astra's developers also care about users' demand for editing. The theme lets you make layout adjustments on all aspects: sidebar, blog, posts, pages, headers, and footers. Understanding the importance of intuitiveness, we provide hundreds of colors and letter fonts, as well as various header options. This must be one of the best WordPress themes for NGO.
OceanWP – Popular WordPress Theme for NGO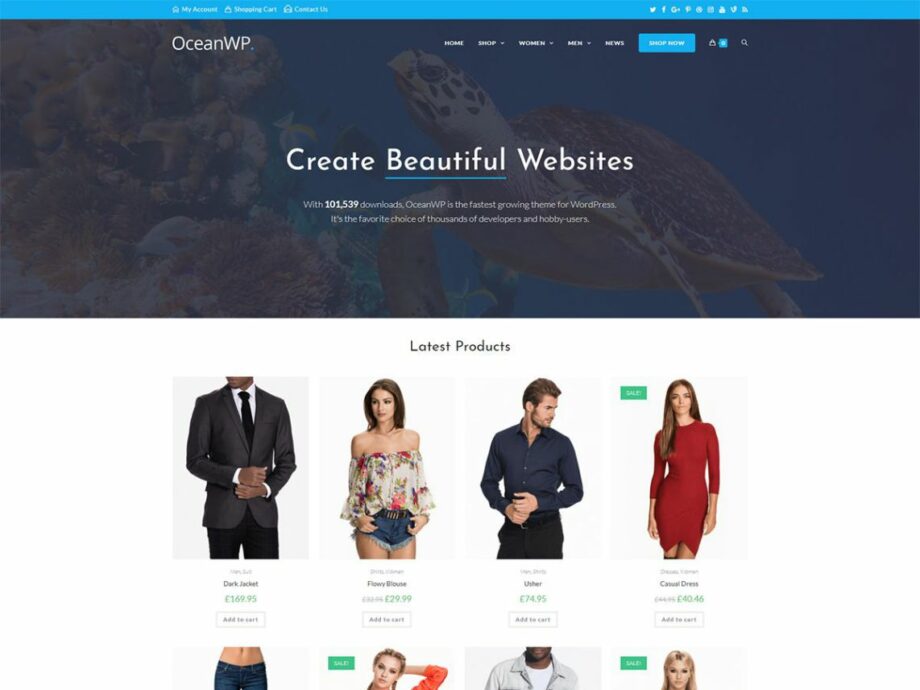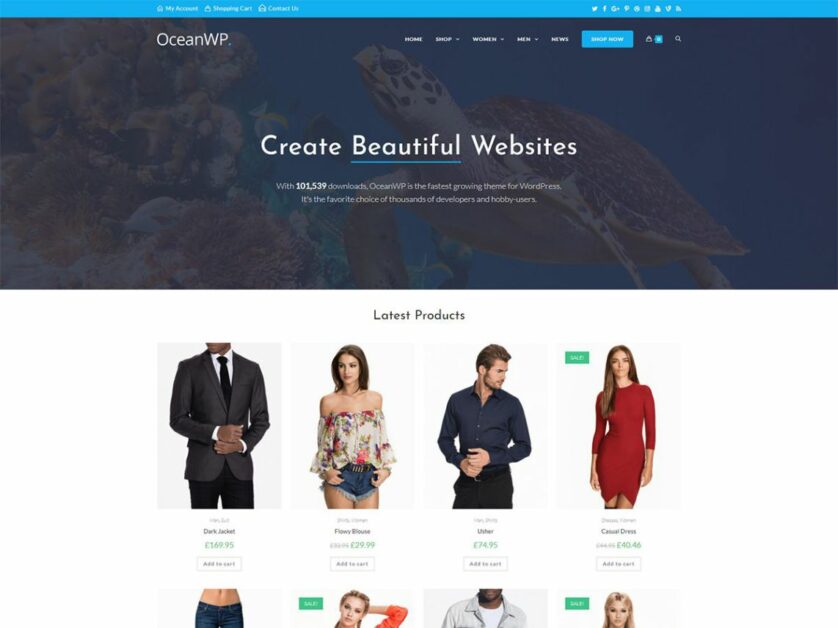 OceanWP is considered one of the fastest-developing themes of WordPress's charity aspect. Trusted by over 3 million downloads, OceanWP won't let you down. It owns a pack of various starter demos, which allows users to import the theme within several clicks. The theme is one of the best responsive WordPress themes, so your website will look gorgeous and suitable on all devices' screens and all resolutions.
You can enlarge your chance of getting attention by adjusting the display of your charity web with a floating bar and off Canvas filter. These 2 features will boost your conversions without bothering the visitors.
There is an extension for you to completely showcase your portfolio, gathering people's concentration and compassion. Getting a problem? Don't worry, since our support team is fast and whole-hearted, they will deal with your problem immediately.
HelpingHands – Unique WordPress Theme for NGO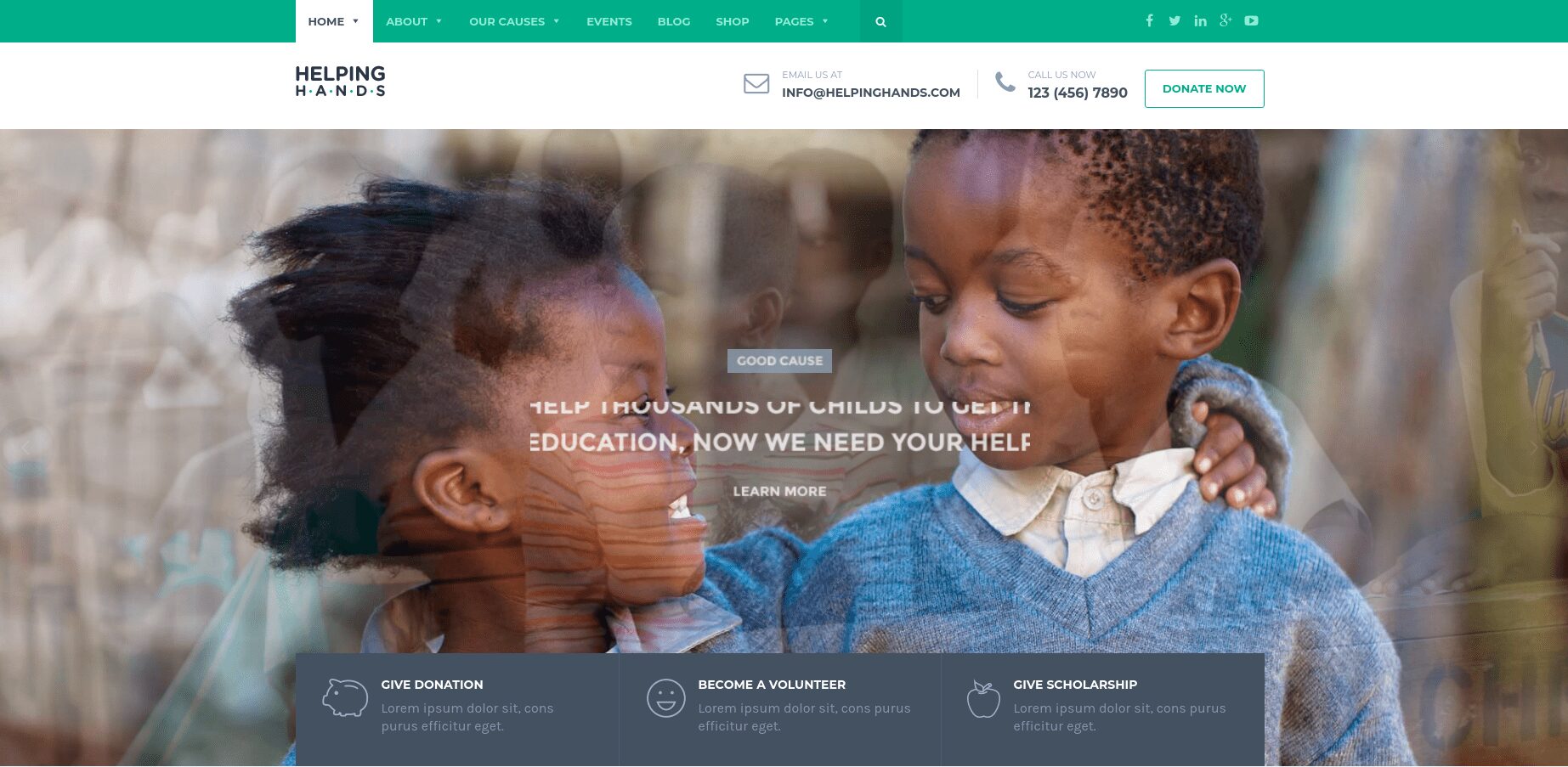 HelpingHands is such a good WordPress theme for an NGO website. One of the most concerning problems is maintaining donation gateways, and HelpingHands proceeds very well. You can collect donations via various gateways from Paypal to WooCommerce ones. They are specially protected, so no worries about the safety of the money.
In the nearest update, they have added WordPress themes for NGO demo. It helps you build endless charity projects and promote them on the Internet. Premium slider presents your work as more professional and lively. Unlimited colors and fonts, as well as width and boxed layouts, play unchangeable parts in your web's success
Conclusion
With the development of our society, there are still many problems, both national and international, that occur every day. The problems vary from environment to violation, and someone must stand up to deal with them. With NGO websites, they will have more funds and volunteers to move on and do what they can do, to make our world better. We can make sure that our WordPress themes for NGO will help you in continuing the way you are moving on.
Read more: Preparation For Running A Crowdfunding Platform With Charity WP
---
Contact us, ThimPress:
Website: https://thimpress.com/
Fanpage: https://www.facebook.com/ThimPress
Youtube: https://www.youtube.com/c/ThimPressDesign
Twitter: https://twitter.com/thimpress