Understanding WordPress User Roles are the most essential step to know and control the access of each user who is permitted to use your website. Of course, it's not a problem if your website is fully controlled by only you. However, it's a matter if you grant access for other people to your site. In particular, you are not sure which roles users can do and can't do.
So in this guide, we're going to share what exactly user roles are and how to use them to manage your site with ease.
Let's dive in!
What WordPress User Roles Are
First of all, every WordPress website will have the user WordPress Roles to control the rights of each user as well as improve its security.
So what are users? When someone registered on your website, we can consider he/she is a user. Every user has a specific role when creating an account like a subscriber or contributor.
User roles are actions that they can perform on your website. These actions are considered as capabilities or permissions.
Once you successfully installed WordPress, there are 5 user roles available to check: Administrator, editor, author, contributor, and subscriber user roles.
Now we will explain all 5 of user roles and their capabilities as well as permissions.
Administrator – WordPress User Roles
Basically, the administrator is a strong and powerful user role compared to other WordPress User Roles. If users have this role, they are able to do everything on your website such as add posts, edit posts, delete posts/ pages, publish posts/ pages, delete & edit published posts, upload files, edit plugins/ themes, delete plugins/ themes, install plugins/ themes, update plugins/ themes, etc.
Moreover, administrators are able to see all the users and their information, create, edit, delete, promote, and even remove them from your admin site.
Overall, this administrator role should be for site owners. The reason is it provides a full set of all functions on the backend. So, you should be careful to grant this administrator user access if you're running a multi-user site.
Editor – WordPress Users
As its name implies, the edit role gives WordPress Users the access to manage all content parts on your site. If they plan to add a new post, edit, and then publish it, it's possible. Apart from editing their own posts/ pages, they can edit or delete others' posts/ pages as well. Moderating comments or deleting comments are available with this role. Of course, this user role can set up the categories and links for each post.
However, this editor role can't change the settings of your WordPress site. Plus, installing plugins & themes and adding new users are impossible too.
Author
Author is the next one we have to explain in WordPress User Roles. Users with this role have less access compared to editor roles. They can only add or write their own blog posts. Editing, publishing, and deleting their posts are possible too. Together with that, they can upload files too.
For other posts, they can not edit or delete others' posts and pages. Plus, this author user role can not create any new categories. However, they can select the categories available on the dashboard.
For pending reviews or publish reviews, they can check and see what reviews are. But they can not do anything more like moderating, approving, or deleting comments.
Of course, this role does not offer the ability to add or edit plugins & themes, do site's settings, or remove users.
In short, this role is lower risk than the above roles since it mainly allows on creating content only.
Contributor
Contributor role only allows users to read everything on your website and edit & delete their own post. Publish posts are not allowed. While writing their post, they can select those categories available on the admin site and create new tags for that post.
Contributors also have a hard time making their post awesome since they can not upload files like images on their own posts.
Similar to the author role, users can view any comments on your site. But they can not do anything with these comments.
Changing anything on website settings or adding plugins or deleting themes are not allowed with this role.
All in all, it's a perfect choice if you give access to new User WordPress content creators.
Subscriber
This subscriber role gives users the fewest permissions in 5 WordPress User Roles. They can only read your site, login or sign out, update their profiles like name or photo, change their account passwords.
There is no option to add posts, view comments, change settings, and other things in your admin area.
If you are running a membership website with a powerful WordPress Membership Plugin or an online shop website with a collection of WordPress eCommerce Themes, users can easily create and register to login.
Super Admin
Some of you might wonder why we mention this Super Admin role? Because you did not see it on your site admin. Actually, this role is only available on multisite networks.
Users with this role have lots of permissions as well as capabilities to control on a multi-site network like adding sites or deleting sites. What's more? Installing or deleting plugins and themes, modifying network's users, and performing other network wide actions on a multisite setup are possible.
After all, the super admin role is similar to the administrator role but it works on multisite networks.
How to Customize Existing User Roles & Permissions?
Every WordPress site has default user roles to let you manage with ease. For instance, you can assign the Editor role for senior employees, the Author role for junior employees, and the Contributor role for guest authors.
In addition, it's possible to customize the existing WordPress user roles and WordPress Capabilities based on your specific needs. No need to follow all default user roles like above.
For example, the default WordPress Editor Role allows users to moderate comments, upload media files, edit published posts, and delete others' posts. But now you don't want your Editor role user to have the capability to delete others' posts. So how to customize it?
To solve this problem, let's try Members. It's free membership and user role editor plugin that you can download on WordPress.org. Plus, Members has over 200 thousands active installs with simple interface. Even if this is your first time using Members, you can still create, manage, and make changes for user roles quickly and easily. Members plugin offers tons of awesome features like allowing you to generate, edit, or delete capabilities for different roles, supporting multi-user roles, restricting the content, and others.
To have this useful plugin, you should install as well as activate it on your dashboard area. You can refer to How to Install WordPress Plugins if you need it.
Once you have successfully installed Members, hover your mouse to find Members on your sidebar and click Roles to edit as your requirement.
After that, a Roles screen will appear and simply click Edit for the Author role, for example.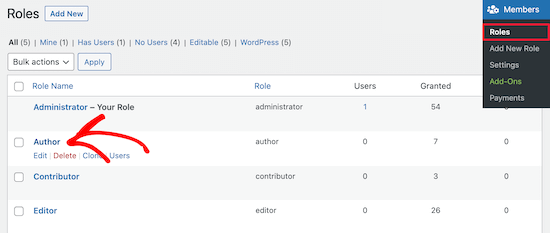 Now you can see all options of the Edit Role Capabilities of an Author role like Edit Posts, Edit others' posts, Delete Posts, etc.

Together with that, there are Grant or Deny boxes to select. If you plan to remove any role, you can check the Deny box. In the same way, you can grant the capability of that role by ticking the Grant box.
Don't forget to click the Update button once you are done with the customization. All users with that role will get updated permissions you have changed.
How to Create Custom WordPress User Roles?
Members plugin is a great deal since it supports you to create custom WordPress User Roles as well.
Firstly, hover your mouse to Members on your sidebar admin and click Add New Role. After that, you can type a name for that new role.
For example, we create a Developer role. So we will type Developer at the first bar and go to Appearance to grant some capabilities like edit themes, install themes, update themes.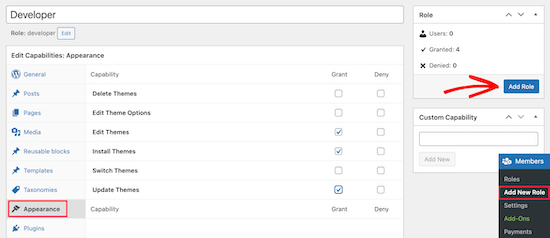 Once you finish, simply click the Add Role button to save the Developer role with their WordPress User Permissions.
For creating a new user and granting that user role, you can go to Users on your sidebar and click Add New.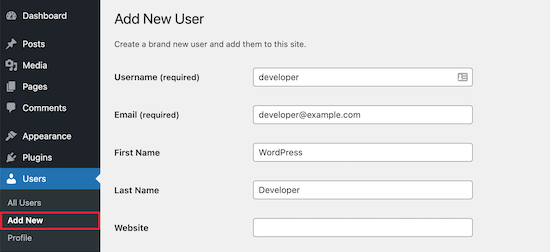 After filling all required information, scroll down until the User Roles section of your screen to tick the user roles boxes then click Add New User. Like in this example and the above granted one, we created a new user named WordPress Developer and we assigned the Developer role to the new user. It means this WordPress Developer user can edit, install, and update themes.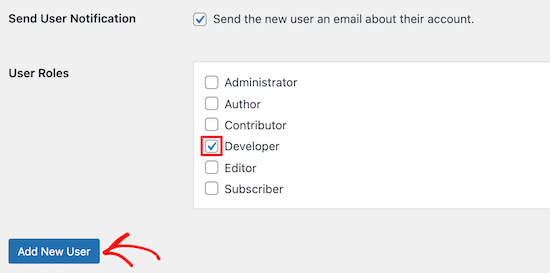 So you have created a new WordPress user successfully and assigned a role you want for that new user with simple clicks only. Is it easy?
Final Thoughts
Hopefully, this article is clear and detailed enough for you to understand WordPress User Roles, from administrator to editor, from author and contributor to subscriber. Each default role has different permissions or capabilities but you are able to customize the existing role or create a new user role, depending on your purposes.
Read More: 6 Best Security Plugins for WordPress Compared in 2021