If you need a custom WordPress website, a WordPress development agency can help you.
A WordPress development agency can provide you with a team of coding and design experts who can create a custom theme or plugin for your site. They can also help you with WordPress migration and maintenance, as well as digital marketing services.
In this article, we will show you some of the best WordPress development agencies that can help you build the custom website you want.
Here are some additional articles on related topics:
Advantages of Best WordPress Development Agency
The first thing everyone knows about WordPress is its simplicity. Most people will not require the services of a designer or developer to build a WordPress website.
But once your website begins to generate revenue, you may want to consider developing a custom website, a custom WordPress theme, or custom plugins. In that case, you'll need a developer to assist you with the task.
Hiring a freelance developer is a good solution to write the necessary code for you.
However, you might prefer to hire a WordPress development agency for larger jobs. This is a team of experts who use their skills together to provide WordPress development services and other services, such as website maintenance, WordPress migration, website security, WordPress backup, web development and design, plugin and theme development, marketing, and more.
Obviously, a top WordPress development agency will have a higher price than a freelancer, so they are commonly used for enterprise and large-scale websites. 
You may want to compare prices from WordPress theme developers, web designers, and development agencies before making a decision.
To take advantage of the speed and security of WordPress.com's VIP-managed hosting services, you should also look for an agency that is a partner of WordPress.com VIP.
Ready to take your WordPress website to the next level? Here are a few of the best development agencies to hire:
rtCamp – WordPress Development Agency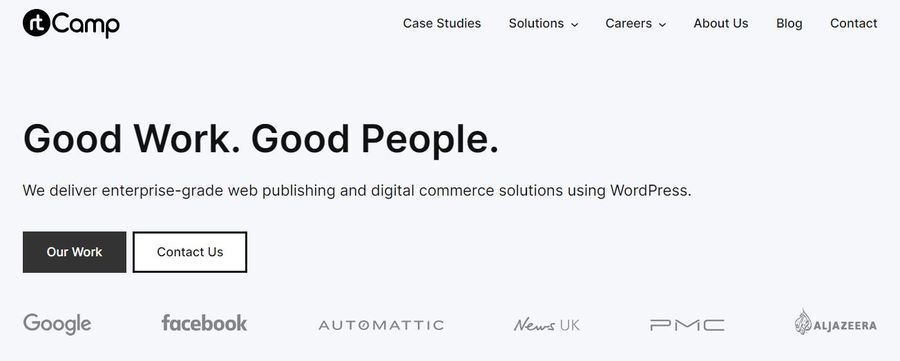 rtCamp is one of leading global best WordPress development agencies specializing in enterprise-scale WordPress solutions.
They offer a wide range of services, including custom theme and plugin development, WooCommerce development, website migration, and more. They have also created several of the best free WordPress themes and plugins for the WordPress community, such as rtMoto and rtPanel.
As a WordPress.com VIP Gold partner, rtCamp has a proven track record of success working with Fortune 500 companies, government agencies, and household brands like General Electric.
10up – Best WordPress Development Company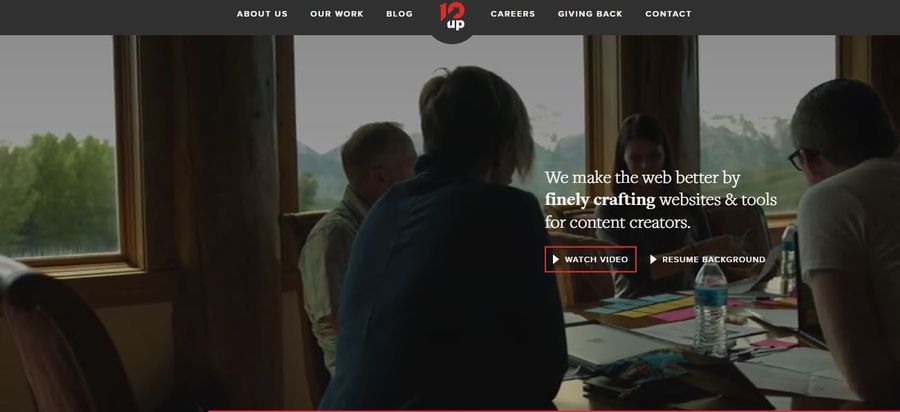 10up is one of best WordPress development company with many years of experience.
Website design, custom plugin development, and website optimization are among their offerings.
They also contribute to the WordPress.org project by submitting patches and hiring dedicated staff to work on it.
It has also created 25 free plugins, including MPL-Publisher, which can assist you in converting your blog posts into ebooks. They have contributed to the core jQuery project and have supported the jQuery Foundation's website.
10up has a proven track record of success, working with clients like WP Engine and GoDaddy. They have also worked with organizations like the World Economic Forum, which demonstrates their ability to handle complex and high-profile projects.
Human Made – WordPress Development Agency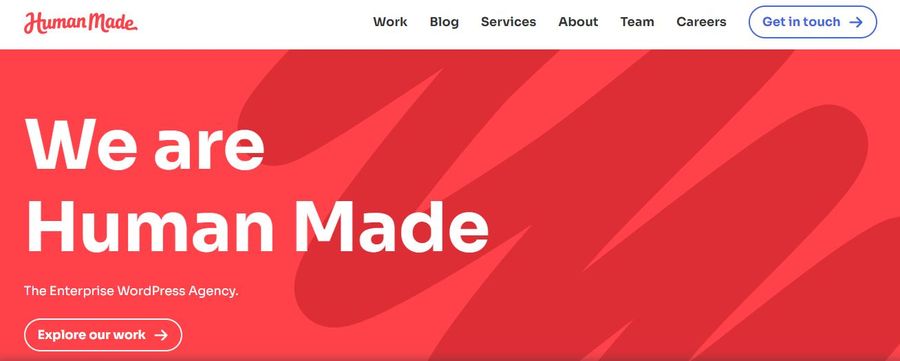 Human Made is a UK-based WordPress development agency that delivers WordPress solutions for enterprises to global brands like USA Today, Skype, News UK, TechCrunch, Sony, PayPal, Airbnb, etc.
It's an official WordPress.com VIP partner. Moreover, Human Made comes with custom WordPress design and development, theme and plugin development, and hosting services.
Human Made is a company that is passionate about the WordPress community. They sponsor 12 contributors to open-source projects and offer several free and paid WordPress plugins to help others succeed.
Multidots – WordPress Development Agency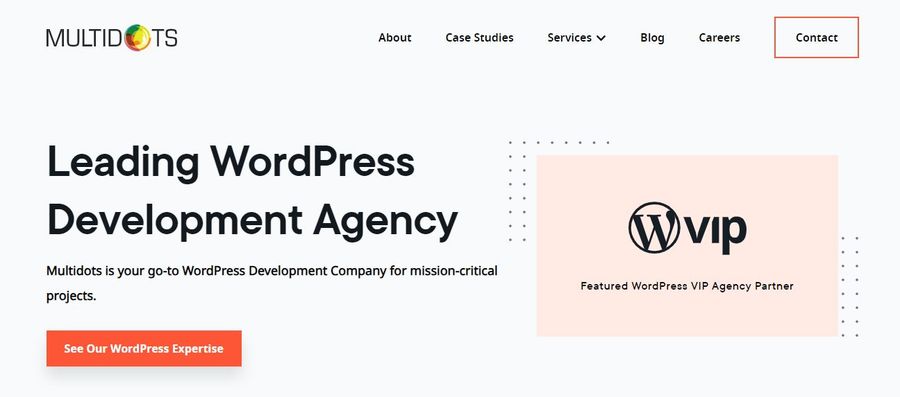 Multidots is a WordPress development agency that we highly recommend next. It has over 10 years of experience and multiple awards. They assist businesses in publishing content on a large scale.
Their services include custom plugin development, theme development, WordPress implementation, WordPress migration, and website optimization.
They can help you with all things WordPress, including custom theme and plugin development, WordPress migration, website optimization, and more.
This team is behind MultiCollab, a plugin that brings Google Docs-style collaboration to the WordPress block editor. They also sponsor seven WordPress core contributors and are WordPress.com VIP Gold partners.
They have assisted businesses like Ask Media Group, PepsiCo, MIT, Warner Bros., and Ford in expanding their online presence. They also developed a centralized sneaker data repository for Sneaker News.
Fixel – WordPress Web Design Agency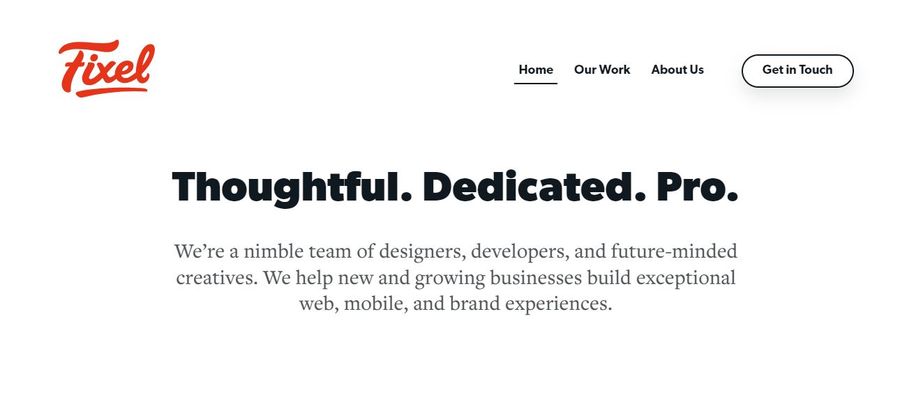 Fixel is an Oregon-based small but versatile WordPress web design agency. In 2008, a team of freelancers joined forces to achieve more by combining their talents.
Web design, web development, and branding are some of their services. They can quickly create high-quality websites, such as online store sites and membership sites, by using the block editor.
The team will work with you directly rather than going through managers because they are a small team of experts. This configuration simplifies the process and allows you to reach your objectives more quickly.
Modern Tribe – WordPress Website Development Company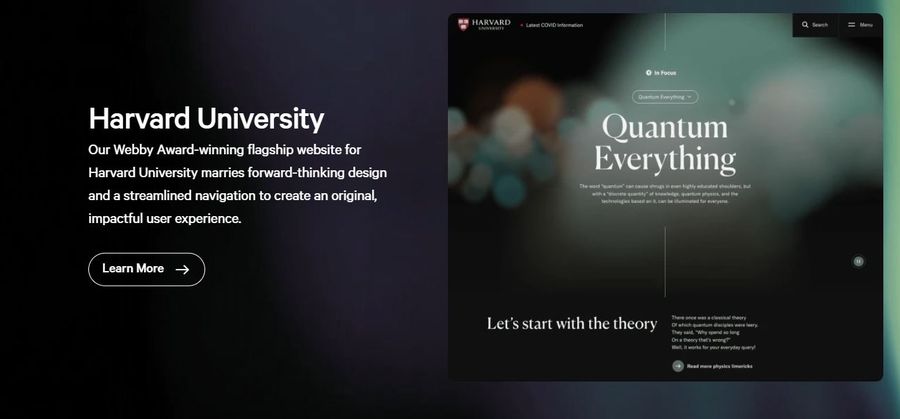 Modern Tribe is a WordPress website development company with a different style. They are a team of freelancers and experts who work well together. They have a talented team of 72 people in 45 cities and five countries.
Modern Tribe has created hundreds of websites, and they usually have over 20 projects going on at the same time. The company provides different services, such as WordPress strategy, expertise, design, and more.
Moreover, they are known as the creators of the famous plugin – Events Calendar plugin and contributors to the development of BigCommerce.
They have made many famous websites and software for big and small companies and institutions. Some of their clients are famous names in media, education, and technology, such as MTV, Harvard, eBay, the New York Times, etc.
DevriX – WordPress Development Agency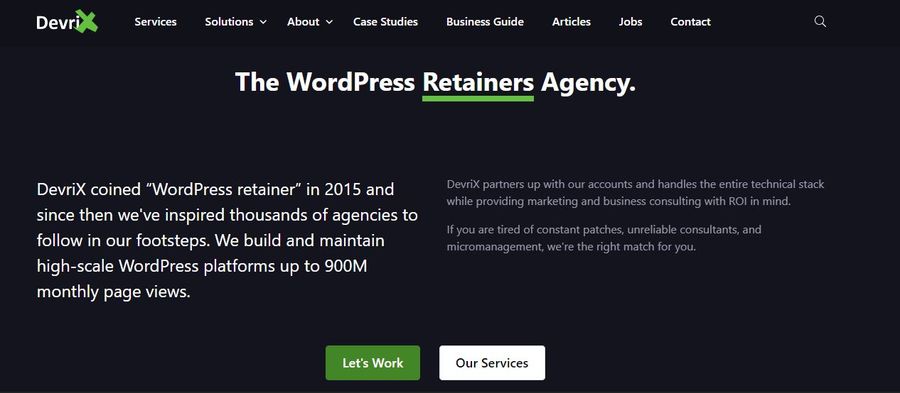 DevriX is another famous WordPress development agency based in Europe. They offer personalized digital services, WordPress maintenance, and continuous improvement.
They offer many WordPress services, such as web redesign or custom plugin development.
Secure and scalable WordPress websites for healthcare, finance, and eCommerce industries are their main focus.
DevriX also makes regular contributions to the WordPress core platform. In fact, the team includes nine WordPress core contributors. They've also provided 14 of the best free plugins.
The BBC, Yahoo, Forbes, Inc, and more are among their clients.
WebFX – WordPress Web Design Services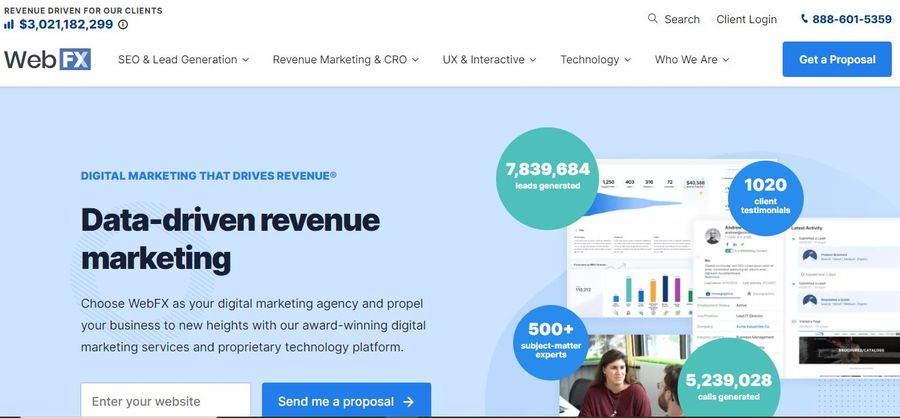 WebFX offers businesses WordPress web design services that are personalized. They also focus on SEO.
They design responsive, mobile-friendly, and SEO-friendly WordPress websites. They have a proven track record of providing high-quality WordPress development services with guaranteed outcomes.
Hilton, Rowan University, Verizon, and Fujifilm are among their customers.
Which Is the Best WordPress Agency?
Choosing the right WordPress web design company is an important decision, as your website is the foundation of your online presence. When evaluating different companies, consider their experience, expertise, and portfolio. It is also important to find a company that communicates well and understands your specific needs.
Fixel is a perfect WordPress agency option for quick website building with a Gutenberg layout. Human Made and 10up are suitable for custom website and plugin development, with a lot of experience and big clients. rtCamp and Multidots are recommended for complex WordPress projects like large eCommerce or eLearning websites for enterprise-level customers.
Read More: 10+ Best CMS Platforms To Create A Website (Compared & Ranked)
---
Contact us, ThimPress:
Website: https://thimpress.com/
Fanpage: https://www.facebook.com/ThimPress
Youtube: https://www.youtube.com/c/ThimPressDesign
Twitter: https://twitter.com/thimpress