What is Shopify Plus? What is it used for?
In 2014, Shopify brought out the Shopify Plus program, a fully hosted e-commerce platform built for online brands and stores. With the addition of a substantial set of features to their Plus offering, Shopify has significantly eroded the market share of established enterprise users.
Also, Shopify is trusted by a lot of enormous brands around the world. Therefore, let's find out "What Is Shopify Plus?" and its elements – plans, features, price, and feedback.
What Is Shopify Plus: True Definition of Shopify Plus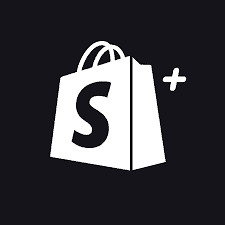 Here, Shopify Plus is an e-commerce platform that offers all businessmen and entrepreneurs everything they need to make & run an online retailer. Also, "Shopify Plus What Is" can be defined as a SaaS for operating online businesses.
Shopify Plus gives you all essential features for maintaining your store or even developing it further, making it suitable for brands & companies that are searching for ways to climb up better places.
Pricing Plans of Shopify Plus
We all know that Shopify pricing plans are obvious and easy to witness:
Basic: $25/month
Shopify: $65/month
Advanced: $399/month
In contrast, you may wonder "What Is Shopify Plus Plan". Pricing tiers of Shopify Plus is a little bit more complicated as you will pay based on your channel's sale volumes. On average, a brand will pay a minimum of $2000/month for standard fees including setups & integrations. Moreover, Shopify Plus will switch to a revenue-relied system if your store's revenue reaches $800.000. The fee will be around $40.000 maxed out monthly. That should be the best answer for "What Is the Cost of Shopify Plus".
What Is Shopify Plus: Features Detail
To know the features of Shopify Plus, you should know Shopify well since all Shopify's features will be included in Shopify Plus.
What Is Shopify Plus: Shopify Features
As we know, Shopify stays as a simple but user-friendly e-commerce platform. Therefore, it provides us with some of the best features for making your site unique and profitable.
First of all, it offers you a simple store with free/premium Shopify themes, unique domain names, branding stuff, and other customizations just like when you create a WordPress site.
Then, here comes store management and shopping-involved options including abandoned cart recovery/follow-up, customer profile, automatic rates, returns, and refunds.
Of course, without SEO & Marketing, your online store will barely make revenue or even get lost on the Internet. Some of them are basic SEO on-page customizations, Google Ads access, social media integrations, full insights, analytics, mobile app options, and more.
Lastly, Shopify owns a great and dedicated support board that works 24/7 by email, live chat, or phone.
Shopify Plus Features
What are Shopify Plus's Features? Why does Shopify develop this app?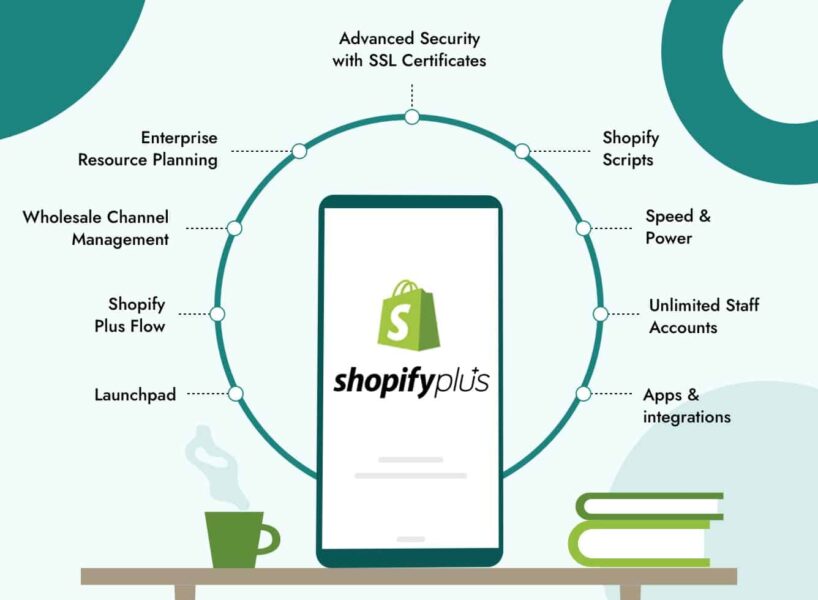 Shopify Plus has all the features in Shopify, alongside additional functions to increase conversion rates and revenue. Also, you can manage all of your Shopify stores from a single place. Also, clients can access Shopify Plus support API calls that allow them to integrate with other apps. In addition, you can get access to the Shopify Plus partner program, Merchant Success program, Shopify POS Pro, and more.
Besides, some bonus features for the "Plus":
Ability to add up to 100 themes to your Shopify Plus account: The more themes you can add to your stores, the more design you can own to play around with, of course! The additional space also allows you to keep published themes and their customizations. Moreover, with Shopify Plus, you can access Liquid – more code and CSS customizations.
Customizable checkout: You can make a more customizable checkout that improves a personalized user experience. For example: "Buy 1 Get 1 free" checkout or "Discount 50% for the 2nd product you buy".
Unlimited staff accounts: When you develop your business, your staff will get bigger and bigger daily since you will need more people to handle more work. The limitless staff account feature will let you widen your business very much.
Shopify Flow availability: Shopify Flow is a series of tasks automation capabilities triggered by events. Also, you can add a flow to re-order your inventory after a while.
Advanced multi-social channel capabilities: Shopify Plus will help you set up social media business channels with the most popular platforms like Facebook Messenger and Instagram.
What Is Shopify Plus: Shopify or Shopify Plus?
When choosing an e-commerce platform for your online stores, it's essential to consider factors like available budgets, good/bad customer support, reasonable contracts, and additional functions. Also, considering making the leap from Shopify to Shopify Plus will require you to take a deeper look at these factors in detail and determine which ones will survive your decision.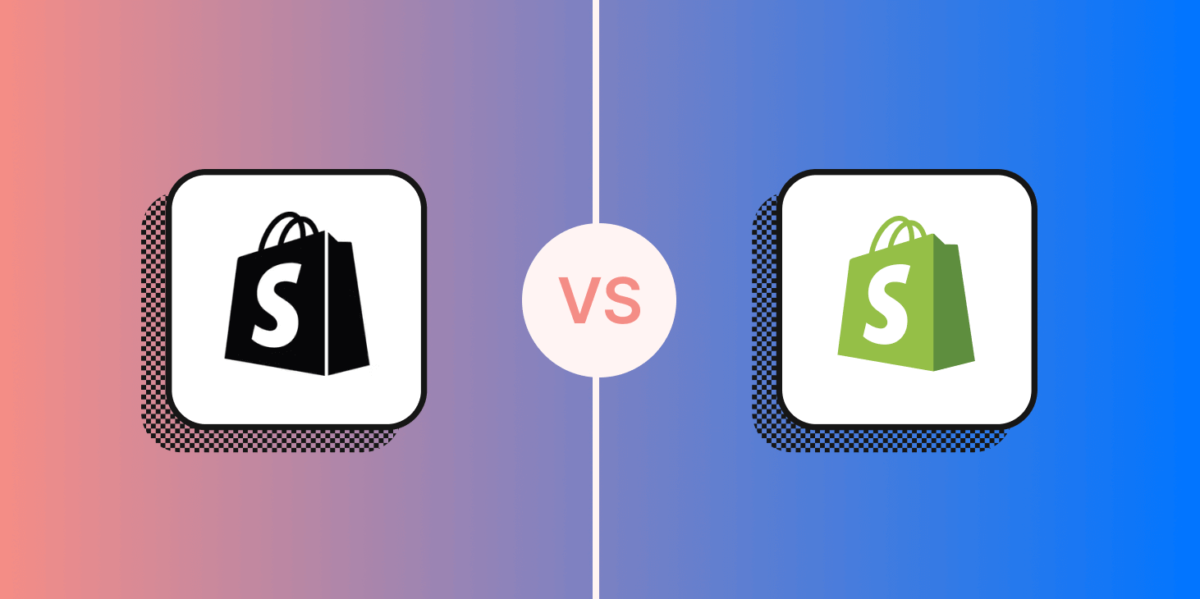 Yeah, you should solve the question "What Is the Difference Between Shopify and Shopify Plus".
| | | |
| --- | --- | --- |
| Factor | Shopify | Shopify Plus |
| Account Manager | Support users via live chat, email, and phone. You will have to find Shopify experts if there are any hard cases. | Offers personalized support by a Launch Engineer – a feature that lets you put your hand on all aspects of your site. |
| Liquid Access | Construct & edit your templates via the Shopify theme editor, therefore, hard to switch to a new theme. | Have access to Liquid – Shopify's theme language. Therefore, you can edit codes in your backend. |
| Limitless Number of Staff Accounts | Limit of staff accounts. | The unlimited number of staff accounts. |
| Checkout Control | Requires specific apps to customize the checkout process. | Able to customize your checkout process directly. Users can get access to Shopify Scripts which gives you customizations of shipping procedures, forms, customer fields, and payment gateways. |
| More API Integrations | Limited APIs with 3rd apps. | Provide advanced APIs such as User, GiftCard, & Multipass (GiftCard is a payment method, User is to add/edit/delete/retrieve staff info, and Multipass redirects visitors to your Shopify store without synchronizing the customer database & separate login tickets). Your store can integrate with custom apps or make your own private apps. |
| Exclusive Apps | Aren't available to normal Shopify users. | Access to some premium exclusive Shopify apps including Wholesale channel, Launchpad, Shopify Flow, Script Editor, Transporter app, and Bulk Account Inviter. |
| Integrations with Existing Platforms | An endless number of apps connect to your Shopify store. | An endless number of apps connect to your Shopify store. Also, other platforms that connect to Shopify Plus are: Product information management (PIM)Enterprise resource planning (ERP)Inventory and order management (IMS and OMS)Customer relationship management (CRM)Third-party logistics (3PL)Warehouse management software (WMS)Global fulfillment partners |
| Access to Other Resources | Unable to reach a lot of Shopify deep resources. | Offers allowance to resources: Merchant Success program, Shopify Plus Partners, Official Shopify Plus Facebook Community, Partner Directory, Access to exclusive beta programs, and Shopify Plus Academy |
| Unified Dashboard to Manage Multiple Stores | Normal dashboard. | New dashboard to manage all stores, insights, staff accounts, and automation tools. Also, this new Shopify Plus dashboard lets you have a total overview of your business and control all your stores from a single place or every device. |
| Payment Processing Fees | Basic: 2.9% + 30 cents for online card sales, flat 2.7% for in-person sales. Shopify: 2.6% + 30 cents for online card sales, flat 2.5% for in-person sales. Advanced: 2.4% + 30 cents for online card sales, flat 2.4% for in-person sales. | 0.15%/transaction for 3rd party payment processors. If you use Shopify Payments, this fee is free. |
| Detailed Analytics Options | Provides detailed analytics where you can view normal stats and export professional reports. | Shopify Plus works with top-notch analytics brands to keep you up with the latest trends in your store. |
| Contract Time Requirement | Monthly/Annually. | Monthly/Annually. |
| Sale Limits | Technically, Shopify suggests a maximum of 100.000 sales. | No limit on sales. |
Therefore, we can determine your selection between Shopify and Shopify Plus. Shopify will fit all e-commerce businesses of all sizes under $1 million in revenue annually, while Shopify Plus will get on well with Enterprise-level businesses over $1 million in revenue annually.
What Is Shopify Plus: Additional Knowledge
Besides our main topic today – "What is Shopify Plus", you can find out more about Shopify below:
What Is Shopify Dropshipping – Is It Still Worthy in 2023?
How to Change Shopify Theme without Losing Your Content
Is Shopify Worth It? 2023 Unbelievable Answer
What Is Shopify Plus: Last Words
Shopify is a user-friendly and multi-channel e-commerce platform for all business fields and sizes. With the general development of online business, many stores and retailers will need to upgrade their Shopify plans and Shopify Plus is an advanced option there.
Due to the high cost, Shopify Plus is more than a top-tier Shopify plan – It contributes to the brands with large funds and significant needs of support. To be fair, if you are not making million-dollar revenue, stick your shop with a normal Shopify plan.
Read more: Video Downloader for Mac: 10 Most Popular
---
Contact us, ThimPress:
Website: https://thimpress.com/
Fanpage: https://www.facebook.com/ThimPress
Youtube: https://www.youtube.com/c/ThimPressDesign
Twitter: https://twitter.com/thimpress