Undoubtedly, Chrome is one of the most popular Internet browsers in the world. Over the years, its convenience and fast-loading speed have granted it a bold place. With the development of technology, people using Chrome can have more tools and widgets to satisfy themselves. On the other side, a lot of users feel awkward when using browsers to scroll up/down search engine results or play videos. Well, Chrome can't escape it, too. Here, Chrome stays compatible with a big bunch of Free Video Downloader Chrome Extension collections. Chrome can easily slay other competitors because of the variety of add-ons and extensions, enhancing users' experience. Also, people can make use of the enormous third-party free video downloaders.
Therefore, in this article, let's discuss and go on the best Video Downloader Chrome Extension list for everyone! We will mention the pros and cons so you can have a more certain view.
Also, you may need more video downloader tools for other platforms:
Is there a Chrome Extension to Download Videos, Both Free and Paid?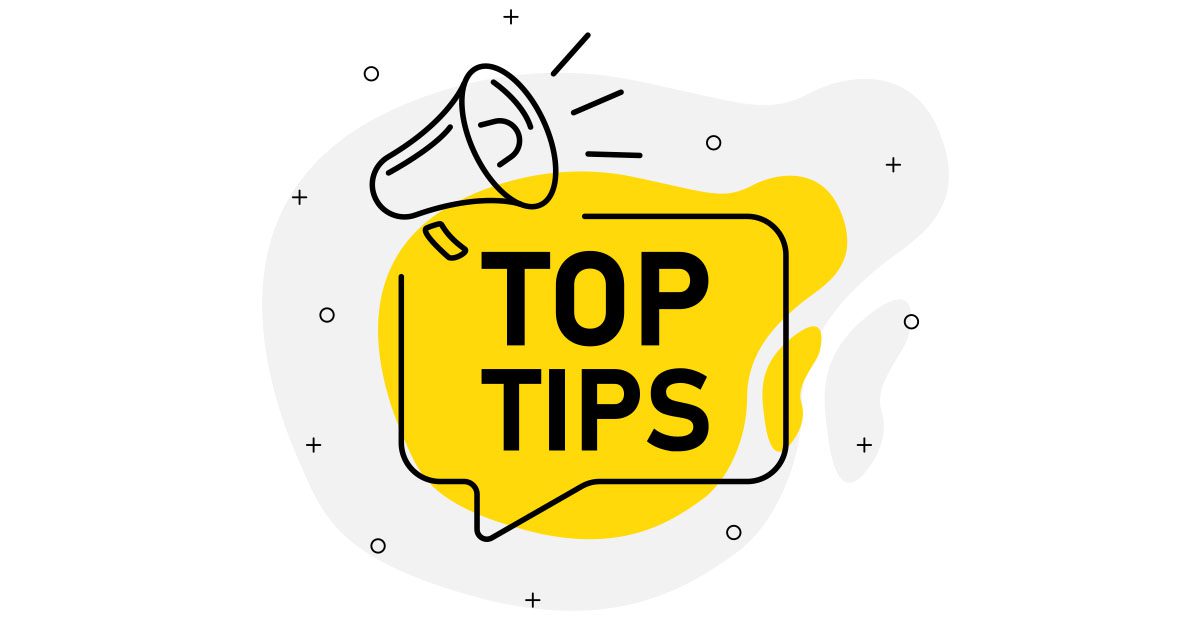 Particularly, the video downloader's interface should stay simple and clear to navigate. It MUST be adapted well to Chrome, if not it would be a mess. From the past to the present, people choose the most suitable video downloader Chrome extension for 'em mainly based on automation. Are you expecting it can automatically recognize the videos and identify them for you to download? Or is it able to download videos from multiple platforms fluently? Well, you are right!
Besides them, your Video Downloader extension for Chrome should fit your budget well. Just kidding, this post is all about Video Downloader Extension for Chrome Free. Therefore, you can make use of the Video Downloader Extension for Chrome Free with the core functions.
In addition, for video downloaders beside this Chrome Video Downloader list, you can read more about:
10 Best Free Video Downloader Apps For Android Devices In 2022
10 Best Free Video Downloader Apps For iPhone & iPad
FAQs for Better Looks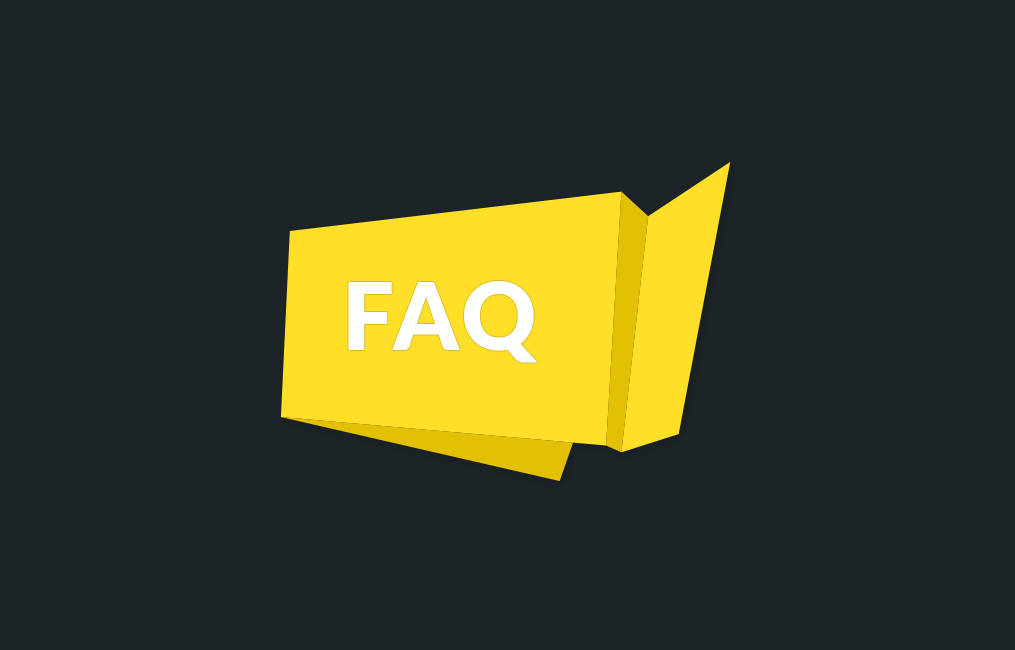 Q: Is that legal for me to use a free video downloader Chrome extension to download online videos?
A: Of course, they stay legal if you download videos for your personal use or content ingredients. However, you will violate the law if you download videos protected by copyright law without any permission.
Q: Is the free Free Video Downloader Chrome Extension collection good enough?
A: Well, it will have all the basic features of a video downloader extension. However, you can use some for free permanently or only for a while. Considering that for your use.
Q: Free and Paid, which free video downloader Chrome extension is better?
A: Basically, everyone can use free downloaders since they have full basic features and cost no fee. However, if you use it for work, I will recommend a paid/premium one. Thus, you will have all the basic features and additional advanced functions.
Best Free Video Downloader Extension for Chrome
Okay, it's time to find out which Free Video Downloader Chrome Extension will fit you. Let's go
Video Downloader Professional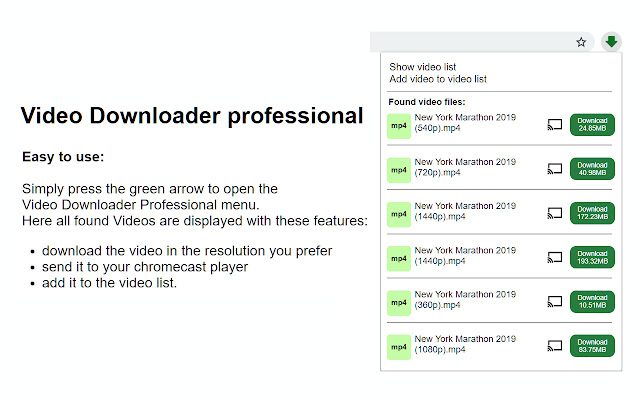 If you love downloading videos to your devices, Video Downloader Professional will be a good choice for you. For Microsoft users, this widget becomes superb since it integrates completely with this system.
Here, 15,000+ websites don't sound so big but it's a large number with this tool. The downloader supports video downloading from over 15,000 video websites including YouTube, Facebook, Twitch, and more. Particularly, it supports a video downloader's features: saving videos, multi types of media, downloaded file converter, and live stream downloader. Besides, some of the advanced ones are YouTube subtitle downloaders, 3D/VR video downloaders, and download private videos & playlists.
On the Internet, people use hundreds of browsers and so do this widget's users. Since we usually check the compatibility of the widget with many browsers, you can fully make use of this video widget.
You can use the free version or acquire the premium version here.
Video Downloader PLUS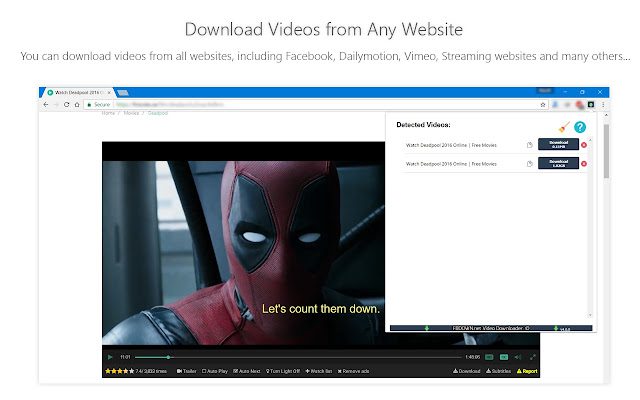 Used by 900.000+ users and receiving a 4/5-star rating, Video Downloader PLUS will help you download videos from almost any site you see. Besides, you can download them in many types of media.
Indeed, you can save videos from almost any website and get as many videos simultaneously as possible. Understanding the need of users, also allows you to download videos in many media types based on your need or demand. You can call out some of those types like .mp4, .wmv, .flv, .mp3, etc. One more thing, you may record the streaming videos online and fly them to your PC's folder immediately.
Completely free and has no ads/limits, it comes up with some registrations including forbidding adult/copyrighted videos. Overall, this free video downloader Chrome extension will bring you convenience when downloading videos.
Video Downloader Proff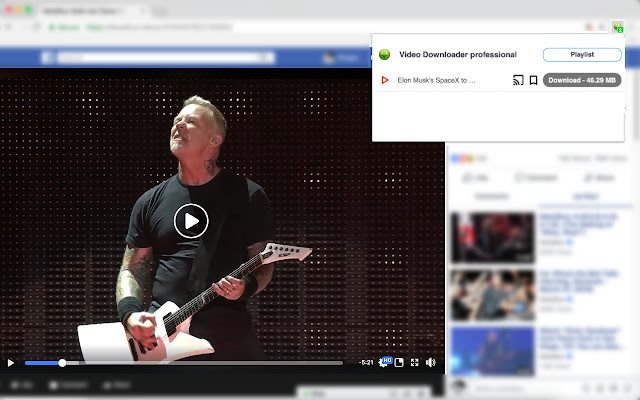 Following, the Video Downloader Proff extension will prove the power of a lite, powerful, and free online video downloader chrome extension
Here, you can find the way it works easily. First, it will detect if that site has video content and notify them in the extension's dropdown menu. Then, you will choose the wanted video + media type + quality and grab it to your chosen download folder. Moreover, it can work among video websites, social media channels, and more. As long as it is not copyrighted or adult-related, your download ability stays infinite.
Also, this free video downloader Chrome extension only allows you to download normal videos, not streaming ones.
Coconut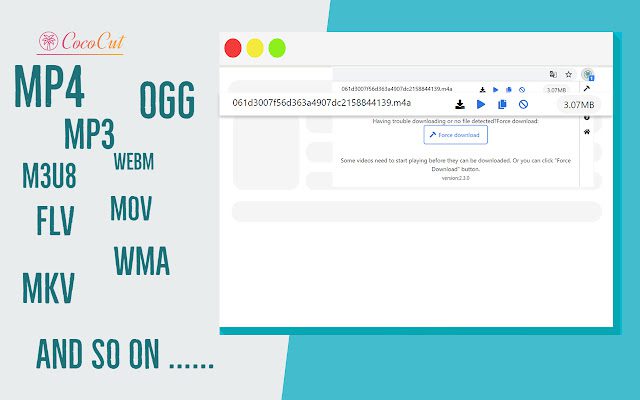 With Coconut, Chrome users can 1-click download videos and audio. Very fast, right? Of course! Moreover, you can view and download from thousands of websites simultaneously.
In particular, Coconut – a free video downloader Chrome extension helps you get videos and audio in mostly all types (from .mp4, .flv, .f4v, .webm to .wmv, .mp3, .wma, and a lot more). Sounds neat! However, do you know what the coolest part is? HLS streaming download function! Specifically, Coconut will detect M3U8 files and download TS files from those. Then, the system will convert them to a .mp4 file and let you download them. Indeed, the process will happen only in seconds.
Besides, you will need no account to get started. Simply add it to your Chrome and put your favorite videos to your storage, you will love it!
1 Video Downloader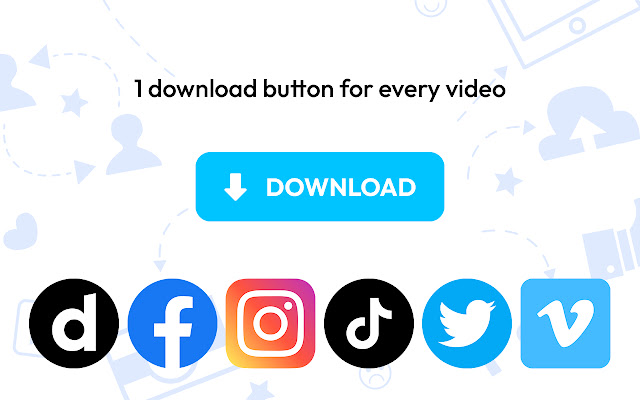 Like the name, 1 Video Downloader will let you download your wanted video in only 1 click. Also, it allows you to get those videos in many formats and quality.
For people, 1 Video Downloader stands as a popular and normal Free video downloader chrome extension. For content makers and video-related jobs, it stays as the best widget for their work. Thus, it will help you download the videos fast and in high quality. Besides, its users can save videos from live streams as well. In case it's hard to download directly, it supports recording mode to record videos for later use. Now, enjoy downloading videos from social media channels without opening another website!
Vimeo™ Video Downloader – Simple Downloader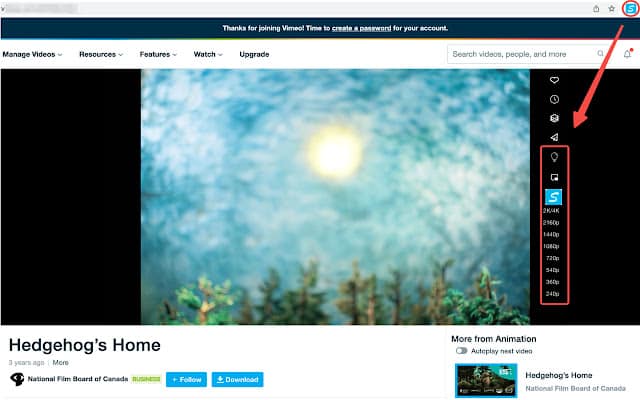 Vimeo has risen as one of the best video platforms on the Internet in this decade. People can upload videos there without worrying that they can be used for other purposes. However, if the video is a great one for many people and you can download it, what can you do? Sit there and wait for wifi to watch it?
Nah, Vimeo™ Video Downloader – Simple Downloader extension will come in and deal with it!
When you add this extension to your Chrome, it will add a bunch of buttons to video sites, video playlists, and embedded videos. Then, what will you do? Of course, simply choose the quality/format you love and click the "Download" button. Well done, you have just successfully downloaded a video from Vimeo!
In advance, it supports multi-languages and gets updated regularly.
Viddex Video Downloader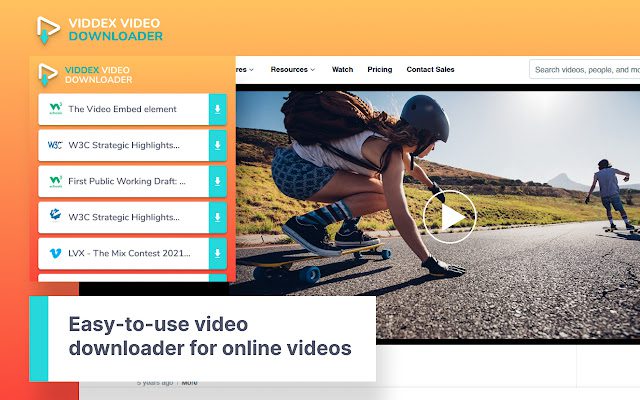 Next, Viddex Video Downloader is another free video downloader Chrome extension that will help you get videos from Vimeo. Like Video Downloader for Vimeo, you can download from Vimeo with just one click. Also, you can choose the quality and format freely.
The only disadvantage of this video downloader is that it can't work on YouTube, Facebook, or any other platform having restrictive Terms of Service.
Universal Video Downloader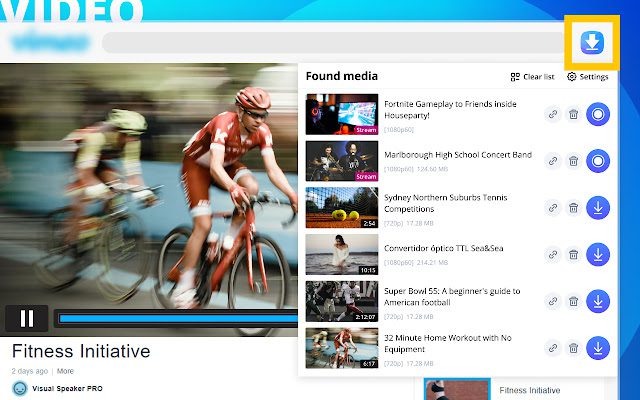 With Universal Video Downloader, your Chrome can help you bring those wanted videos to your storage for later use and review. It's a responsive and powerful tool that will work on 95% of video-hosting platforms and social media channels.
The process is simple. First. It will detect the video sections and areas. Then, a blue button will show up and allow you to make the right choice of quality and format. Especially, this downloader supports around 99% of all existing formats including .mp4, .flv, .webm, etc. What a useful and free video downloader Chrome extension for all users!
Good Video Downloader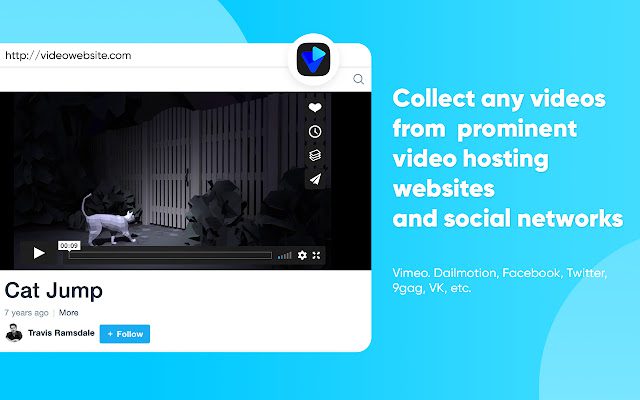 We have 2 extensions from Chrome helping downloads from Vimeo, and now we will have 1 focusing on social media channels! Good Video Downloader is a video downloader Chrome extension that focuses on social platforms like Facebook, YouTube, Twitter, Instagram, and more. The idea of it is to help you save videos and audio from these platforms. Undoubtedly, it has made a good job!
Here, you will only have to do 2 things. First, you will click the icon in Chrome's top right area. Second, you choose the suitable format/resolution and download. Easy, right?
Video Downloader Basic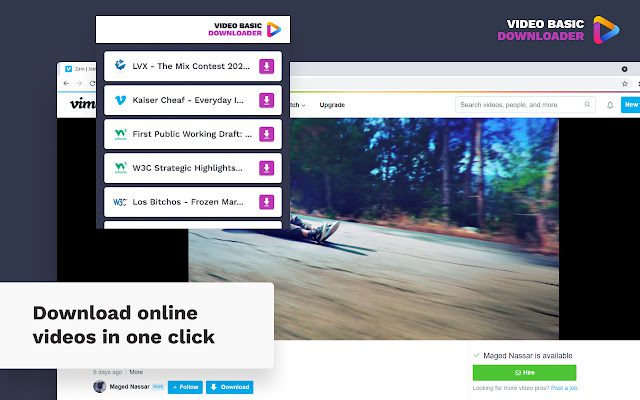 Unlike other video downloaders Chrome Basic, Video Downloader Basic supports and works mainly with HTML5 videos. Of course, it can work on other sites as well. However, this free video downloader Chrome extension can't get videos from YouTube, Facebook, Instagram, and Twitter due to the policy.
Like other video downloaders, it detects and shows options for the users before they download. Also, it mainly supports HTML5, MP4, and WEBP formats. Surprisingly, it increases the number of Vimeo downloaders in this post from 2 to 3. This should be the most basic Free Video Downloader Chrome Extension.
Which Is The Best Free Video Downloader Chrome Extension For You?
If you want to see a suggestion from us, here is the Free Video Downloader Chrome Extension list that we make based on many standards:
Free Video Downloader Chrome Extension: Conclusion
If you are here, you have just read our top-listed Free Video Downloader Chrome Extension collection. The list is here, and the choice is yours! Make the best decision to save your favorite videos for later use.
Read more: How to Save Facebook Video to iPhone: Learn the Methods
---
Contact us, ThimPress:
Website: https://thimpress.com/
Fanpage: https://www.facebook.com/ThimPress
Youtube: https://www.youtube.com/c/ThimPressDesign
Twitter: https://twitter.com/thimpress