For a website to attract visitors, it is important that it has fast loading speed, efficiency and stable performance. In order to keep WordPress running smoothly, a lot of work has to be done with the database. The content on the web can be great, but you won't keep up with the traffic unless it works like a finely tuned machine. Just explain more about WordPress Maintenance Service of the website and why it is important to the continued success of your website. Let's start now!
What is WordPress Maintenance Service?
In summary, WordPress Maintenance Service refers to a set of actions needed to continuously monitor and enhance your WordPress site's security, speed and quality.
Save your site:

this means saving several copies of the site in many places, allowing you to restore it to erase your data in case of a security violation or an error.

WordPress core updated:

WordPress is continually updated to remedy vulnerabilities, such as security issues. To guarantee that your website is as safe as possible, you should u

pdate it

with the newest version.

Keep up to current on subjects and plugins:

Themes and plug-ins are changed periodically. This includes security updates, bug fixes and upgrades for keeping the current WordPress version compliant. In order to benefit from these changes it is vital to stay up with the current versions of your themes and plugins.

Remove your cache:

Caches are preserved files for websites that can help load your site faster. Cached files will be able to start building over time and will bloat the site. To reset everything, you might need to clean the cache often.

Optimize your database:

a set of organized data at the center of your site is your WordPress database. It includes roles for users, posts and other site information. With time, unneeded information, including garbage postings can be gathered from the database. This superfluous data may be eliminated by optimizing your database. Also, this can enable you to load your site more quickly and keep the size of your site down.
Many other little and less often required duties, such as emptying your media library, eliminating spam comments and the correction of broken links, are also necessary. ThimPress Hosting Service is another service that you need to see. These instances touch only the surface – the list continues!
Why should you have a WordPress Maintenance Service provider?
Save time, and time is money.

Gives you the freedom to focus on your core business.

Save on request for in-house expertise.

Professional support from service providers.

Service providers may interact with third parties such as hosting providers.

Prevent potential downtime action.

Service providers can notice downtime, before you even realize it.

Rest assured, leave the problems to the experts.

And so on.
5 WordPress Maintenance Services that manages your website easily
The service that you pick for your WordPress site is mainly dependent on your specific demands and budget. Below, we have studied a number of possibilities that fit various site kinds and finances.
1. ThimPress Maintenance Service

ThimPress Maintenance Service has been around since 2008 and has one simple goal – to make the online lives of bloggers and business owners easier. They take a holistic approach to WordPress Maintenance Service. Starting from the WordPress theme, they take a close look at the WordPress plugin, Shopify theme, Shopify app and many other related services. They scan the glitch and install it properly to improve website speed and performance.
Moreover, they ensure that Google likes the website and its SEO optimization. So Google can find and rank your website more easily. Backups are surely done in real-time. Only incremental backup is performed which means that the server space is used efficiently.
Plus, their professional plan offers extra services – page speed optimization, monthly security audits, enhanced site care, uptime monitoring, and e-commerce support, and you'll have to pay $300 per year. For partner-level support, you can request a quote.
Especially, when you are using a ThimPress theme, you will save up to $10 each month when you use ThimPress Maintenance Service. ThimPress also has theme installation service which supports both WordPress and Shopify themes.
All responses within an hour. And to get around the cumbersome thread, ThimPress has launched a walkie talkie feature so you can place a request from WordPress backups.
2. Website maintenance services by TemplateMonster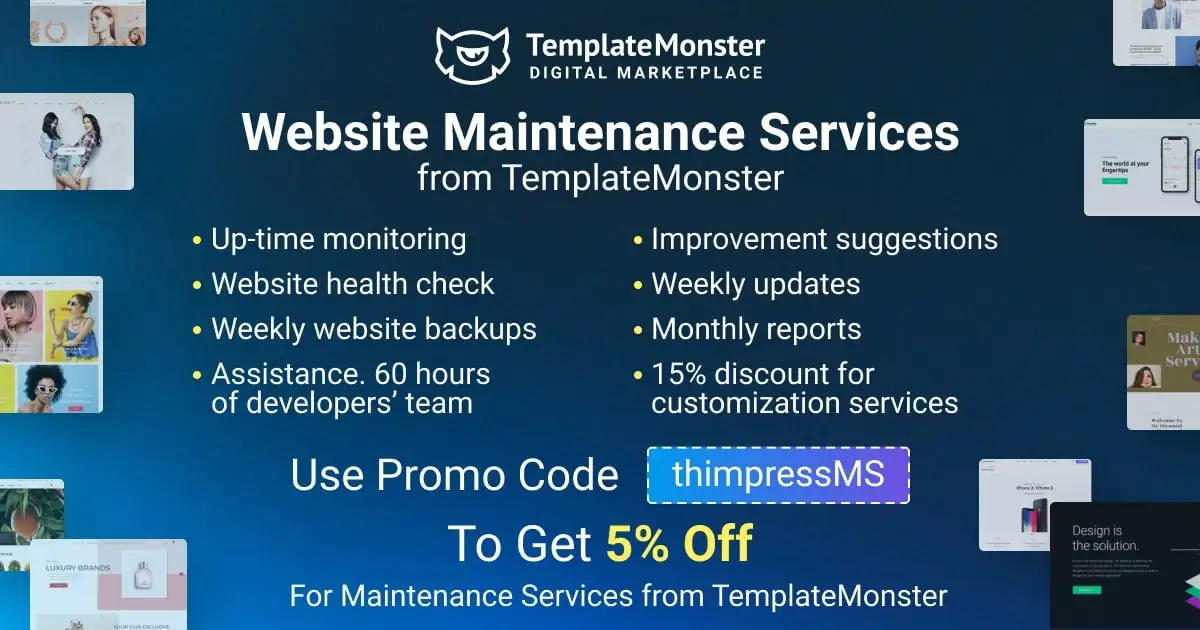 Website maintenance services by TemplateMonster provide a massive number of services to keep your site healthy and secure. It works for those users who have sites based on such platforms as WooCommerce, Shopify, WordPress, PrestaShop, and OpenCarts.
To cut a long story short, the team will make sure your resource gets uptime monitoring and regular health checks. In addition to this, it will work on extra objectives, including weekly backups, improvement suggestions, and weekly updates. There are also five hours that the dev team can dedicate to your tasks. It is also crucial to mention that you will get monthly reports.
All of these services are available for you at $899 per year. Do not forget that a promo code "thimpressMS" gives -5% OFF on TemplateMonster's website maintenance services.
3. WP Buffs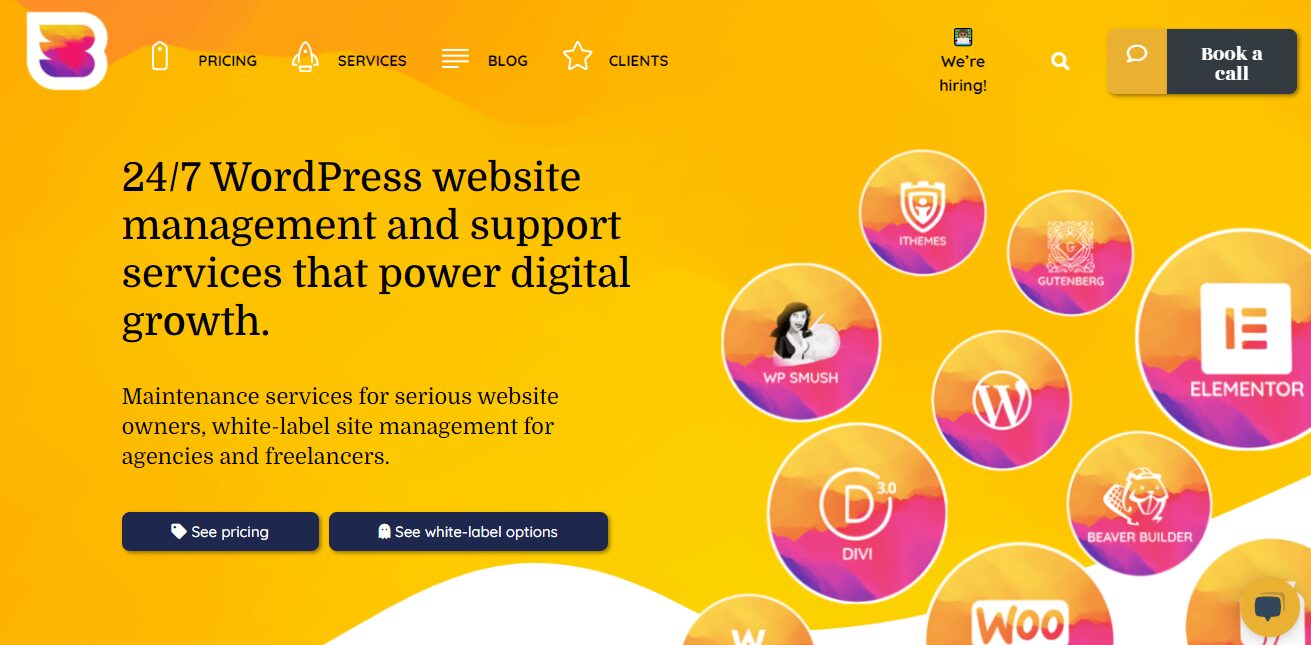 The best WordPress Maintenance Service Provider at this time, WP Buffs has a plan for each degree of support, whether you're searching the fundamentals for help or someone to do it.
WP Buffs monthly services start at $67 a month and include numerous website maintenance levels from simple theme changes, through website modifications, and malware eradication. If you have intricate demands, they even supply bespoke plans. Registering for an annual plan implies that you will be serviced free of charge for two months.
WP Buffs also provides Google Analytics integration, all levels of emergency assistance, free premium plugins, and even mobile/tablet optimization in addition to standard maintenance services you'd expect. WP Buffs offers a support option for the white-label. They work along with WordPress businesses and freelancers to serve their customers promptly 24/7.
4. GoWP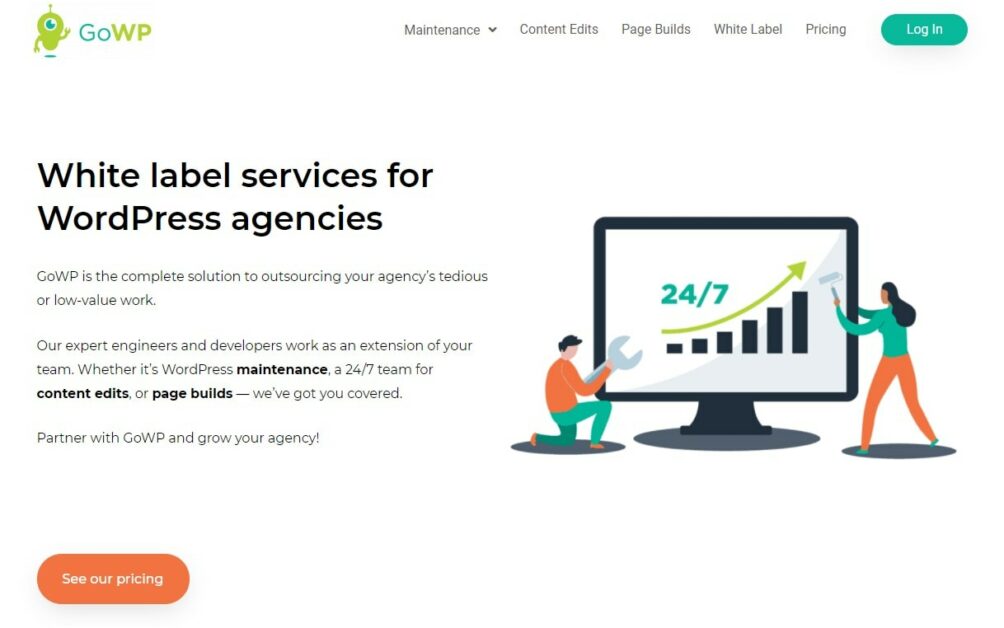 GoWP is another amazing solution for WordPress Maintenance Service. It's perfect for supporting web agencies and freelancers, which handle several websites for customers.
You provide a white label solution for your company's support and maintenance. They are basically an immediate, outsourced, 24/7 maintenance crew for your customers with WordPress.
Handle for updates, security and backups of your website. With over 10 established customers, it's an excellent alternative as pricing begins at $250 per month.
5. Maintainn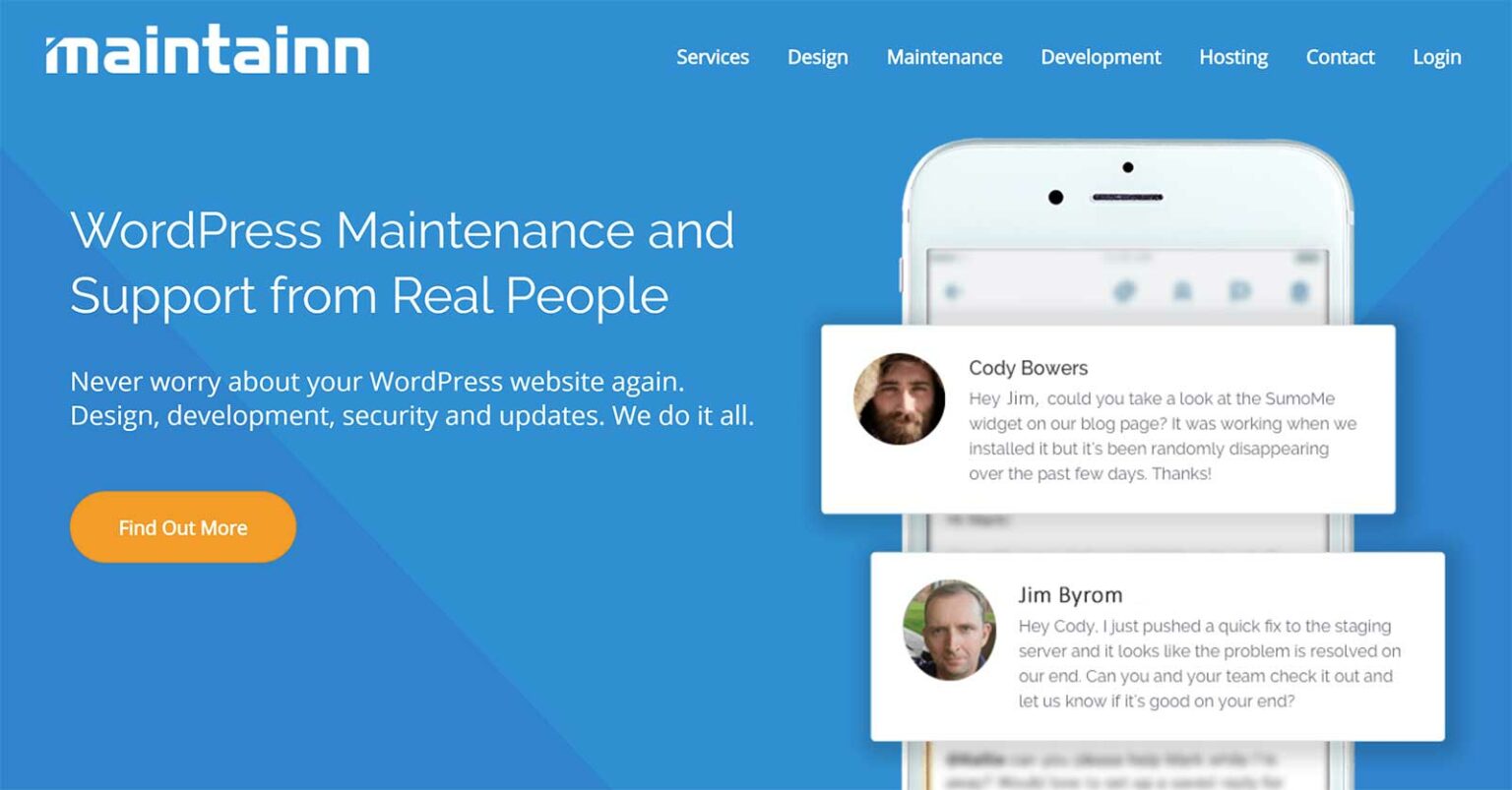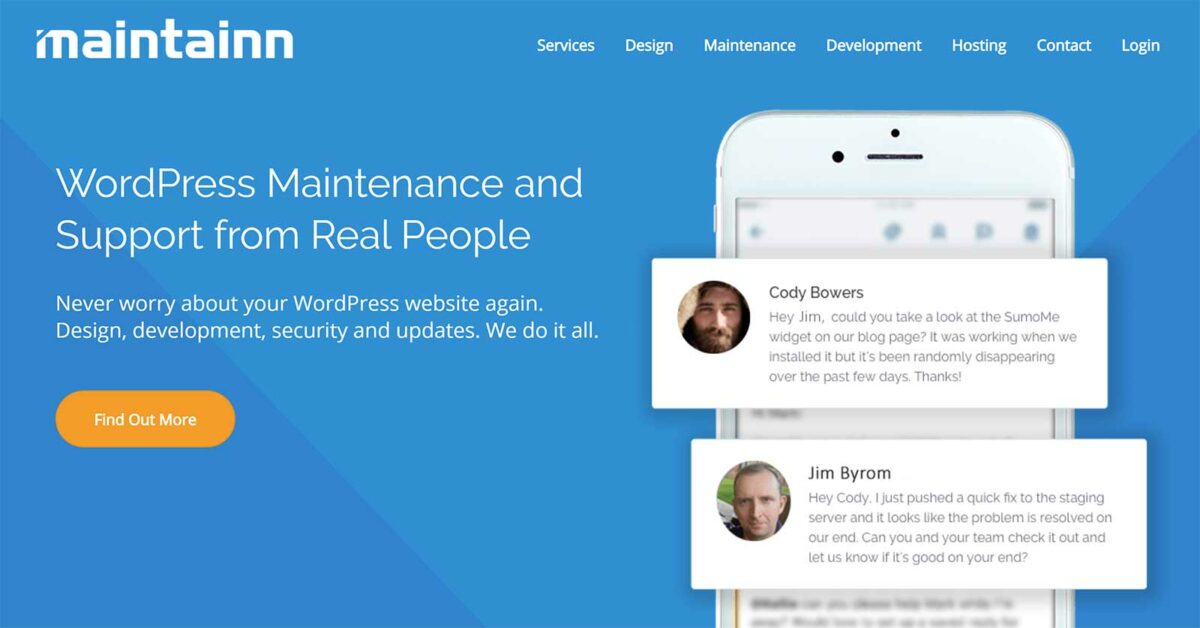 Once you have trusted your site with Maintainn, your WordPress headaches will end. They take care of everything WordPress, from development, to security, to website updates and more.
If you're unsure about any changes you'd like to make to your site, Maintainn can set up a testing phase where you can test the changes won't affect the functionality of the site. your. Each plan with them includes a subscription to Sucuri for server-side monitoring and nightly offsite backups to Amazon S3.
Furthermore, for the price of $49 a month per site, their WordPress Maintenance Service takes care of WordPress themes and major updates, 24/7 security monitoring, and secure website backups. To this you can add $50 per site for an hour of support and 30 minutes of responsive response. Maintain customizes their to fit your unique needs, they are open to discussion and service level agreements.
6. WP SitePlan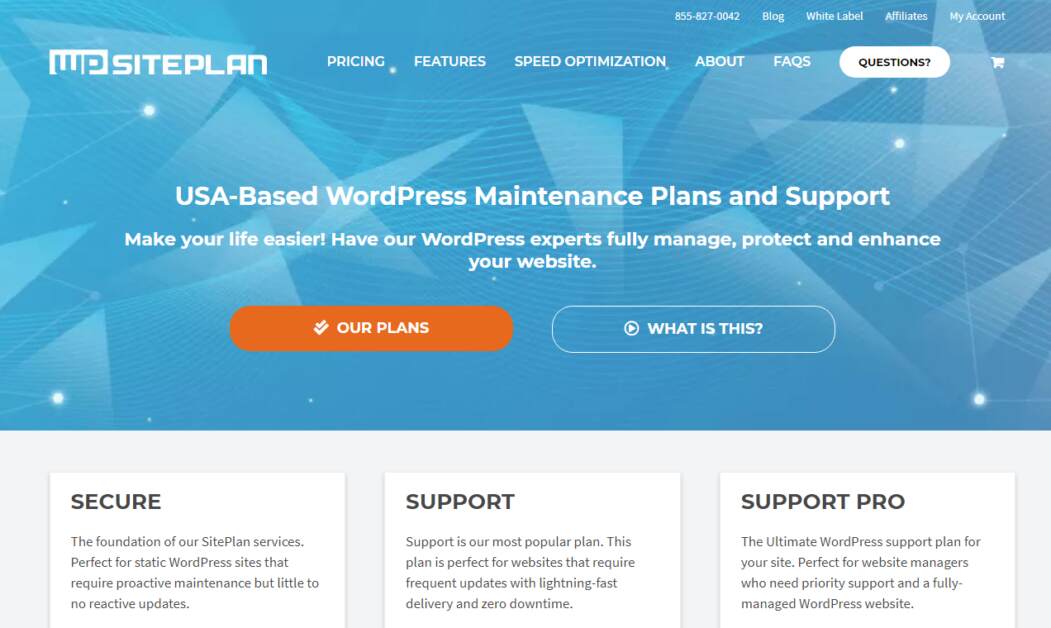 WP SitePlan provides Google Analytics integration, all levels of emergency assistance, free premium plugins, and even mobile/tablet optimization in addition to standard WordPress Maintenance Service you'd expect. They also offers a support option for the white-label. They work along with WordPress businesses and freelancers to serve their customers promptly 24/7.
Moreover, you will get access to extra Website Management Services if you choose their top level choice. These include content updates, regular monitoring of performance and other practical activities that can save you even more time.
Conclusion:
Overall, there are many more WordPress Maintenance Service providers, and you can make your choice after assessing your own needs. The team at WordPress does a good job at keeping
The WordPress Content Management System is in great shape with regular updates and improvements, but to get all the benefits out of this, the Website owners must be able to adapt to the changes in WordPress.
WordPress Maintenance Service providers fill the void. They also add an extra layer of security to your website to ensure you have an error-free website. Periodic security audits, cleaning, patching, and constant monitoring keep websites safe round the clock from hackers and malware.
Read more: Membership Plugins – Top 5 for Your Membership Website