Are you looking for the Best Appointment Booking WordPress Plugin to help you receive and manage bookings through your website?
Easy appointment WordPress plugin is an excellent example of a tool you can use to save time and streamline your client booking process. Running a business entails doing several things at once. That is why it is essential to locate tools and software that will assist you in streamlining critical business tasks.
Moreover, you can use their features to automate when building your business website on WordPress. Because the WordPress booking plugin free allows you to spend your time wisely and focus on tasks that advance your business.
Whether you want to accept bookings for specific time slots (for example, a gym) In this post, we've compiled a list of your top 7 options, which include both free and paid plugins. Therefore, whatever method you need to use to manage bookings on your website, you should be able to find a suitable solution on this list.
So we'll go over the benefits of using a WordPress Booking Plugin Free, what makes the best plugin, and the features of the top WordPress appointment plugins in this post.
Top 7 Best Appointment Booking WordPress Plugins
WP Hotel Booking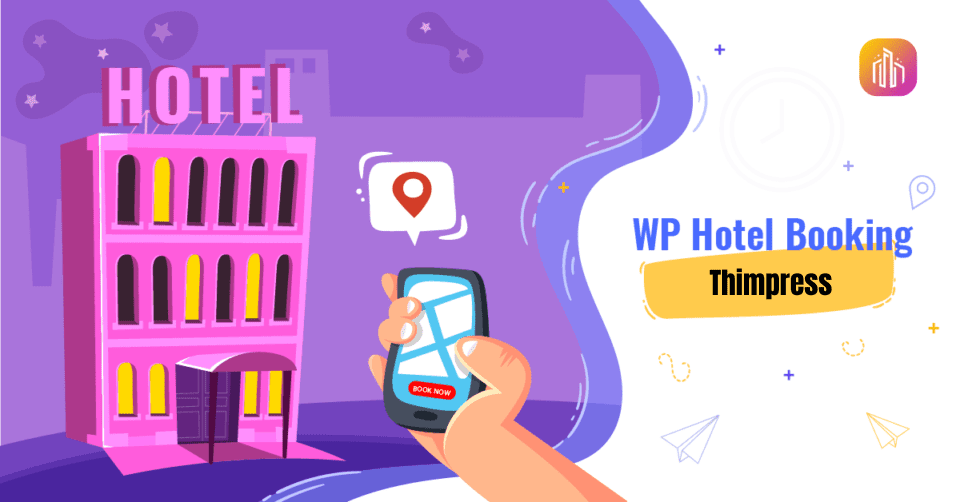 Learn More
Pricing: All features of this plugin are free of charge.
Firstly, the WP Hotel Booking plugin assists you in managing your hotel and online bookings with a variety of payment methods. This best appointment booking WordPress plugin has more professional features than other hotel booking plugins currently on the market.
A thorough hotel reservation system, effective room management, simplified booking management, first-rate customer service, trouble-free coupon administration, effective pricing strategy management, easy handling of extra packages, thorough management reports for block special dates, and preparedness for multilingual and multi-currency support are just a few of the plugin's key features.
In order to provide safe and convenient transactions, this appointment WordPress plugin now supports four payment gateways, including offline payment, Authorize.net, PayPal, and Stripe. With these characteristics, the plugin provides hotels with a total solution to improve operations, enhance the customer experience, and increase income.
Check out the Premium HotelWP – Hotel Theme for WordPress and Hotel Sailing WordPress Theme created specifically for use of this best booking plugin WordPress free.
Therefore, every developer is encouraged to create WordPress Hotel Themes based on this fantastic WordPress Booking Plugin Free. More Hotel Themes for WordPress, both free and premium WordPress themes, will be available soon for this hotel booking/reservation plugin.
WP Events Manager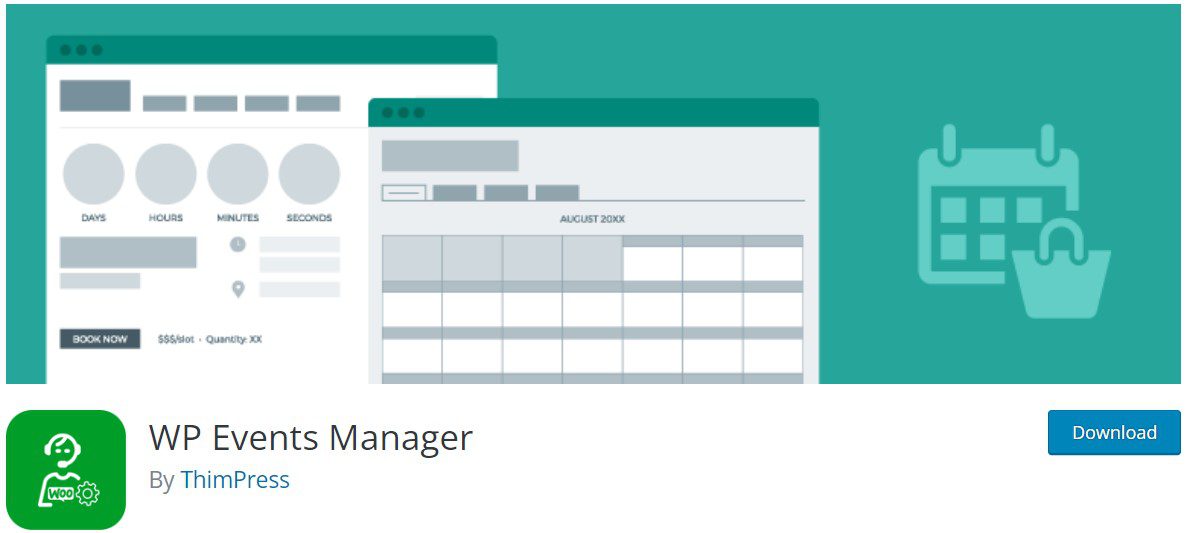 Learn More
Price: All features are free.
Secondly, WP Events Manager would be an effective and best appointment booking WordPress plugin that includes all of the important components of an Event Page. Moreover, this free WordPress booking plugin with payment simplifies the process of organizing all of your events and even allows you to sell tickets online.
This appointment WordPress plugin's key features include the ability to create events with individualized options like quantity and ticket prices, integration with Google Maps for event location information, a shortcode for quick insertion into website posts or pages, event categorization, and management with featured images, flexible currency management, and notifications for event registrations and account activity.
This one of the most popular WordPress plugins also provides the ability to specify cancellation status for payments, limit the number of event registrations per individual, and provide payment alternatives using PayPal integration. The smooth management of events, improved customer experience, and quick payment processing are all made possible by these features.
Start Booking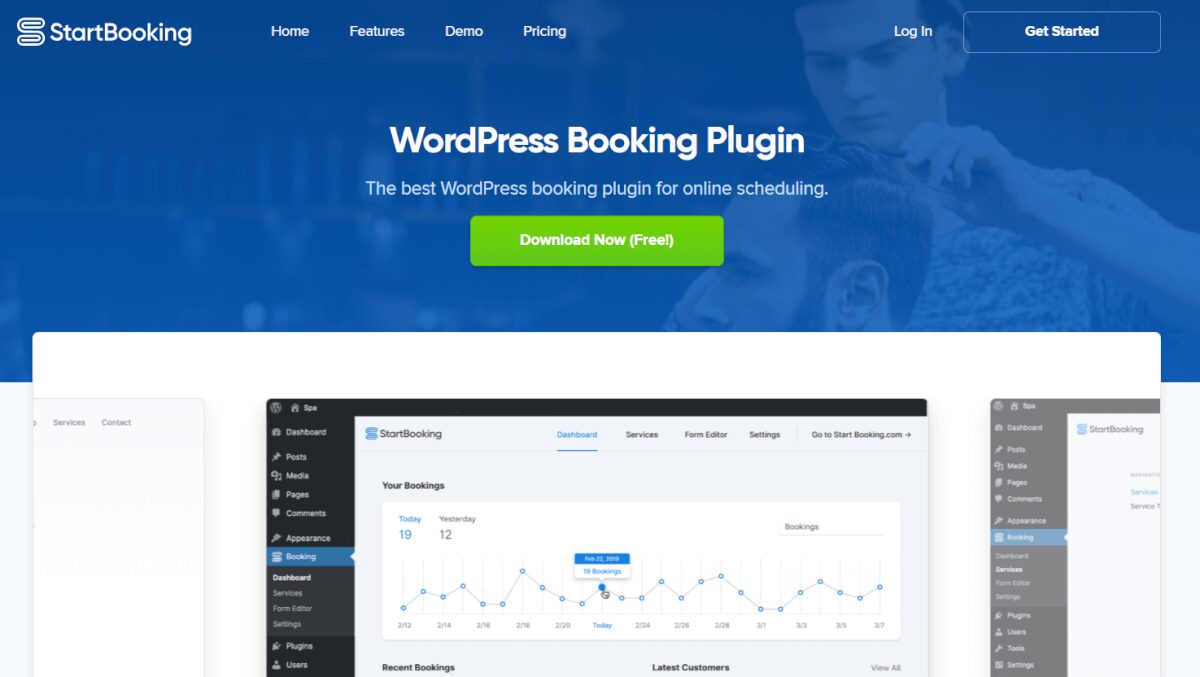 Learn More
Price: Free with limited functionality. Premium plans begin at $20 per month when paid annually.
Thirdly, Start Booking's booking calendar is a full-featured online scheduler that includes its own best appointment booking WordPress plugin. This easy appointment WordPress plugin is also unique in that it adds a calendar to your WordPress website where visitors can schedule, reschedule, and cancel appointments.
An all-in-one application that smoothly combines online booking, customer relationship management, online payments, and third-party integration is just one of this appointment WordPress plugin's standout features. Online appointment booking, access, and modification are useful options for customers. Bookings for group classes, events, and one-on-one consultations are also supported by the Start Booking system.
Native interfaces with well-known systems like MailChimp, Zoom, and Google Calendar allow flexible scheduling and communication options. It also enables effective calendar management for several staff members. The plugin also offers SMS text message reminders and email alerts for increased customer communication and appointment reminders to ensure a smooth experience.
Therefore, individuals and businesses looking for a robust solution for managing all aspects of appointment booking should use this best appointment booking WordPress plugin.
Booking Package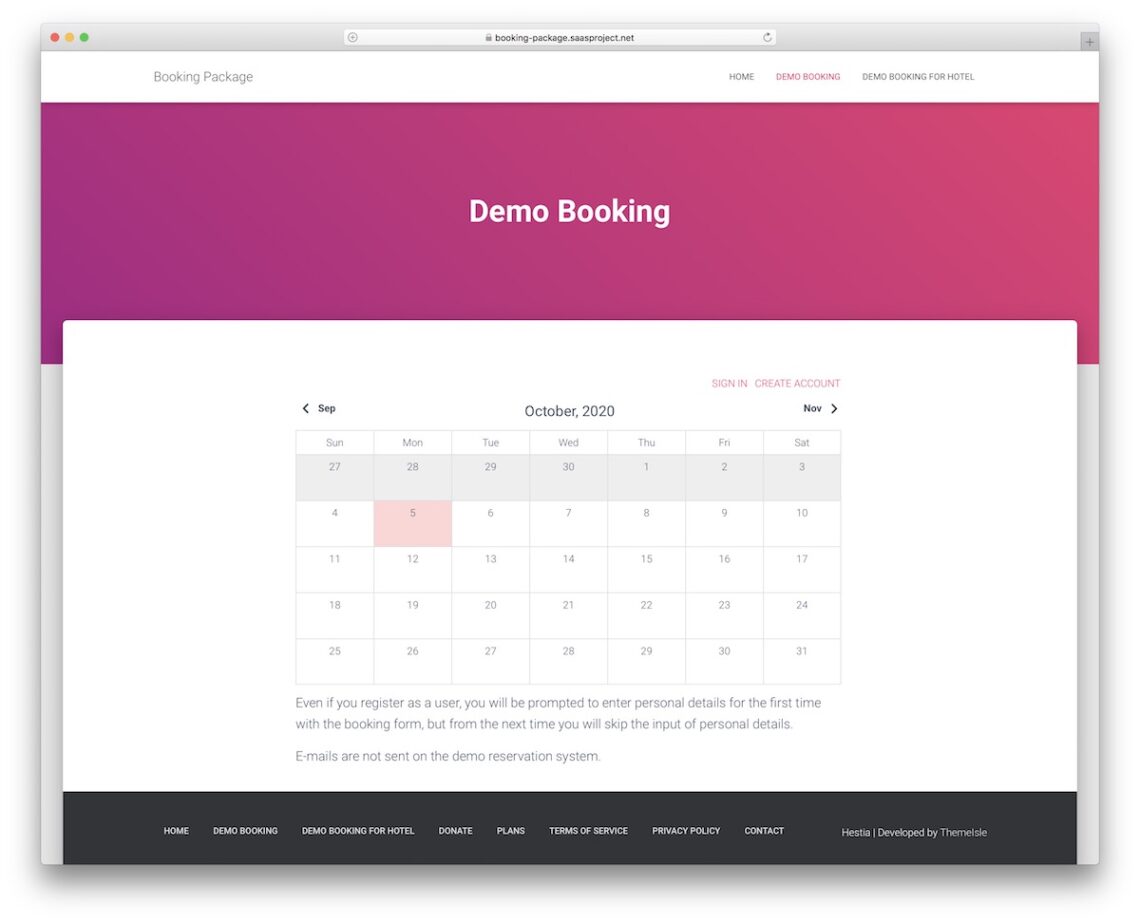 Learn More
Price: Free with limited functionality. However, the Premium plans begin at $6 per month.
Fourthly, "Booking Package" is a free WordPress booking plugin with payment that provides a simple solution for scheduling appointments, services, events, or renting rooms. Therefore, you can set various appointment lengths and accept online payments.
Important aspects of this appointment WordPress plugin includes the ability to design appointment times that are incredibly flexible and provide exact scheduling down to the minute. It permits safe payment processing using PayPal and Stripe, ensuring fast and dependable transaction handling.
Booking Package also sends email confirmations for appointments to improve coordination and clear up any misunderstandings. The booking system may also be easily included in any desired page or post thanks to a shortcode function, which makes it easier to integrate the plugin into an already-existing website or platform.
All of these qualities work together to create a complete and user-friendly appointment booking solution. Therefore, this is the best appointment booking plugin for business owners looking for a straightforward booking solution.
Bookly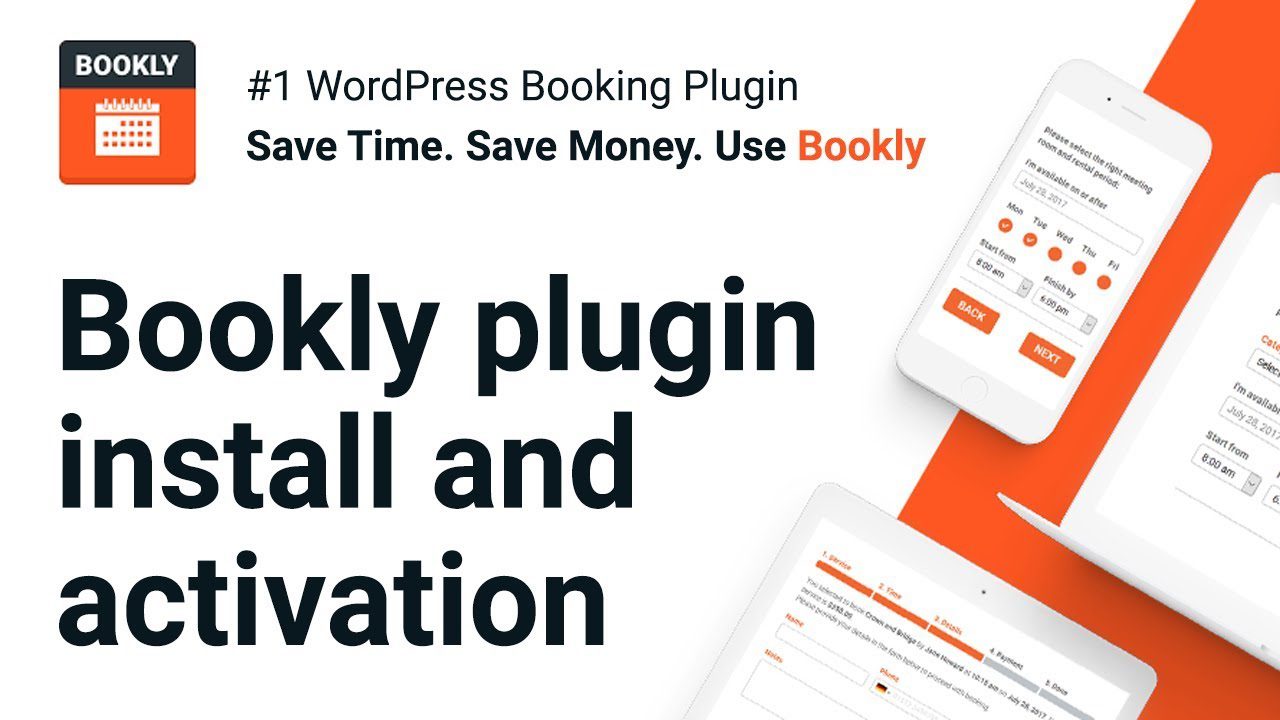 Learn More
Price: Free with limited functionality. But the premium version is available for a one-time fee of $89 USD.
Then, Bookly is the best appointment-booking WordPress plugin. It allows you to manage multiple employee calendars as well as appointment bookings and reservations.
This appointment WordPress plugin provides crucial components that improve the appointment booking procedure. It offers a responsive and contemporary UI, guaranteeing a user-friendly appointment scheduling process. Customers have the freedom to choose among a range of services, product groups, and particular service providers.
Additionally, the plugin notifies clients of appointment bookings by email and SMS, keeping them informed. Users may effectively manage their customer list and appointment schedule online with the help of the Admin panel.
Bookly offers fully customizable drag-and-drop appointment form templates, enabling customized scheduling. It also facilitates task delegation and employee scheduling, improving workflow management. The payment procedure is streamlined through integration with payment providers.
In conclusion, the best appointment booking WordPress plugin is for health and wellness salons, service providers, gyms, and any business with multiple employees. Therefore, they can provide their customers with a robust and fully customizable booking experience.
Booking Calendar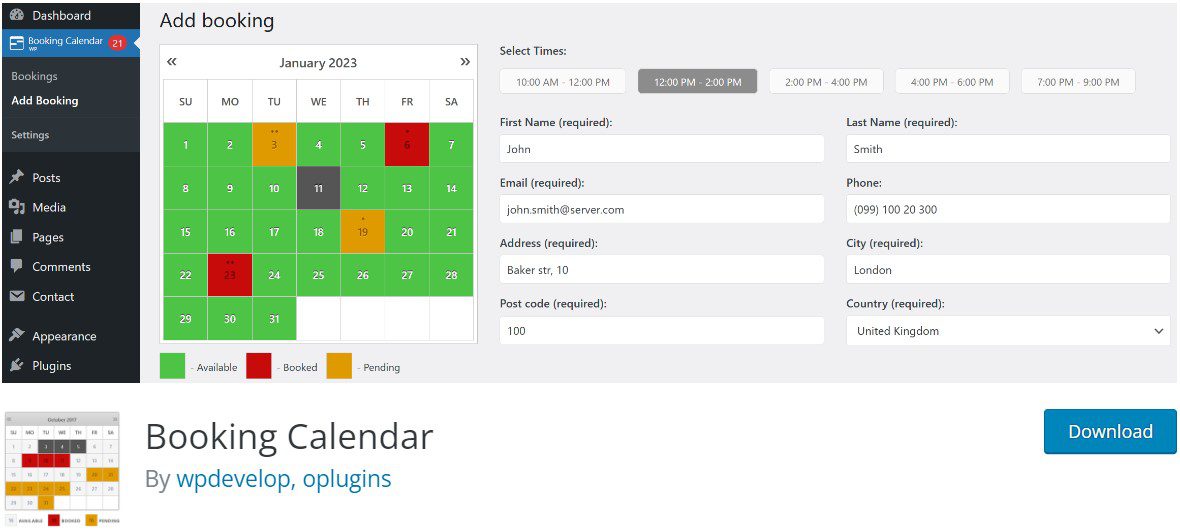 Learn More
Price: Free with limited functionality. However, Premium plans begin at $79 per year.
Booking Calendar is among the most popular and best appointment booking WordPress plugins in the WordPress repository. Furthermore, this easy appointment WordPress plugin provides a simple and straightforward interface for your visitors to book your service or rental properties.
Key aspects of this appointment WordPress plugin include allowing guests to verify availability and book complete days or individual time windows. Reservations for multiple days are also supported. The formats of the calendars include daily, weekly, and monthly.
Even on mobile devices, booking is simple thanks to the responsive design. In order to integrate with other systems like Airbnb and Booking.com, the plugin imports and exports ics feeds and guards against multiple bookings. There is a Google Calendar integration option, and booked appointment reminders are sent through email. This member of the most used WordPress plugins group accepts payments using ACH, PayPal, Stripe, and other payment channels.
The best appointment booking WordPress plugin for businesses looking for a versatile and user-friendly plugin that integrates with other booking platforms.
Simply Schedule Appointments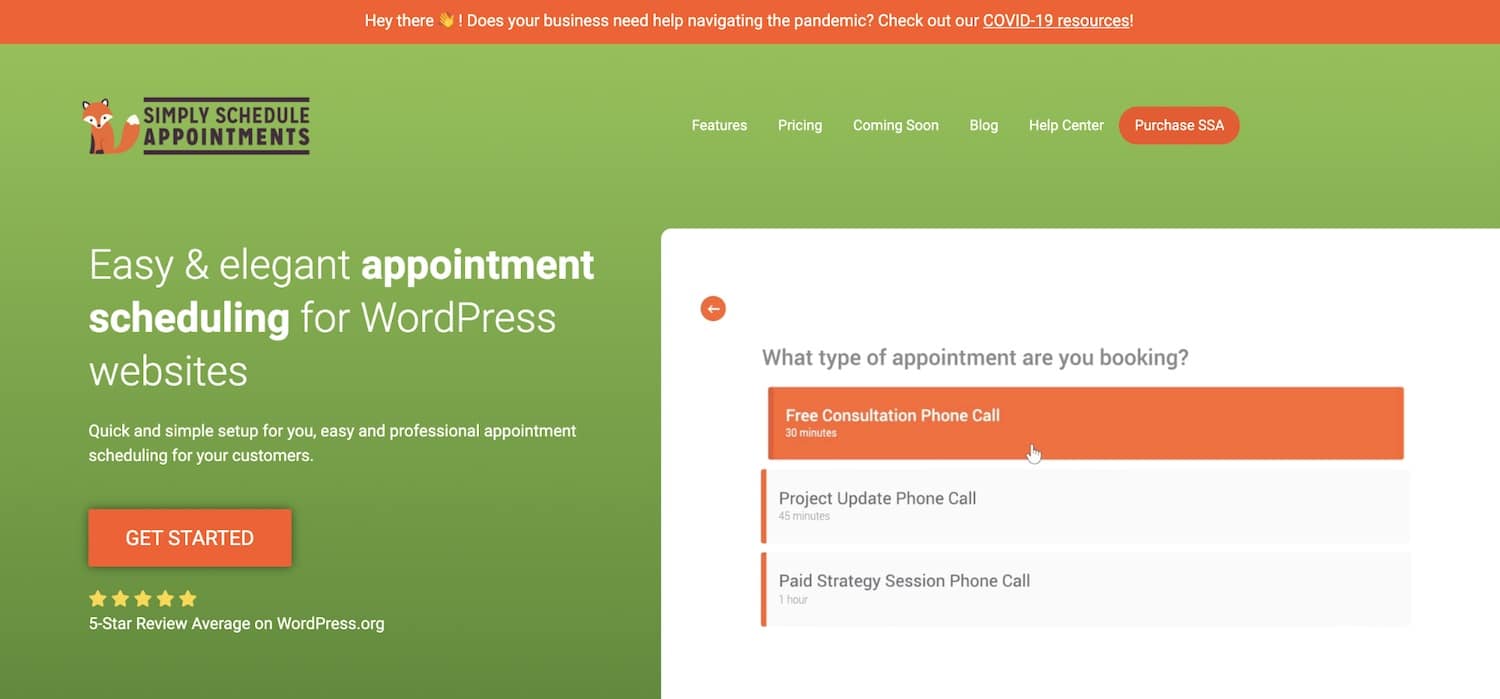 Learn More
Price: Free with limited functionality. However, the Premium plans begin at $99 per year.
Finally, Simply Schedule Appointments would be simple to set up. Moreover, this is one of the best Booking plugins WordPress free and integrates seamlessly with your WordPress website. Furthermore, the ability to set appointment booking limits and a minimum time between appointments distinguishes this appointment WordPress Plugin.
The plugin delivers essential characteristics like a straightforward user interface. Users can specify blackout dates to prohibit certain days and create various sorts of appointments. For simple configuration, a wizard for interactive setup is provided. The plugin integrates with Google Calendar, Zoom, and MailChimp and supports Stripe and PayPal for online payments. Additionally, it works with well-known page builder plugins, offering flexibility and integration choices.
Best appointment booking plugin for service providers looking for a plugin that allows clients to easily schedule phone calls, meetings, or sessions without being bogged down by extraneous features.
Conclusion 
There are numerous Appointment Booking WordPress Plugins on the market. Therefore, It's critical to evaluate different solutions based on your client's needs and your team's workflow when choosing the right tool for your business. Any of the plugins listed above can help you with appointment scheduling.
Read more: 9+ Best Events Calendar Plugin For WordPress
---
Contact us, ThimPress:
Website: https://thimpress.com/
Fanpage: https://www.facebook.com/ThimPress
Youtube: https://www.youtube.com/c/ThimPressDesign
Twitter: https://twitter.com/thimpress