Nowadays, the dating website is no longer strange to us. They are created to connect people to people, giving them opportunities to make friends, love, and even marriages. To build a dating website, you have to prepare a lot of things. Thus, you must head to a well-functional online dating website, and we can help you with the best WordPress Dating Theme.
Our online dating themes have modern and stylish layouts to catch the visitors' first impression and packs of essential and powerful widgets needed for them. To acquire the basic requirements, users must have the ability to make their profiles, interact through social media platforms, and send private messages to others. In case you are a picky person in feature requirements, you can look through our article to check for your favorite one.
Why Should You Choose a WordPress Dating Theme?
As I have said earlier, a proper dating theme should contain attractive layouts and powerful tools. With the outlook of a plugin, the framework of a website should impress visitors with an eye-catching and easy-looking layout. Besides, it must offer a personal profile panel, live chat system, community, and message system. Thus, a user may look for the dream partner by checking the personal portfolio or searching with the filter based on the interest options.
On the other side, a WordPress appointment theme's features should be highly optimized for every concept of dating and meeting. Indeed, your users can access and look for the one using a responsive WordPress theme. Also, you can send friend requests to the people of his/her interests. In case you want to sell services, you can freely do it with WooCommerce compatibility.
Let's go around for the list of our best dating WordPress themes.
Cute – Tender Date Dating Portfolio and Landing Page WordPress Theme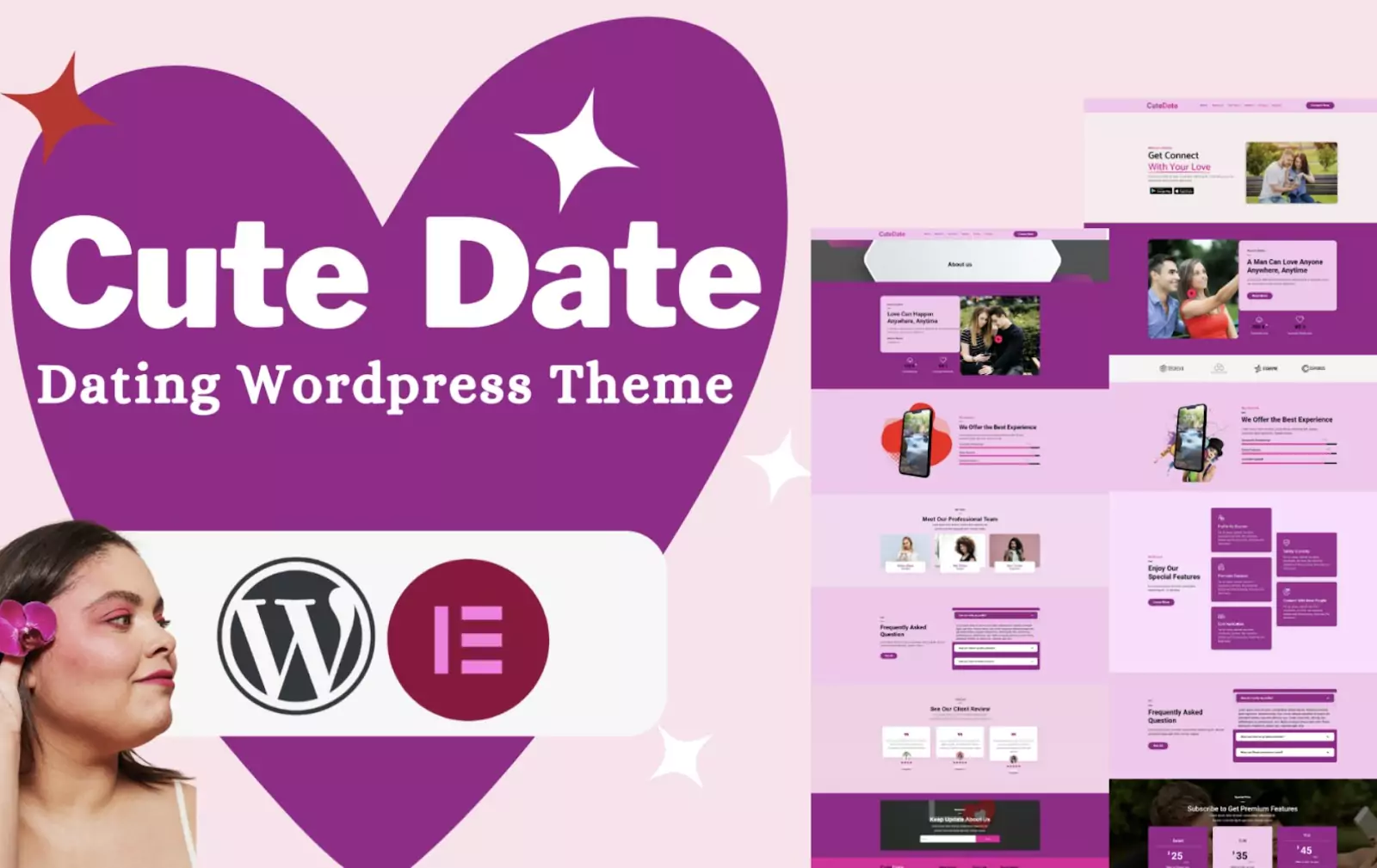 Cute is an exclusive and eye-catching theme that has all the necessary features to demonstrate your dating portfolio. The package has a wide range of pre-made pages, color schemes, and layout options to make your online project unique and unforgettable.
Additionally, it provides an easy-to-use interface that will allow users to get familiar with your skills, expertise, and unique selling points. You have a chance to take advantage of the social media integration that connects people from all over the world.
Do not forget about a fully-responsive design that mak
Sweet Date – Nice and Charming Premium WordPress Dating Maker
Download
Demo
Working well with BuddyPress, Sweet Date will serve your purpose of building a going-together website as a well-functional dating WordPress theme. As a result, the theme will help you build groups and communities for their dating purpose, keep the current users, and attract newcomers to your site.
To make it easier for customers to buy sponsor membership packs, we have integrated Sweet Date with the Paid Memberships Pro plugin. For people selling services and products on the dating website, you may customize collecting money from various payment gateways such as PayPal. Further, web developers can allow newcomers to sign up ASAP by turning on the Facebook login/register alliance. Generally, the process of making an account will be free, simple, and smooth.
Understanding the need for convenience, we have optimized this dating WordPress theme to be fully responsive and retina-ready. Therefore, users can access it anytime anywhere by any device on any browser they have without the fear of facing slow-loading/bad resolution/false-loading problems.
Also, we added the QR scan feature for faster login on mobile. To boost the funding process, we provide the theme with a special matching system to check users from the detailed profile and see the relationship harmony.
You can create your home page and inner page with the easy custom visual shortcode system. Besides, you can manage and customize every corner of your site in the admin panel. You can set pages and panels for different purposes: personal, security, notification, community, and many more types.
Seeko – An Excellent WordPress Platform for Dating Websites
Download
Demo
As has been noted, Seeko appears as a WordPress dating site theme focusing much on community and space for chatting.
Seeko will provide you with tons of plugins and widgets to start a dating website. There are professional pre-made layout demos for you to import immediately into your dating site. Further, we give you a search form for visitors to show their interests before being invited to register on the web. You can choose to sign up for free or buy membership sponsorships for better dating forums.
To make it easier for people to find their partners, this dating WordPress theme offers a matchmaking system where you can access all interesting interactive functions to connect to other people such as filtering by interests/locations, sending friend requests, chatting with others, and joining groups or forums. In case you need to change an element, the theme comes up with a lot of widgets and tools for you.
The drag-and-drop page builder helps you manage the prebuilt demos and create your brand-new template. In short, Seeko is a good choice for a dating website with smart multi-concept functions.
DateBook – Bringing People Together with Tons of Lovely Features
Download
Demo
In the list, we bring you another dating site WordPress theme that will surely be worth your waiting: DateBook!
When managing your website, you won't have to make any changes since many things have been done before for you. You can select between 2 options: a free-to-use website or 1-time signup charge. Otherwise, you can mix these 2 models to create free a signup and gradual paying website. Adding paid perks for users is a good choice, too. Furthermore, web owners will have a large range of payment gateways thanks to WooCommerce compatibility. As a result, you don't need to rely much on Stripe or PayPal.
We have made this dating WordPress theme fully responsive to make sure that your users can receive a quick and pleasant experience. To improve the performance, we also optimize DateBook to cooperate well with the most used WordPress plugins. On the other side, some helpful features can be called out like an online message system, notifications, favorite/blacklist profiles, etc.
Gwangi – Charming Multi-Concept WordPress Dating Theme
Download
Demo
Gwangi is a dating theme WordPress that gives you 6 layout demos immediately after you install the theme. Of course, they are all fully responsive and have the same features such as a multi-function homepage layout, many inner-page templates, and some other features. Besides, we are still updating more demos so that your choice of demos can be convenient and various.
On the other hand, you can customize every single corner of your website's appearance and performance with a WordPress customizer. This feature will let you check your current work through a real-time preview panel while still designing. Besides, developers can insert a bar of various widgets and sidebars into your pages/posts to make use of all factors in the website.
One more thing, this dating WordPress theme has advertising options where web owners post advertisements in many formats (MP4, images, etc.).
Dating Theme – A Good Choice for Your Date-Making Website
Download
Demo
If you are looking for a well-recommended WordPress dating theme, Dating Theme will be a proper option for you. Thus, Dating Theme will offer you lots of features to make our dates easier like online chatting and messaging, private chats, online/offline status indicator, sending gifts system, location indicator, and a highly advanced search bar.
Furthermore, designers can edit your website with many options for customizing the theme: offering sponsors/ad packs/memberships, status checks, enhancement setup for users' profiles, and charges for using many profile categories. Also, the drag-and-drop page builder will shorten your working time on page setup. Following, this dating WordPress theme also provides child themes if you would like to make a change to your site's outlook.
Conclusion
Choosing the ideal WordPress dating theme is crucial for creating a successful dating website, to sum up. Users can build profiles, communicate with others, and form connections using these themes' appealing designs, strong features, and indispensable tools. They provide fully responsive websites, WooCommerce integration, and a range of customization choices.
Read more: Best ThemeForest WordPress Themes for All Businesses
---
Contact us, ThimPress:
Website: https://thimpress.com/
Fanpage: https://www.facebook.com/ThimPress
Youtube: https://www.youtube.com/c/ThimPressDesign
Twitter: https://twitter.com/thimpress