If you are looking for an easy way to reset your WordPress website and get started with a fresh installation, you must install the WP Reset plugin. By installing this plugin, you can reset your WordPress website to its default state and also speed up plugin and theme testing, debugging, and coding by controlling, resetting, and restoring the WordPress environment in just one click.
Roles of the WP Reset Plugin
Here are the functions served by the WP Reset plugin:
It helps with deleting all of the customizations you might have made and erasing all of the content on the site.
You can delete all posts and pages you have created
It will help you delete database tables, from default ones to the custom ones that have been used by default tables.
It will also delete your media entries, comments, and custom post type
You can also get rid of these users if there are too many. However, the currently logged-in user will be able to have their access along with their username and Password. Once the reset is completed, this user will be logged in. However, they will be able to log in.
If you are afraid that this 'Reset' will delete all your files, then you better be not concerned. All your themes/plugins, files, and media files that have been uploaded to the wp-upload folder, will stay there.
How to use the WP Reset plugin to reset your Website?
With a very easy setup and installation process in the pipeline, you can effectively use the WP Reset plugin to reset your website with a single click.
Here's what you will have to do:
Go to the WordPress repository and enter the plugin name 'WP Reset' in the search field. You will find the plugin and download the plugin.
Alternatively, you can enter your site's dashboard and go to Plugins, then click 'Add New'
Enter "wp reset" in search and hit 'Enter'
Click on "Install Now"
You can also install and upload the WP Reset plugin manually: What you will have to do so:
Download the latest stable version from here
A zip folder will be downloaded. You will have to unzip it and upload it to the /wp-content/plugins/ folder
You will have to then enter your WordPress admin dashboard and visit the 'Plugins' section
Click on 'WP Reset' and then click 'Activate'
To get started with the plugin, visit the 'Tools' menu under the plugin's admin area page. Once you choose to reset your WordPress website using this WP Reset plugin, it will quickly reset the site's database to the default installation values.
Without customizing any files, this plugin deletes all customizations and content. It will never lead to accidental loss of data as it runs on multiple fail-safe mechanisms. Hence, it is safe to use.
What is the Best Reset Tool for WordPress?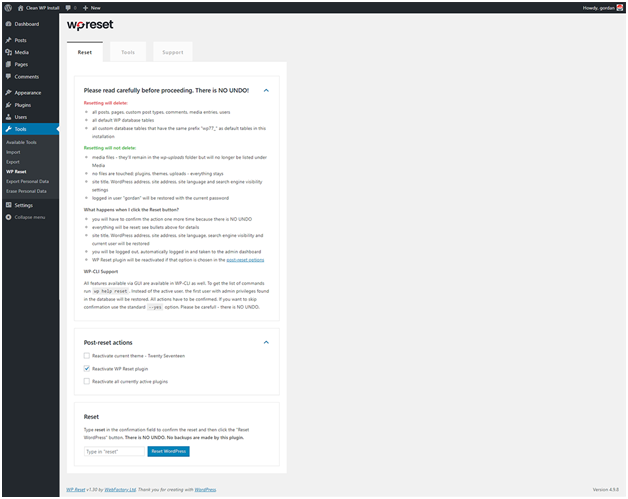 Remember that you should always take a backup of your website content before you try to reset the website using this plugin.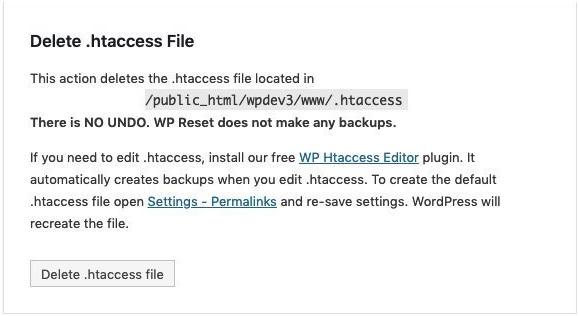 Once you click on the 'Reset' plugin, the plugin will ask you to confirm the action one more time.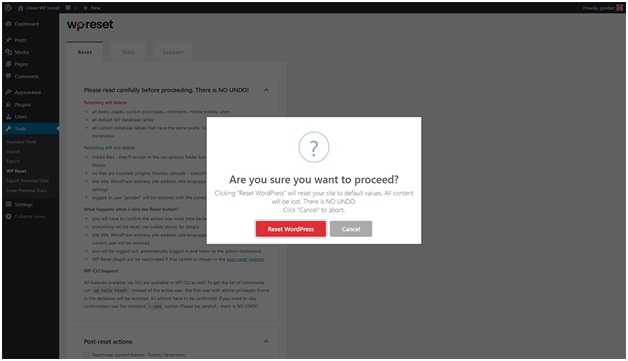 This is important so that you don't end up resetting your website by fault or accidentally clicking on the 'Reset' button. You will have to confirm the action one more time because there is NO UNDO.

Once you click on the button, everything will be reset with the WP reset plugin. Here's a detailed breakdown of the same:
Resetting will delete
all posts, pages, custom post types, comments, media entries, users
default WP database tables
all custom database tables that have the same prefix table prefix as
the one defined in wp-config.php and used by default tables
You can also selectively delete the website content.

Resetting will not delete or modify
media files – they remain in the wp-uploads folder untouched but will no longer be listed under Media in the admin
no files are touched; plugins, themes, uploads – everything stays
site title, WordPress address, site address, site language, and search engine visibility settings
currently logged in user will be restored with the current username and password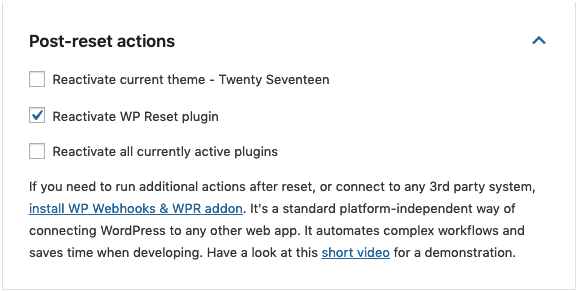 Once done with the 'Reset', you will have the option to deactivate the plugin if you choose to do so in the post-reset options. You will also be able to reactive/keep all your favorite plugins/themes. If you plan to use this plugin in the near future, you can keep the plugin. To re-access, you only will have to enable it.
Conclusion on the WP Rest plugin
The WP Reset plugin currently has over 100,000+ active users and it is a highly rated free plugin. So, make sure that you try it out if you are looking at how to reset the WordPress theme in a single click.
Read more: 10 Best Dropshipping WordPress Themes For Dropshipping Business
---
Contact us, ThimPress:
Website: https://thimpress.com/
Fanpage: https://www.facebook.com/ThimPress
Youtube: https://www.youtube.com/c/ThimPressDesign
Twitter: https://twitter.com/thimpress