Are you looking to increase your earnings from your online courses? Do you want to incentivize instructors and affiliates to promote your courses? Look no further than LearnPress Commission Integration. It's a perfect add-on to help you monetize your e-learning and LMS website.
In this article, we will explore the LearnPress commission feature, learn how to set it up and discover the benefits it can bring to your online education business.
What is LearnPress Commission Integration?
LearnPress Commission Integration is a premium add-on that empowers you to set up commission rates for your courses. You can incentivize instructors who promote your courses by offering them a percentage of the course sales they generate. This not only motivates them to actively promote your courses but also allows you to expand your reach and increase your revenue.
Besides, you can refer to our LearnPress pro bundle – a collection of powerful add-ons to enhance the functionality of LearnPress.
Benefits of LearnPress Commission Integration
LearnPress Commission Integration can bring numerous benefits, including:
Motivating Instructors: By offering a commission, You reward instructors for developing high-quality courses and actively promoting them, resulting in a more engaging learning experience for students.
Encouraging Affiliates: Affiliates play a crucial role in driving traffic to your platform. With the commission feature, you can attract more affiliates and motivate them to advertise your courses, expanding your reach and increasing enrollments.
Increasing Revenue: The commission feature is beneficial to both instructors and platform owners. Instructors earn additional income, while platform owners benefit from increased course sales and revenue.
Building a Strong Community: Rewarding instructors and affiliates helps you create a loyal and engaged community. This encourages collaboration, knowledge sharing, and the creation of a vibrant e-learning ecosystem.
Setting up Commission for LearnPress: Step-by-Step Guide
We provide our tutorial on How to Use LearnPress Commission Integration and our text guide. If you want to check out our text guide, keep reading!
Step 1: Download the Add-On
After buying the Commission Add-on for LearnPress, visit our official website at thimpress.com and navigate to your account. Simply Sign In -> My Account -> Orders to download or select the add-on version you want.

Step 2: Install and Activate the Add-On
Once you have downloaded the LearnPress Commission Integration add-on, go to your WordPress Admin Dashboard -> navigate to Plugins -> Add New.

Click on the Upload Plugin button to upload the add-on .zip file and Install. 

Once the installation is done, click the Activate Plugin to start using it.

The plugin appears to be activated and ready to use.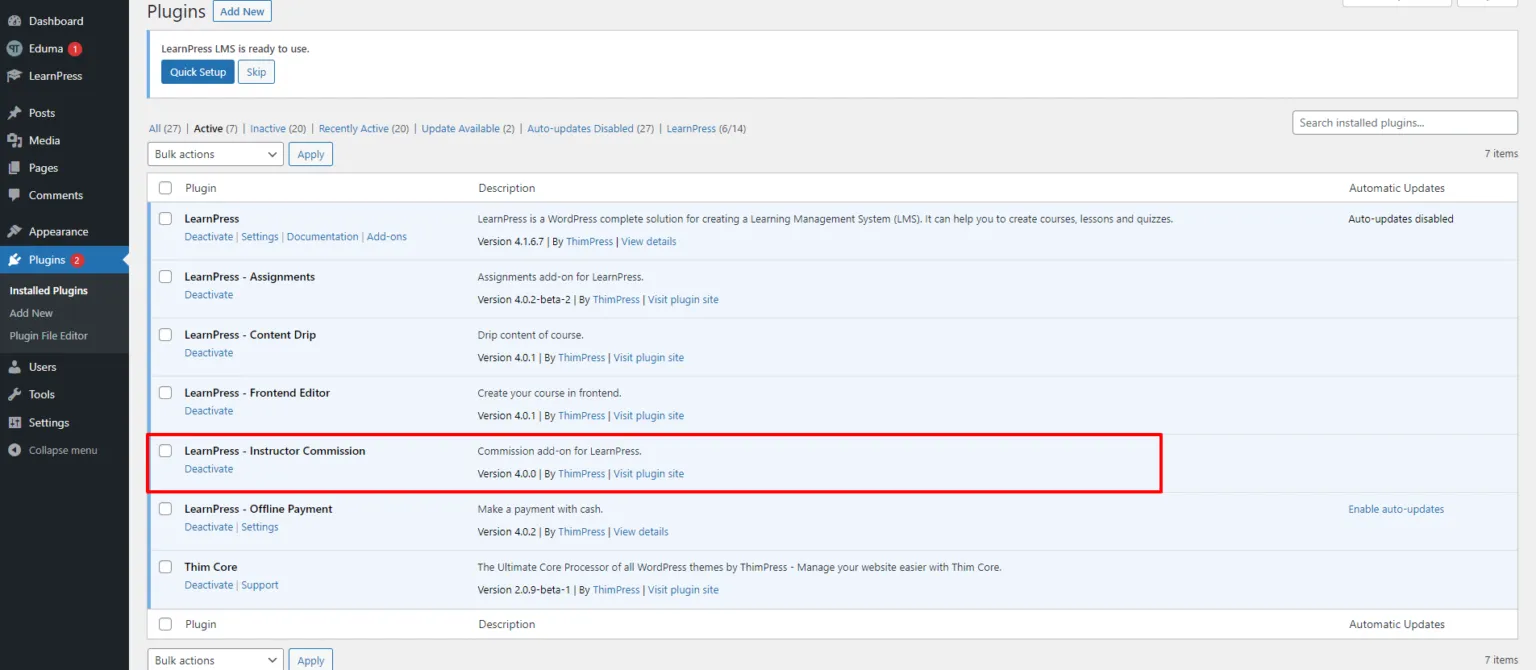 Step 3: Enable the Commission Feature
In your WordPress dashboard -> go to LearnPress -> Settings. Under the Commissions tab -> choose Settings -> check the box that says Enable commission feature. This enables commission functionality for your courses.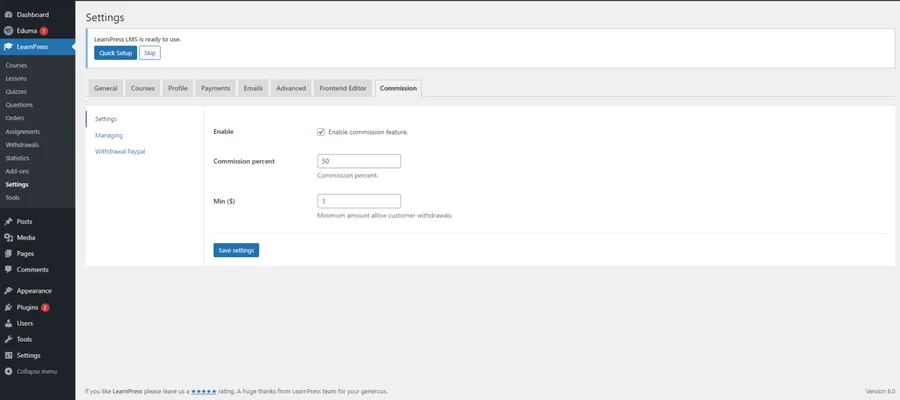 Step 4: Configure Commission Settings
After enabling the commission feature, you can now set different commission percentages for each course.
Under the Managing section, you can specify the commission rate for individual courses and activate or deactivate the commission feature as needed.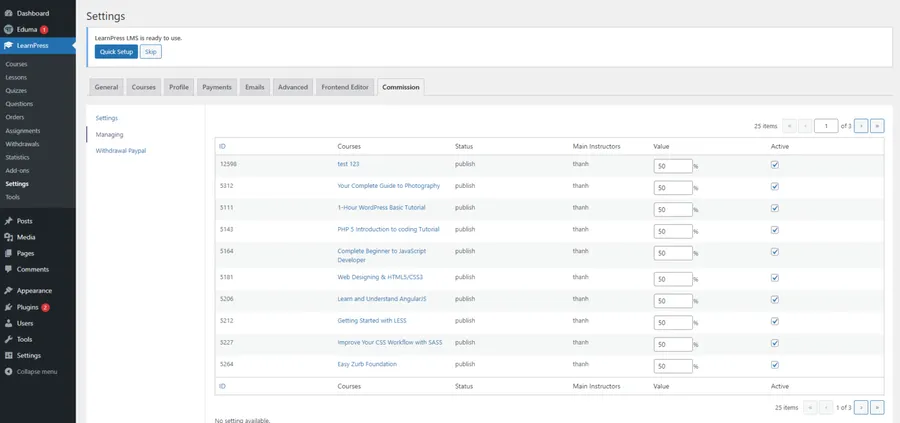 Step 5: Enable Withdrawal via Paypal
To allow instructors to withdraw their commissions, you need to enable withdrawal via Paypal.
Go to the Withdrawal Paypal section, check the box that says Enable, and provide your Paypal Client ID and Secret Key. This ensures a seamless payment process.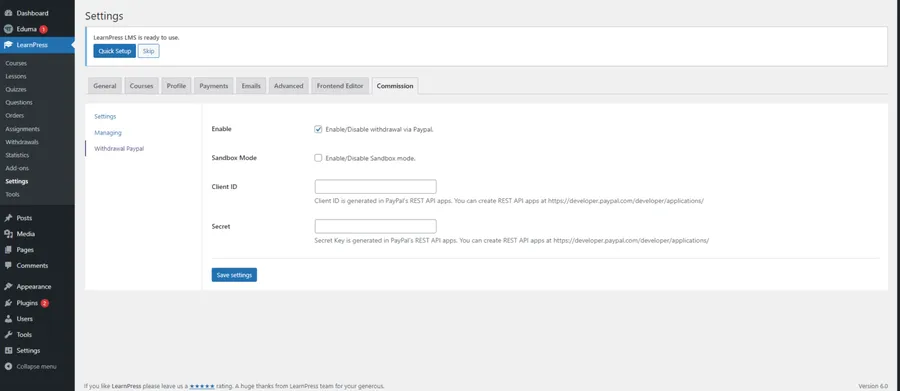 Step 6: Instructor Withdrawal
Once the commission feature is enabled and users start generating sales, they can view their commissions under the Withdrawals tab from the profile page. You can see your commission amount and status. If you want to withdraw it, you can enter your PayPal account and the amount.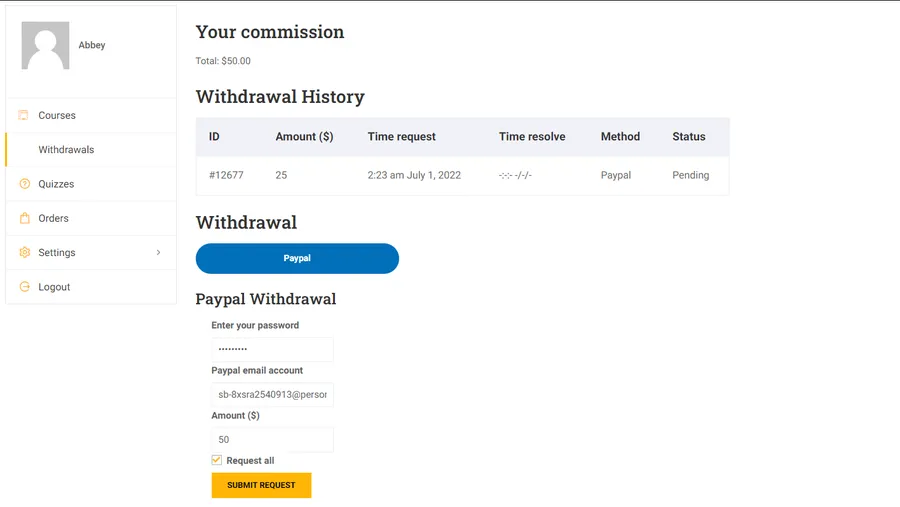 Next, the admin will review your request and approve it.

Step 7: Finalize the Transaction from Admin Backend
You need to go back to your Dashboard -> LearnPress -> Withdrawals.

Check each withdrawal request.

Click one of them and enter the username and password they provided you. Update the status of the withdrawal request from Pending to Complete and click on Pay On. Make sure to hit the Update button to finalize

Here is how it looks on the instructor's profile, and it shows as Complete now.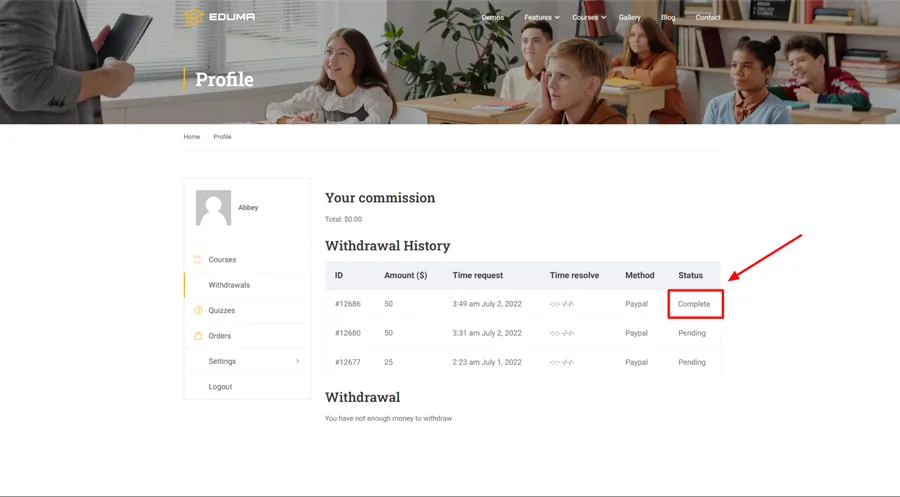 Conclusion
Hopefully, you enjoy our LearnPress Commission Integration guide today and set it up with ease. So, take advantage of this add-on and unlock the full potential of your online courses with LearnPress!
Read More: LearnPress bbPress Integration (Free Add-on)
---
Contact us, ThimPress:
Website: https://thimpress.com/
Fanpage: https://www.facebook.com/ThimPress
Youtube: https://www.youtube.com/c/ThimPressDesign
Twitter: https://twitter.com/thimpress