Are you looking for a way to build a community for instructors and students to communicate and share their learning experiences? You should download the LearnPress bbPress Integration for your LMS website.
If you purchase our education WordPress themes, you don't need to download each add-on individually since we integrate all free and premium LearnPress add-ons in a package, promising that they will work perfectly well. So, you'll save around $300. Sounds great?
But if you already have our theme (not from us), you can still get our free LearnPress add-ons. Don't worry. LearnPress is compatible with all popular themes available on the marketplace.
In this article today, we'll teach you how to install and run the LearnPress bbPress Integration into your site with ease. Let's get started!
What is LearnPress?
LearnPress – WordPress LMS Plugin is a full-featured WordPress LMS Plugin. This is among the best LMS plugins for creating and selling courses online. It's possible to create a course curriculum with lessons and quizzes that are managed through an easy-to-use user interface. Hence, you can now quickly and easily build education, elearning, online school, and online-course websites without any coding knowledge.
What is bbPress?
Not to mention, bbPress, of course, is a WordPress plugin that enables you to build a forum on your website. You can use it to make a forum-only site or a site with a forum section. bbPress is free & open-source and designed to be fast and efficient.
Benefits of Using the LearnPress bbPress Integration
As I have mentioned above, LearnPress bbPress Integration is a great add-on to create forums. Below are some advantages of using it:
It's simple to install with a click
You can create forums for each course, lesson, or quiz where your instructors and students can interact and discuss the course content, ask and answer questions, share feedback, and more.
You can tailor the look and settings of your forums to match your website's theme and preferences.
You can manage the topics and replies from your WordPress dashboard.
You can improve the learning quality and results for your instructors and students by creating a lively and engaging online learning community.
How to Set up LearnPress bbPress Integration
Before proceeding further, we recommend you check out our tutorial guide for creating an LMS website with LearnPress that can be useful for you.
Now, let us move on to the setup of the LearnPress bbPress Integration.
Download and Install
First thing to do is to download the bbPress addon for LearnPress by clicking the Download button. After getting the.zip file, you need to install it.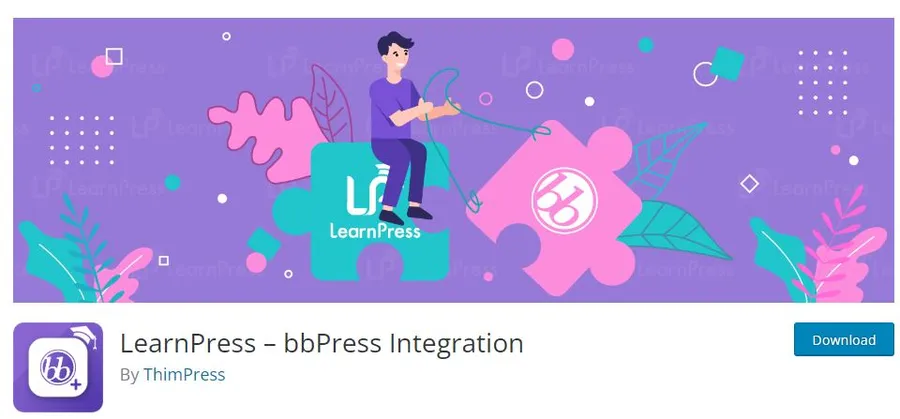 Then back to your WordPress admin Dashboard -> Plugins (on your left sidebar) -> Add New

Hover over the Upload Plugin button and choose the zip file you have downloaded.

You'll see the plugin installed successfully after a second, so click Activate Plugin.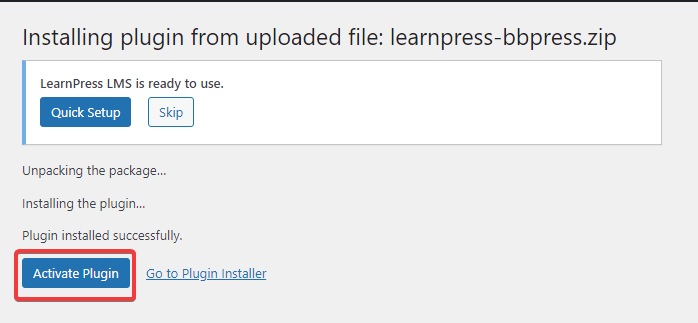 Now is the time to download the bbPress plugin. Back to your WordPress Dashboard -> Plugins -> Add New and go to the search bar below, type "bbPress", and click the Install Now button to install and activate it.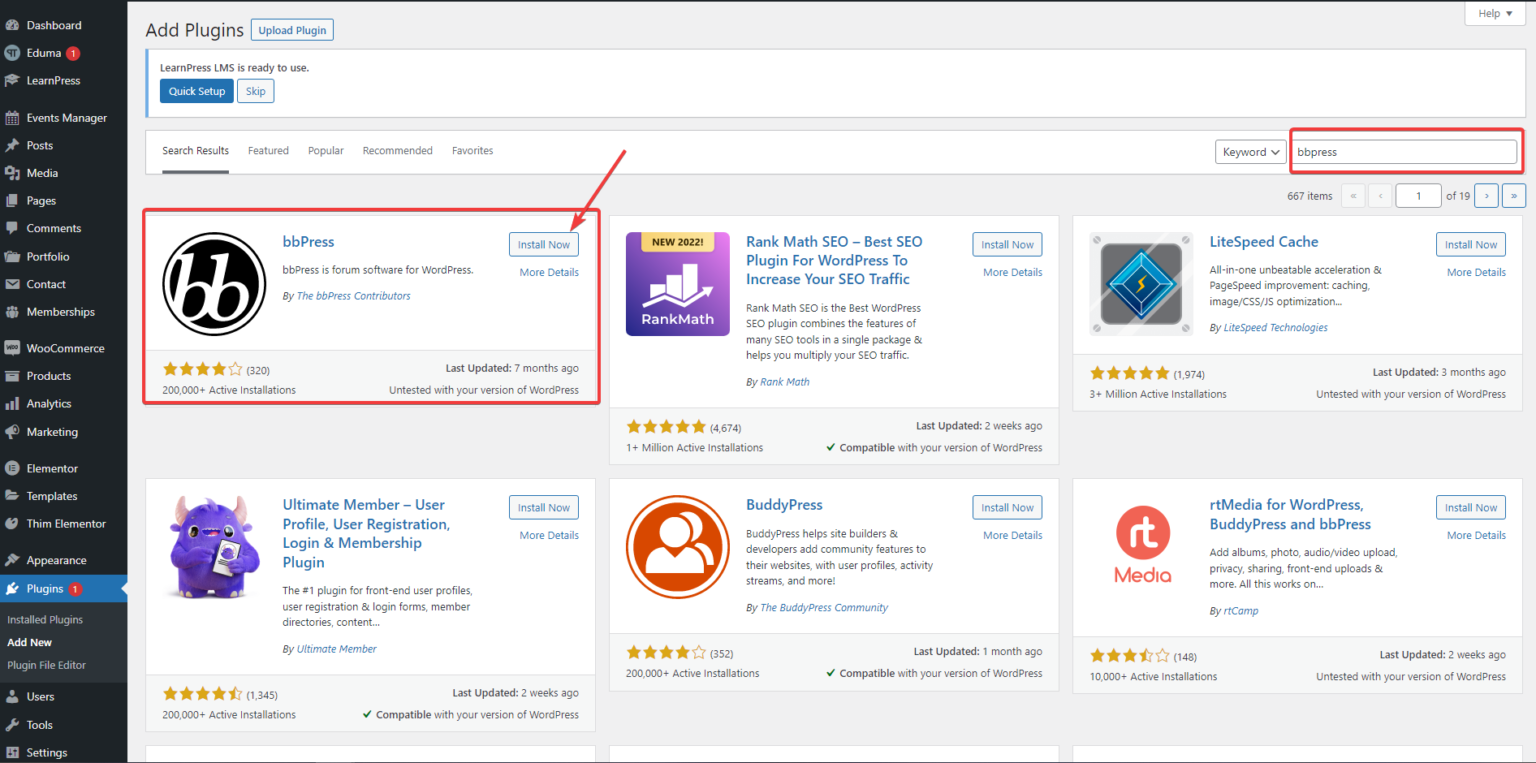 Settings
You will see the "Forums" feature in your dashboard once you activate the bbPress addon successfully.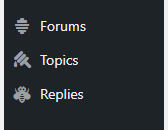 To enable the bbPress add-on for a course, you need to go to LearnPress -> Courses and either click Add New or select an existing course. Then, scroll down and find the Course Forum section. There, you can check the box for Enable bbPress forum for this course.

Creating a new forum is simple. Just go to your dashboard, look for Forums on your left sidebar, and click on Add New.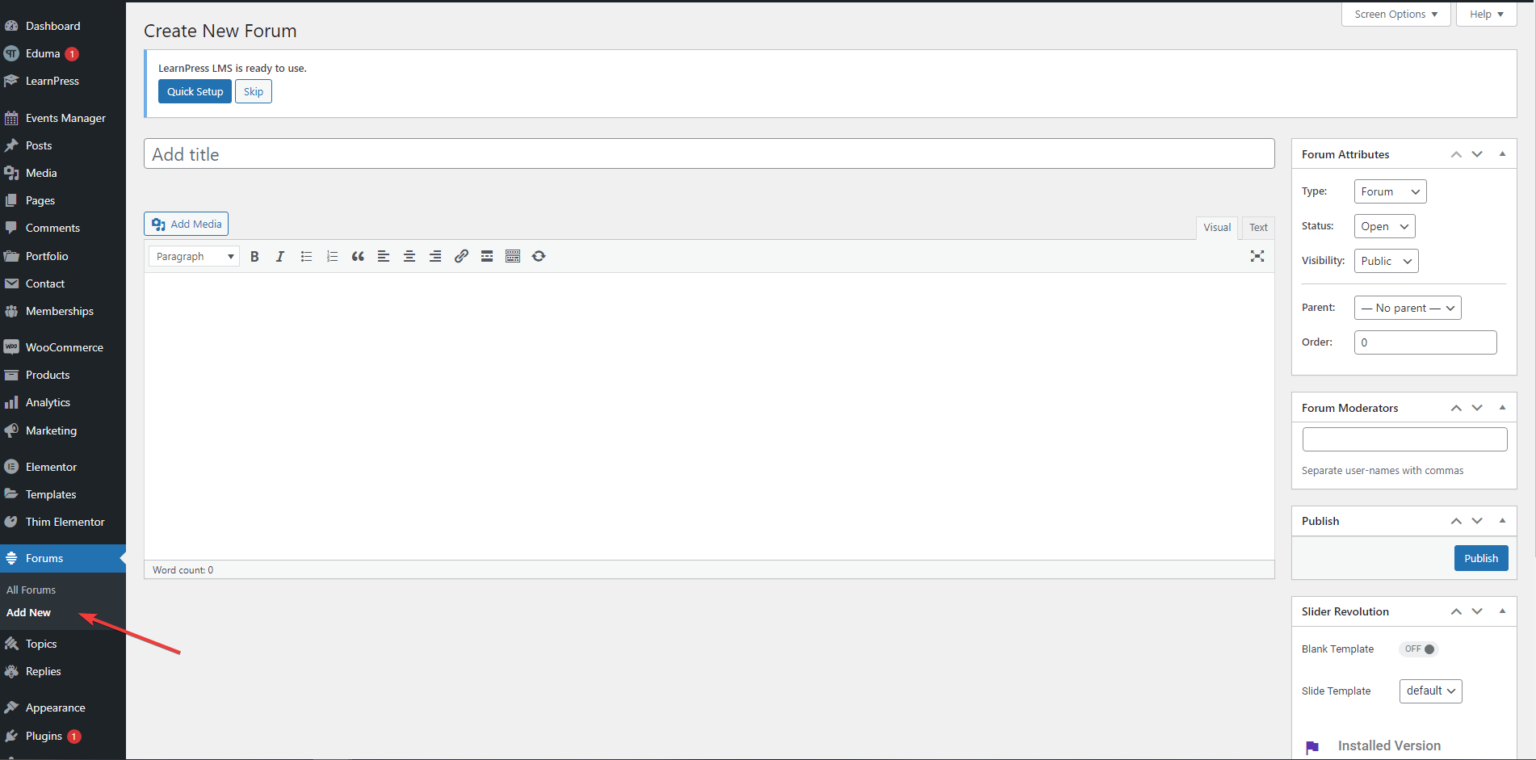 You can go to LearnPress -> Topics and LearnPress –> Replies to manage the topics and replies in each forum.
To adjust the forum settings, go to LearnPress -> Settings -> Forums.
You can see the Forum feature now on the website and ready for use. Users can create and respond to topics.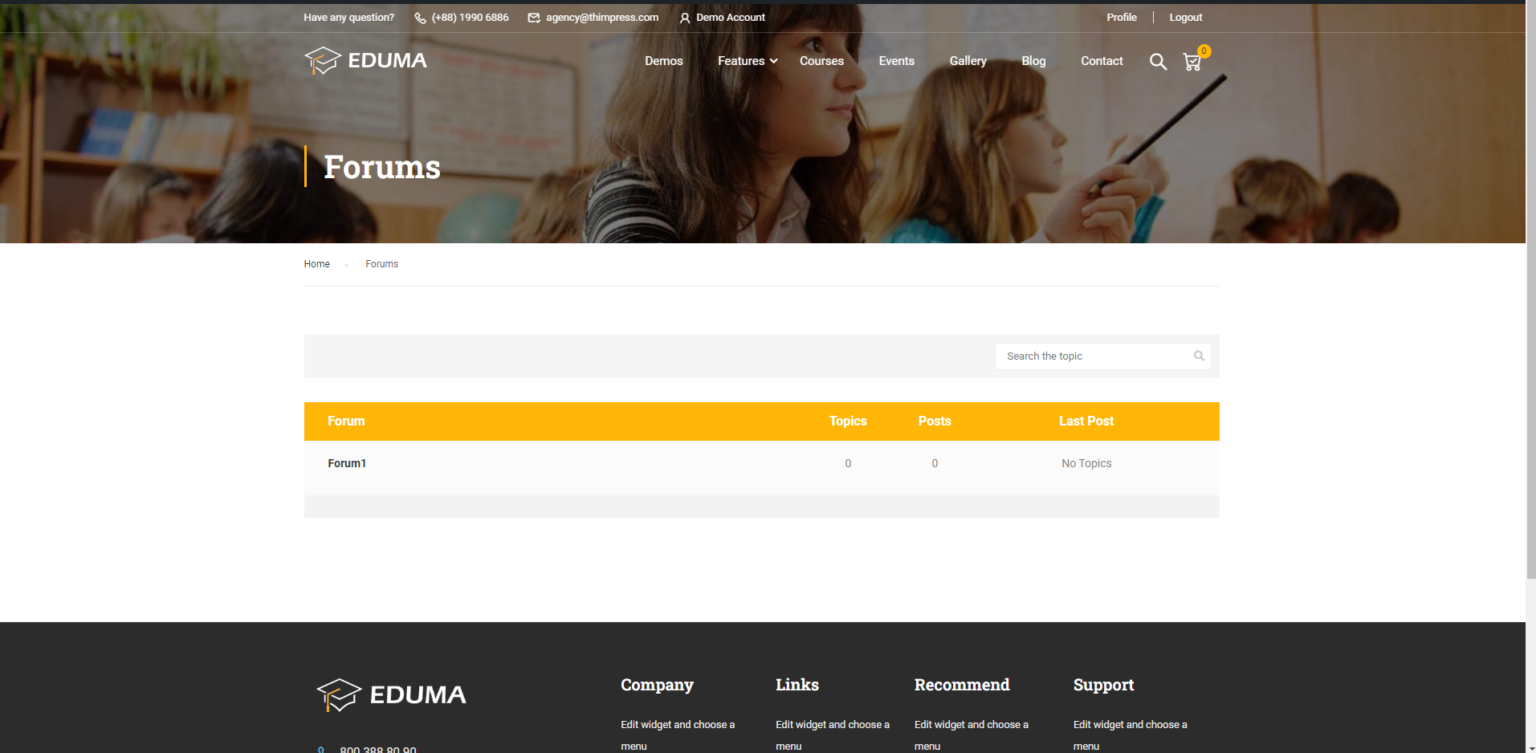 That's all for our LearnPress bbPress Integration today and hopefully you enjoy it.
Read More: LearnPress BuddyPress Integration (Free Addon)
---
Contact us, ThimPress:
Website: https://thimpress.com/
Fanpage: https://www.facebook.com/ThimPress
Youtube: https://www.youtube.com/c/ThimPressDesign
Twitter: https://twitter.com/thimpress