Online learning requires course creators to monitor the pace of students' progress through course materials. This is where the LearnPress Content Drip Integration comes in.
With this powerful add-on, course creators can control the release of course content, ensuring that students have a solid understanding of each lesson before moving on to the next.
In this beginner's guide, we will explore the advantages of using the LearnPress Content Drip add-on and provide step-by-step instructions on how to integrate it into your LearnPress courses.
LearnPress is a WordPress plugin that allows you to create and sell online courses like Udemy, but with more control and flexibility over your own website.
Advantages of LearnPress Content Drip Integration
The LearnPress Content Drip Integration provides many benefits that can improve the quality of education for both instructors and learners. Here are some of the key features of this wonderful add-on:
Better Learning Progression: When a course includes multiple lessons and quizzes, it is essential to ensure that each subsequent lesson builds upon the previous one. By using the LearnPress Content Drip add-on, course creators can set up a sequence where each lesson becomes progressively more challenging, allowing students to understand the lessons at an appropriate pace.
Enhanced Understanding: The LearnPress Content Drip Integration also makes sure that students understand each lesson well before they go to the next one. So they'll know the basics well, which is very important for their learning.
Completion Requirements: If you want to give a certificate to students who have finished a course, you can use this add-on with the Certificate add-on. By requiring students to study all the required content before unlocking the certificate, you can guarantee that they have met the necessary criteria for certification.
Increased Study Effectiveness: By controlling the release of course content, the LearnPress Content Drip Integration promotes better study effectiveness. Students are less likely to skip lessons or rush through the material, as they must complete each lesson before moving on to the next.
Drip Types in LearnPress Content Drip Integration
LearnPress offers three types of content drip, each serving a specific purpose and allowing for greater customization of course delivery. Let's explore these drip types in detail:
Content Drip by Specific Time
With this drip type, you can choose when to start your courses. You can decide to launch the course right away after enrollment, set a certain time gap after enrollment, or plan the course to start on a specific date. This feature is particularly useful when you want to align course availability with specific events or timeframes.
Opening Lessons and Quizzes Sequentially
This drip type lets you manage the sequence in which lessons and quizzes are opened to your students. You can choose to open lesson #2 only after the completion of lesson #1, guaranteeing a progressive learning experience. This step-by-step approach fosters a logical progression and prevents overwhelming students with excessive information at once.
Open Items Based on Prerequisite Items
The third drip type enables you to set conditions for opening lessons based on whether certain prerequisite items have been accessed or completed. By using the "Open item based on prerequisite items" option, you can specify which lessons need to be completed before the subsequent ones become accessible. This feature is ideal for courses with interconnected topics or those that require foundational knowledge before progressing further.
How to Set Up Content Drip in LearnPress
LearnPress Content Drip Integration is an easy process to set up. You can refer to our detailed video here or keep reading this guide.
Let's walk through the steps:
Step 1: Download Content Drip Add-on
This is a premium add-on so you need to buy it if you have not bought the LearnPress Pro Bundle or our education themes that include all add-ons for free.
After having the add-on, go to ThimPress -> Sign In -> hover over My Account -> select Orders -> Download the versions you want.

Step 2: Install and Activate
Open your WordPress Dashboard -> find Plugins -> click Add New -> Upload Plugin -> Choose File that you have downloaded previously -> Install Now.

After the plugin installation is successful, click Activate Plugin and you'll get a notification about the successful activation of the plugin.

The plugin is now active and usable.

Step 3: Configure Content Drip
Log in to your LearnPress Dashboard -> Select Courses
In the Courses tab and select the desired course.
Scroll down to the Course Settings -> Content Drip -> check the content drip box to enable the add-on.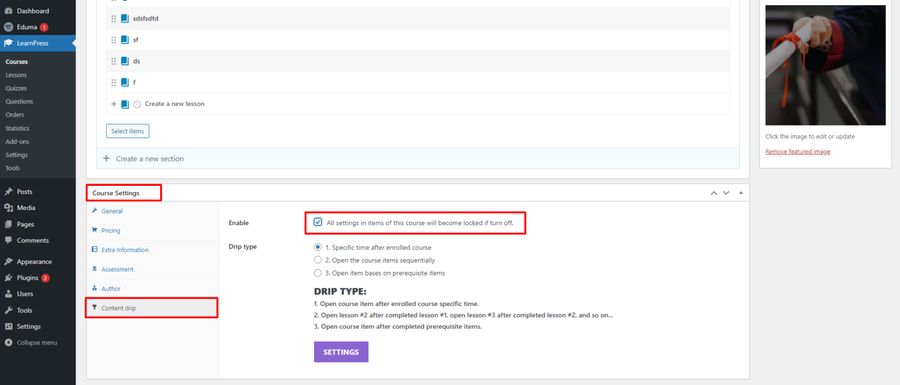 After enabling content drip, select the preferred drip type based on your course requirements and click Settings to set up the type you have chosen.
If you choose content drip by a specific time, specify the opening time or delay after enrollment.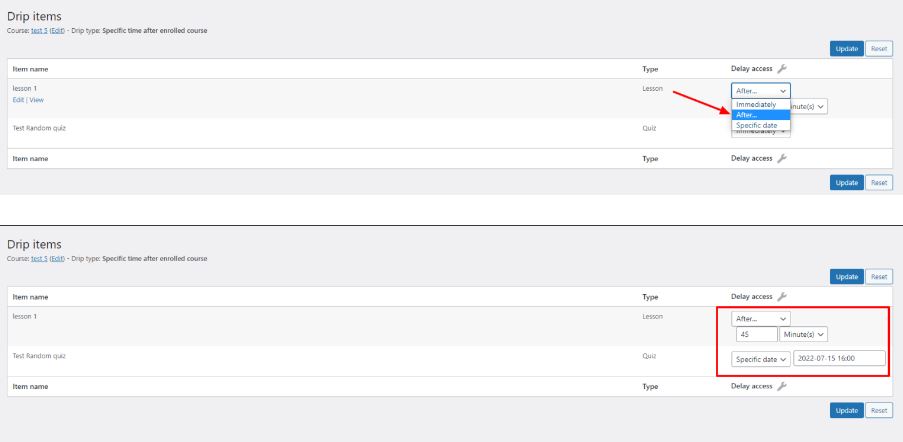 And this is how it appears on the frontend page.

If you prefer to open lessons and quizzes sequentially, set the order using the lesson numbers.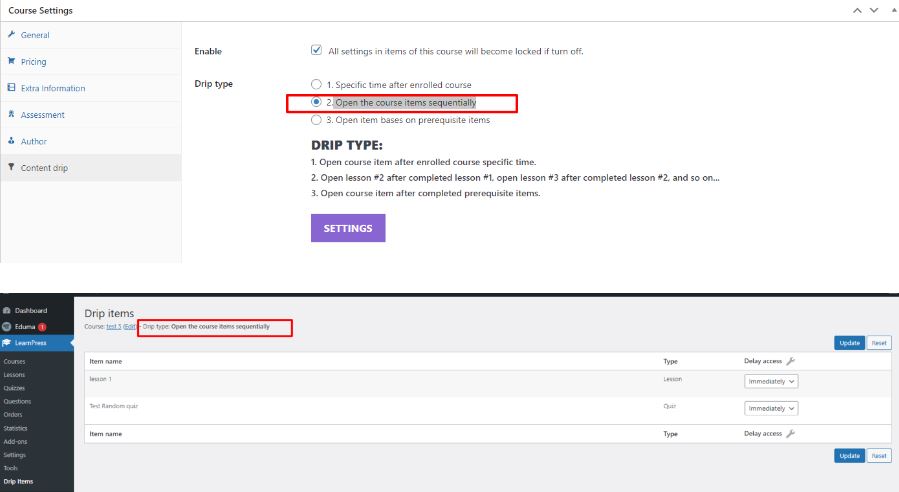 And this is how it appears on the frontend page.

For opening items based on prerequisite Items, select the prerequisite lessons that need to be completed.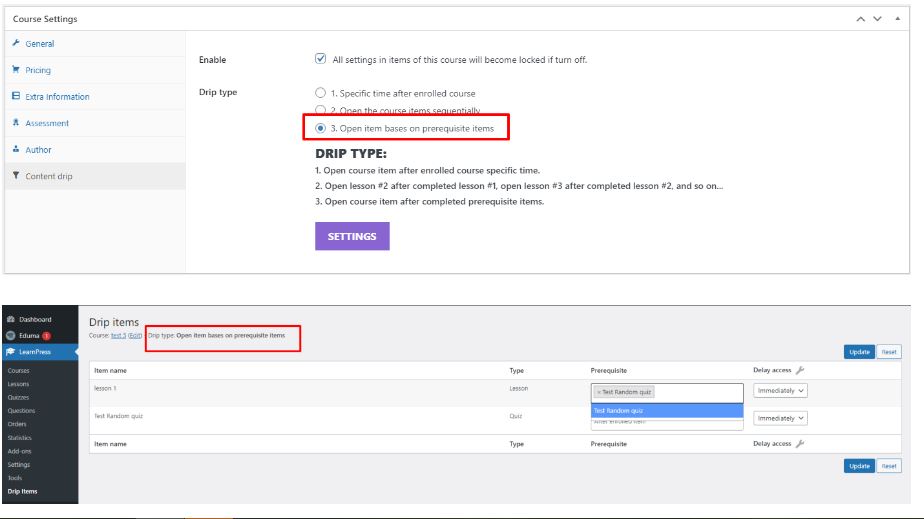 And this is how it appears on the frontend page.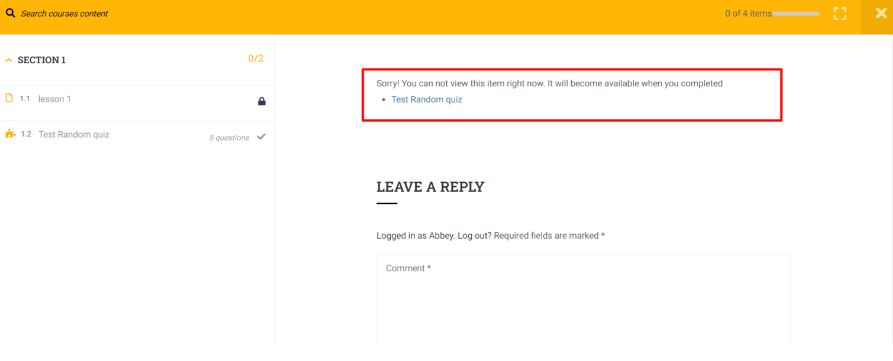 Once you have configured the content drip settings, click on the Update button to save your changes.
Remember to review and double-check the settings to ensure they align with your intended course structure.
Final Thoughts
LearnPress Content Drip integration helps course makers to give their content in a clear and fun way. By choosing when to show course materials, you can make learners more interested, keep a good course order, and give a better learning experience. Use the different drip types in LearnPress to change the way you give your course content and make a smooth and happy learning trip for your students.
Read More: Beginner's Guide: LearnPress Co-instructors Integration
---
Contact us, ThimPress:
Website: https://thimpress.com/
Fanpage: https://www.facebook.com/ThimPress
Youtube: https://www.youtube.com/c/ThimPressDesign
Twitter: https://twitter.com/thimpress