A lot of SEO advice can be pretty vague. 'Creating great content' and 'optimizing your pages to the Google algorithm' is something you are probably already doing. Below, we offer specific tips and SEO tactics that you may have overlooked, but that will give you an edge over your competition.
1. Refurbish Your Older Posts
This is a quick and easy method to use since it requires minimal work on your part and can have great results.
When it comes to older content, many people seem to forget about it once it gets posted. Even if a post turns out to draw a lot of traffic to their page, it can still contain outdated info.
It might be a good idea to schedule a review of your posts every 6 months or so. This can give you an opportunity to update the post with relevant new info or case studies proving your point. You can also consider reuploading the post to further increase traffic.
2. Getting Local
Using 'near me' or 'close to' as a part of your keyword can dramatically increase your SEO ranking. This is especially true for businesses in the service industry:

A good way to implement this tactic is to revise existing posts, as mentioned above. While doing this, make sure any location intent terms are put in places that make them sound natural. This way you'll avoid overstuffing these terms and make sure you're placing them on the right type of pages.
3. YouTube SEO
We often forget that YouTube is technically the second most used search engine in the world. It sees more requests than Bing, Yahoo and AOL combined. Also, Google searches almost always display relevant YouTube videos at the top of the search results.
If you have the know-how needed to create engaging and relevant YouTube videos, you can work toward building a huge audience on a new platform. If you also take the time to optimize SEO on your YouTube videos, you are almost guaranteed to earn top ranking with every relevant Google search.This is a great addition to generating more visibility and traffic to your business.
4. Analyze Your Competition
A good way to discover the best keywords to use on your webpage is to look at what your competition is doing.
First, identify your main competitors. You can filter by any relevant factor, whether it's geographical location, industry, or services they provide. Once you have a list of relevant businesses, you can focus on the following:
Analyzing keywords: You can use tools like Moz Keyword Explorer, KeySearch, Ahrefs, SEMRush or Google Keyword Planner to identify the best keywords your competitors are using.
Analyze links: Looking at the origin and number of links on a competitor's webpage can show you which sites are linking back to their pages. You can then contact these sites and see if they would consider linking to your webpage as well. Also, this is a great way to learn more about your industry and get more ideas.
Analyze content: Consider how often your competitors post new content, how long these posts are and how they are structured. If these posts have a high SEO ranking, they can be a good guideline on how you should write your content as well.
5. Get Into Featured Snippets
Featured snippets will often appear at the top of the Google search result page: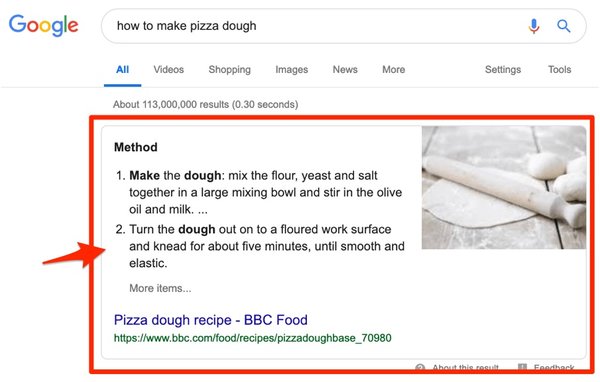 Google usually pulls this snippet from the top 5 search results for the key terms used. Even though there's no real rule on how to be featured here, there are still tactics you can use.
One of these is to use the appropriate structure in your posts. In the example above, people are searching for instructions. Therefore, a step-by-step guide has a far better chance to appear in the snippet.
6. Feature Content From Other Sites
Continuing on what we mentioned above, getting backlinks from reputable sites is a great way to improve your SEO ranking. This will also improve your webpage's trustworthiness when it comes to the Google algorithm. But if you want backlinks, you'll also have to be willing to give.
Using your blog posts to link to relevant and authoritative sites will have a dual benefit. First, you provide your visitors with valuable further reading on the given topic. Second, you build a relationship with the site in question. This is likely to lead to them linking to your webpage as well, which in turn boosts your SEO ranking.
7. Optimize Your Landing Page for SEO
When thinking about landing pages, many people tend to focus only on the home page. While the home page is important, you should also consider designing custom landing pages for other relevant parts of your website and doing proper on-page SEO for them.
These can include:
Landing pages
Your main service pages
Blog Posts
When designing the landing pages, you want to make sure there is no navigation at the top of the page. This is because you want the visitors to stay on this page for as long as it takes to drive engagement.
You also need to offer relevant content with lots of information. Finally, you will need a call to action, to invite the user to engage with the website and possibly turn this engagement into a sale.
Conclusion
As SEO continues to change and evolve, more and more specific tactics are needed to stand out from the crowd. The tips we laid out will help you stay one step ahead of the competition.