A lot of users are wondering about the Travel WordPress themes to support the most beautiful and professional travel websites nowadays. The better is to have an online tour/hotel booking function.
Themes for making a tour booking website are never lacking because there are now hundreds of such themes. The only thing is you may not know where to find them. Therefore, we will present a list of 10 themes for professional travel websites making that you can choose from.
Sailing – WordPress Booking Theme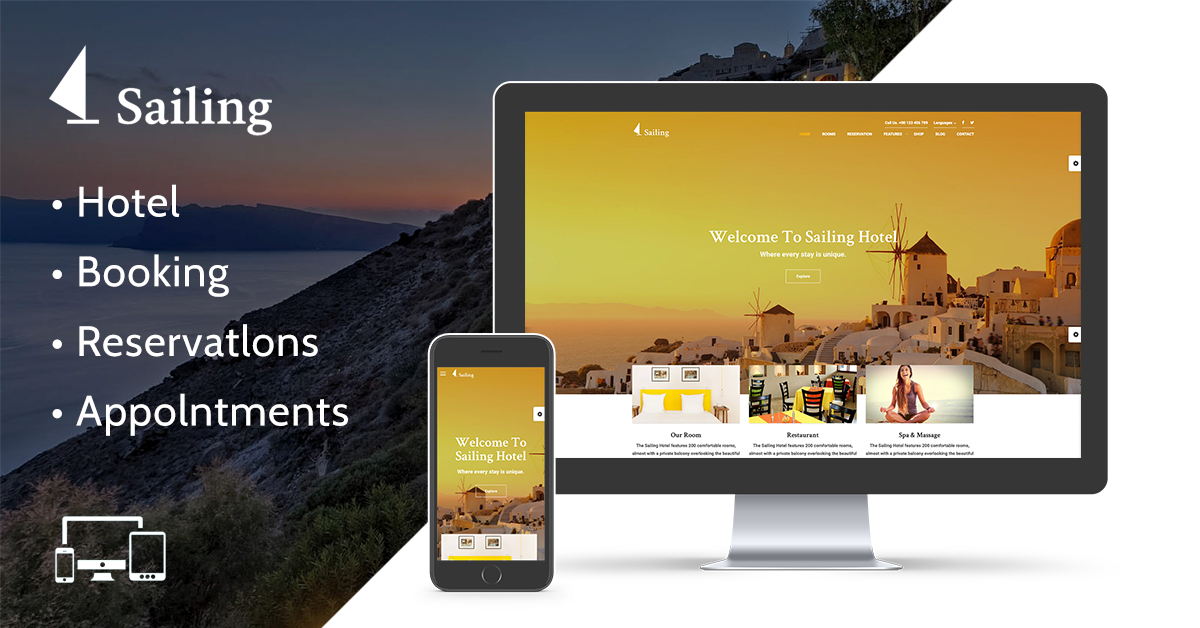 If you are looking to design a WordPress theme for the hotel or tour website, the hotel WordPress theme – Sailing is absolutely the best choice for you.
Firstly, this travel WordPress theme is with full-screen sliders, smooth scrolling, and eye-catching visuals. Secondly, it also has a professional interface. The footer is simple and expands for you to clearly feel the modern breath. Just see it and you'll want to book and fly there in no time.
Besides, the theme has a search section, helping users to find places quickly. You can add links to social networks for quick and easy reference. With its unique, appealing design and beautiful layout, Sailing is the best ideal for websites about food and receipt, healthy living, travel, health, natural product review, and so on.
Moreover, key features include custom page templates, a web-friendly interface, landing page templates, various widget areas, custom headers, and theme options. Also, there are customization support, ready-to-access, and the latest, other fantastic characteristics and advantages of the hotel WordPress theme – Sailing.
LuxStay – Hotel & BnB WordPress Theme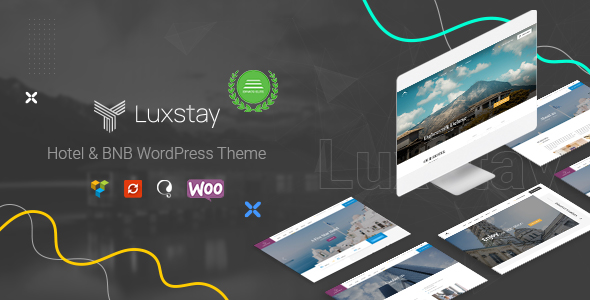 LuxStay is the most charming and responsive WordPress theme. This is for B&B, Hotel, hostel, Spa, and holiday room/apartment rental services.
Besides, LuxStay templates are for all kinds of services. Its primary purposes are to help you handle room listings, customer reservations, online reservations, price plans, and coupons more effectively. This subject will introduce your unrivaled accommodation to the world and draw more visitors to your website with its stunning design and high coding quality.
Consider all the necessary functions for your website:
Reservation and availability check form
Pricing schedule based on weekdays
Additional facilities, services, and coupons.
As we know that there is no single-size product, we also have several various styles and design choices for you to choose from.
Grand Tour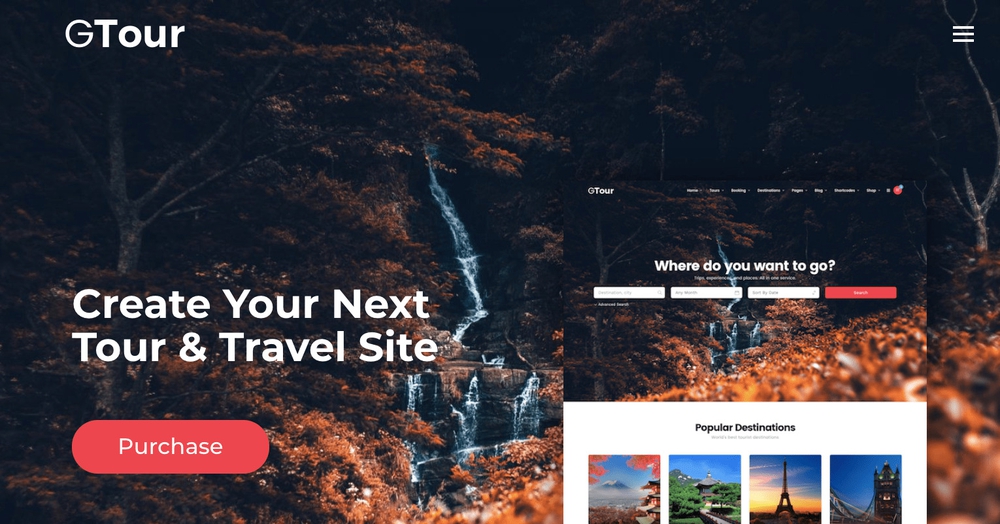 Grand Tour is a fully-featured travel blog theme from WordPress that makes a great website. This travel WordPress theme provides extensive documentation to promote installation and use. It comes with a simple and clear template to create any sort of blog website. The theme is well optimized for faster website loading speed and keeps visitors attractive.
Travesia
Travesia is the ultimate travel WordPress theme, especially for travel and travel agencies, agencies, and personal travel portfolio websites.
Also, you can rapidly launch an online store using a WooCommerce plugin. The theme Travesia includes a WordPress live customizer feature in which you can premiere the live installs that you've made. At last, you will find custom widgets for social sharing to get better-connected visitors in the best way.
Divi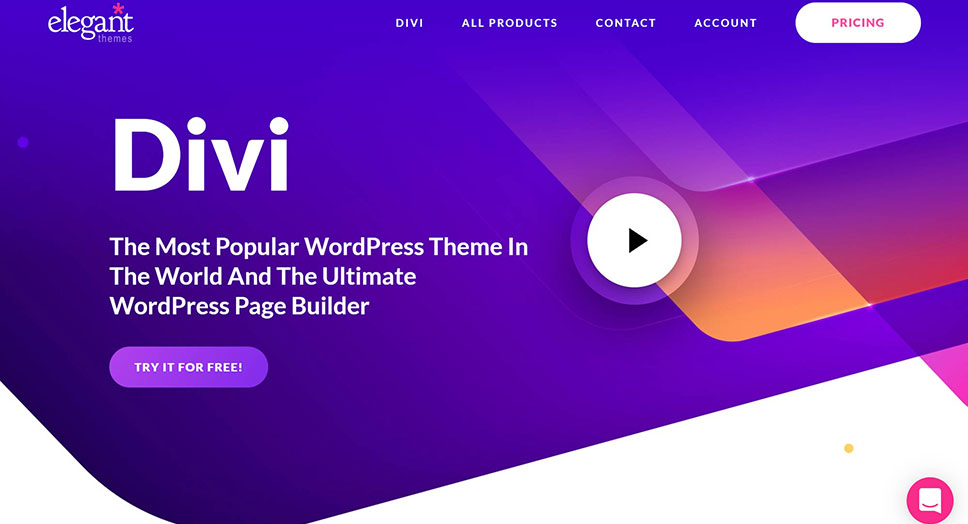 Divi is a beautiful travel WordPress theme that many users looking for when building their travel websites.
The theme is one of the ideal themes for bloggers, tourism agencies, hotels, airlines, photography agencies, or blog sites of all kinds. You definitely can install demo data with just one click in minutes and make your website look like the demo. You can quickly attach to your guests with the aid of social icons.
GoTravel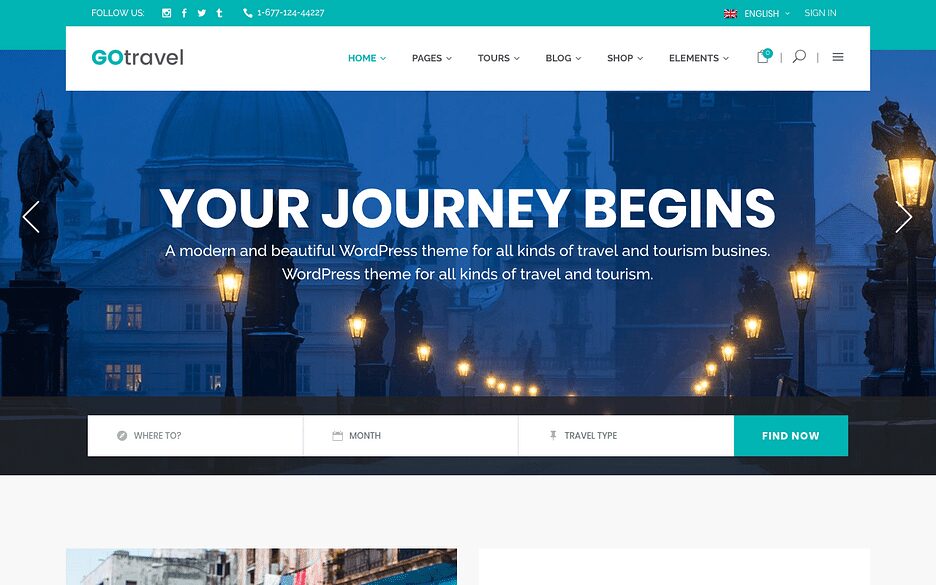 GoTravel is one of the best travel WordPress themes professionally designed. This theme has a fully responsive design that looks great on all screen sizes.
It comes with a number of useful features that make your website unique. Customization tools make it easy to customize your website the way you want to. Especially, you can use the theme even if you are an unskilled person, as you do not need any coding knowledge.
TravelTime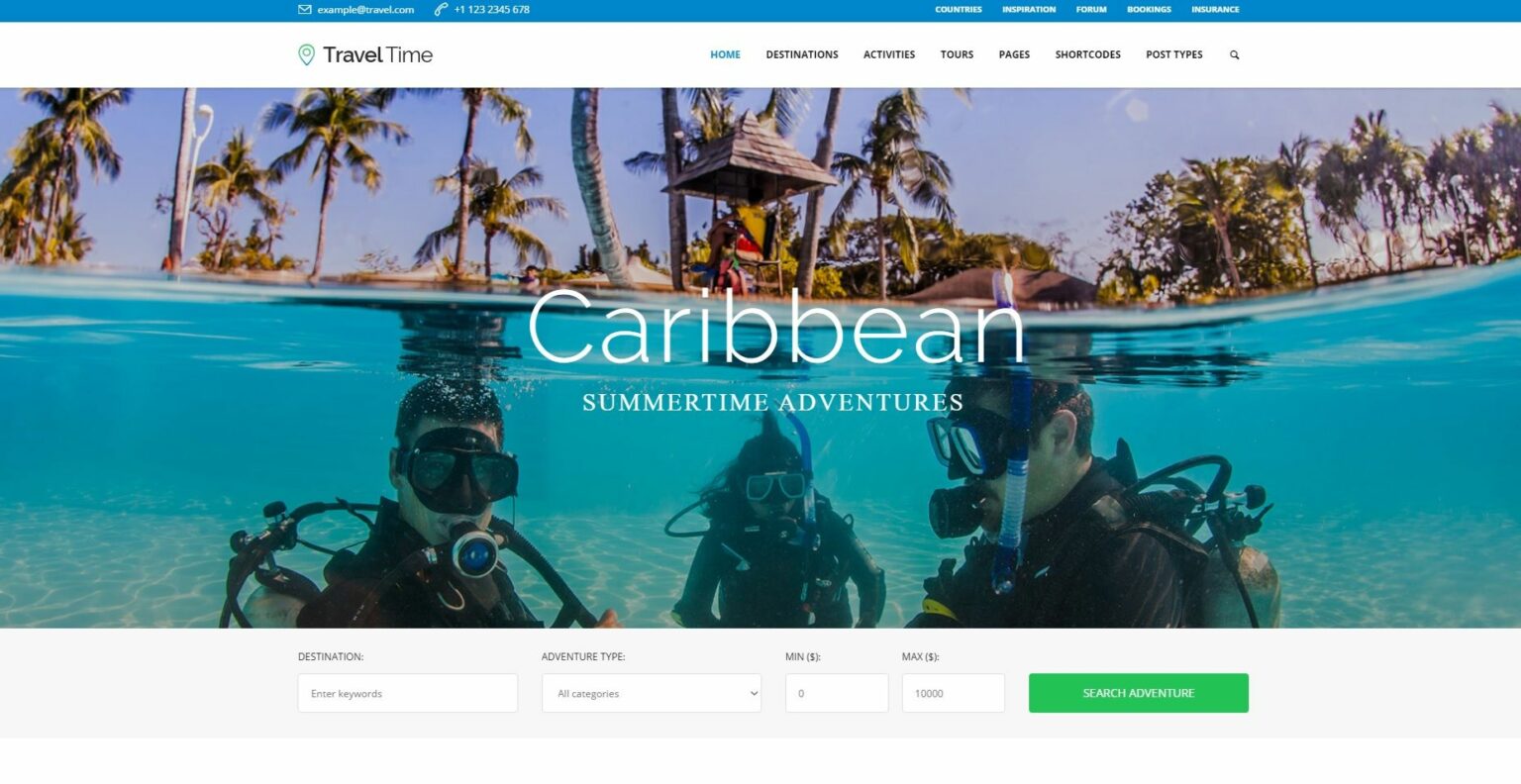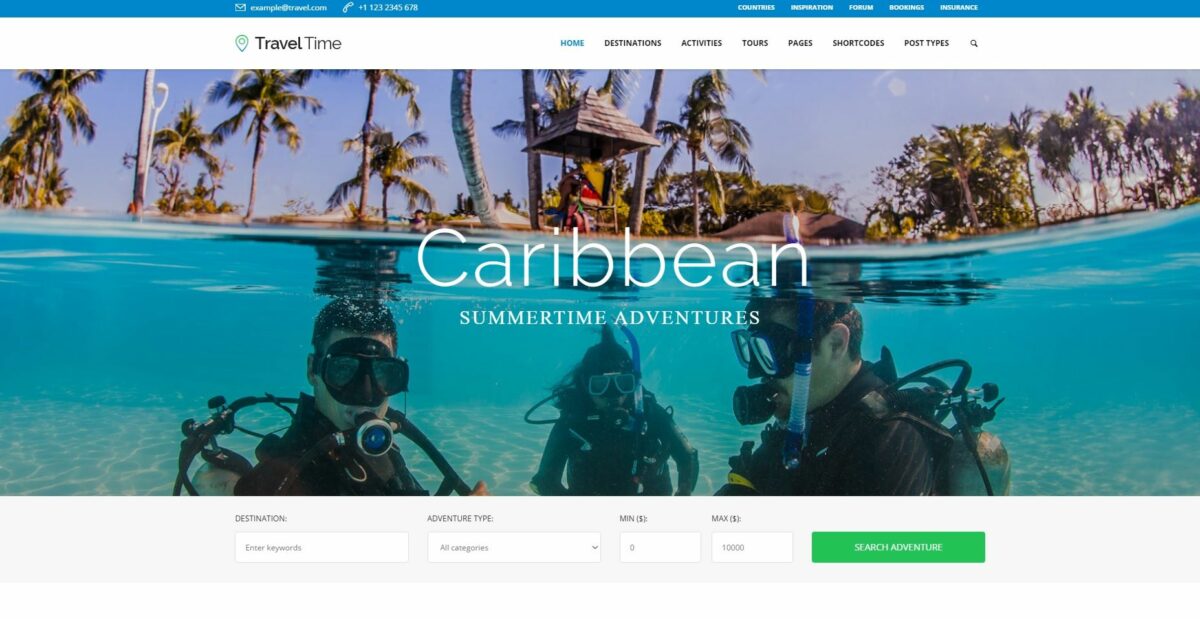 TravelTime is a fully responsive travel WordPress theme perfect for travel blogs, travel agencies, travel agency websites, travel agencies, and more.
This theme involves a lot of technically advanced features that will make a stunning website in no time easier. It's the SEO optimization theme that helps your website rank top in SERP. Thread is translation ready for you to gather customers from different places.
Adrenaline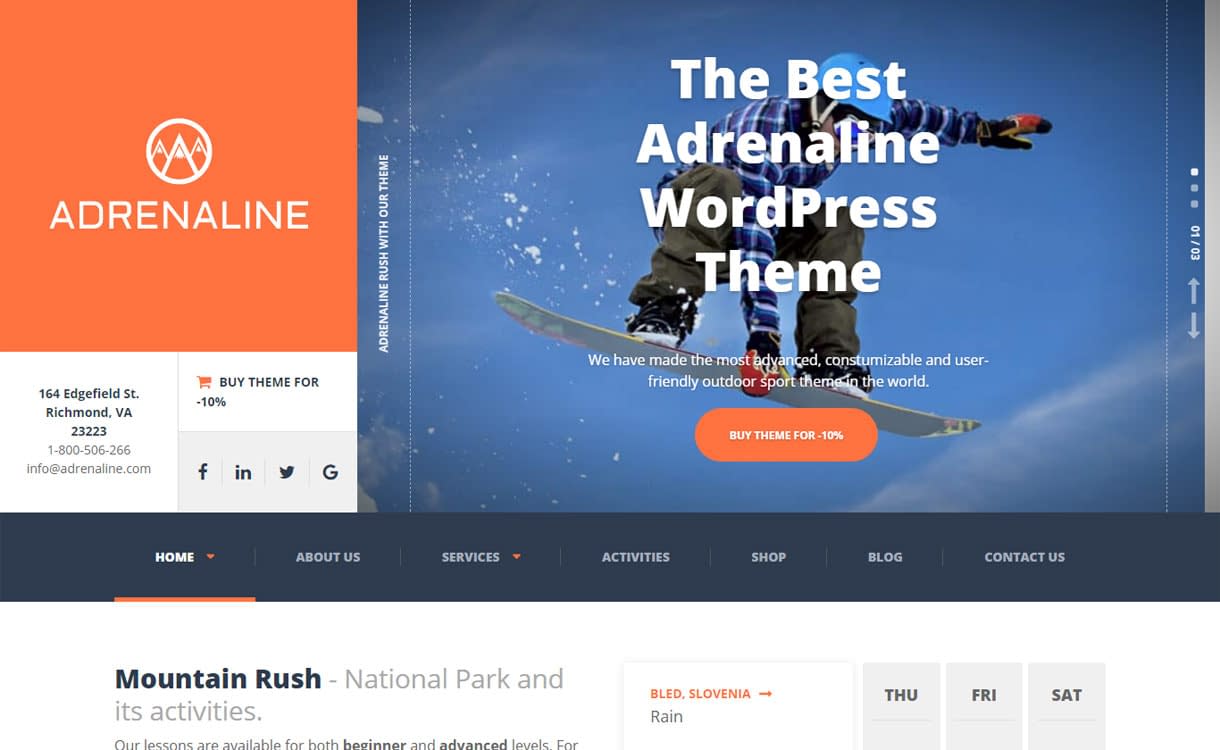 Adrenaline is a travel WordPress theme for websites, tour managers, travel agendas, tour guides, hotels, and more.
You can build an attractive and informative website for travel and tourism with the aid of this subject. This theme is cross-browser compatible which works really well with any browser. Because the code is safe and clean, non-programmers are easy to use. So, let's create a dynamic website with this great theme that includes optimized codes.
SetSail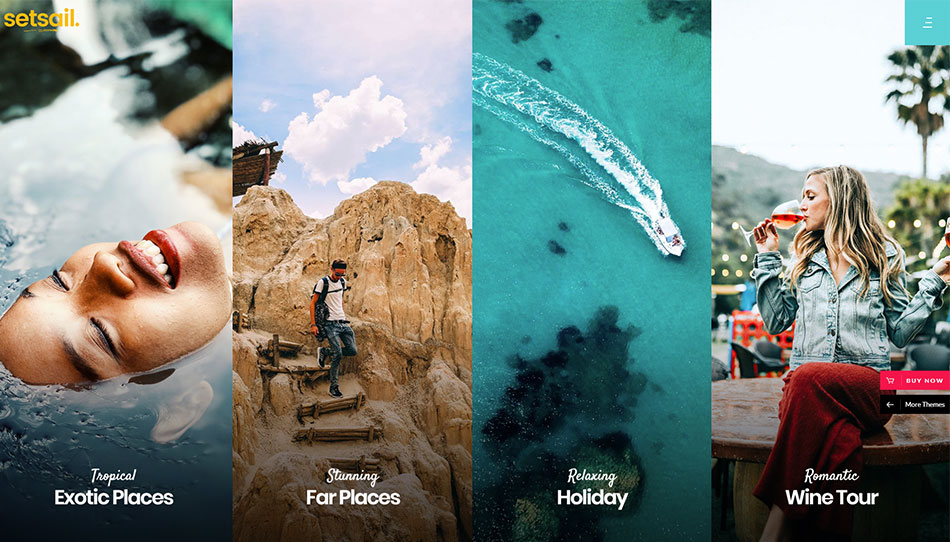 SetSail is a multi-purpose travel WordPress theme best suited for a variety of businesses like travel blogs, travel agencies, photography agencies, hotels, airlines, travel diaries, and more. This theme supports the latest WordPress version which is very useful for making your website look good. It has a nice template that comes with lots of useful features. The theme supports most used WordPress plugins so you don't have to worry about it.
Love Travel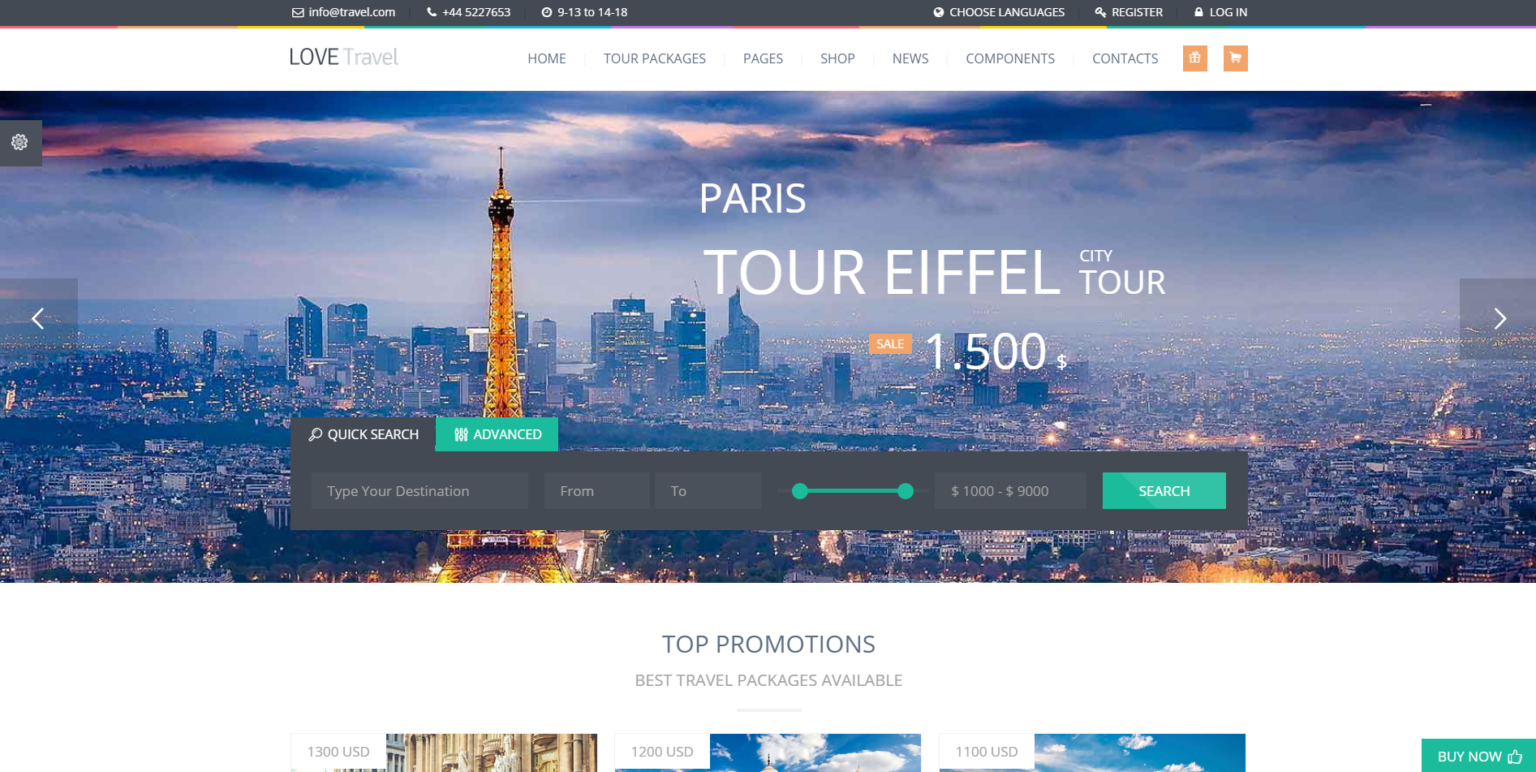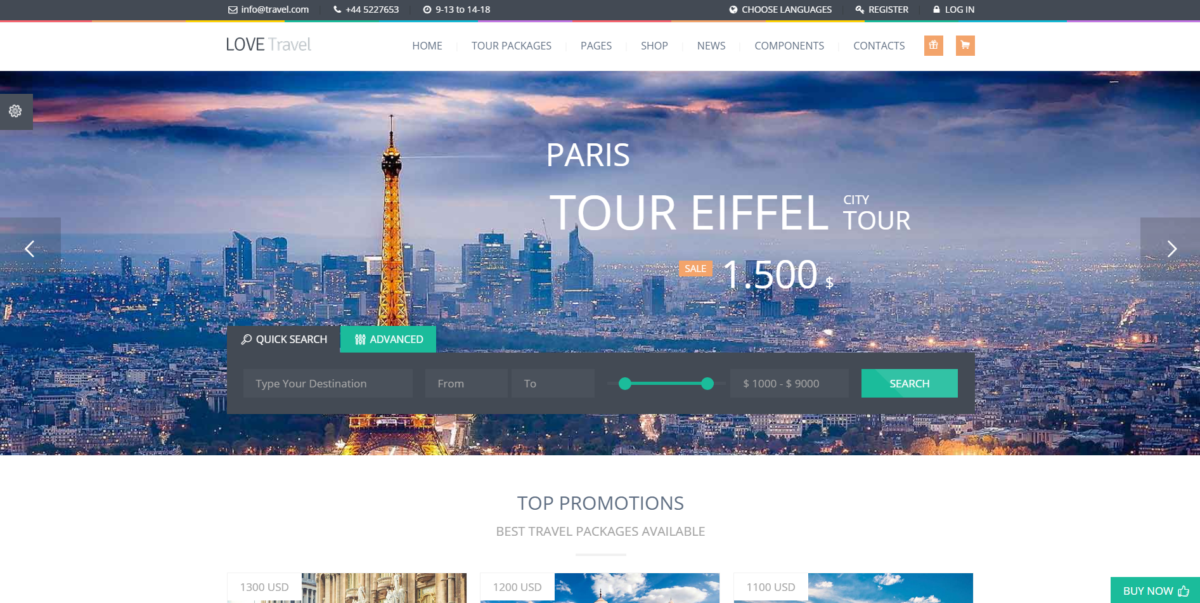 Love Travel is a travel WordPress theme made focused on travel operators and travel agencies. This theme is very light, easy to use, SEO friendly, and customizable to your wishes.
The theme is great for bed and breakfast, hotel booking, travel, lifestyle, stay-cation, trekking, agency, travel booking, tour operator, blogger & blog, etc. Additionally, the Bootstrap Framework includes it.
Summary: Travel WordPress Themes
Overall, this is a summary of some of the best travel WordPress themes with a variety of useful and unique technologies. All topics listed above are well-checked and carefully selected. Hopefully, the above sharing and suggestions on travel website WordPress themes will help you find the theme for your website.
Read more: Best AI Story Writer Tools – Write Creative Stories In Minutes
---
Contact us, ThimPress:
Website: https://thimpress.com/
Fanpage: https://www.facebook.com/ThimPress
Youtube: https://www.youtube.com/c/ThimPressDesign
Twitter: https://twitter.com/thimpress