The term "Memory Usage" in WordPress describes how much memory certain components of your website, such as the theme, plugins, or WordPress itself, are consuming. It may take longer to load or potentially crash your website if these components utilize too much RAM. It's crucial to utilize plugins and themes that are optimized for the memory usage to prevent this.
A website's downtime or even the suspension of your hosting account may result from scripts utilizing too much memory, despite any protections some web hosts may put in place to avoid this. Use a caching plugin to offer up cached copies of your web pages and lessen the strain on your web server to ensure that your website works smoothly.
How to Check Your Website Memory Usage?
By going to your cPanel login page and selecting "Service Status: Click to View," you can see how much RAM your website is consuming. This will demonstrate how your website is typically used and enable you to spot any unusual memory usage that can endanger it.
If you're not using cPanel, you can monitor the memory usage of the WordPress website using the Server IP and Memory Usage Display plugin: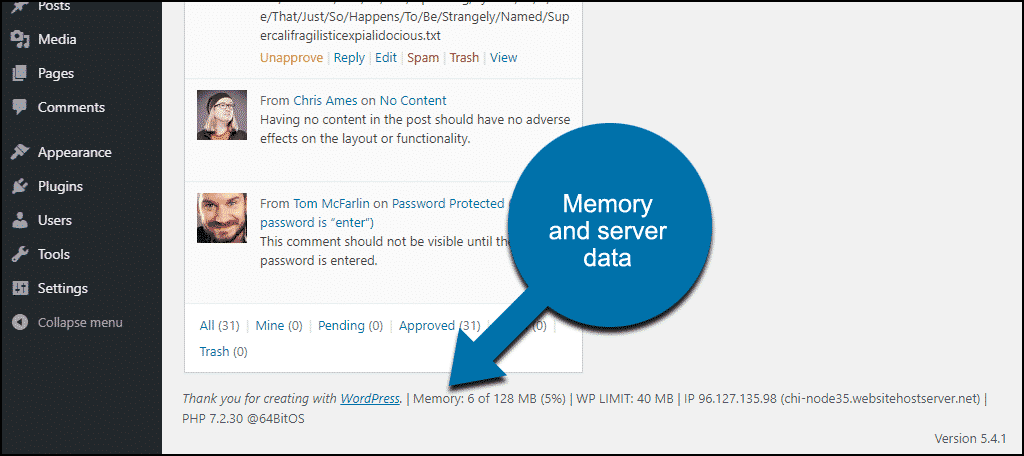 Note: If you require additional RAM, you can ask your host to raise the amount that has been allotted to you; but, before making any changes, you should be aware of what you're doing.
Conclusion: Now you know 'What is Memory Usage?'
In conclusion, memory usage is a crucial component of the functionality of your WordPress website. Your website may slow down or even crash if it consumes too much memory. Use effective plugins and themes to prevent this, and think about utilizing a cache plugin to lighten the strain on your web server.
Read More: What Is MySQL?
---
Contact us, ThimPress:
Website: https://thimpress.com/
Fanpage: https://www.facebook.com/ThimPress
Youtube: https://www.youtube.com/c/ThimPressDesign
Twitter: https://twitter.com/thimpress