WordPress themes for restaurant need to ensure to meet the needs of the menu display. The menu introducing beautiful pictures of outstanding dishes and drinks will attract the attention of visitors. Themes even need to feature online reservations and ordering. The WordPress themes in the article will be a great recommendation for your website.
Best 10 WordPress Themes for Restaurant
Resca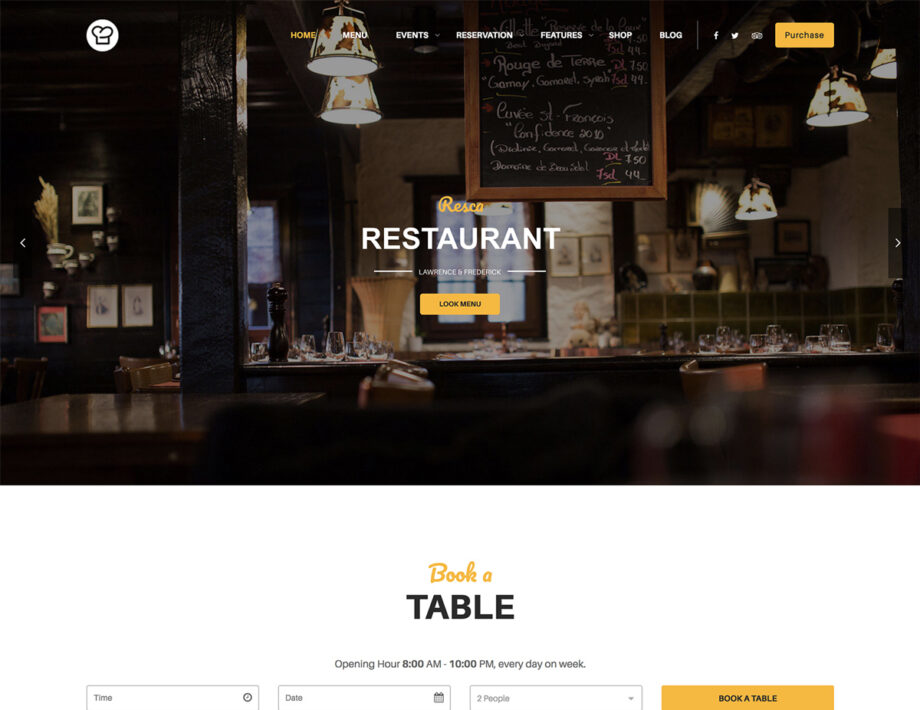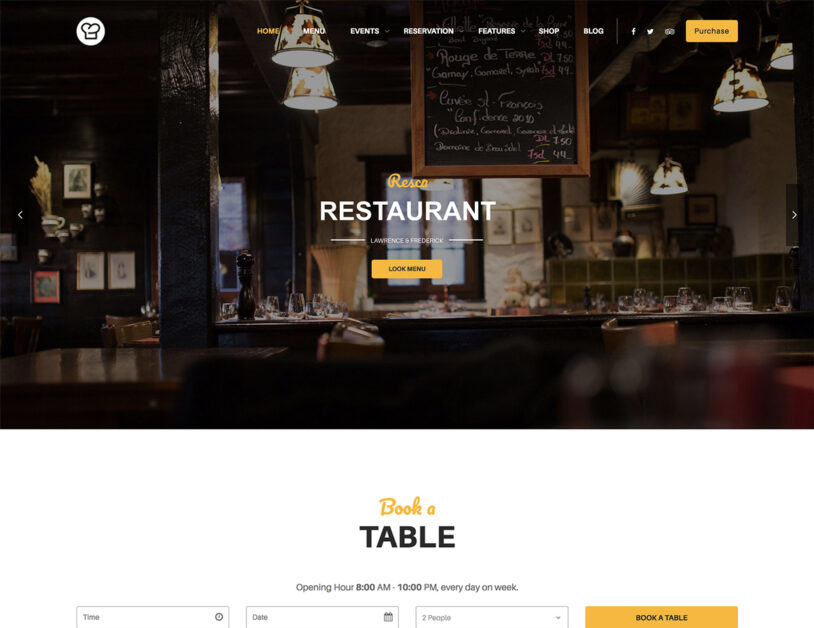 Resca is a theme for creating the ideal restaurant, cafe, lounge, bistro, pub, saloon, or dinner website from ThimPress. This WordPress restaurant theme with an outstanding reservation system that comes in two flavors: Reservation form where you can fill in the necessary details for a simple Table Booking & OpenTable form – An online reservation with OpenTable enabled.
The exceptional function enables executive assistants, travel managers, recruiters, and other administrative staff to make reservations on behalf of others while earning valuable OpenTable Dining Points.
This WordPress theme for restaurants totally embraces an impressive restaurant menu with pictures of food, extensive descriptions, prices, recommendations, offers, and what's new. Customers can easily browse and scan the dishes because they are organized into groups. Resca's menu would look fantastic on every screen since this theme is a member of the best responsive WordPress themes and has Retina-ready features.
Resca is known as one of the best WordPress restaurant themes and is ready for customers to give them reviews & questions with a simple contact form with contact form plugins. In the event of direct touch, consumers also have Google Maps, email addresses, and telephone numbers. Another enticing aspect of this style "Killing?" or "About Us?" page encourages you to stand on the audience.
Nem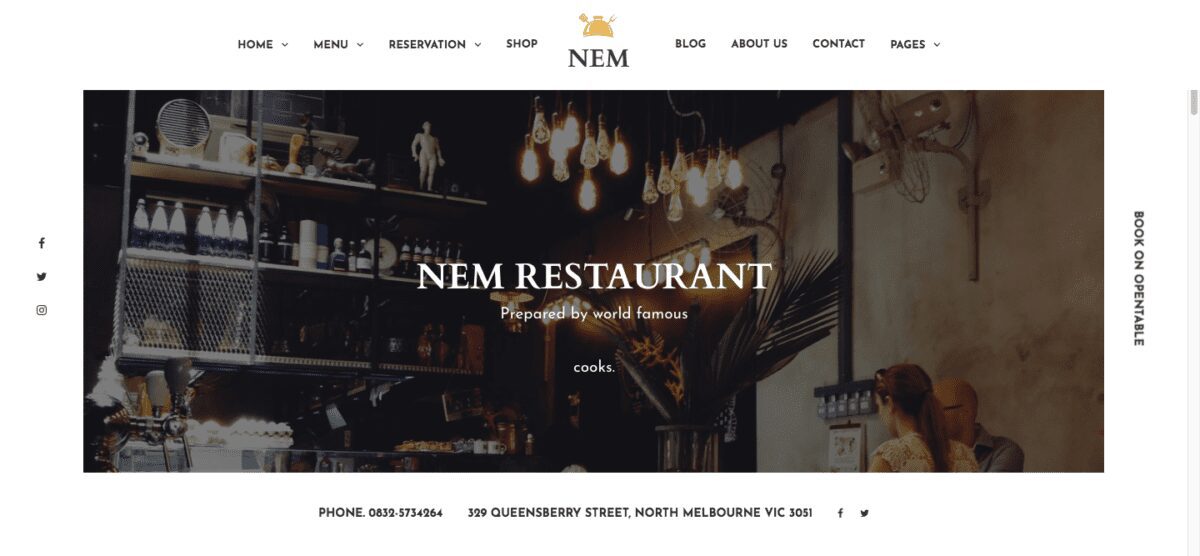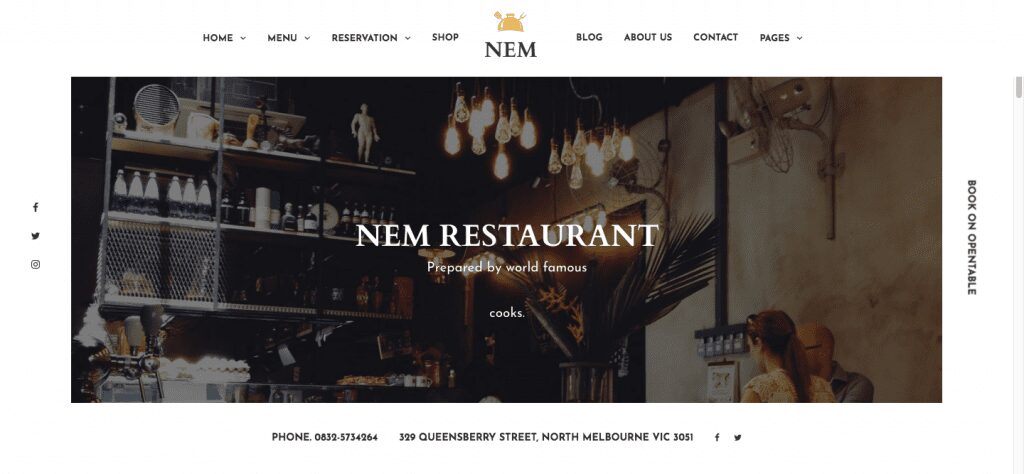 Restaurant WordPress Theme – NEM's delectable menu concept makes it an ideal option for hotels, cafes, and other food and beverage establishments.
If you own a big luxury restaurant, a café store, a bakery, or an online food delivery company offering pizza, pasta, or cheeseburgers, NEM can exceed your needs and provide your customers with a brand-new experience filled with great and beautifully crafted features.
More importantly, NEM is created by a team of experts in SEO optimization – ThimPress, clean code of the theme makes NEM one of the best SEO WordPress themes.
Let's imagine the brand's website with an unlimited color skin and style mix, parallax and responsive interface, an elegant recipe collection, Revolution Sliders for restaurant introduction or promotion campaigns, online booking and reservation, and so on.
Café Pro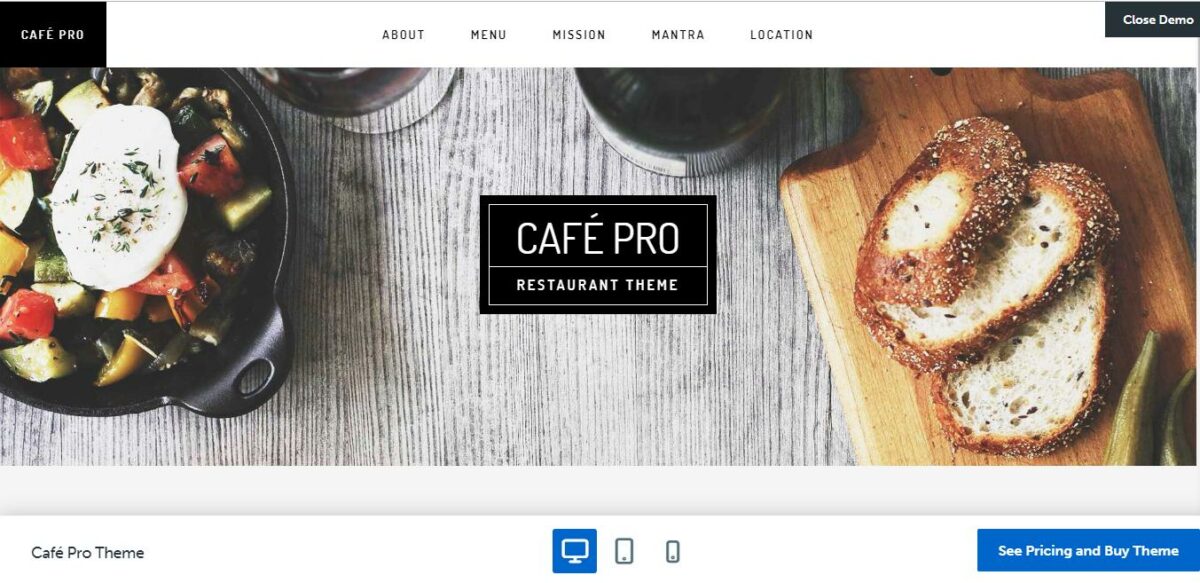 With Café Pro WordPress theme for restaurants, you can use a variety of advanced extensions to best display your website. These include a full-screen slider to display beautiful images along with text descriptions, with a separate area to showcase the best dishes and services. Besides, this restaurant WordPress theme also has a contact section, the location where customer reviews are displayed, etc.
Cafe Pro provides the Parallax background image feature, when the user scrolls up or down, the image will automatically scroll. At the same time, it also has an image gallery with a hover button to zoom in when the user wants, allowing it to insert shortcodes for custom styling.
In addition, this WordPress theme offers attractive content and images, and text templates.
Ultra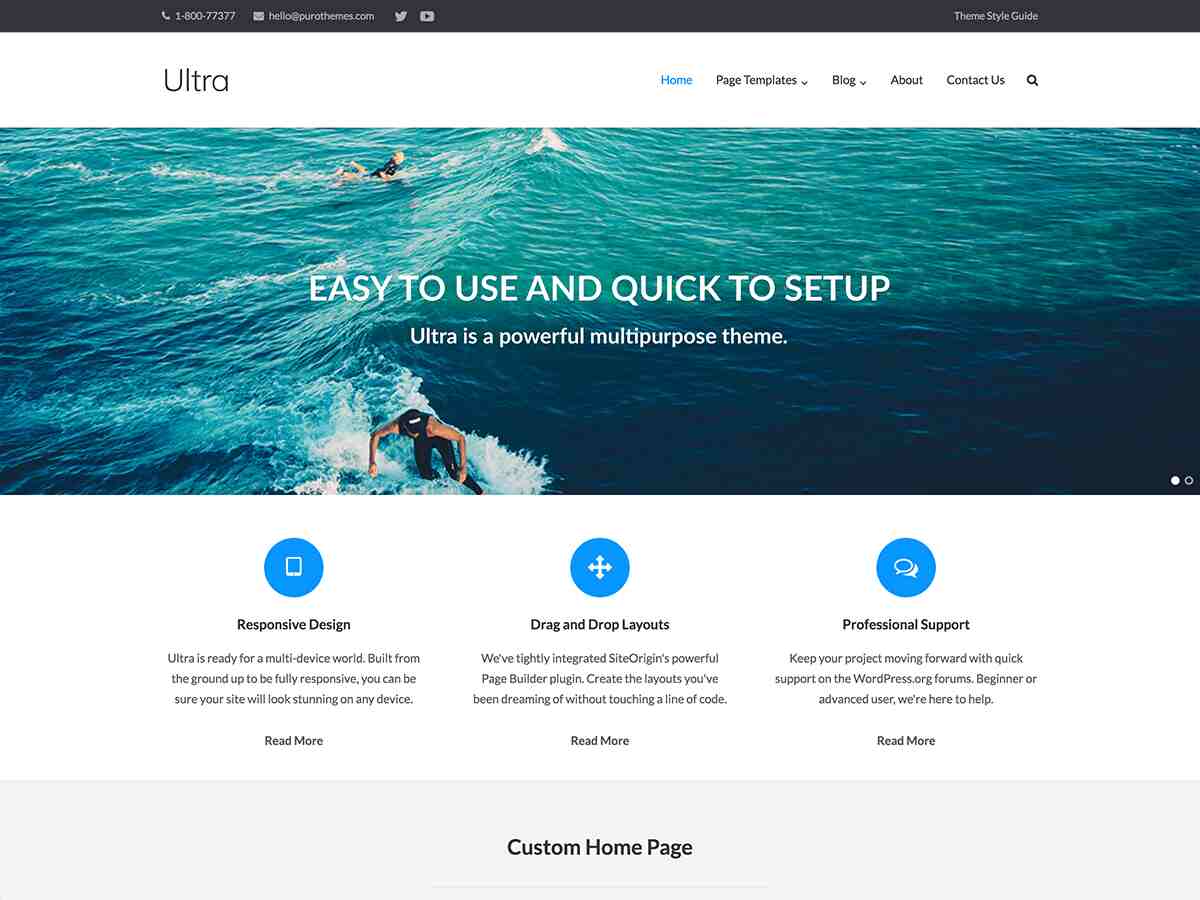 Ultra is one of the most popular WordPress restaurant and cafe themes today. With this theme, your customers can order and book online. Moreover, they can leave reviews and comments, which helps a lot in spreading the restaurant's image. Theme Restaurant – Cafe is also integrated with SEO features, optimized for fast-loading pages. As a result, websites can have higher rankings on search engines.
This theme is also compatible with mobile devices. It is suitable for even WordPress multilingual websites, with full RTL support.
Hestia Pro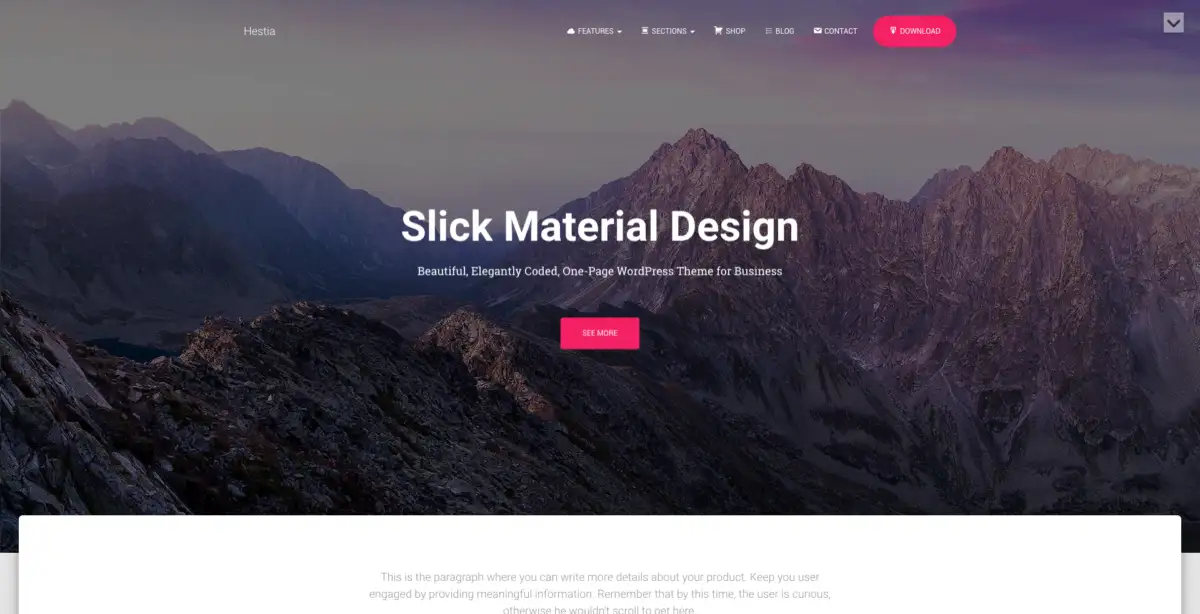 Hestia Pro offers a minimal design, an elegant video background, and standard features. This is also one of the most optimal restaurants WordPress themes today. Hestia Pro also has a separate section for testimonials and customer reviews, as well as an area to display daily specials. This theme also includes different shortcodes, you can create a Website without knowing the code.
Carbone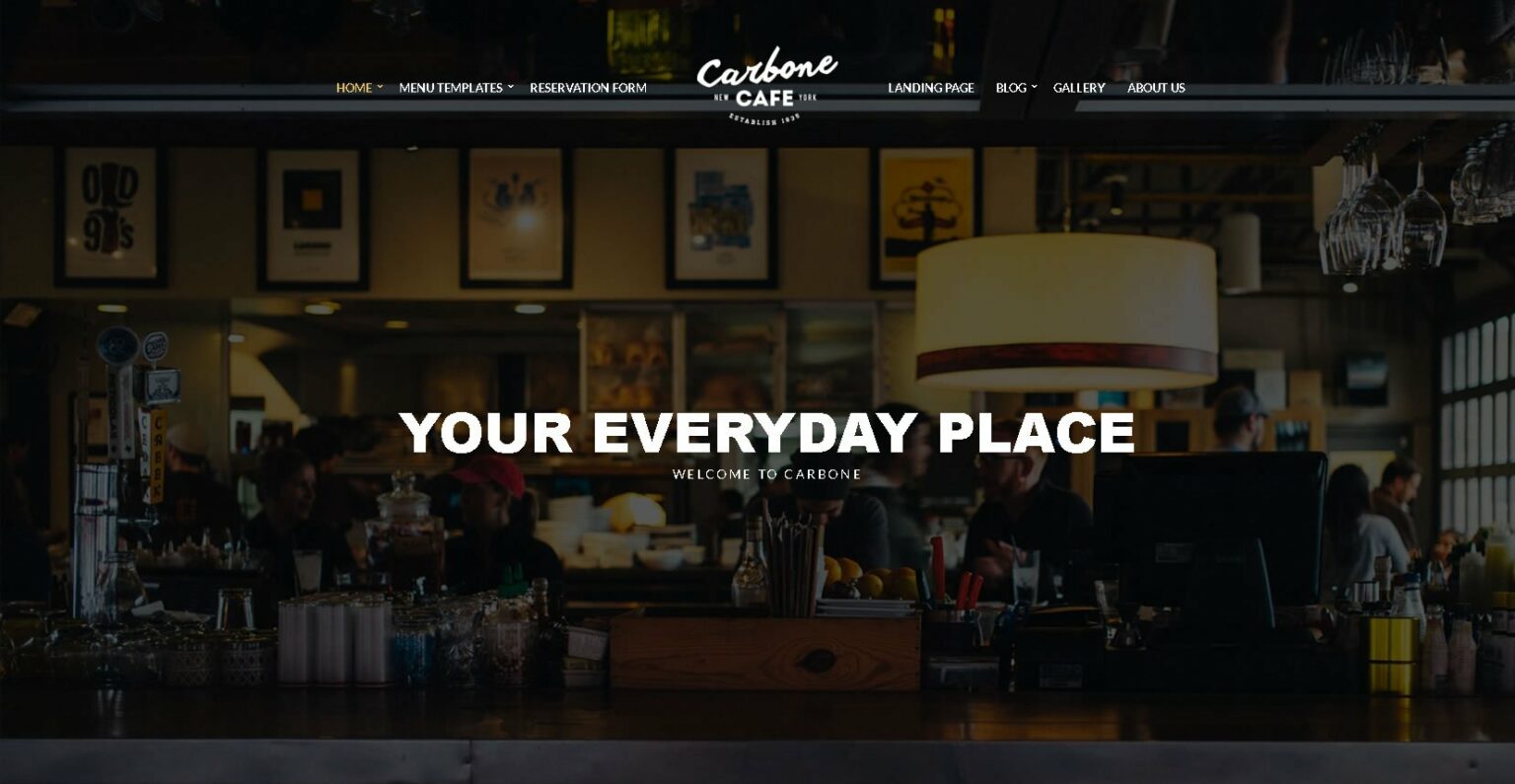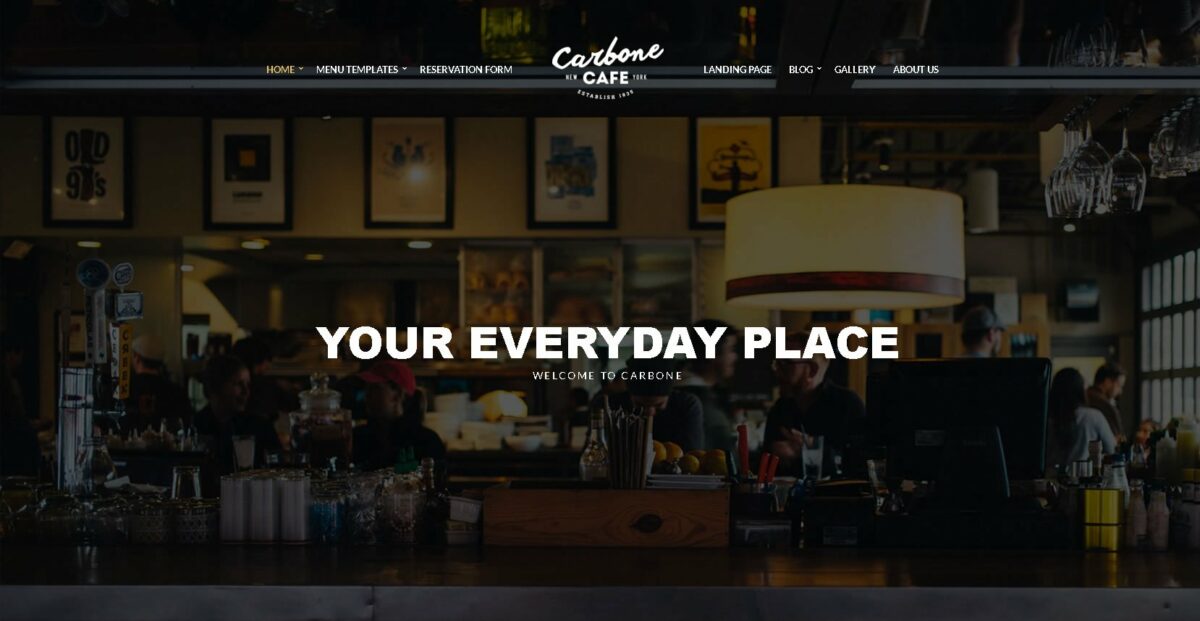 Carbone is a WordPress Theme with special features for restaurants, bars, cafes, and clubs. This theme is compatible with mobile devices. The Spooned restaurant WordPress theme helps you create unlimited food and drink menus.
At the same time, it is also possible to display Events, an image gallery introducing the typical menu of the restaurant. The Carbone WordPress theme also provides online booking features, event promotions, etc. You can also display phone numbers, addresses, working hours, social media accounts, and address links with Google Maps.
Rosa 2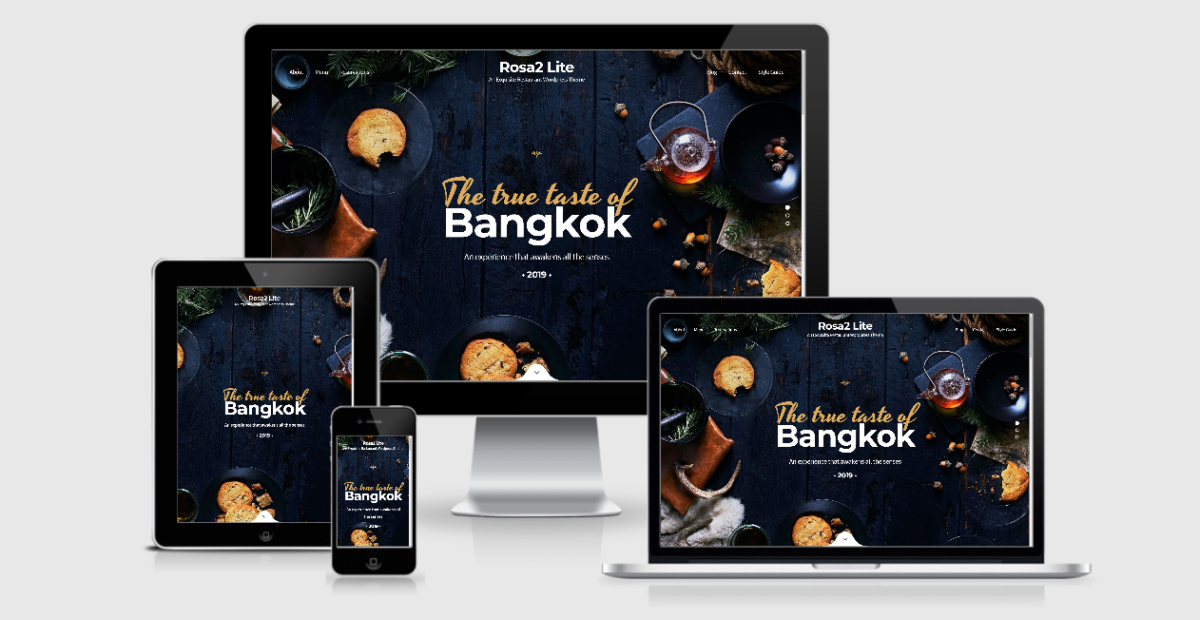 This is a modern theme for WordPress restaurant websites. Suitable for any restaurants, pubs, cafes, bars, or any other F&B-related business. Rosa 2 offers all the essential features like Event promotions, Manage Menu, Library, Contact form, Blogging, Online booking form
This restaurant WordPress theme's design is completely optimized for mobile devices, compatible with all mobile devices, and tablets. You can easily use the Theme without any design or programming skills.
Elixir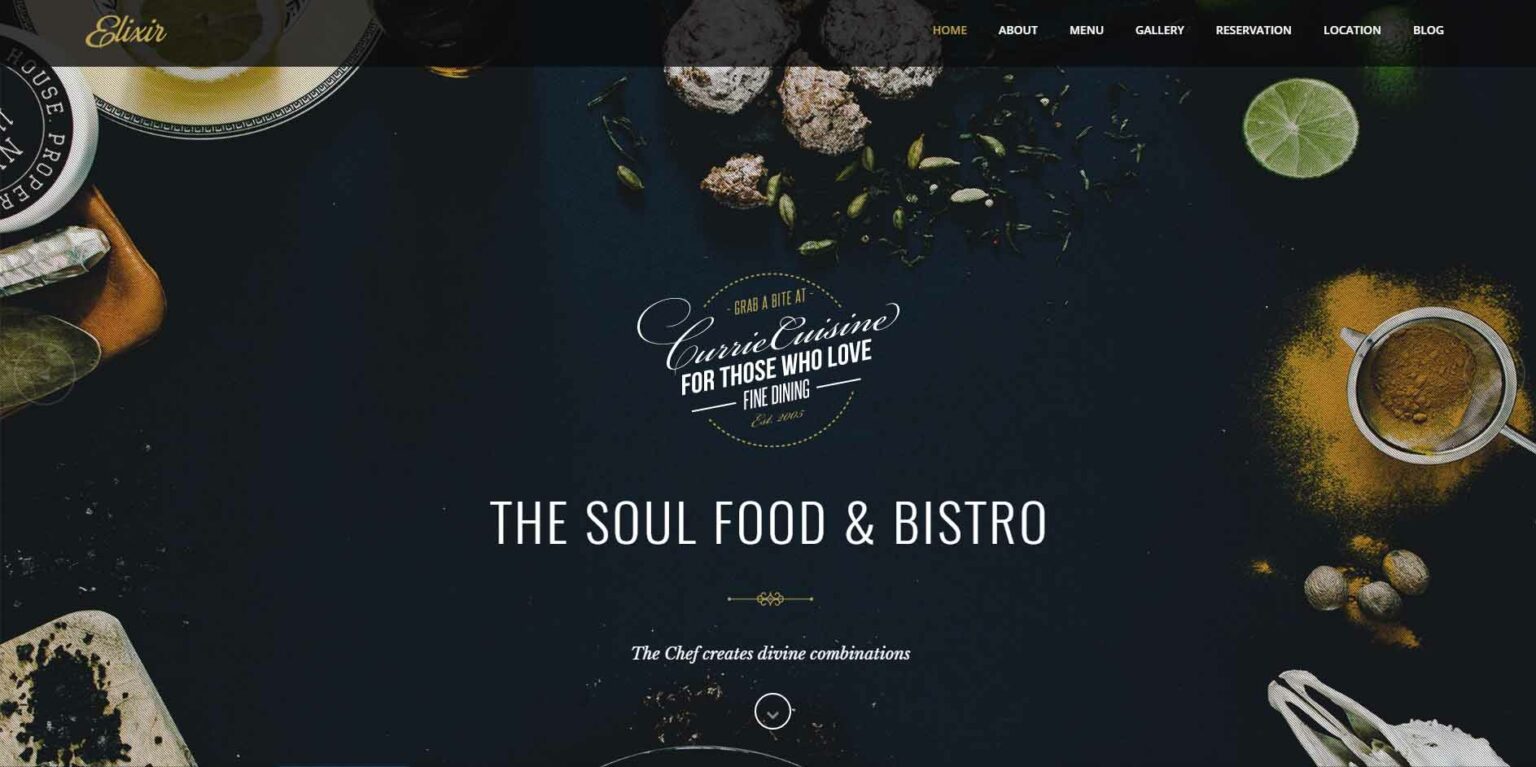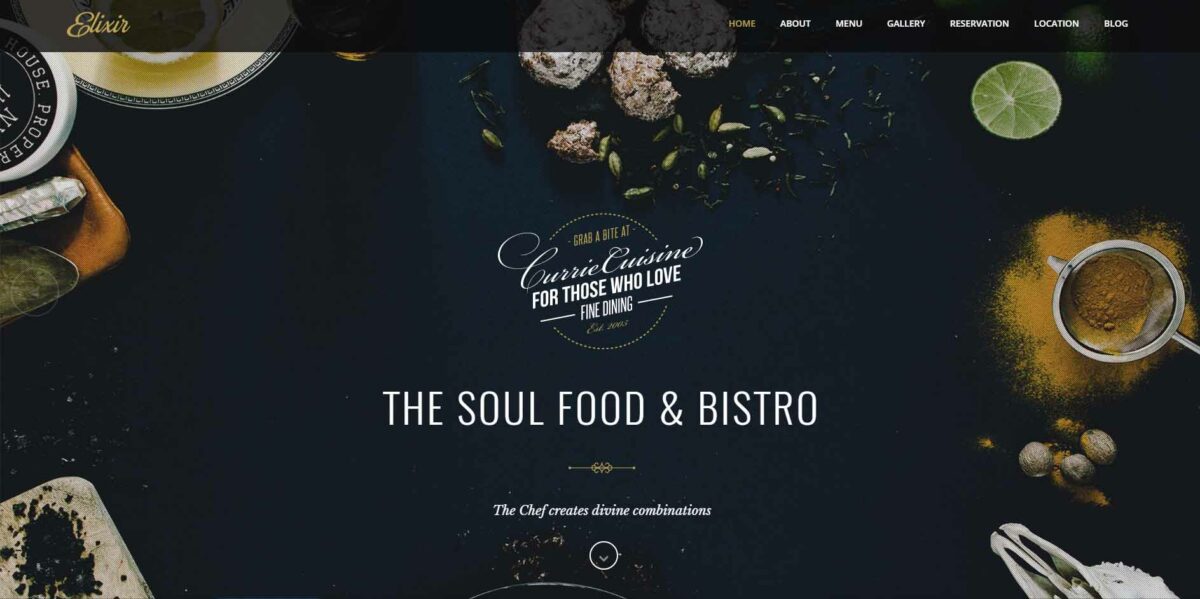 If you are looking for a classy, classy interface for your restaurant's Web site, don't miss out on Elixir. This is a premium restaurant WordPress theme designed for true luxury restaurants. The theme is black as the main color to help highlight the image of the food and stimulate the taste buds. Page builder with WooCommerce Plugin integration will help you create a professional, sophisticated Website easily.
Some of the features of this WordPress theme for restaurants are modern design, luxury, compatibility, and good display on the interface of mobile devices.
Salt & Pepper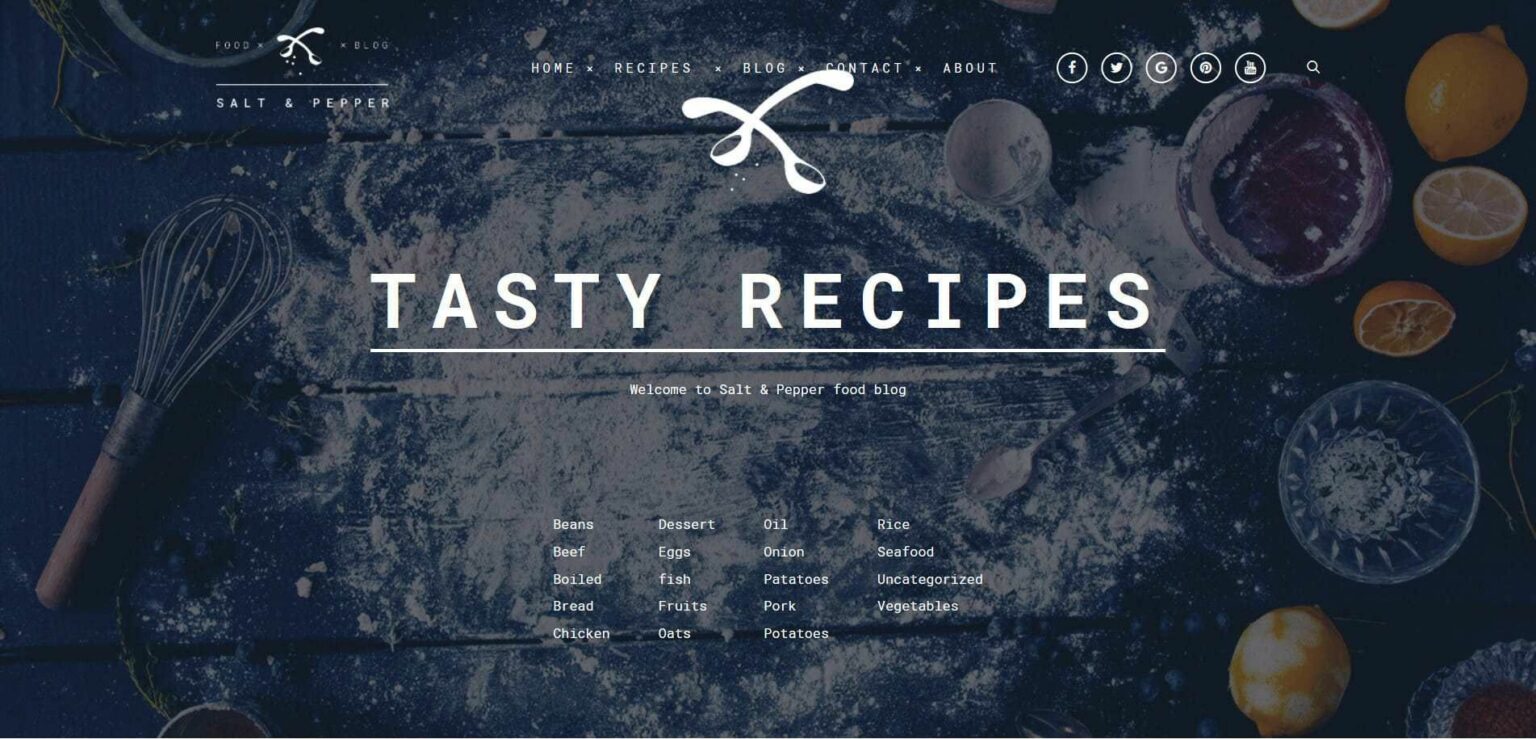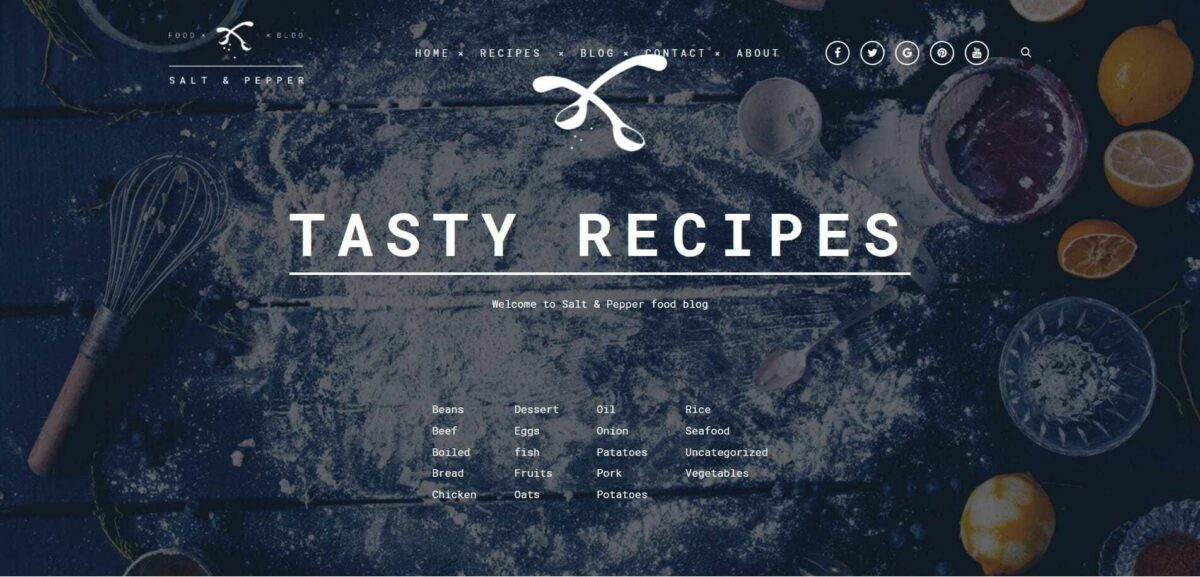 Salt and Pepper is the best restaurant WordPress theme solution for Cafe or bakery websites. This theme includes all the necessary functions, suitable for the restaurant's Website. For example, the navigation menu customization function, allows you to present the dishes in the most attractive and attractive way. In addition, this restaurant WordPress theme also integrates WooCommerce to turn your cafe, or restaurant into an online food store. Thanks to that, customers can order online easily.
Delicio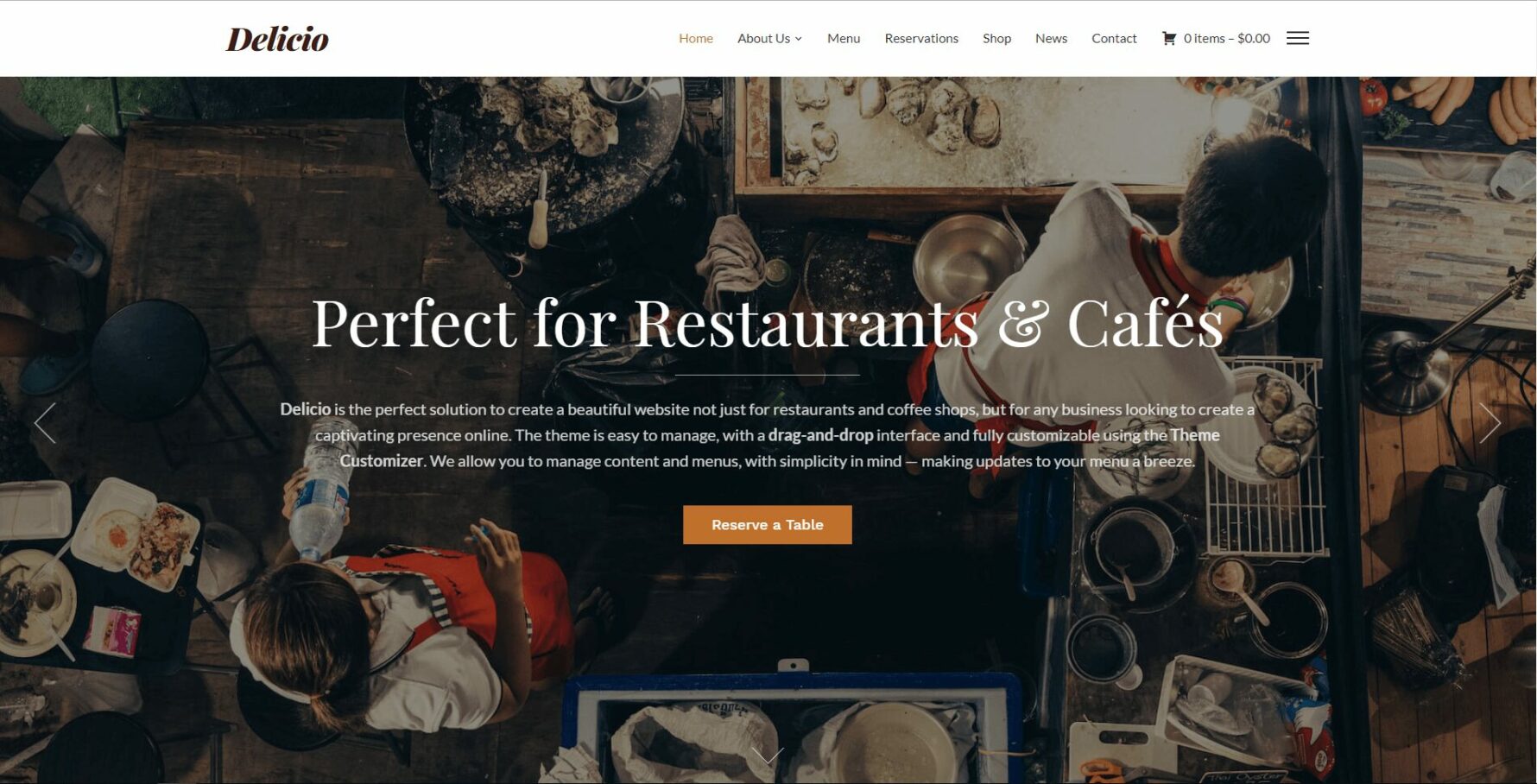 Delicio is a moderate WordPress theme designed for bars, cafes, and bistros. It includes a menu, location pages, and other features. It works with restaurant reservation-type plugins, enabling you to approve online reservations from your website.
The theme includes a large full-screen header, call-to-action buttons, a customization bar, and a drag-and-drop page builder with a live demo.
Conclusion
Restaurant websites not only present and introduce dishes and services, but also need to show the restaurant's unique features. At the same time, it has a beautiful interface, bringing luxury and attracting customers.
WordPress themes for restaurants will make your website more professional, creating an effective bridge between customers and businesses. At the same time, create a charismatic and characteristic image of the restaurant on the Internet. Hope you choose the most suitable theme in Top Restaurant WordPress Theme featured in the article.
Read more: Best Cafe & Restaurant WordPress Themes
---
Contact us, ThimPress:
Website: https://thimpress.com/
Fanpage: https://www.facebook.com/ThimPress
Youtube: https://www.youtube.com/c/ThimPressDesign
Twitter: https://twitter.com/thimpress