One of the questions that people often ask is: why should I use WordPress? If you are also struggling with these questions, then you have come to the right place. In this article, you will get to know 5 reasons to choose WordPress as your LMS. Here, we will also showcase all the information and misconceptions about WordPress.
So let's get started.
5 Reasons To Choose WordPress As Your LMS – What Is WordPress?
WordPress is majorly used for developing business websites, publishing blogs, and also for creating college and university websites. Besides its wide array of utilization, WordPress can prove to be very helpful for you, specifically for those who are looking to deliver online learning courses. It will help you to build e-learning and membership websites and spread your knowledge to a wider audience. The liberty, with which WordPress will let you build your website, will enable you to make it feature-packed.
Misconceptions:
The most common misconception about WordPress is that it is just for blogging. But in reality, it does way more than just blogging.
While WordPress started as a blogging tool, but by the passing years, it turned out to be a powerful website builder and a robust content management system (CMS).
Do you know what's the best part about WordPress? It is its easy-to-use and flexible feature that can make various types of websites. And that's the main reason why people have loved WordPress so much. As per the recent survey, WordPress powers 32.3% of all sites on the web.
Because of its robust features, many of the top brands prefer using WordPress to power their websites including Facebook, The New York Times, Time Magazines, and many more.
Now, let's just quickly take a look at the 5 reasons to choose WordPress as your LMS.
Choose WordPress As Your LMS: Easy To Use
WordPress has a user-friendly interface where you can publish the course within a few clicks. Hence, the beginners could identify the settings and customize their e-learning program in a perfect manner.
Next, you can create a fabulous teaching technique with the technology advancements and effectively manage the enrollments and courses. It is more likely to schedule and pre-set your classes as well.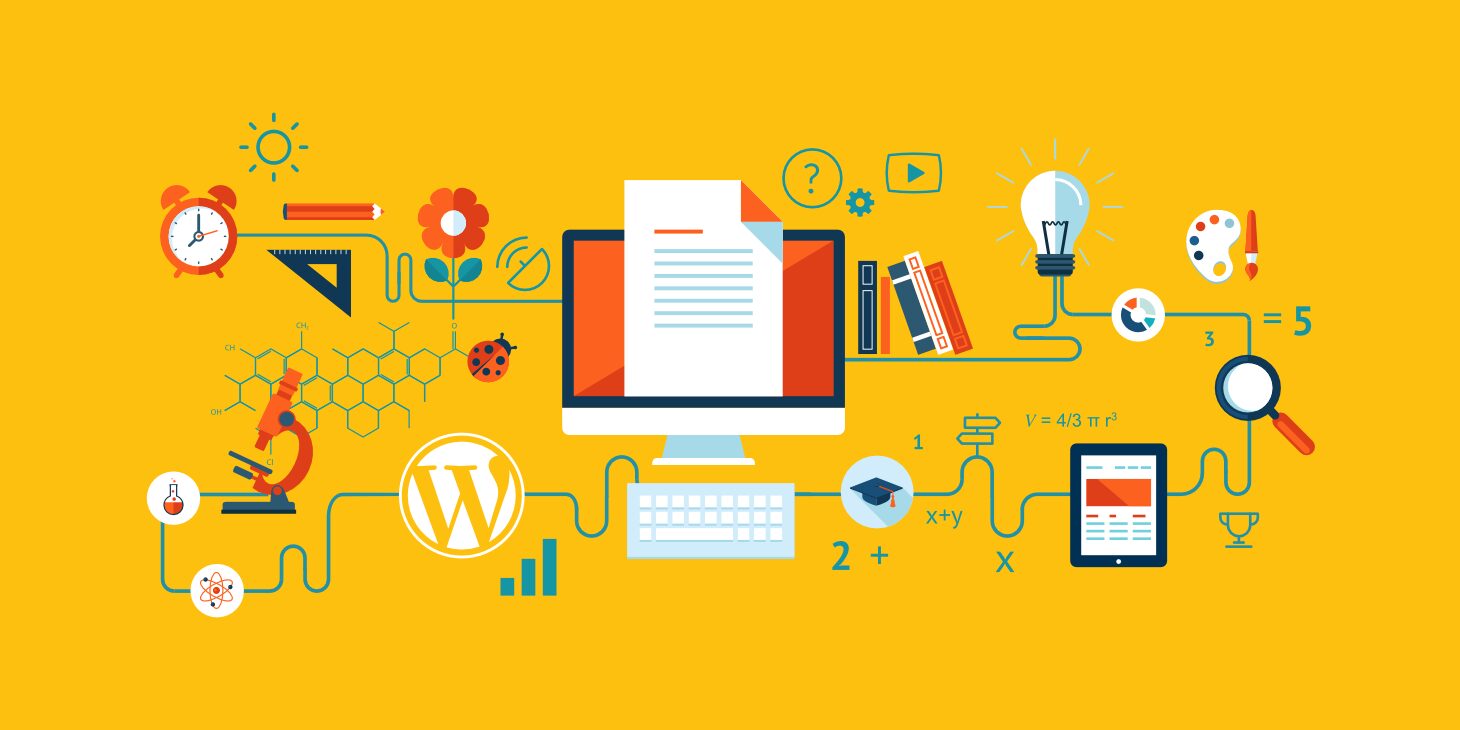 Choose WordPress As Your LMS: Attractive Themes
WordPress themes play a major role in search engine paybacks and user experience. There are fabulous WordPress LMS themes available to deliver courses and let your reader learn content online in a comfortable way.
The majority of WordPress themes that are particularly developed for e-learning has the feature to showcase your courses in a logical way and can be conveniently integrated with the third-party plugins to build a complete e-learning website.
Having the responsive layout that supports Shortcodes, Slider, Testimonials, and progress tracking features is the notable matter of the e-learning WordPress theme.
Choose WordPress As Your LMS: Awesome E-Learning WordPress Plugins
There exist a few fabulous WordPress plugins for e-learning with which you can set up the best LMS to offer your online courses.
The best Learning Management System plugin for WordPress is LearnPress and LearnDash.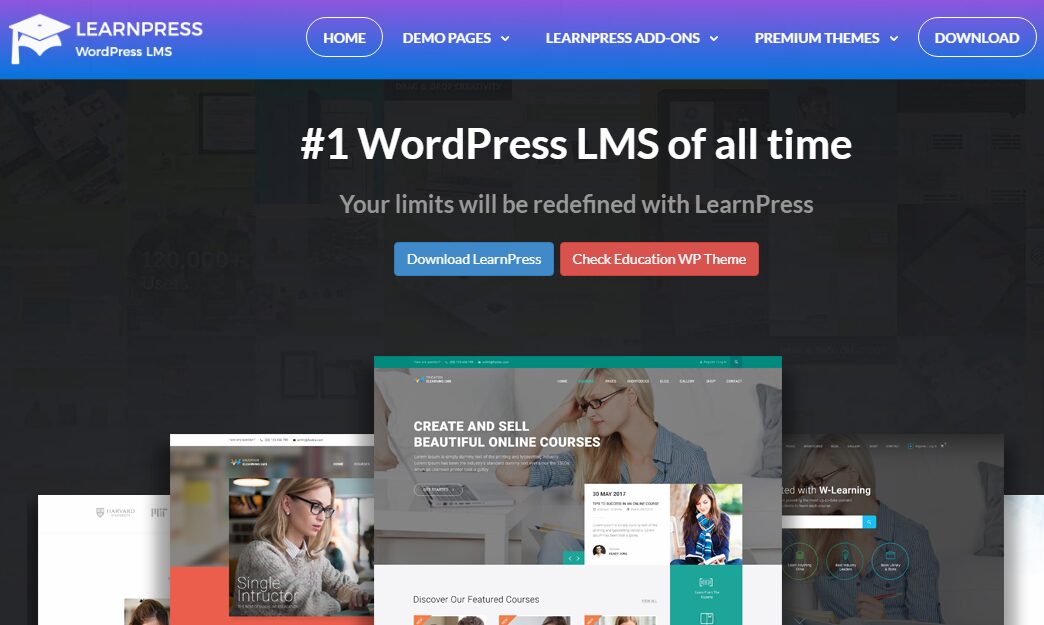 LearnPress is the most powerful LMS plugins for WordPress. You can develop multi-tier courses, award custom-made certificates, sell courses, and manage assignments with this WP e-learning extension for WordPress. You can also hire LearnPress expert for getting the best results.
With WP plugins you can also provide grades, certificates, quizzes, media attachments, a convenient payment system, forum discussion, and option to rate your courses for your visitors.
4. Shareability and promotion
4 of 5 reasons to choose WordPress as your LMS. Unlike other LMS options, WordPress delivers a lot when it's a matter of online promotion. Your e-learning website can utilize all the benefits of SEO, promotion, #SMM, and digital marketing developed for WordPress in any other category. All these come as separate widgets or plugins. WP does care if your website is e-learning, e-commerce, food blog, or small business presentation. It just works perfectly the way you set it.
Furthermore, combining your e-learning WP website with an e-commerce plugin lets you sell your courses online within a click.
5. Affordable And Easy Maintenance
The cost setup for LMS with WordPress is relatively low as you can get the premium WordPress templates and plugins at an affordable price.
Similarly, it would be good if you learn to implement some important WP maintenance strategies to have a better-optimized LMS program that can give you a huge profit.
This is the last one of 5 reasons to choose WordPress as your LMS, too.
E-learning with Eduma has Brought Us a New Way of Learning
The boom in the digital revolution has evolved the way you used to learn. Therefore, you should know about Eduma – The top #1 Education Theme on ThemeForest.
Yes, Eduma has become a well-known method of learning as its more global, flexible, and affordable as well. Besides, it cut down the travel cost and delivers tailored content that can be preserved. You have a combination of WordPress and LearnPress in this theme. That makes you easily create your ideal website and start your work in the soonest way.
Eduma also is being used widely all over the Word by many Schools, Colleges, and Universities.
They believe that an online learning platform would create a dynamic interaction between the mentor and the students.
Final Words
Educational organizations would like to deliver LMS to lessen their carbon footprint. Mostly, they hire skilled staff to work in a remote location and provide the content in a consistent manner.
Since online learning management can be an efficient means of imparting education. It has gathered massive popularity and demand among the students and instructors.
If you are a professional who would like to bring your courses on the web. And prefer installing the WordPress platform as you can decrease the material cost to get the increased return on investment with it.
Moreover, it is an authoritative framework that permits the online course WordPress plugins to be included for course enrollments and download the modules that you deliver. You may also go for the best WordPress LMS theme.
Hopefully, these 5 Reasons To Choose WordPress As Your LMS can help you with your business.
And yes, you can surely optimize the WordPress for e-learning. And make it more than just a teaching medium that the students love.
Read more LearnPress WordPress – Build your LMS Website confidently.