Looking for a way to Add a GIF to WordPress properly?
GIFs are great for catching up viewers' attention and increasing their time on your blog & site. However, when you Add a GIF to a WordPress Blog, it may not animate and stay as a normal boring, unanimated image. Therefore, let us guide you on how to add one in the right way.
What is a GIF?
A GIF is short for a Graphics Interchange Format – just like an image but not a normal image. It is usually animated but can also be used to make still images. Below is an animated image – GIF of Minimal Multipurpose Shopify theme – Storepify: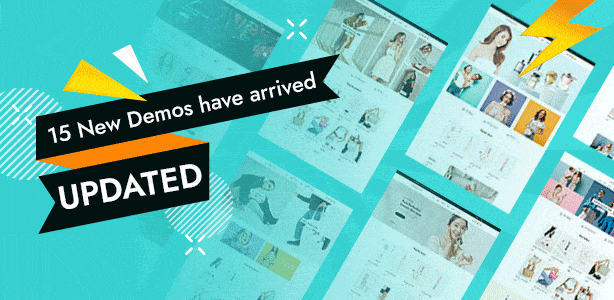 Besides, we call this type of image "Animated images" because they are not really videos, they are more like flipbooks. There is absolutely no sound which you may notice if having seen some GIFs. On the other side, it's not really made for animation but for showing 2 or more pictures running sequentially (like a flipbook we have just said).
The Popularity of GIFs
Usually, people use those GIFs to make jokes, memes, ideas, and emotions. Actually, the GIF format is quite outdated – they are 8-bit, restricted to 256 colors, and usually looked like crap. Also, they don't have semi-transparency and have heavy sizes (heavier than .MP4 files).
Therefore, people are trying to replace GIFs, however, they always fail. The reasons are various but we will deliver them in 3 ways to save you time:
GIFs are simple to create: The first thing coming into a user's mind is the ease of use. If it is very simple to use but still maintains efficiency, why will we need to replace it? Also, there are free GIF-making websites and apps everywhere on the Internet.
Browsers are different: Each browser will have different quirks and one may stop your site from running. For example, the APNG format appeared in 2008 but Edge has just only begun to support it in 2022. However, all browsers have supported the GIF format now.
No video support from HTML: There has been no video support based on the HTML standard until 2014 – the appearance of HTML5. Therefore, sharing GIFs is easier than sharing videos
Add a GIF to WordPress: Why Doesn't Your GIF Work Correctly?
Sometimes you bring a GIF into WordPress and it becomes stained still. Well then, why?
Whenever you add an image to WordPress, it will automatically make some copies of it in different sizes. You can see 4 default WordPress image sizes: Thumbnail, Medium, Large, and Full Size.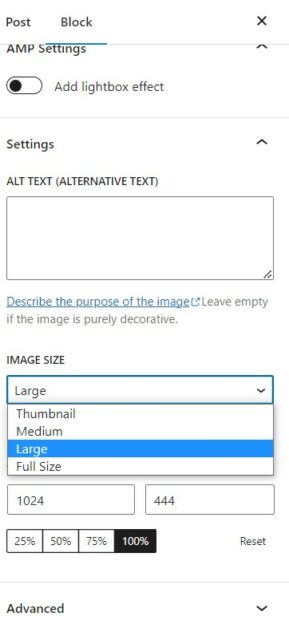 However, when you make new image sizes for GIFs, WordPress ends up saving only the first frame of that GIF. Later, they will become static and don't animate.
How to Add a GIF to WordPress: Guide Detail
To add a GIF, you must have a page or post where to put 'em.
In a page/post, you will click the "+" button on the right side of a block and select "Image".

There are 3 ways for you to upload your GIF: Choose the "Upload" button and select the GIF from your PC; choose the "Media Library" button and select the GIF from your media library; or enter the link to the GIF by choosing the "Insert from URL". However, you should not use the 3rd way since it doesn't upload the GIF to your website.

After that, you must select the option "Full size" from the dropdown menu on the right side. The full-size image is the original GIF you have just uploaded to WordPress. This will prevent your WordPress GIFs from showing up as still static images and not animating.

There, here ya go! You have just uploaded a GIF to your site, now you can publish/update the post to see your animated GIF works.
Add a GIF to WordPress: How to Get GIFs
Just like using emojis, you can select the GIFs that are appropriate for the situation. Here are some ways to look up for and use GIFs:
Google Keyboard
GIF search function on search engines
Link Copy
Hence, you can download GIFs to your PC If you want to keep 'em for use. Otherwise, you can make an account on an image-hosting website without downloading them and flooding your PC.
Bonus Tips When You Add a GIF to WordPress
If you want to speed up your WordPress site, carefully consider using GIFs since too many GIFs will actually slow down your site. Why? Because a GIF consists of many compressed/uncompressed images to make an animation.
You can use some plugins to compress the GIFs based on the GIF hosting websites, for instance:
Add a GIF to WordPress: Make Your Own GIFs!
As has been said, it's very easy to create a GIF for your use. Not only images but you can also add texts, icons, emojis, etc. if you want to. Well, you know, you must have a GIF before you Add a GIF to WordPress.
Here are the most popular platforms to make a GIF:
GIF-making sites: You can find a big bunch of these sites on the Internet. For instance: Giphy, Gfycat, or Imgur. They are all popular GIF makers that will help you with "How to Add a GIF into WordPress". and offer you tons of image-to-GIF or video-to-GIF tools.
GIF-making mobile apps: Of course, you can make one on the move. The most common mobile apps for GIFs are Giphy Cam and GIF Maker. You drop a video or some images into the GIF maker and let the flow continue.
GIF Digital PC software: You may know graphic design, right? Yeah, you can use those graphic design apps to make GIFs. The most popular software is Adobe Photoshop, very familiar to everyone.
In our viewpoint, you should make your GIFs from an online website if you love simplicity.
Add a GIF to WordPress: Wrapping Up
Indeed, a GIF is an animated image that is more lively than usual static images. You can make your own GIFs but be careful when you Add a GIF to a WordPress Site or Add a GIF to a WordPress Blog. However, feel free to use a GIF after reading the article!
Read more: 7+ Best WordPress Popup Plugin Collection (2023)
---
Contact us, ThimPress:
Website: https://thimpress.com/
Fanpage: https://www.facebook.com/ThimPress
Youtube: https://www.youtube.com/c/ThimPressDesign
Twitter: https://twitter.com/thimpress