Ding dong, here comes December – the last month of the year! It's a worldwide holiday season for everyone in the world with people making vacations and spending a lot of money. Do you know what it means? Yes, marketing opportunities are coming, especially for E-commerce retailers and stores. Around 5 years around, online shopping has become an essential part of businesses around the globe.
Therefore, e-commerce stores will have to gear up to follow the trend and the Shopify store is not an exception. Today, we will take a deeper look at How to Market Shopify Store for Christmas events and all holiday season sales.
Why Should We Market Shopify Store?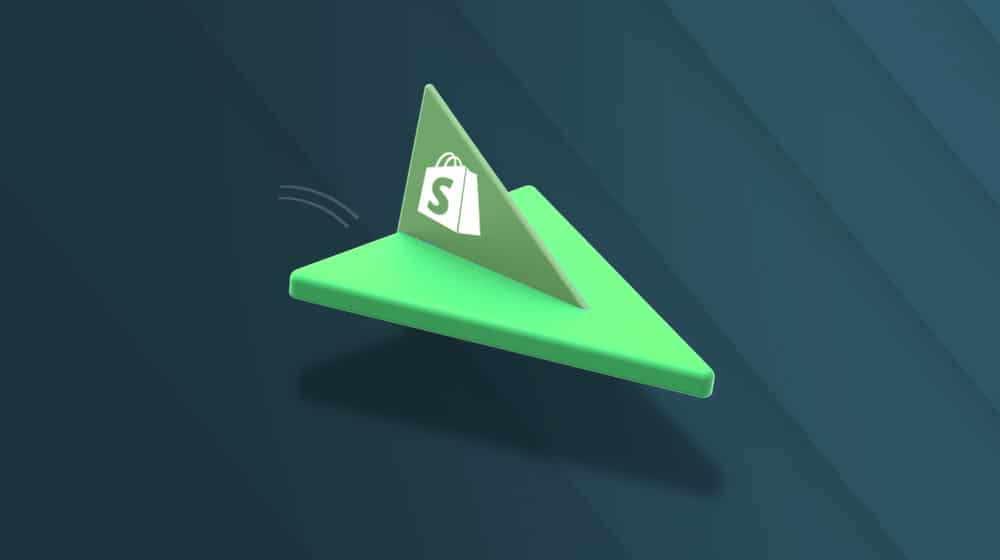 Well, you probably know the answer. It's simple: to gain the sale of your Shopify products which may lie in Shopify themes, Shopify plugins, or Shopify apps. Especially, Christmas is a very big event where people will seek discounts and sell-off so it should be a time for Shopify developers to push up shopping.
On the other side, Shopify companies will bring out smart business tactics & plans to attract customers. However, some brands still lose the way or wonder How to Market Shopify Store.
To illustrate, we will dive into some Christmas/holiday marketing plans for "How to Market Your Shopify Store".
How to Market Shopify Store: Tips & Guides
Build Your Own Shopify Shop First!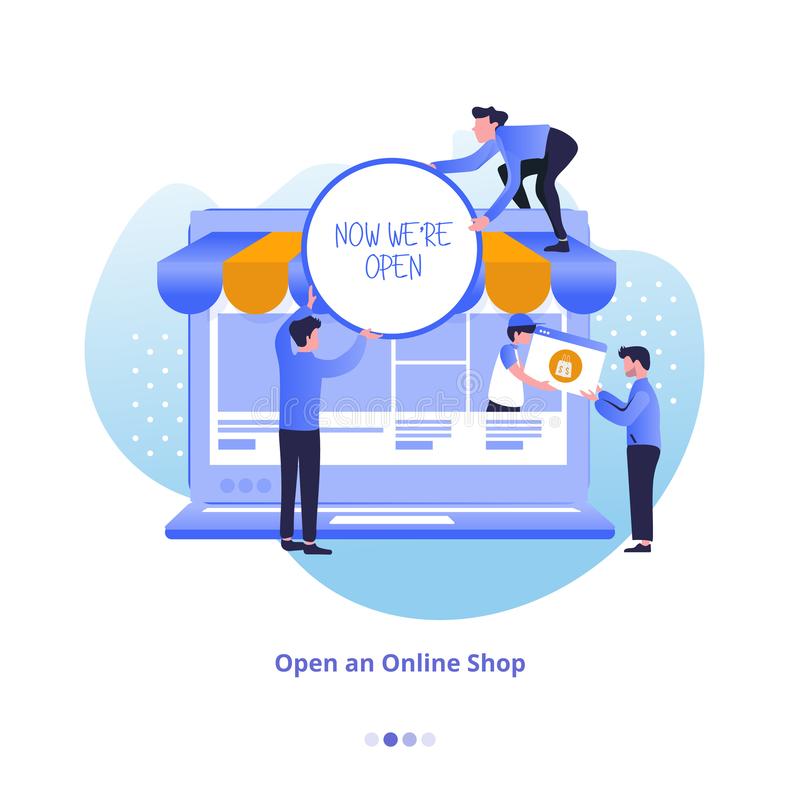 Of course, to promote your Shopify site and product, you must have one website first. In addition, you can refer to our previous posts for better understanding and knowledge:
How to create an Online Store with Shopify?
Top Useful Shopify Tips That Every Newbie Needs to Know
In particular, we will introduce you to some of the best Shopify themes for your store:
Premium Shopify Store Themes
Storepify – Minimal Multipurpose Shopify Theme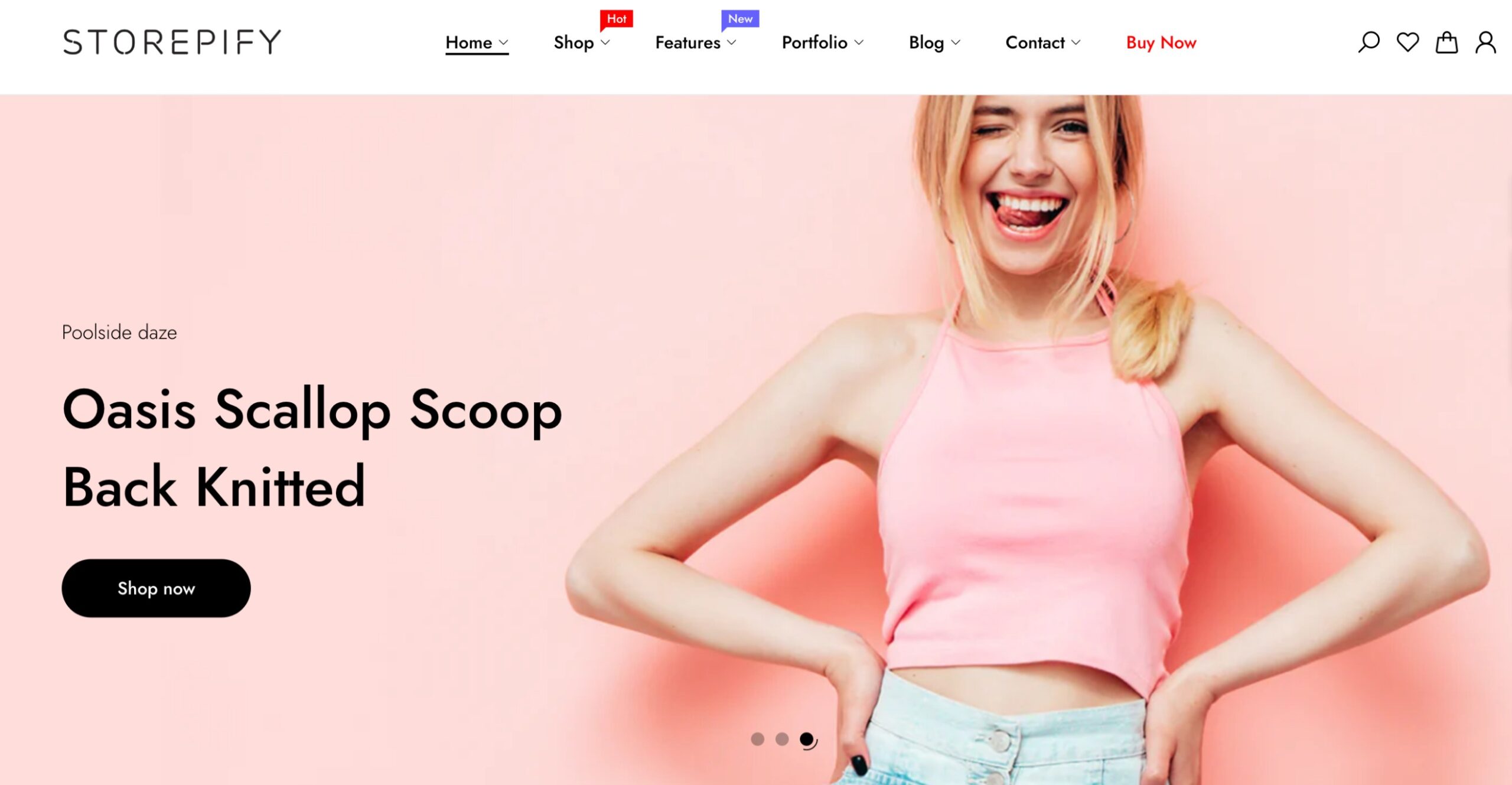 Download
Demo
With its unique design, Storepify will impress visitors and customers at first sight. Storepify's design will attract and catch many potential buyers.
You will find a lot of powerful tools & widgets included in this theme. Still, thinking about what they can do? Simply, they will help you build your Shopify store and display your product niche and nice. To do it perfectly, we imply a 1-click demo importer, perfect UX/UI & mobile layout interface, and page-loading speed optimization. Moreover, you will find yourself over 40 prebuilt demos which go along with Drag & Drop page builder super well. The demos will focus on:
Fashion store
Cosmetic store
Household device store
Jewelry store
Organic store
Single product store
And more are coming in the future soon!
Do you know what is greater with this theme? We provide further website optimization services at 100% fee-free. Feel free to contact us for better store development. One more thing, how can Storepify help you with How to Market Storepify Theme? Here, it allows you to mark events and make coupons so that you can deliver your customers the best discounts. We will list some other features that will help your shop a lot:
Flexible banner areas
Various product filters
Wishlist & compare
Light Box option
Ajax cart page
Mobile Optimization
Great support board
And more.
If brief, Storepify will perfectly respond to the question about How to Market Shopify Store.
Plak Theme – Solve Your eCommerce Issues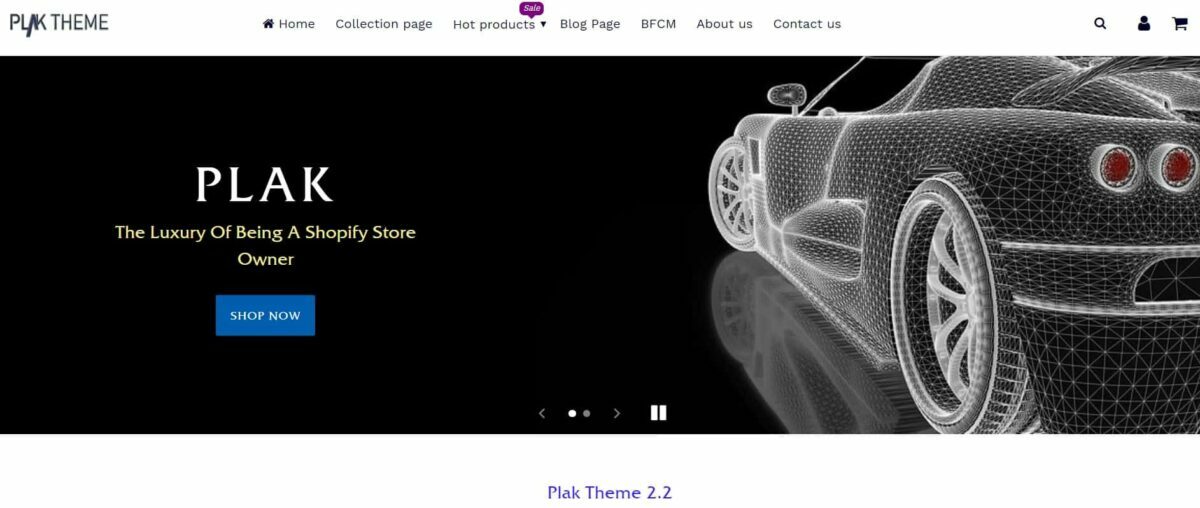 Download
Demo
"Simplicity meets Speed and Performance" – you can find it through the Plak theme. It's designed to help you solve the issue of "How to Market a Shopify Store" with all the best things.
One factor directly affecting a site's quality is the page-loading speed. Here, Plak will make your site stand out from the crowd with a 0.4s page loading time. Well, that's because the developers have optimized the code system and removed the unnecessary from the system.
What is special about this theme is that Plak is the first Mobile Shopify theme. In addition, Plak is claimed "fully developed concerning the touch target size defined by Google for an enhanced mobile navigation". With more years of optimizing mobile versions, Plak has reached the:
Finger-friendly design layout
Mobile-friendly collection sidebar
Mobile-friendly blog sidebar
Smooth navigation
With an online store, SEO is very important since it affects the number of viewers constantly. Understanding it, Plak optimizes every keyword, heading, title, and more. Besides, it applies advanced Structured Data, image/video SEO, blog/portfolio/collection filters, link optimization, and exclusive auto table of content of the Plak theme. Thus, you can develop SEO without a third-party.
MyShop – Shopify Theme for Business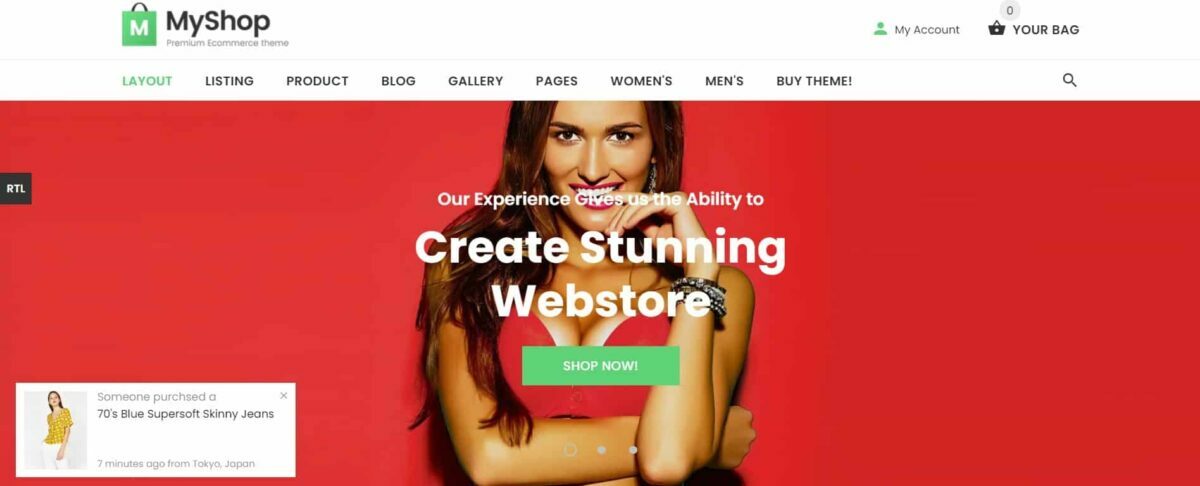 Download
Demo
Between hundreds, maybe thousands of Shopify themes, you may feel lost and question yourself "Lots of choices here, How to Market My Shopify Store?". Usually, people will tend to find new themes for up-to-date functions. However, MyShop is a veteran in building and maintaining Shopify stores. Even so, you may wonder How to Do Marketing for Shopify Store with MyShop. Well, let's find out.
First, you can see that the design layout is quite simple and not complicated with 2 colors mainly. However, all sections and features in a demo have been highly optimized for you. There, users can freely make a website and sell whatever they want. Also, MyShop owns over 14 premade demos which you can use for different purposes. A 1-click demo importer appears to shorten the building/editing time, while the UX/UI interface will comfort users with fast and smooth page loading.
Some significant functions of MyShop are:
8 header styles & 4 footer styles
Various visual variants
Mega menus
100% responsive
Ajax search
Fully detailed documentation
Tailor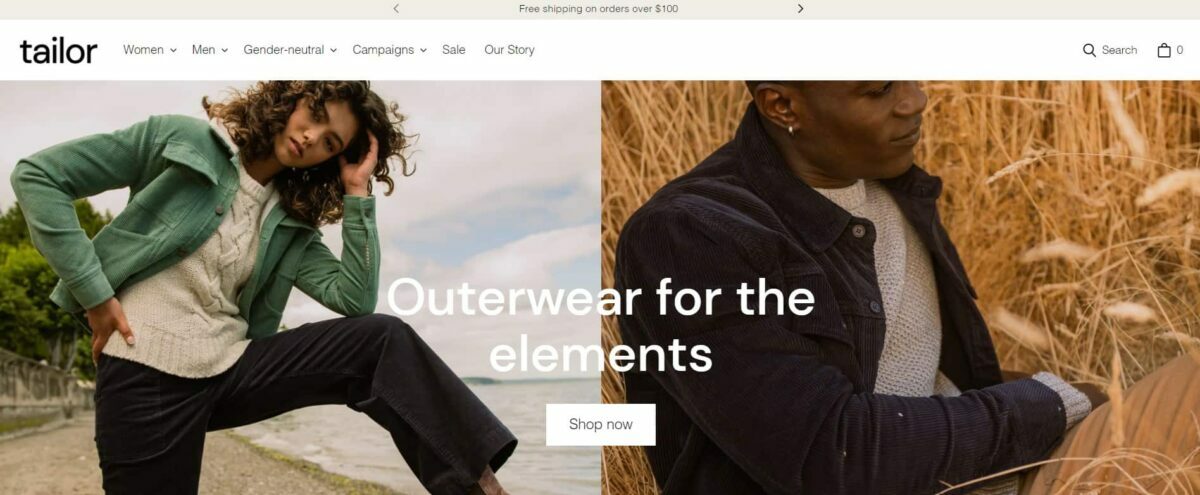 Download
Demo
If you are having a fashion Shopify store, you will have to focus on your portfolio and design to attract more customers. There, fashion Shopify theme Tailor will come in handy. Tailor is a Shopify theme that is born for fashion brands and retailers.
Of course, you can find everything usual for a normal eCommerce: 1-click demo importer, smooth UX/UI interface, nice and clean design layouts, and full responsiveness. That should be all, right?
Nah. About How to Market Shopify Store, Tailor will display your products in the way you want. Each product comes up with a clear image, color, and price for the best description. Also, turning on the lightbox option will allow users to overview the product's info. With custom meta fields, surface product details and information throughout the browsing experience. Further, the system will automatically analyze the searching keywords or products in carts. Then, it will give customers recommendations for the items that will fit with the ones in the customer's cart. This feature will increase the average order value significantly.
Free Shopify Store Themes
From Shopify itself, these free Shopify themes are 100% safe so you can make use of them at your will. Cheers!
Taste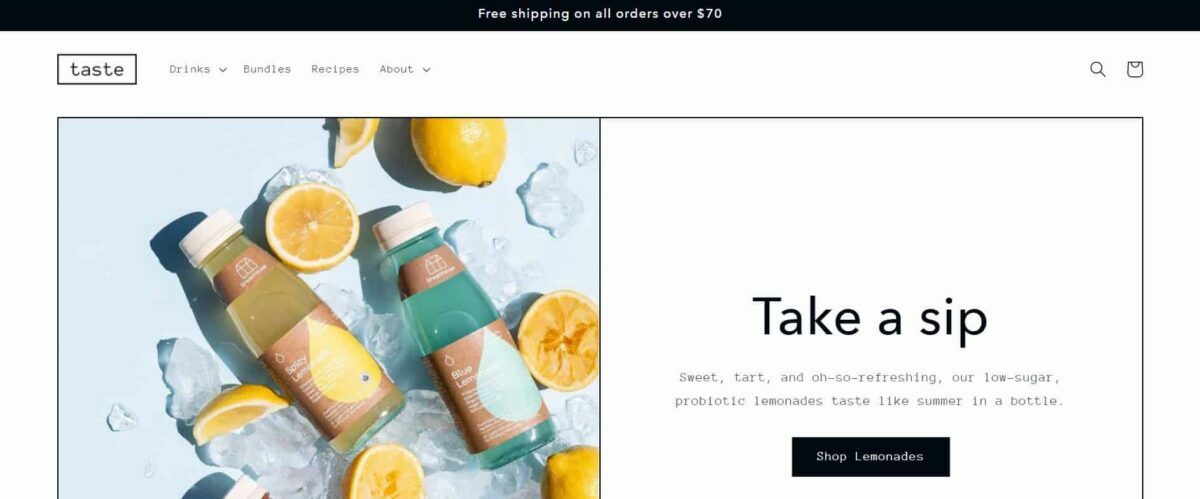 Download
Demo
Taste is a free Shopify theme for eCommerce businesses. It's very ideal for listing products & striking brandings.
To be more specific, it delivers a design recipe to catch buyers' attention: bold headlines, thin strokes, and modern fonts. Besides, you should have a high-contrast color band in the background with suitable images. On the other hand, Taste has bigger product cards on the page. The reason behind it is that it helps clients receive more information and make better decisions. To follow up your brand vision, you can design & edit freely to update visitors' experience and catch up with trends.
Using the latest drag & drop page builder, you may make custom pages throughout your online store without difficult and advanced coding. This theme shows us convenient and efficient content sections for texts, pictures, videos, etc.
Dawn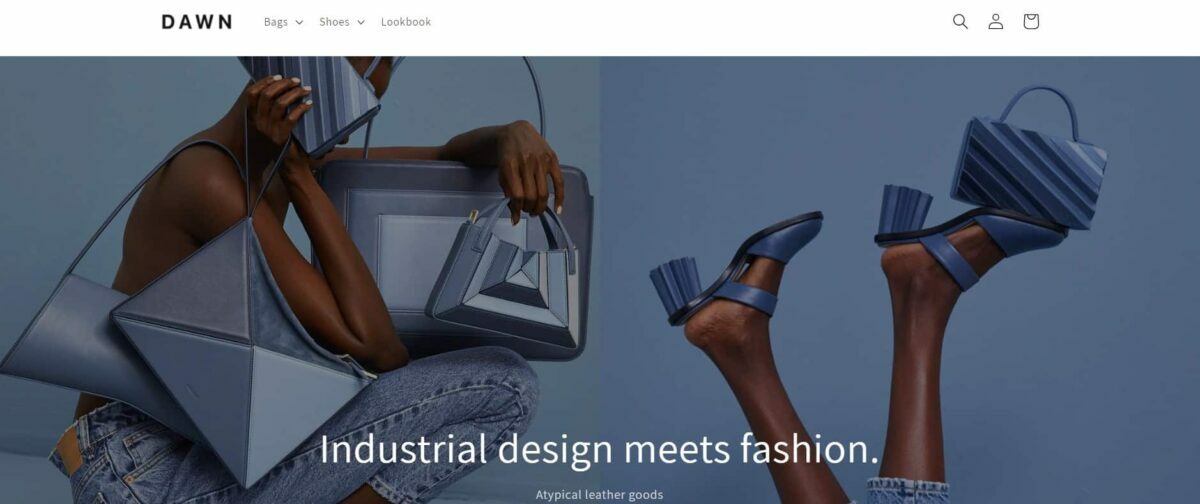 Download
Demo
You may know Instagram as a social platform focusing on images (a lot), and so does Dawn, except Dawn is a Shopify theme for "How to Market Shopify Store".
Dawn is a minimalist Shopify theme that puts the product's image in the center. In other way, pictures take center stage in this theme. Here, the products will have a bigger image area, smart border lines, and simple Google fonts.
Why? Because the customer will focus more on what will matter to them: your product's quality and information. Even more, your customer can zoom in/out of your pics to see what a product looks like and feel whether they want it or not. Of course, you can design and customize your site without any coding skills.
Moreover, it allows you to launch the theme just in minutes. For marketing, it has a Blog, Cross-selling, Product reviews, and Recommend products.
Doris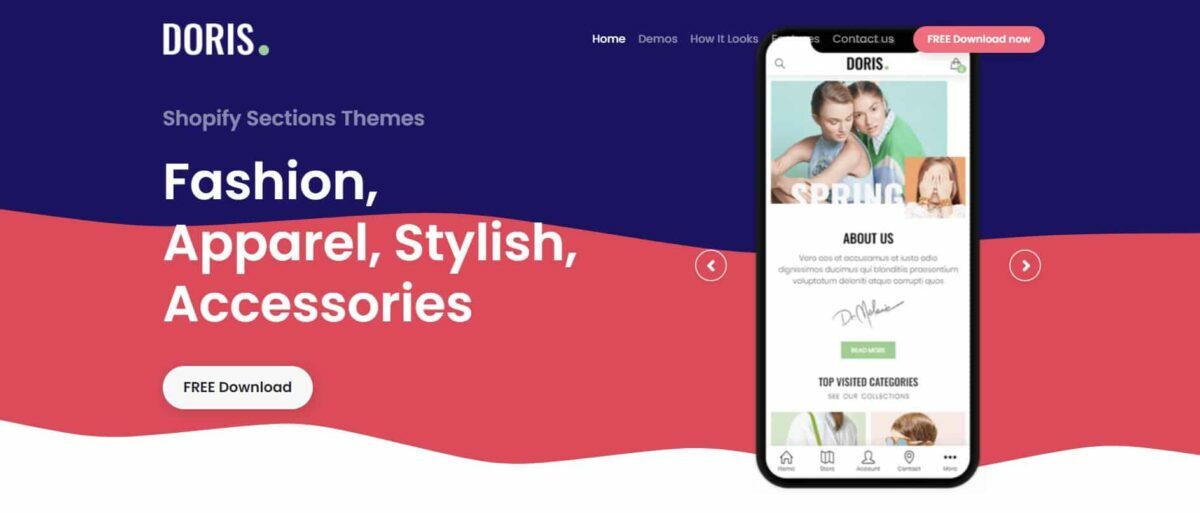 Download
Demo
Are you a beginner at Shopify who is willing to create a Shopify store? If you are, you have landed on the most suitable theme – Doris. It's such a nice and easy-to-use theme for online Shopify stores.
Although it's free, it inherits all the powerful & efficient features of the best-selling minimal Shopify themes. Further, its up-to-date design will suit fashion brands and stores hard. Also, Doris is simple, minimal, super lightweight and fast loading, and SEO microdata coded. These are the factors affecting the SEO rankings of your website.
Some highlight features can be talked about:
Mobile friendly
100% responsive and retina-ready
Mega menus
Advanced product filters
Ajax wishlist/cart/compare
Slider Revolution integration
Apparelix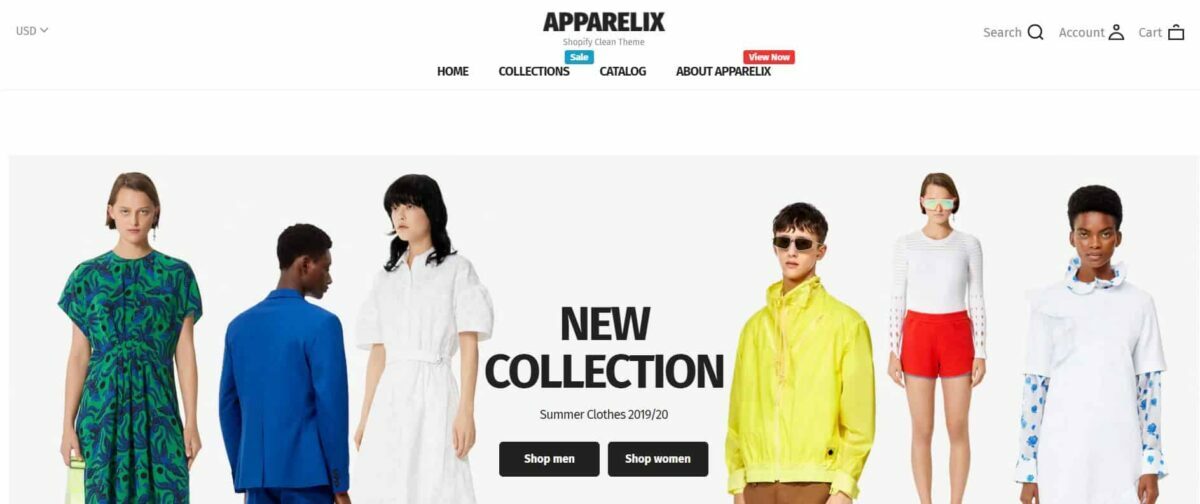 Download
Demo
For an online clothing store/brand, advertising will work as the main factor to attract customers. Indeed, the way you show your brand and products becomes very important and you need an assistant. That's where Apparelix will shine.
Apparelix is light, clear, and elegant. It allows users to showcase all essential info about products or collections. To change any element, you just need to use the real-time customizer for it. Here, there are 4 main sections: Banner, slider, products, and newsletter and you will have like hundreds of design options. From fonts to positions, you can edit them for need & desire.
Besides, Apparelix is SEO-friendly. It will optimize all factors and help your online store rank high on search engines. That is one of the most important for How to Market Shopify Store.
The theme Apparelix has a premium version if you love to develop your web further.
How to Market Shopify Store: Bright Marketing Ideas
If you have already had s Shopify site, let's find out all ideas for "How to Do Marketing for Shopify Store".
#1: Never Forget the Traditional Percentage Discount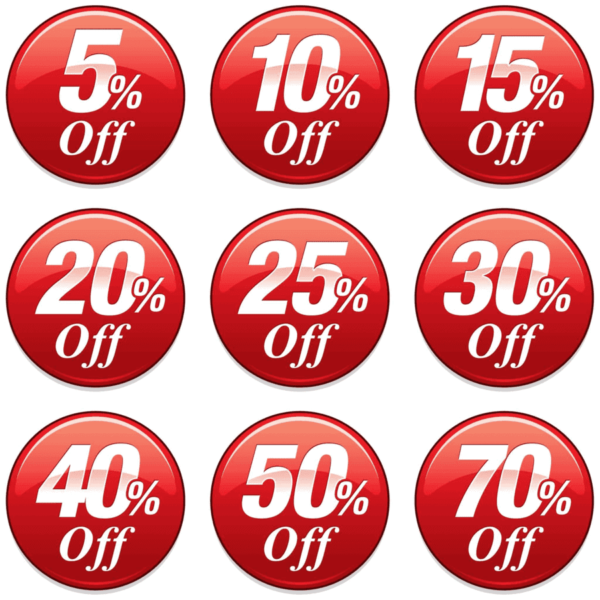 We travel on a street and we can see a lot of shops hanging banners like "25% off", "Sale-off 50", "Up to 70% discount" or something like that. As you can see, people love percentage discounts so much since they will trigger their interest in buying a product.
Also, offering a % discount will make customers think they have a chance to buy a high-quality product at a lower price. From the general experience, you should not give them a give instead of a percentage discount, you will gradually cut off the number of customers. Well, the reason is that they may think you reduce the quality of the products and give those to them. It's the customer's awareness that high prices usually come along with high quality.
In contrast, you must consider the discount rate. For example, we will analyze the normal components of 1 item from the online store. There will be around 40% for making a product or maintaining the store, 20% for marketing, and 40% for profit. Giving discounts is basically transferring a part of the profit to the customer, so 20-30% should work well.
#2: Let the Customers Use Your Coupon/Discount Code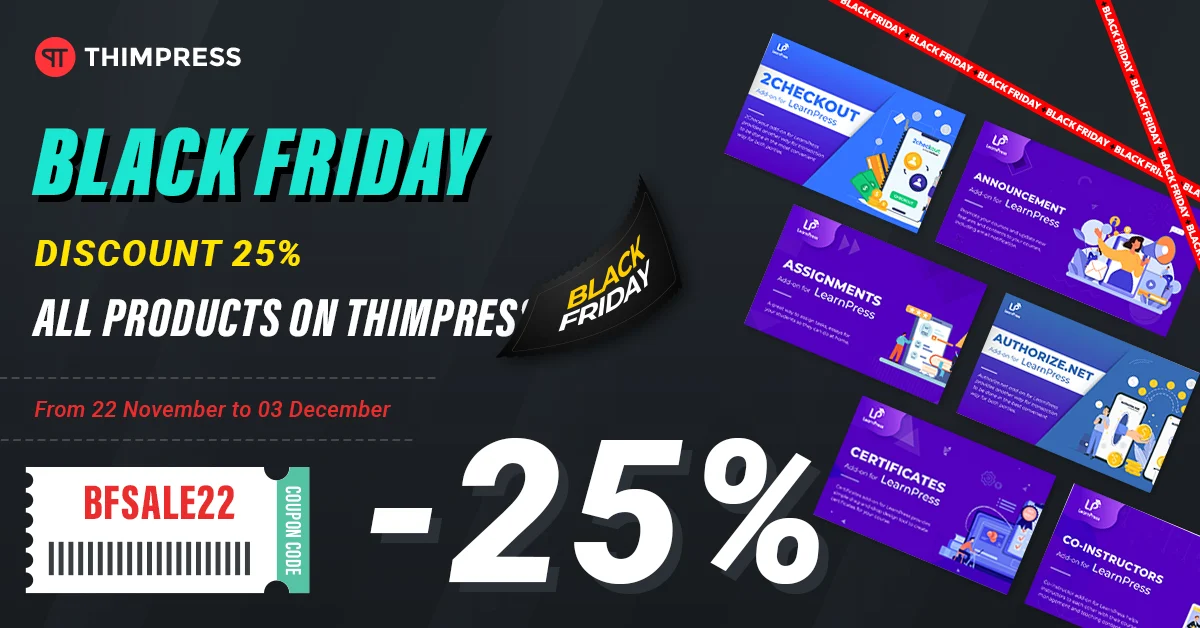 As has been said above, a percentage discount will work out pretty well if you set the right rate and due date. To get in, you should go for a coupon or a discount code. Since people are mostly greedy, coupons and discount codes are always a good solution for how to market Shopify stores.
The main process of this idea is that you create a code for the sale-off. When the clients buy online, they can type that code into the voucher/discount box and the sale-off program will apply to the bill. Of course, you must assure the policy for the discount such as it can only be used for Christmas or any event in an accurate amount of time. Also, it should not apply parallel to other programs, or you will lose profit!
#3: Decorating Time Coming!

What else can attract your customers to stay longer on your site and buy something? The answer is the atmosphere. At Christmas, people love to see the pine trees with snow, gifts around the stool, and Santa Claus. Undoubtedly, the same thing applies to online Shopify stores.
First, we can start with your brand's logo. Every site must have a logo and it is the first impression to visitors. Here, you can change the color of your logo to the Christmas color board – red, green, and white!
Second, a banner for a Christmas event is also an essential factor. Just like a normal event like Black Friday or National day, the banner should share the spirit of Christmas. The color board is there, the decoration is there, it all depends on your design skill. On the other hand, you can place this banner on top of your page or make it run alongside the visitor's mouse. The continuous appearance of the banner will make them click on it, and maybe you will catch some sales.
Then, you should also put a spotlight on discounts in front and center of your site. Make sure your visitors can easily see the discount percentage or copy the discount code to apply at checkout. Moreover, adding the sale-off price or percentage discount icon onto a product image card can make them more recognizable.
#4: Email Marketing for Christmas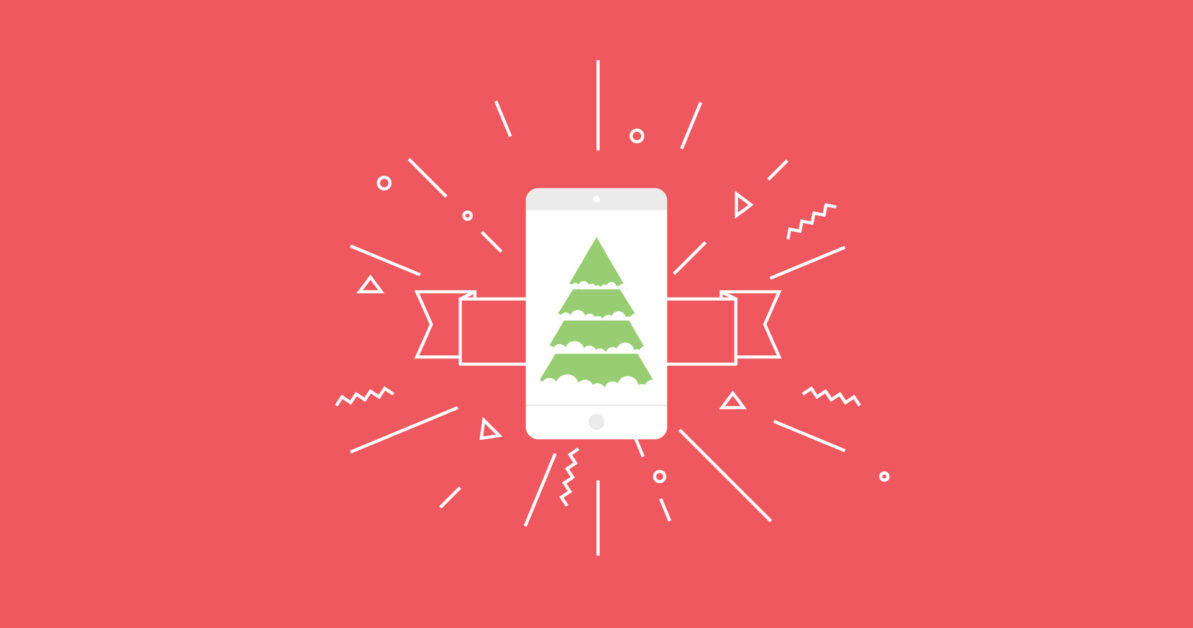 Email marketing is a good way How to Market Shopify Store on Christmas, too.
Particularly, you can start your email marketing campaigns for Christmas 3 weeks before 24/12 each year. Some advantages of this way are:
Easy to start with templates
Recover/follow up on abandoned carts
Attract visitors to come back to your store or introduce your site to others by sharing exclusive discounts
If you get it done properly, it can become your golden chicken or your ATM. You should set a weekly routine for sending the newsletter, about 2-3 newsletters a week. Besides, manage your sending schedule or they will feel disturbed and unsubscribe/block your service. If that happens, it's such a disaster. You should start collecting email subscribers and save them as a list. When you have enough of them, add your text and products to email templates and send them out.
#5: Secret Discount for Your Current Customers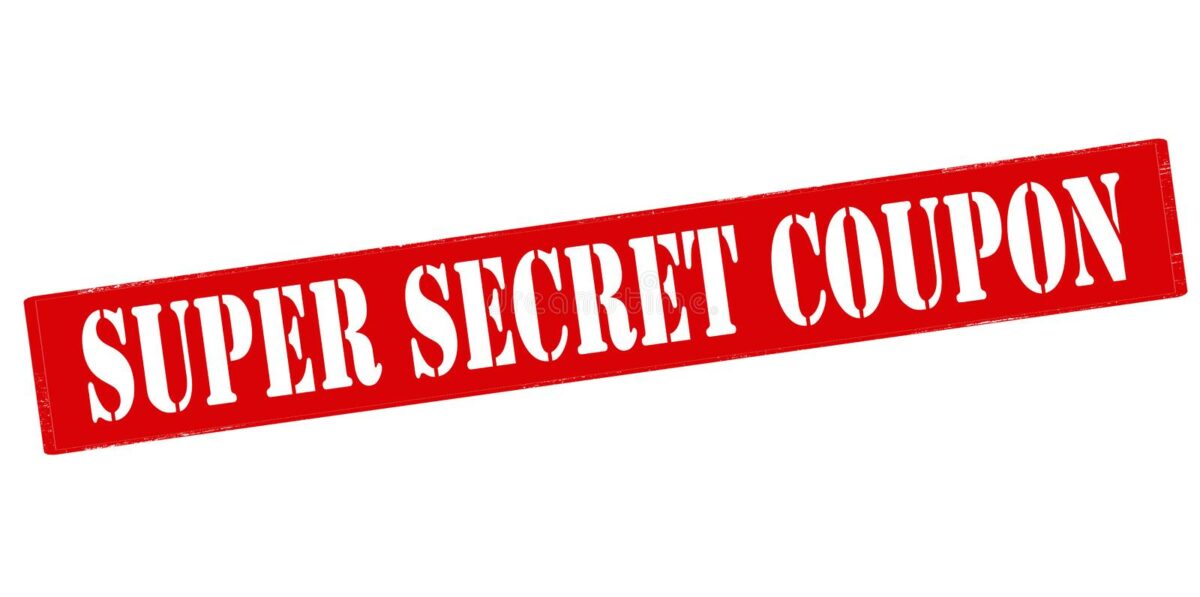 Christmas or any big day in the year is the battle of both sellers and buyers since they have to buy some before running out of stock and searching for high-quality items from high-quality stores at the same time. After all, focusing on people who already know you should be great. If they purchase a product from your store, they deserve to be treated better in this large event.
You must have a list of current customers who have bought from your store, right? If so, you can prepare a secret promotion code for them, send them via email, and tell them the code is exclusive to those who have bought from your store. When a customer knows the code is for them only, they will feel satisfied and seem likely to respond. Indeed, a gift will raise them, as it should.
#6: Discount from the Second Item – An Upsell Trick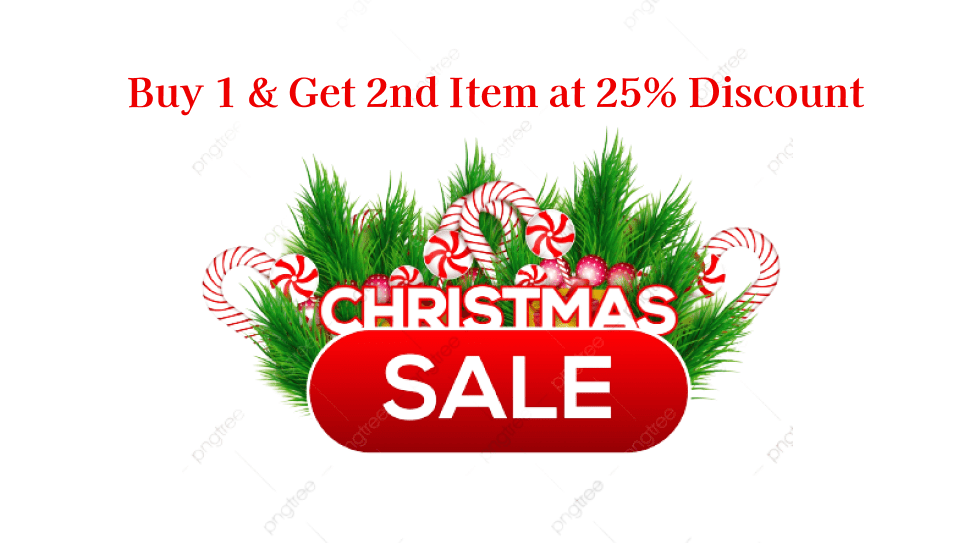 Besides the traditional percentage discount method, you can try giving a discount on the second item. This will not only drag your old customers back on track but also attract new customers to your senior list. Selling off 2nd item will work well to solve the "How to Market Shopify Store" problem.
Let's make an example:
In a day, a customer buys a black suit from your site with a 25% discount. Then, a pop-up promotes a great black & white cravat with 50% off. With an accessory like that, the value is not so important but that customer will feel they are receiving a huge benefit. Therefore, they are likely to buy it and you may continue this cycle if you want. Yeah, a good one but you have to keep in mind:
The 2nd item should relate to the 1st item or a part of the 1st item.
The price of the 2nd item should be pretty much cheaper than the 1st item.
#7: Gift Card for Any Successful Purchase on Your Shopify Store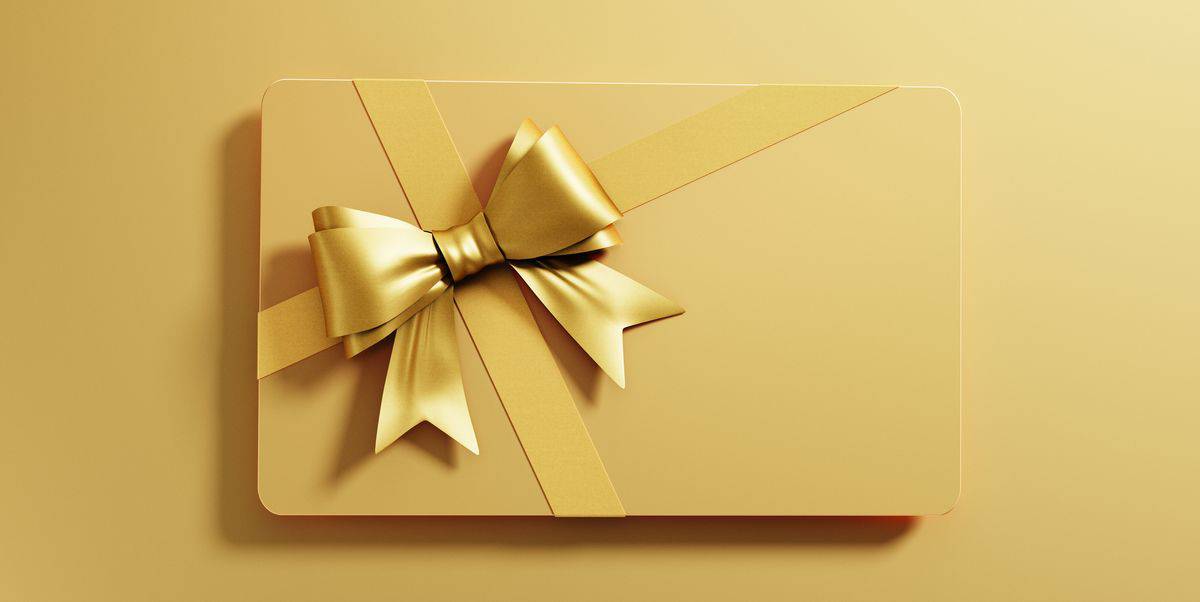 In some situations, a percentage discount is not a good way to How to Market Shopify Store. As I said before, people love gifts & money (most people are greedy, you know). I mean real money, not percentage sale-off. Thus, you can give them a gift in physical form (100% opposite to the #5 tip).
One thing I would love to suggest is that you should convince your customers (buying from your Shopify store) to give a special present to their family during Christmas and the holiday. Instead of a % discount, you have just advertised to the customers' families, by that you have just opened the range of customers.
Moreover, the gift is not required to come from your Shopify store but another one works the same. With that in mind, you can cooperate with other e-commerce brands and stores that have the same target audience but don't compete with products in terms of partnerships. You can send your customer a gift card that they can exchange to receive a gift from your partner or buy them at a lower price.
In another way, you can offer them a gift card equal to an amount of money that can be applied to the next buy. However, you must remember that it's money, real money, not the coupon. It's a fascinating trick:
People may consider coupons as "Advertising & Sales" and ignore them.
Real cash & gift cards will grab their attention more directly.
Also, you should set a deadline for those gift cards. Well, a deadline will push up the quality of the gifts since it's expirable and your customers won't forget them.
#8: Free Shipping – Everybody just Loves It!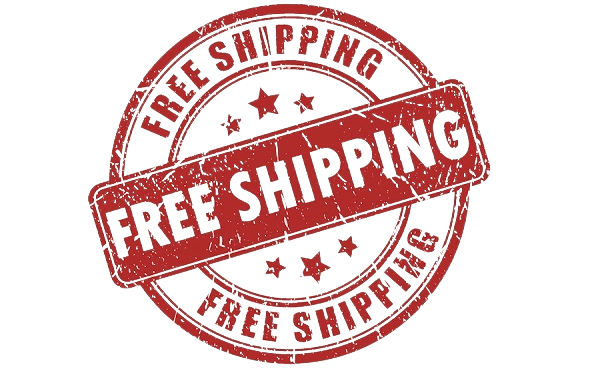 Briefly, people choose to buy online since they don't have to go to the shop, select their favorite, and wait for a long line of people for casual checkout. Tired, right? Online shopping will save time and effort, especially on holidays like Christmas when everybody rushes to stores to grab the wanted items at a fixed price. However, shipping will cost some fees. Although it's very little, sometimes I can get high because of the physical distance. Therefore, why don't we pull out the free shipping program for How to Market Shopify Store?
Usually, free shipping is added when your customers have another promotion. Here, they will have a discount first, then a free shipping program. Otherwise, you can't compete with other Shopify stores and fail to "How to Do Marketing for Shopify Store".
#9: Referral/Affiliate Marketing – How to Market Your Shopify Store from User to User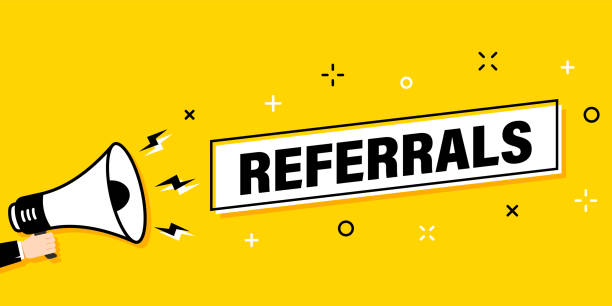 Living in society, people can easily get defensive with advertisements but can be moved by the opinion of somebody they know. Reality has proven that your customers can help you gain more potential clients. Displaying your Shopify store may not get to all targeted audiences but people refer to people is another story. Christmas is an event where people gather and have fun, so helping a client to refer your business to the other by discount codes or gift cards will be amazing.
However, they will need some motivation to recommend your products to others (or make affiliate marketing). Here is the idea: The recommender will receive a special gift or a commission when he successfully refers to another buyer. The later buyer will also receive discounts if you are having discount programs. Then, the program makes sure that they successfully recommend someone for some benefits. After all, money motivation still works out very well.
#10: Start a Customer Loyalty Program for Your Shopify Store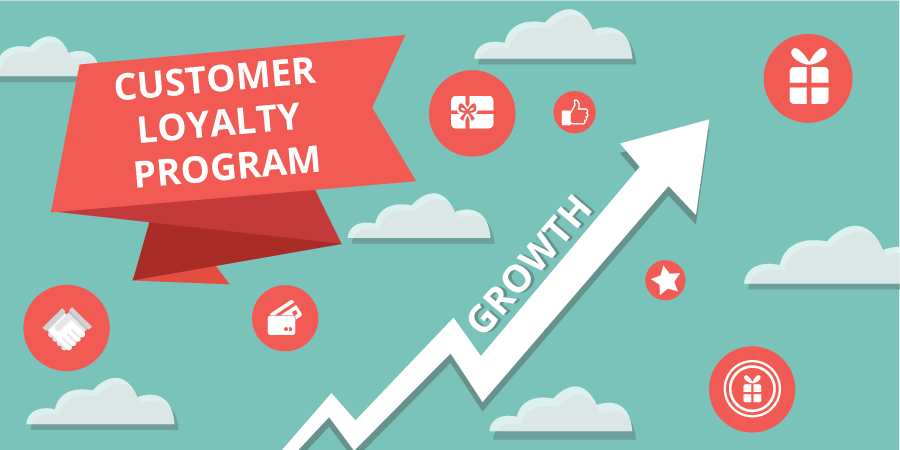 Through years of e-commerce, you will realize that the old customers tend to buy from the shop they love more than find a new one. Since then, you can make a customer loyalty program to keep old clients coming back to your store.
The pattern is simple as you make a system where users can create accounts and log in. Then, the system will record and keep track of the amount of money/the number of products in an account. When it reaches a certain level, that user can receive gifts like vouchers, discounts, free shipping, or else. Also, conducting referrals and reviews contribute to the "points".
To do it, make sure that the program is simple to join and get rewards. Too hard a reward program will cause disturbance and uninterest in the old clients. For better outcomes, you may think about these tips:
Ask what your clients love for rewards: Ask the customers what they love for making rewards via emails or surveys.
Different presents: Free shipping, discount codes, free items, etc.
No purchase required to join: Allow joining the customer loyalty program without any successful purchase; pull out newsletter subscription or notification allowance requirement instead.
#11: Add Customer Review to Pages

Sounds a bit risky when accepting opening reviews? Yeah, sure that sounds. However, the customer review system shows that "you won't waste money on this product" or something like that. It makes a great first impression and encouragement to purchase, and it works really well when added to product pages. Having customer reviews on your store could improve your Shopify marketing without having to invest in advertising, too.
On the other hand, you can add your review for a product. Somehow, it will push up your sale no matter how it is qualified – a trick to gain customers' trust.
How to Market Shopify Store: Final Thought
The list above is just some ways to How to Market Shopify Store. There are still more ways to do it and you should research & test to look for the most suitable marketing plans for Christmas or other events.
Indeed, you should combine some ideas and make a policy to use them properly. That's How to Market Shopify Store. The more benefits your customers get, the more chances they will come back to your Shopify Store.
Read More: Is Shopify Worth It? 2023 Unbelievable Answer
---
Contact us, ThimPress:
Website: https://thimpress.com/
Fanpage: https://www.facebook.com/ThimPress
Youtube: https://www.youtube.com/c/ThimPressDesign
Twitter: https://twitter.com/thimpress