What do you think about the State of WordPress this year?
Surfing via SEO news pages or blogs, you may see posts or concerns about "WordPress is dead", "SEO is dead", or something like that. Reading one post won't bother you, but reading many will make you question whether you should use or continue your journey with WordPress, or even stop it. Today, we will have a better view of the state of WordPress and why is alive, super alive.
Why Is the State of WordPress Assumed as "Dying"?
You may know what WordPress is and why it has been the most common place to build and develop websites until now.
There are various reasons, it can be the doubt of WordPress's enormous success leading to faster death or they are working on a WordPress alternative & having a different viewpoint. Whatever other people say, if you look at the facts, you will see that WordPress is still running a long way.
State of WordPress in Google Trends
You can see a graph of WordPress search interest from 2004 till now: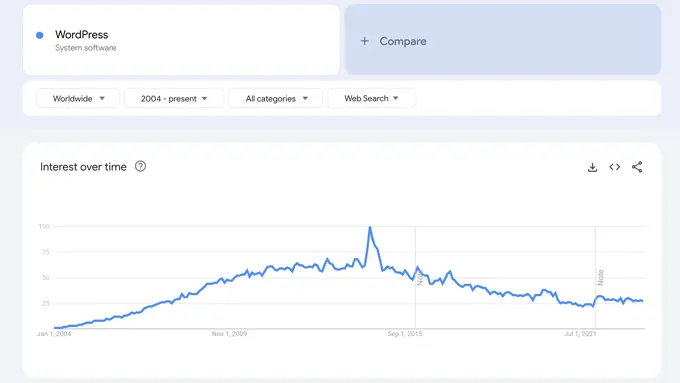 You can see that WordPress reached its peak in 2014 and the trend seems to downtrend, especially at the end of 2021. Since then, the trend of WordPress has kept running at over 25% – powering over 1/4 of all websites on the Internet. You can see the difference between WordPress and some alternatives.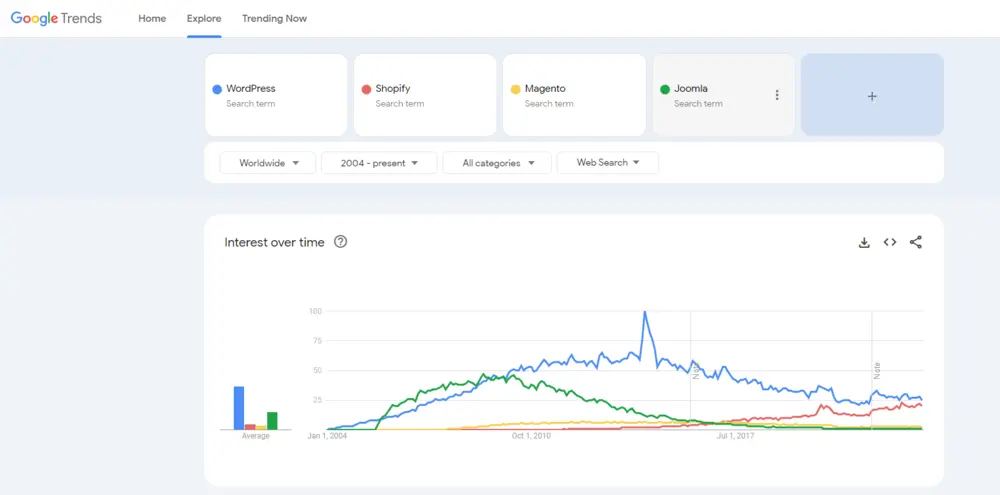 What can easily be seen is that WordPress still dominates the marketplace. Some other competitors like Wix or Shopify have become more common since they are easier to begin with. However, these platforms lack customization & help, which will make users frustrated.
You can revise some of our comparisons here:
Security State of WordPress
When you have a large community or market share, WordPress is definitely a common shooting target for hackers such as DDOS, Trojans, malware, and more.
Of course, with nearly 20 years of experience, the WordPress development team has made serious updates so that it's safer than any available platforms. However, you should never neglect the security of your site.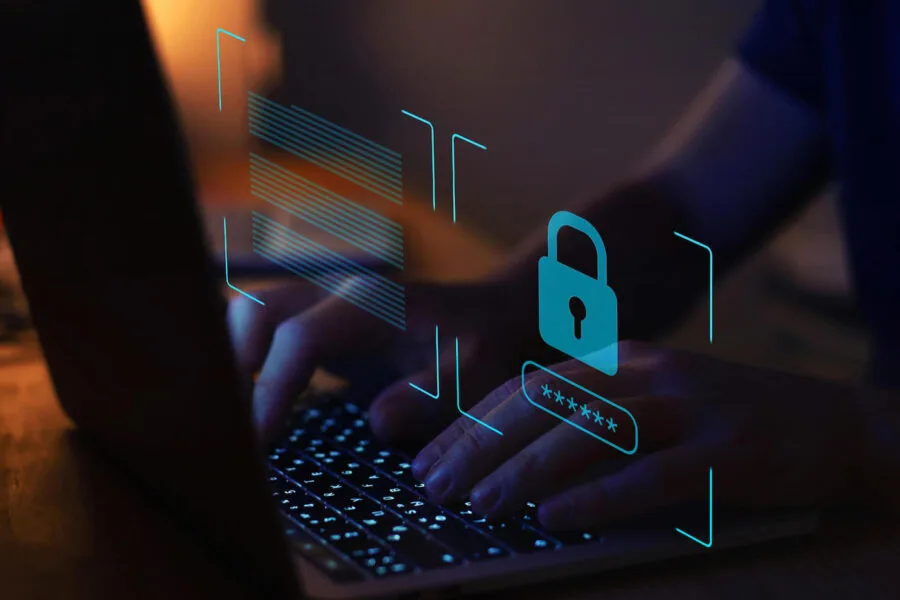 What you should do to keep your site from the hacker's hand are:
Update WordPress regularly
Update themes & plugins regularly
Use harder passwords
Regular Update State of WordPress
WordPress has appeared since 2004, however, this software is regularly updated to provide new features and maintain the user interface. WordPress is open-source and is driven by a global community. Therefore, it means that anyone can contribute to the project in many different ways.
Every year, WordPress is easier to use and becomes more powerful. If you compare the 2004 version with the 2023 version, you will see that the interface and the functions are super different.
Percentage of WordPress in the Marketplace
You may have a look at the WordPress market share: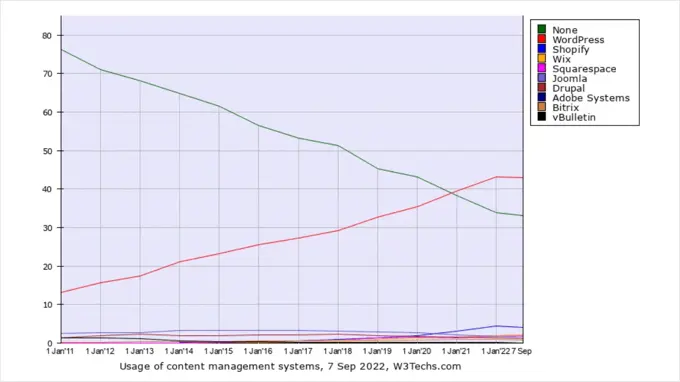 After looking at this chart, you may see that WordPress still dominates the marketplace as about 43% of all websites are run by WordPress. Here, 43% means over 810 million sites – a tremendous number. A lot of large international brands use WordPress for their websites.
Theme & Plugin State of WordPress
WordPress ecosystem is the largest contributor to the popularity of this platform. You can download free plugins, themes, and other things from WordPress.org.
You can install themes for web design and plugins for apps & extensions. With over 66,000 free WordPress plugins and 10,000 free WordPress themes, all WordPress users can take advantage of them.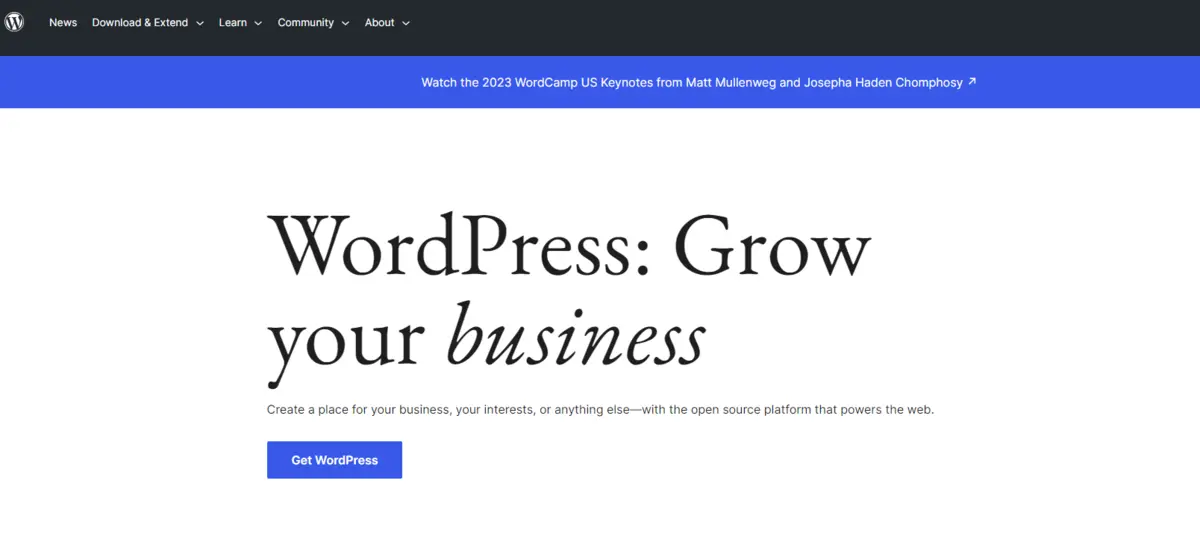 Of course, you can use premium themes and plugins if you have the budget for it and love to have more features.
Conclusion
Now you know the state of WordPress. As you can see, WordPress is still alive and is able to maintain any website. Long live WordPress!
Read more: The Top 6 Places to Hire WordPress Developers 
---
Contact us, ThimPress:
Website: https://thimpress.com/
Fanpage: https://www.facebook.com/ThimPress
Youtube: https://www.youtube.com/c/ThimPressDesign
Twitter: https://twitter.com/thimpress