Nowadays, building websites has become very popular and easy since lots of CMS platforms will help us with that. Thus, Weebly Website Builder is one of the most popular web builders on the Internet.
Today, let's have a clear review of "Is Weebly a Good Website Builder, or Not".
Basic Information of the Weebly Website Builder

For people who don't know, Weebly Website Builder was founded in 2006 in San Francisco, USA. Weebly stands as the most popular example of a What You See Is What You Get (WYSIWYG) interface editor. Therefore, it can make it easy for everyone to build and run a personal website, or you can use Weebly Build a Website and maintain it for further goals.
Further, the Weebly Website Builder will focus on UI and design as well as web-building convenience (adding, editing, arranging, and removing content). The price is quite reasonable, though.
Weebly Website Builder: Overview
As a web builder service, Weebly will have both great and not-so-great points. Here is a quick overview of Weebly:
PROS
CONS
– Eye-catching Weebly themes
– Various E-commerce features are available even on the Free plan
– Site analytics are included even on the Free plan
ability to switch themes without changing content/remaking your website
– Limitless data transfers with all plans
– Free plans are available, and Reasonable pricing plans
– Web store
– Blogging widgets
– Basic image editing
– Download selling
– Website Membership
– Shortage of photo storage
– Limited theme customization
– No interface-wide undo function
– Turtle-running customer support
– Lack of portability
Weebly Website Builder: Pricing Plans
Here, you can make & run a normal website with Weebly Website Builder for a cheap price – just register with your email address & a private password.
Like many other web platforms, Weebly offers users a free plan with some limitations (of course!) such as a Weebly-branded domain (such as yoursitename.weebly.com), 500MB of storage, unremovable ads, and 10MB-maximum file size.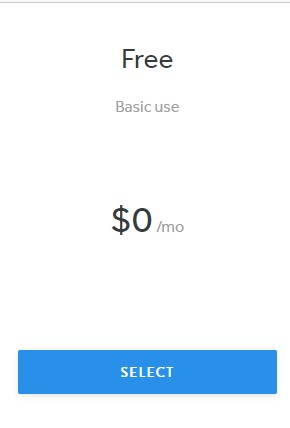 On the other hand, those limitations won't come up in all paid versions including Personal, Professional, and Performance.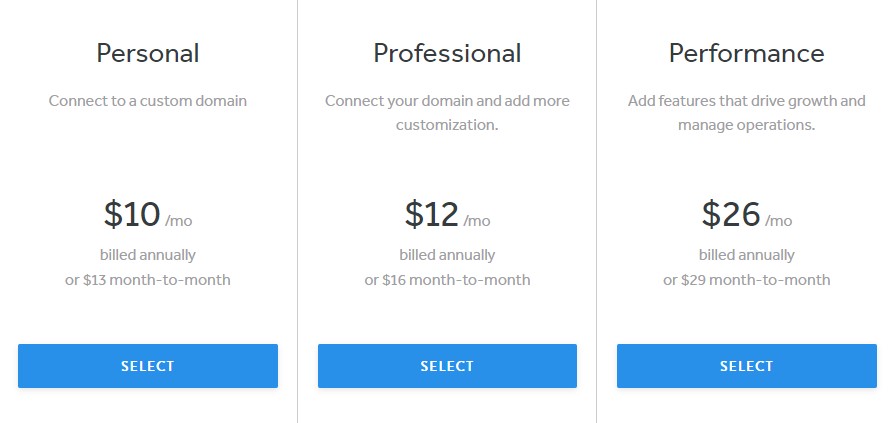 From $9/month, you can connect to a free-to-custom domain name, which means you can make your domain instead of the Weebly-branded domain.
In the Personal plan, you will receive an automatic shipping calculator, shipping labels, and the ability to sell digital products. At &16/month, you will have the Professional plan with the same eCommerce features as the Personal plan, alongside some additional web features like advanced site insights, free domain name, ads deletion, and password protection for your staff or membership registrars (up to 100 site members).
Lastly, with the $29/month Performance plan, you can start receiving money from PayPal, allow customers' item reviews, have the abandoned cart email system, advanced eCommerce Insights, phone support, and priority support.
Let's Dig into Making a Site with the Weebly Website Builder!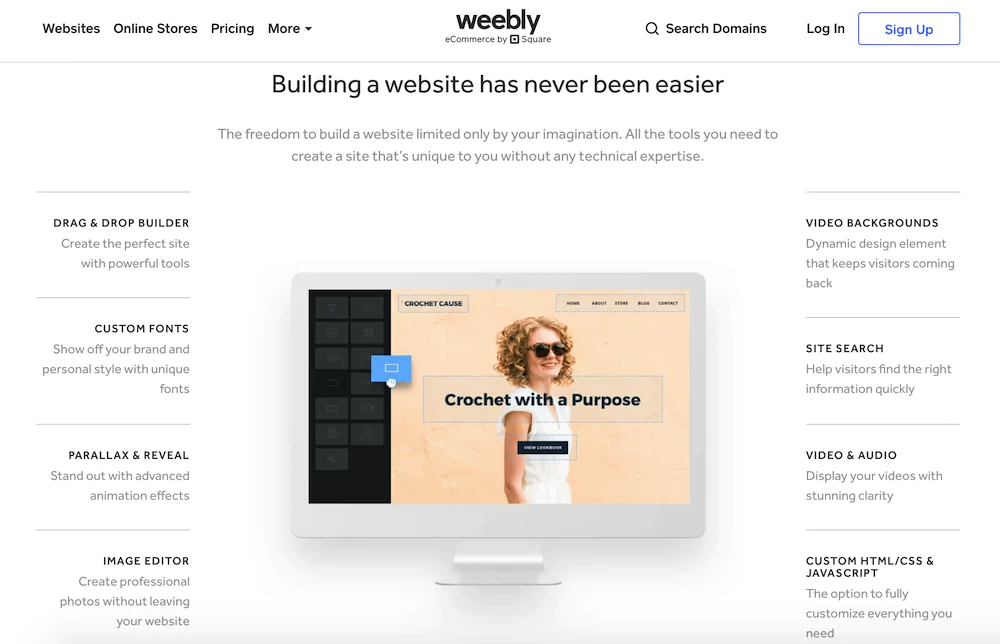 Before you consider Weebly Best Website Builder, you should determine what you are going to do with the site: just a normal blog page or an online business shop. After making your decision, it's time to choose a Weebly template or Weebly theme for your site. You won't find yourself a questionnaire to cut the range of the tag options to search. Though, Weebly will offer you 50+ themes separated into not-so-many categories such as Blog, Portfolio, Business, and more. However, 50 is not a great number, especially when you compare it with Wix, Squarespace, WordPress, or even Shopify.
One more thing, you can't preview your site in real-time on tablets or smartphones with Weebly. This is such a big backward as other web builders let you preview your changes in real-time and it's also a disadvantage when considering "Is Weebly the Best Website Builder". In contrast, the Weebly themes are modern and eye-catching, making sure to catch the audience's impression at first sight. Also, you can switch themes without remaking your site's design and content – which will be a disaster if it happens.
Weebly users must either manually enter their information onto different pages or complete a form in Settings that provides their basic information (for display in your site's design). Several other platforms, in contrast, require you to complete the form before the site is even created.
Weebly Website Builder: Web Design Widgets
In a Weebly website builder review, we can't forget the web design – one of the most important factors for "How to Build a Website Using Weebly" or "How to Build a Weebly Website".
Weebly's WYSIWYG editor is very easy to use with a top bar menu for page managing & settings changing while the left sidebar is for your site's elements. Besides, you can drag & drop the elements from this left-side panel onto your site via the edit tab. From a menu on the top, you can switch function modes when you change the elements including themes, pages, apps, store, settings, and help. In case you are using a free pricing plan, an orange button will show up convincing you to upgrade to a paid pricing plan. Then, there is a blue button for publishing the ongoing site.
With Weebly Website Builder, You can add a lot of elements to your site such as text, images, maps, media, ads, and more. However, the free plan can't insert HD video and audio. Moreover, you can find a lot of options for pools, forms, surveys, etc. If you are not searching for what you want, the Weebly app center will help you.
Weebly doesn't let you drag'n'drop sections anywhere you want on the page since it sometimes flies somewhere on the page unexpectedly. Also, theme customization options are limited.
Weebly Website Builder: Page Content Management
From the top bar menu, you may add pages from the sidebar in the pages dropdown menu that gives you a homepage, blog page, shop page, or external page. One great thing is that the Weebly page builder gets you to the target's destination when clicking elements.
On the contrary, Weebly can't help you animate your text or use image-carousel backgrounds. It also lacks the feature "Undo" for site changing but does have the features "Redo" & "Undo" for text entry. Still, there is no function like Ctrl+Z to undo a box working.
Another disadvantage is that Weebly won't provide online storage for photographs and videos for your website. As a result, you must save them on a physical medium (such as Computer storage or SD cards) and upload them again anytime you need to utilize them. Such a significant flaw! On the other hand, a user may add many movies and photos at once using the Weebly gallery widget and add extra internal or external connections to them.
Weebly Website Builder App Center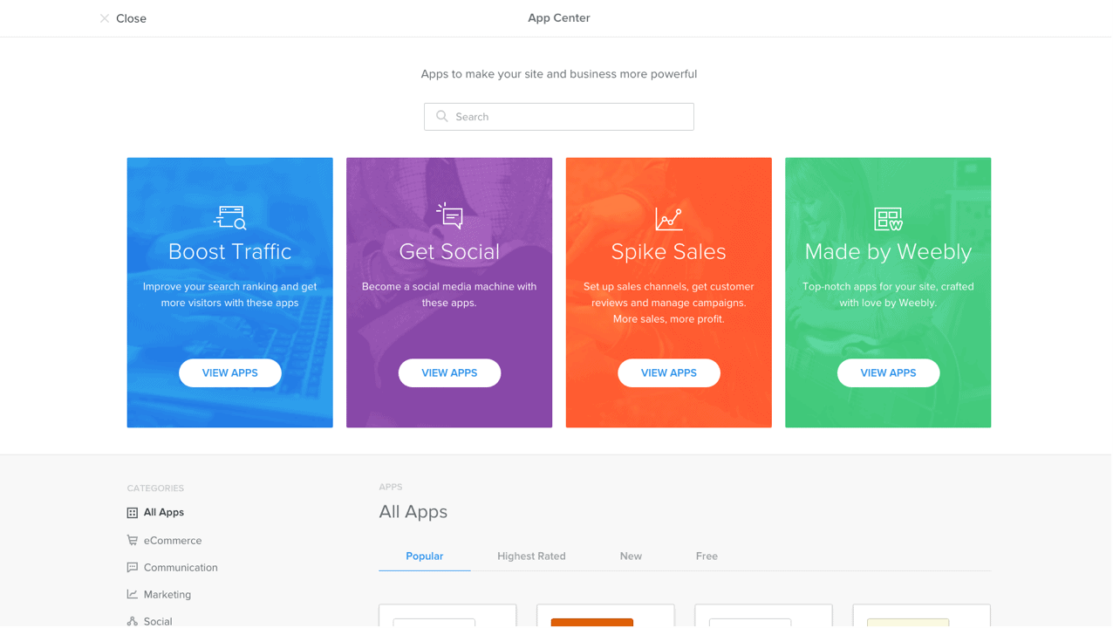 One thing we should not forget in How to Use Weebly Website Builder is the app center. If you can't find anything that has already been in Weebly settings, let's go around and look for it in the Weebly App Center!
These apps are as same as WordPress plugins or Shopify plugins that will extend your web's possibilities and capabilities. Remember this: the apps' quality is up and down, so make sure you get some reviews before using 'em for your site. Indeed, the Weebly app center will offer you a lot of widgets for use, more than Wix but fewer than WordPress, Shopify, or Squarespace.
Weebly Website Builder Blogging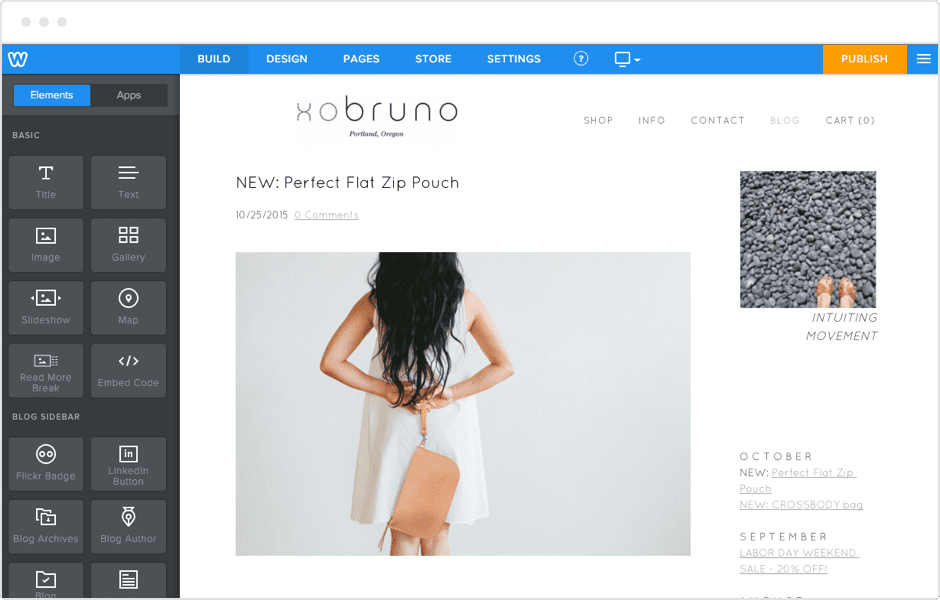 The blog interface of Weebly is straightforward with the button "New Post" at the bottom of all blog-type pages. Since there are no blog demos, you will have to do everything by yourself: adding, dragging, editing, or removing content. Also, you can drag the elements from the sidebar menu and drop 'em into your blog posts. A big drawback is no standard built-in blog templates so you have to do everything by yourself.
You can edit any blog before publishing on Weebly blog, just as with many other blog features. Weebly has a better user interface and offers badges for LinkedIn and Flickr, despite Wix having more blog options. Also, since the adjustments are automatically stored, you won't require a "Save" button.
Earning Money with the Weebly Website Builder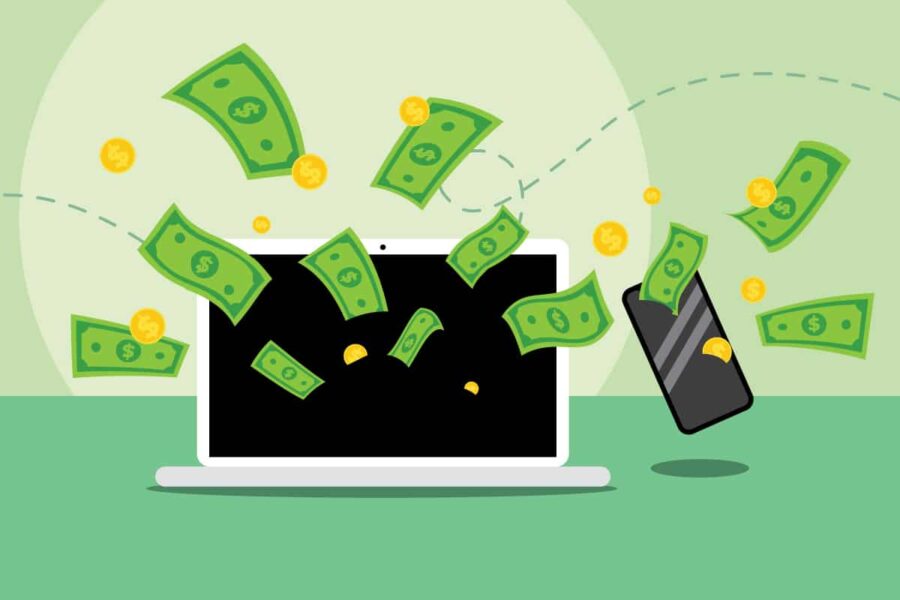 With all paid plans, Weebly users can add an Online Store feature & different types of Product pages with a lot of e-commerce tools. Moreover, you may import the products from Shopify, Etsy, or a CSV file. In the Performance plan, you can accept payment gateways via PayPal, Stripe, & Square as well as an inventory tracking system and abandoned cart follow-up system.
On the other hand, Weebly gives you the option to bulk-redesign categories and modify and delete goods. Moreover, it helps you put some AdSense advertisements to your website for an extra cash source and enables your consumers to submit product evaluations.
Weebly Website Builder: Site Statics & Customer Service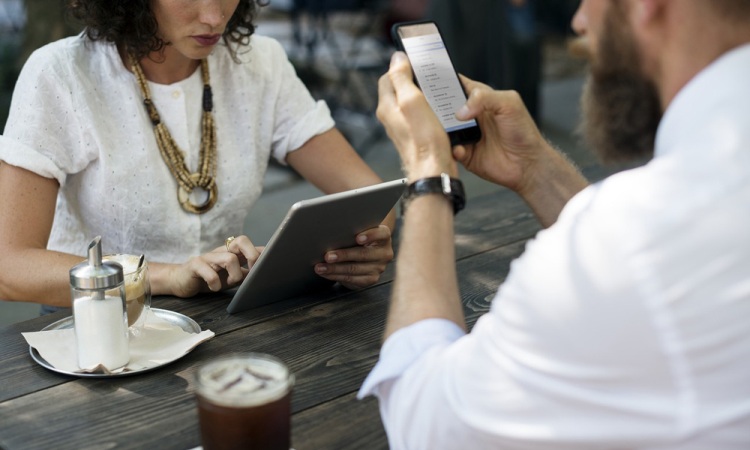 All Weebly users can access deep-site insights but the free version is feature-limited. The paid versions from Professional will let you see search terms used to get to the site, referring sites, and popular-visited sites.
Also, Weebly offers its customers a large number of blogs and posts for you to read. If you want more assistance, the support staff is available around-the-clock for online chat and email support. But, you will begin with a bot, and after 30 minutes, a supporter will join. By that time, you can be focused on something else and miss the response.
Weebly Website Builder: Should You Consider It?
Although you will have problems with image/video online storage & site undo function, Weebly is still one of the most common and easy-to-use platforms for running a website. In its free version, Weebly has already offered you about 60% of the total features. The design is simple & effective but they limit your possibilities like theme limitation or not-so-free drag-and-drop design interface.
Overall, it is still a good platform for starters who are just coming into the web business.
Read More: What Is Website Color Scheme? How To Choose The Best One?
---
Contact us, ThimPress:
Website: https://thimpress.com/
Fanpage: https://www.facebook.com/ThimPress
Youtube: https://www.youtube.com/c/ThimPressDesign
Twitter: https://twitter.com/thimpress