Are you looking for the best WordPress themes for non-profits and charities? If you are running a non-profit, then it is best to use Charity WordPress Themes. There are tons of WordPress themes specially designed to help you collect more donations, showcase your charity work, add an event calendar, and more. In this article, we will share the best WordPress themes for non-profit and charity websites.
Why?
The great non-profit web design and the best charity WordPress themes are designed with active contributions and a fundraising system. It includes three slide styles to make a great first impression. And, it calls to action on placement strategies to maximize user engagement. Other features include a collaborative event management system, calendar, Google Maps, unlimited options, and powerful drag-and-drop page creation.
It is so important to choose the right WordPress theme for non-profit and charity websites. Usually, when choosing a WordPress theme for another type of business. You will focus a lot on the look and feel of it. While those factors are still important for non-profits and charitable websites. You also want to put emphasis on how a WordPress theme feels. You want to make sure to choose a WordPress theme that fits the feel of your organization.
It's also important to choose a theme that will take little effort to customize for your needs. After all, you shouldn't choose a WordPress theme that needs a complete overhaul of settings and structure. You'll be able to upload your own images and logos, add your own text, and instantly have a website like your organization. Fortunately, there are a number of WordPress themes designed specifically for non-profits and charities.
Tips for You to Choose the Right Theme
When choosing a WordPress theme for your charity. In addition to choosing a theme like your own. There are a few other factors you should consider, including:
Integrated Widgets: It should come with built-in widgets to help you achieve your goals such as donation buttons or boxes, new sections, and calendars for events, etc.
Payment solutions: Your WordPress theme should integrate with several payment solutions so that users can easily donate to your online charity.
Additional: The WordPress theme you choose for your organization should support all the popular WordPress plugins you need for your websites, such as Fast SEO, Ecommerce, WPForms, and more.
Mobile-friendly: Choose a WordPress theme that looks good on all devices including desktops, tablets, and mobile phones.
Support: If you run into any issues with your WordPress theme, help will be available to you. With many premium WordPress themes, you get detailed documentation and a year of email-based support.
The list of 5 Top-rated charity Websites
Charitix | Non-profit Charity WordPress Theme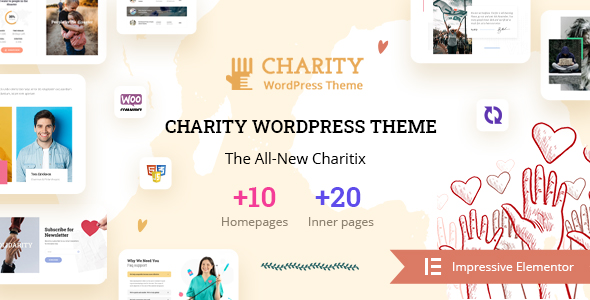 Charitix WordPress Theme, with excellent and formidable attractions, is exceptionally well contained in a non-governmental organization (NGO) fundraising project. It comes with the unique characteristics of this culture. Charitix is a WordPress multipurpose charity as well as a non-profit organization website style expertly built and seriously successful, modern, and resourceful.
There are many amazing features of this web design. You can explore such as columns, rows, WooCommerce, and dozens of others. You will easily browse this web anywhere with any type of device and browser.
Chariti | The premium non-profit organizations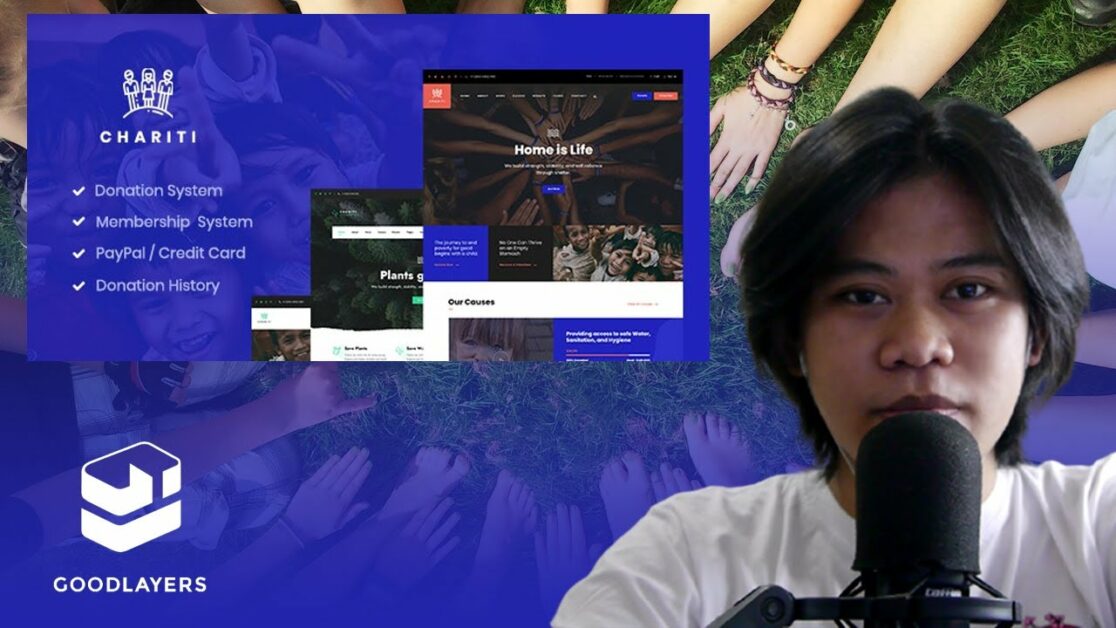 While Chariti does not have the most creative name, its concept suits a bigger organization. This theme includes nine pre-constructed pages, including event schedules, volunteer pages, online shops, and About Us pieces, which can be used to speed up your launch site.
Moreover, when it comes to features, Chariti really shines. A range of premium plugins and additional features also provide the theme pack. This helps you to provide gifts, receipts, charitable revenue tracking, and more.
Alone | The modern charity design theme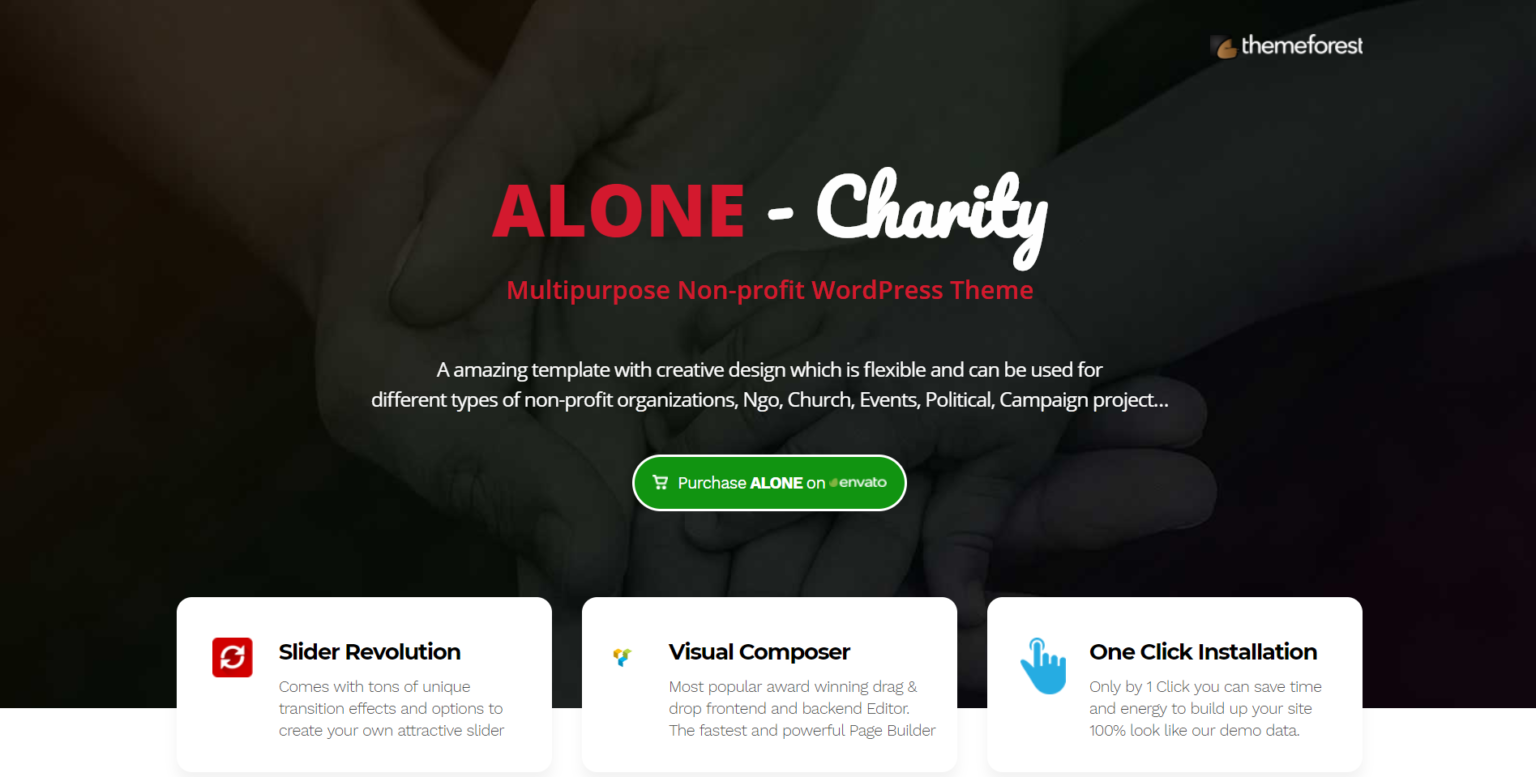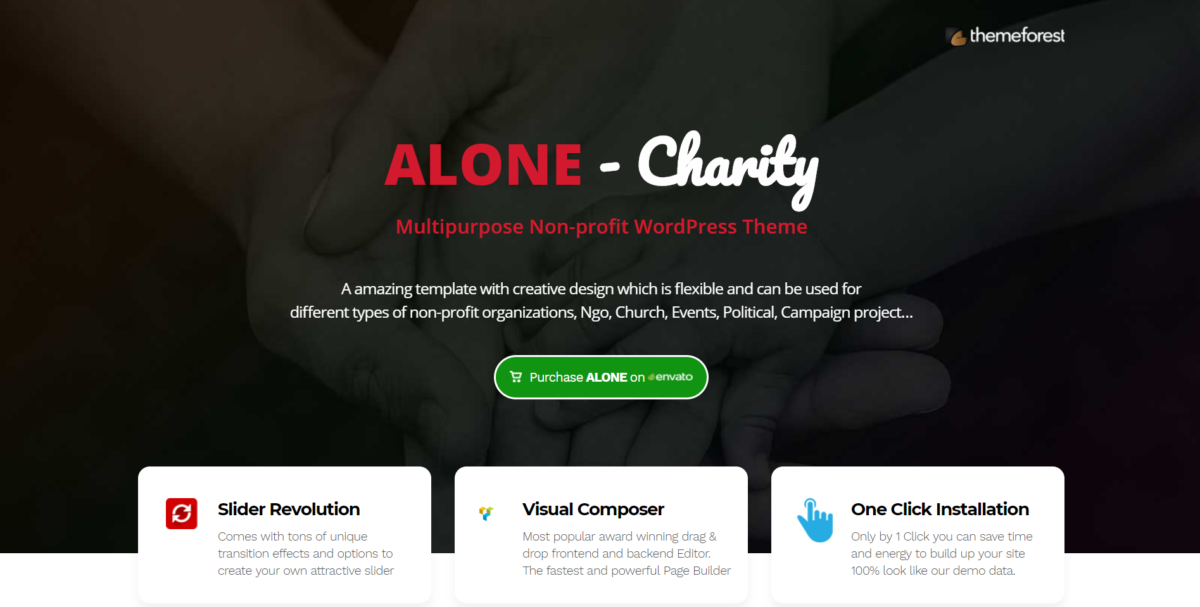 Alone is one of the powerful charity WordPress themes to raise awareness and boost your career. As a result, it comes with essential non-profit and charity features like donations, e-commerce integration, newsletters, and community. It has full integration with the Give plugin. It allows you to accept donations from multiple payment providers, set donation goals, and more.
The Alone theme includes six pre-designed page templates for non-profit purposes. The theme is easy to customize with live previews using customizable live WordPress. If you like its demo site, you can instantly install it with just one click.
Lifeline 2 | Donate and Help Children for Education theme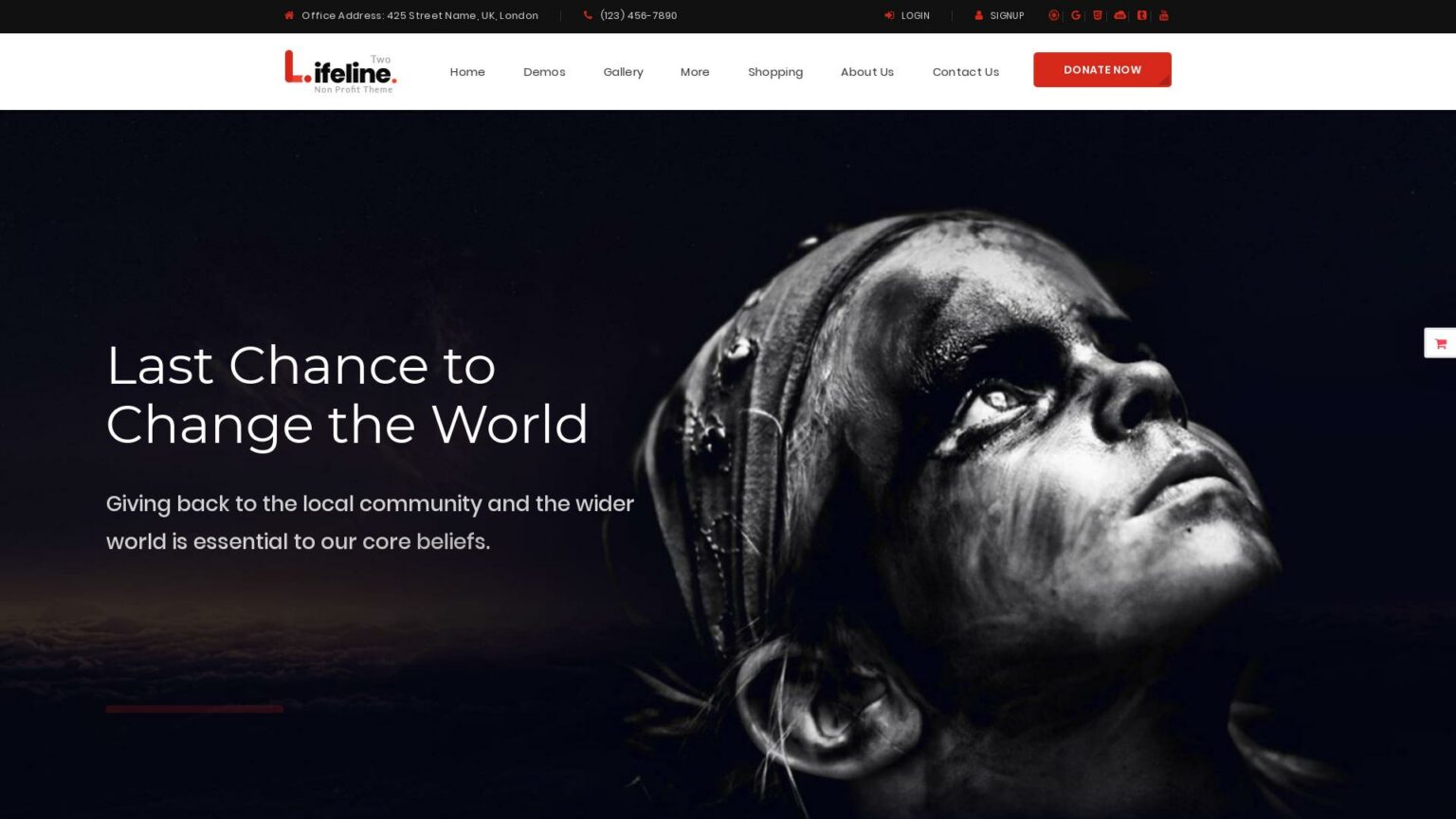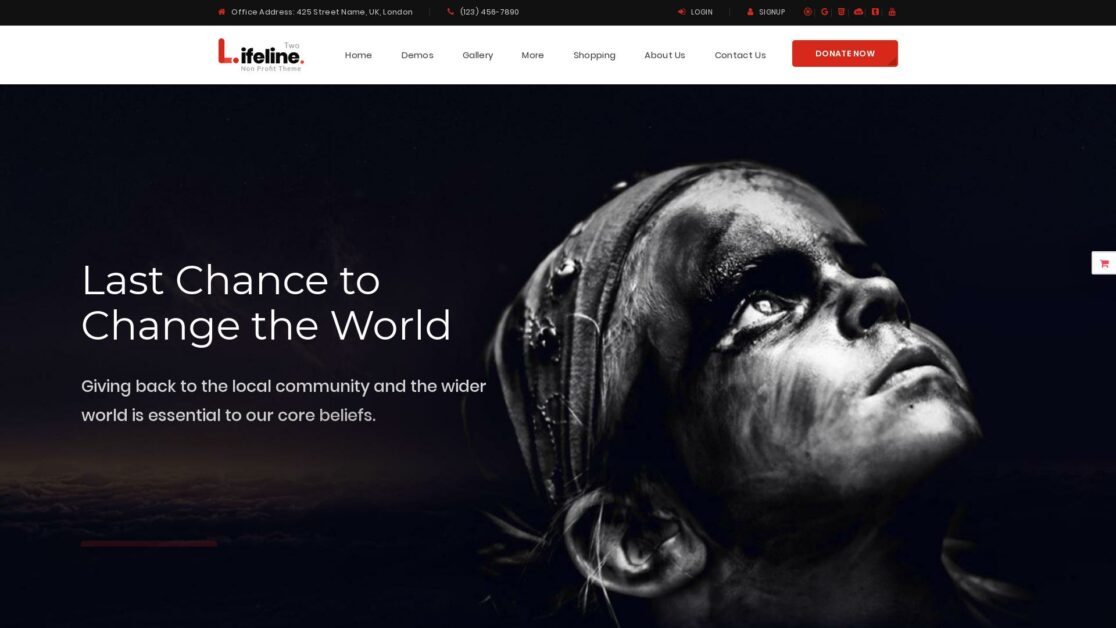 Lifeline 2 is also a great WordPress theme to help you create a great website for your organization. If you are looking for a WooCommerce Campaign extension plugin to allow you to raise funds directly, Lifeline 2 is definitely the best choice. In addition, there are options to display your sponsors, employees, contact details, location and hours of operation, and more. It also deeply integrates with the Events Calendar to present your upcoming events.
It's easy to customize with drag-and-drop home page options. You can easily change the logo, color, background color, images, fonts, etc., to create the website you've always dreamed of.
Benevolence | Gorgeous non-profit WordPress theme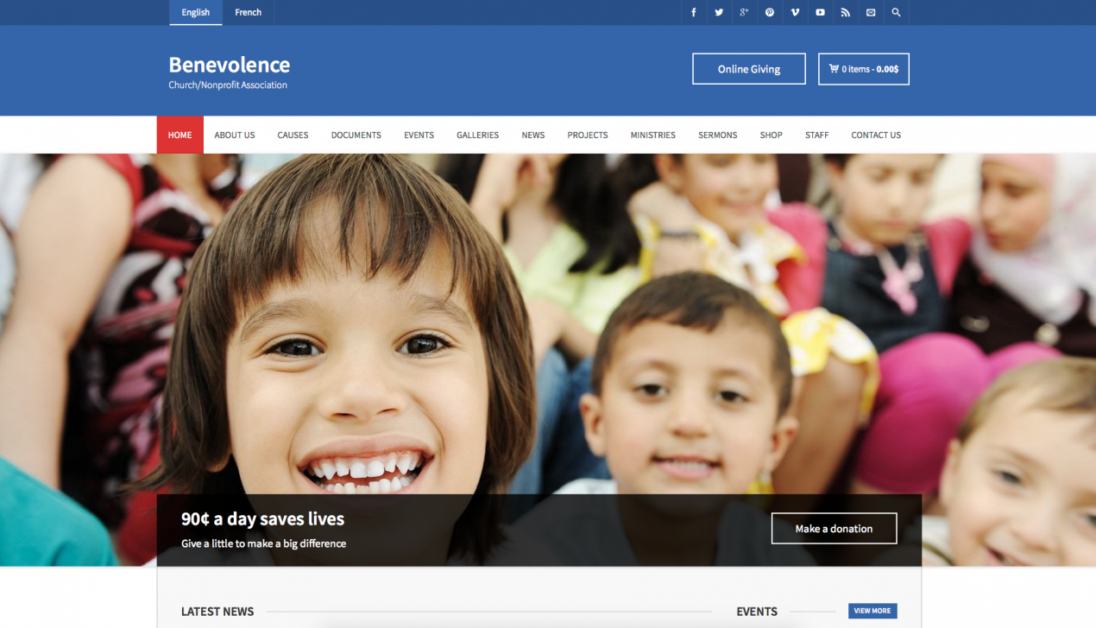 Benevolence is an innovative church WordPress theme suitable for religious and non-profit organizations. It features a long parallax scroll home page with options to add an image or video in the background.
On the other hand, the topic comes with a powerful lecture management tool that allows you to add audio, video, or text as a lecture. You can easily organize and present your lecture by the topic, series, book, speaker, and month. Likewise, it has a powerful event calendar tool that allows you to add upcoming events and recurring events on your website.
Other features include a sticky menu bar, custom logo, custom colors, custom style maps, a footer widget, a website search, a blog, etc. It is an excellent theme for starting the page with the non-profit web.
To sum up, we hope this article helped you find the best charity WordPress themes for your websites. You may also want to check out our hand-picked list of the best WordPress travel blog themes and premium WordPress themes.
Read More: Best WordPress Themes Collection for Teachers and Instructors
---
Contact us, ThimPress:
Website: https://thimpress.com/
Fanpage: https://www.facebook.com/ThimPress
Youtube: https://www.youtube.com/c/ThimPressDesign
Twitter: https://twitter.com/thimpress